3-ingredient Dark Chocolate Chickpea Bark for a quick and easy healthy snack!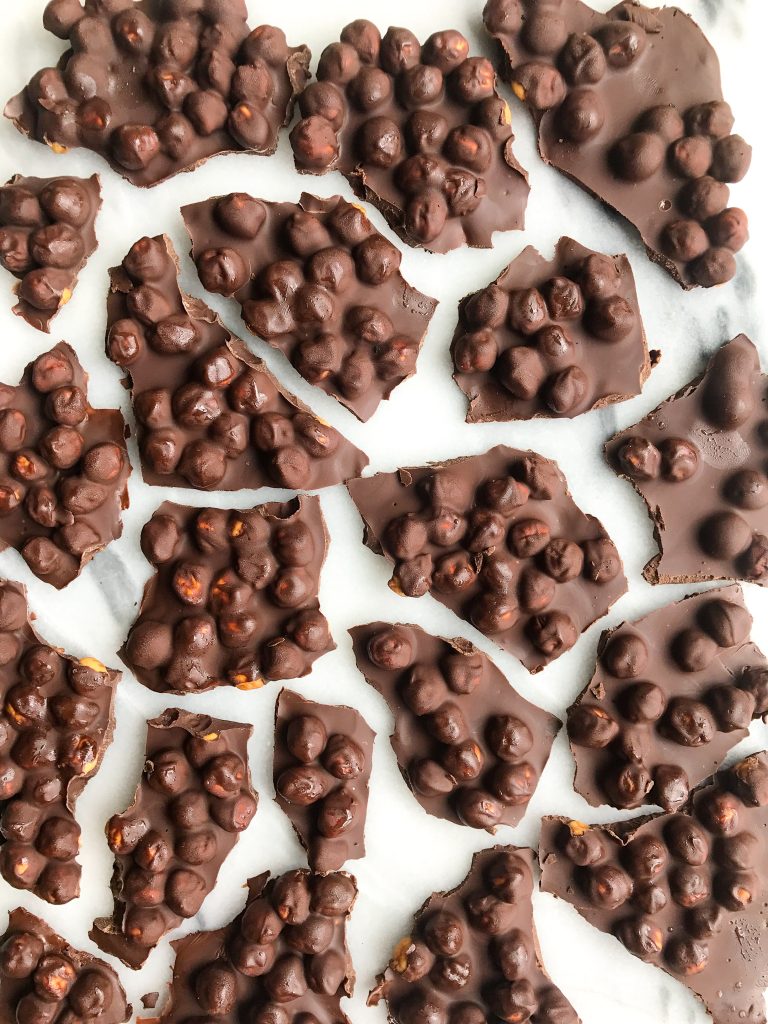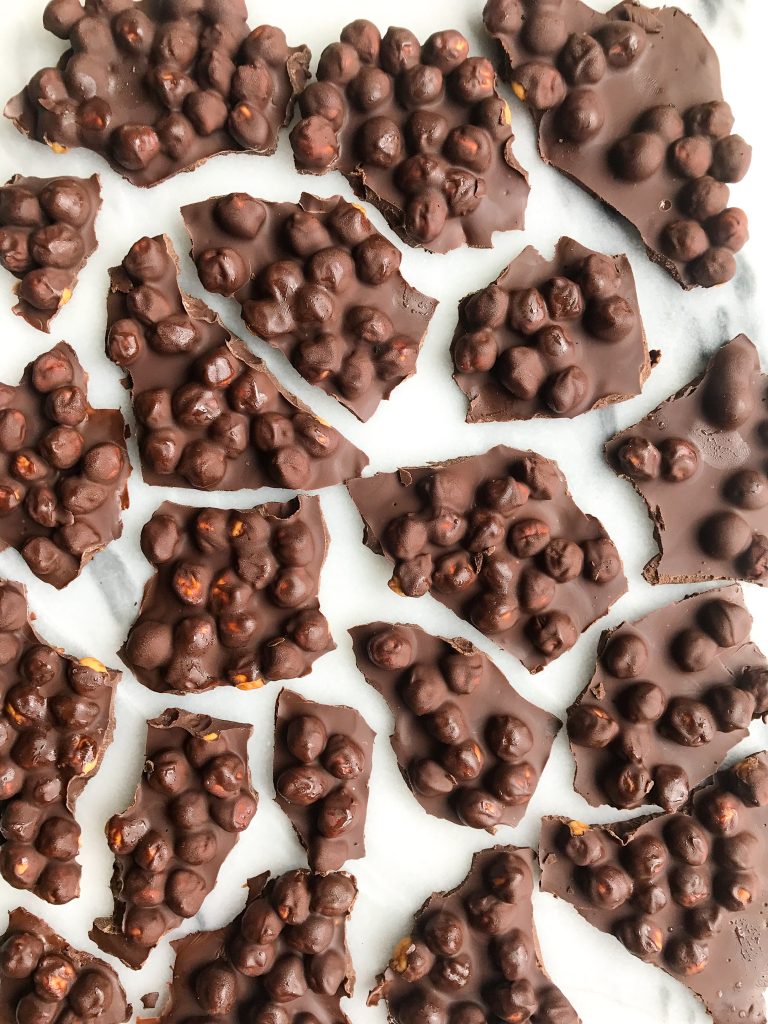 I truly cannot remember that last time I had dinner and didn't crave something chocolatey afterwards. It is my number one habit that I am not willing to break for anything. Even when I did Clean Program, I had chocolate afterwards.
I have to say, my biggest habit could be worse and the happiness having some dark chocolate brings me is just indescribable. I am crazy, I know. But I am always looking for new and innovative ways to get that sweet fix and also give an extra nutritional boost at the same time.
This 3-ingredient Dark Chocolate Chickpea Bark does just that.
Typically we think of chickpeas as a savory dish. Something you can pulse into hummus or make into falafel. And don't get me wrong, that is flipping delicious, but I am excited to introduce a dessert using these pulses in their whole form.
Why do I love pulses so much you may ask? Well you may have seen in past recipes that I have partnered with USA Pulses this year to bring you a variety of recipes and inspiration to get your daily pulse intake. Remember that chickpea granola or those brownie batter truffles? Ya, these are all about the pulses too friends.
In case you are scratching your head wondering what a pulse is.. Pulses are edible seeds of legumes like dry peas, beans, lentils and my personal fav, chickpeas. Pulses provide plant-based fiber and protein and they are extremely affordable. They're easy to include into your diet in a variety of ways and the possibilities are pretty much endless.
I have a few more recipes up my sleeve I will be sharing soon using pulses so stock up on some beans, lentils and any of your other favorite pulses. You will need them 😉 And you don't want to miss the Half-Cup Habit challenge where we are eating 1/2 cup of pulses 3x per week. Easy, delicious and nutritious.
But first, let's do this 3-ingredient Dark Chocolate Chickpea Bark
WHAT YOU NEED
Dark chocolate chips or bar (I use this or this – code RACHL for them too and you can get free chocolate!)
Chickpeas
Coconut oil
3-ingredient Dark Chocolate Chickpea Bark (vegan)
Recipe Type
:
vegan, grain-free, gluten-free
Author:
Prep time:
Cook time:
Total time:
Ingredients
1 cup dark chocolate chips (vegan if necessary)
1/2 teaspoon coconut oil (you may need more)
1.5 cups unsalted chickpeas (I used canned)
Instructions
Preheat oven to 400 degrees
Line a baking tray with parchment paper and spray or lightly grease
Add chickpeas to tray and spray with coconut oil or preferred oil
Roast in oven for 25 minutes or until crunchy; let cool on tray
In a microwave safe bowl, add dark chocolate chips and coconut oil
Microwave for 30 seconds and stir then microwave again (repeat until melted – you can also use double boiler if you prefer!)
In a large bowl, combine roasted chickpeas and dark chocolate then pour onto lined baking tray and add to freezer to set for 20-30 minutes
Break apart and enjoy!
xx, Rach


Thank you USA Pulses & Pulses Canada for sponsoring this post. It means so much to me to work with brands that I love and who support rachLmansfield!