Paleo & Vegan Dark Chocolate Superfood Cups packed with a few essential superfoods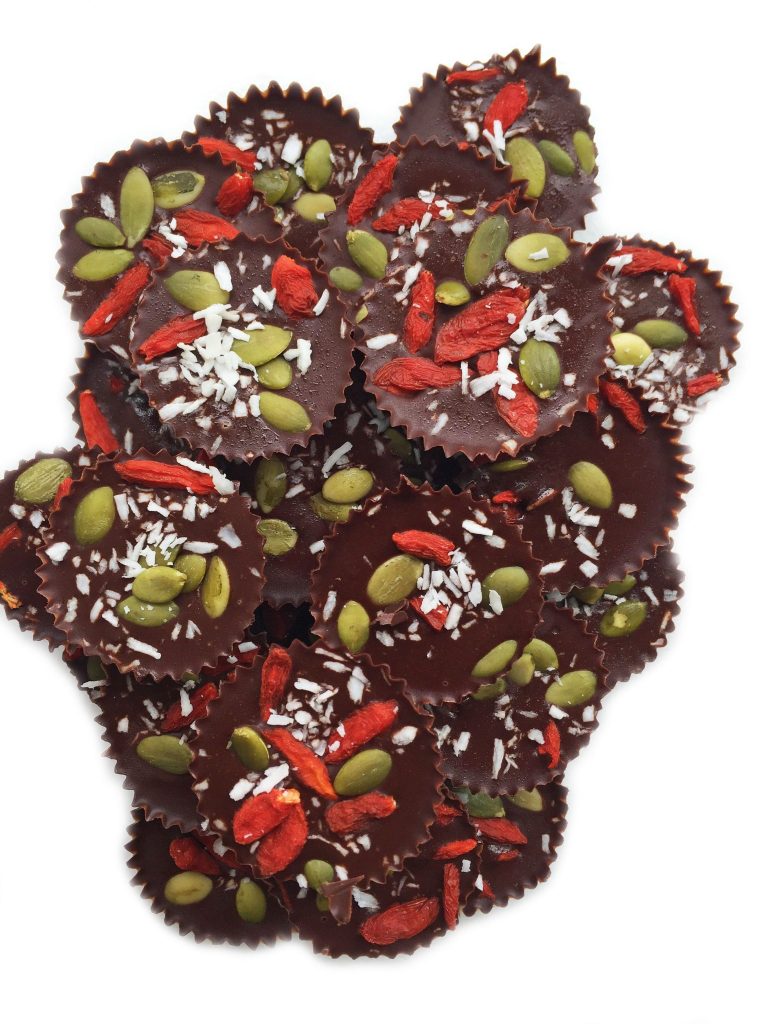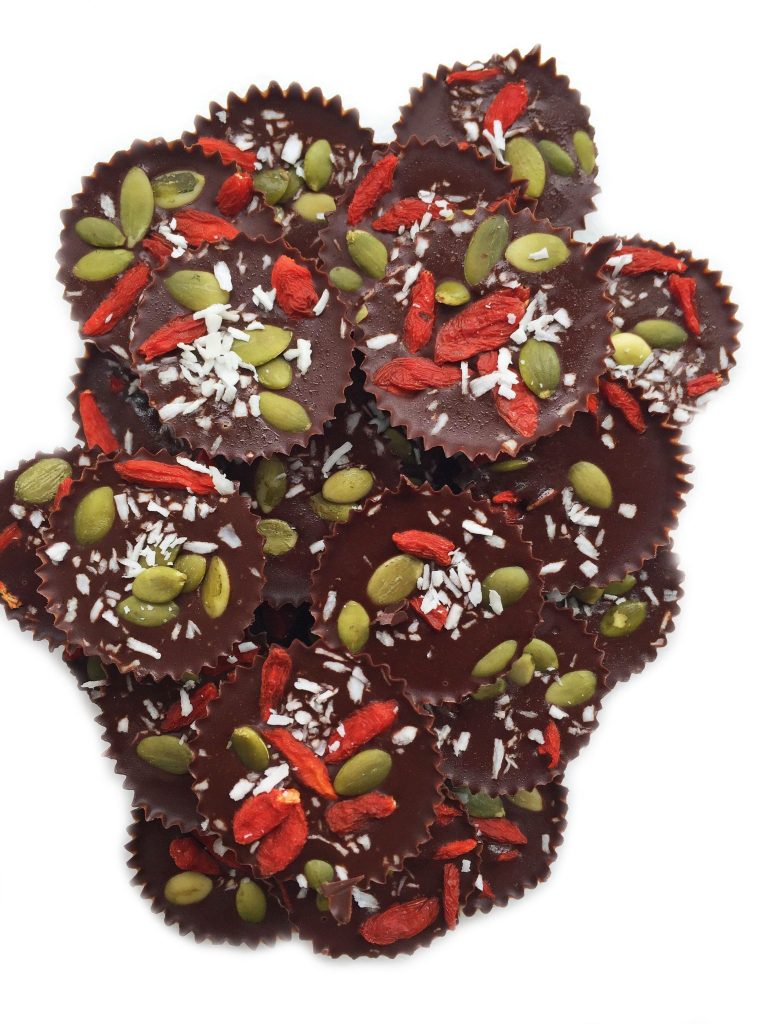 You know that food that you just can't live without? The one you need to eat every single day, rain or shine, sick or not. Well friends, for me that is dark chocolate. I can confidently say that I eat dark chocolate every single day. I eat it before dinner because I can't keep it in my pants. And I eat it after dinner because I need something sweet after something savory (the struggle is real).
Because of this addiction (yes, we are calling it an addiction), I am always looking for more ways to eat chocolate and fuel my body with extra nutrients.
Insert Bite-Size Dark Chocolate Superfood Cups. These gems are vegan, paleo and they are packed with superfoods that to our bodies gooooooood. Sometimes I get really annoyed at the whole "superfood" trend but then there are days like today when I buy into it. When I eat or drink something that I know has extra nutrients in it, I just feel like I am doing my body good. Like I bought it a nice present or something.
The best part about these dark chocolate gems, is the superfood inside/topping. You can probably see from the photos which superfoods are in them but I am still going to tell you anyways.
First up we have dark chocolate (obviously). Dark chocolate, depending on the cacao %, can be very nutritious with vitamins like iron, magnesium, etc. It also has antioxidants, can improve blood flow and lower blood pressure. They also say it can improve brain function.
Then we have coconut oil. I can probably talk about coconut oil for HOURS but I will spare you right now. When it comes to eating/drinking, coconut oil is so good for us. It helps with digestion, improves bone health, effective in healing, helps maintain blood sugar and cholesterol levels and more. In conclusion, I cook and bake everything with coconut oil.
Inside of these superfood cups, I add goji berries, coconut flakes and pumpkin seeds. Goji berries are rich in vitamin a, iron and vitamin c. Pumpkin seeds (I choose unsalted) are great for magnesium, zinc, heart and liver health, omega-3 fats and more.
Okay so now don't go telling everyone you heard from Rachel all these foods are amazing for you, but these are some things I have heard through the grape vine, from friends in the nutrition space and just from reading. The way I look at it is it can't hurt, right?
My outlook in general around what we eat is, if you are going to eat food (which we hopefully all are), eat food that tastes amazing and makes you feel amazing. Don't just drink kale juice or any juice for that matter and expect to be happy and feel satisfied. We need FOOD that tastes delicious and is clean and believe me, it's exists especially with society really taking a step forward in the health world. Just look at companies like Better Body Foods. They make products that we can trust and are filled with health benefits. They make everything from coconut flour to coconut oil to chia seeds, quinoa and more. Not to mention they have some other fun products coming out soon that you babes will LOVE. You probably recognize them from a million of my recipes on the blog like these 3-ingredient Peanut Butter Cookies or these Peanut Butter Cup Banana Bread Muffins.
Finally, if you do make these Bite-Size Dark Chocolate Superfood Cups, don't forget to share them with me on social media. Or comment below to tell me! I love love seeing which recipes you babes make from the blog. You also may like my Dark Chocolate Peanut Butter Protein Cups too. They are my other favorite bite-size chocolate recipe to keep on hand. Make a bunch, keep them in the freezer and you are set!
Print
Dark Chocolate Superfood Cups
Author:
Yield:

15

-

20

1

x
Category:

vegan, grain-free, gluten-free, paleo-friendly, nut-free

Cuisine:

dessert, snack
Scale
Ingredients
1

9 ounce bag of dark chocolate chips

1 teaspoon

coconut oil

1.5 tablespoons

maca poder (or your preferred amount)

1/4 cup

pumpkin seeds

1/4

goji berries

4 tablespoons

coconut flakes
Instructions
Line a mini muffin tin with liners for about 15 cups
In a microwave safe bowl, melt the chocolate chips and coconut oil in 30 second increments, stirring in between.
Stir in maca powder and mix well
Fill each muffin tin with chocolate and top with with pumpkin seeds, goji berries and coconut flakes, evenly distributing into each cup
Pop in the freezer for about 30 minutes until set
Will stay good for months in freezer!
xx, Rach


Thank you Better Body Foods for sponsoring this post. It means so much to me to work with brands that I love and who support rachLmansfield!