The most delicious Blueberry Chocolate Chip Breakfast Protein Cookies that are gluten & dairy-free!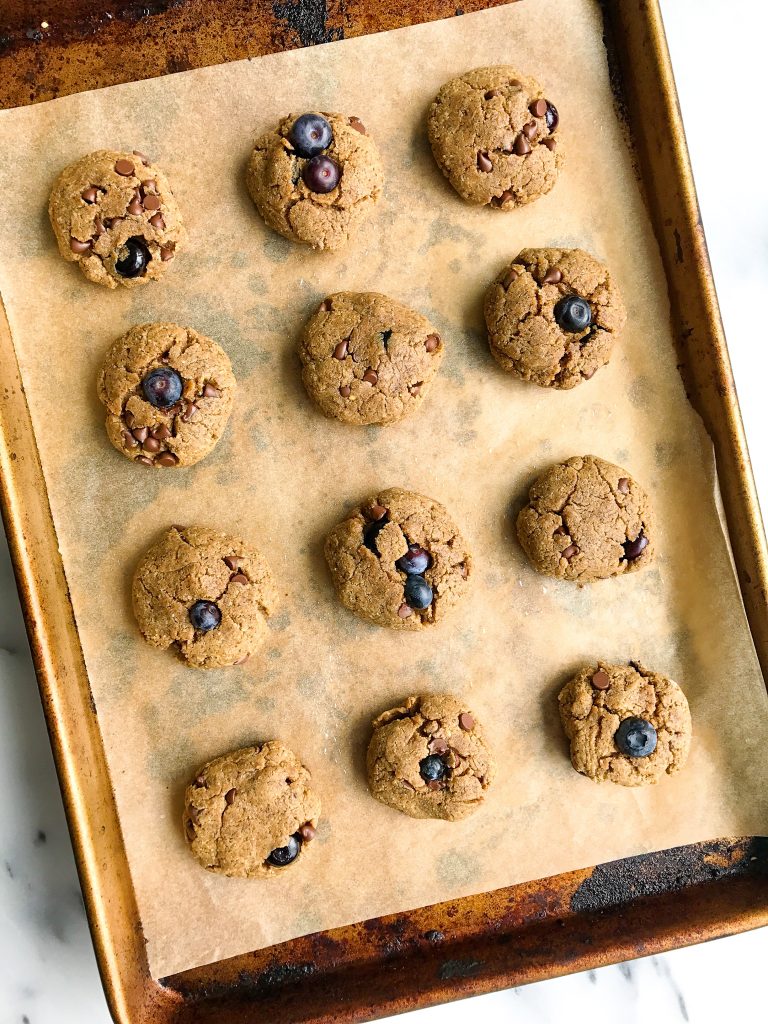 Cookies that are acceptable for breakfast AND have protein in them? Yup, you better believe it friends.
These Blueberry Chocolate Chip Breakfast Protein Cookies are actually going to take your Monday from a 0 to 100 in a second. I am officially obsessed with this recipe and have made it twice already since testing. They are Jord approved, Mom approved and obviously I love them.
They are made with all simple ingredients and these cookies are actually filling. Jord called me after he had them and literally said "I cannot believe how full I am still from eating those cookies!" Probably because they have healthy fats in them, fiber, they're low in sugar AND they have protein in them.
I was joking with a friend the other day about how many of you ask me what protein powder I use. Seriously though, I get asked that every single day and when I post a smoothie bowl or anything that talks about protein, the flood of comments come in. I think so many people ask about this because everyone has such different preferences in what protein powders taste good to them, don't hurt their bellies, etc.
I have recently been using ALOHA's protein powder and honestly, I am obsessed. They redid their ingredients and formula a few months ago and after trying it, I was hooked. It is a plant-based protein that is organic, non-GMO, soy-free and has 18 grams of protein in a serving.
ALOHA's protein is a blend of pea, pumpkin seed and hemp protein, which I love. They use coconut water, coconut cream, coconut sugar and there is no stevia in here, which is pretty unique for protein powders. ALOHA uses monk fruit extract instead. I use the vanilla, chocolate and banana flavors. My mom loves the berry one (I am allergic!).
This is the first time I have ever used protein powder instead of flour and honestly, I was really pleasantly surprised. It sounded kinda off to me when I thought of it but after eating a couple cookies, I quickly became obsessed. I used the vanilla protein in these Blueberry Chocolate Chip Breakfast Protein Cookies but any of them will taste amazing!
WHAT YOU NEED
Peanut butter (or any nut butter)
Egg
Coconut oil
Almond milk
Vanilla extract
Coconut flour
Baking soda
Blueberries
Dark chocolate chips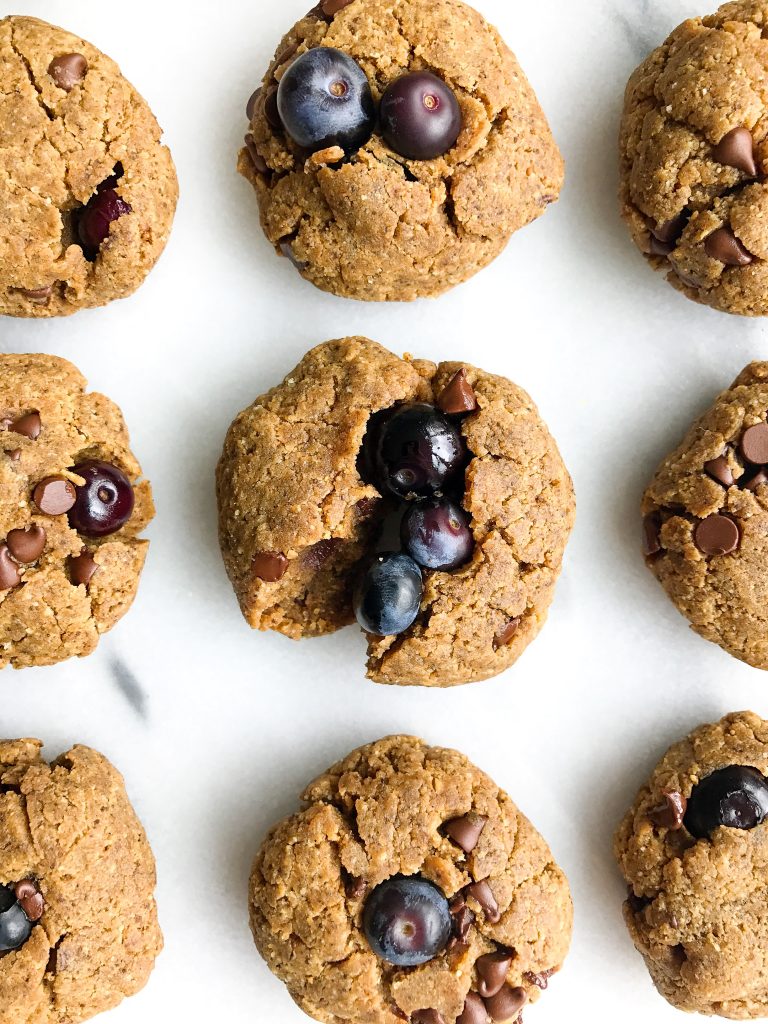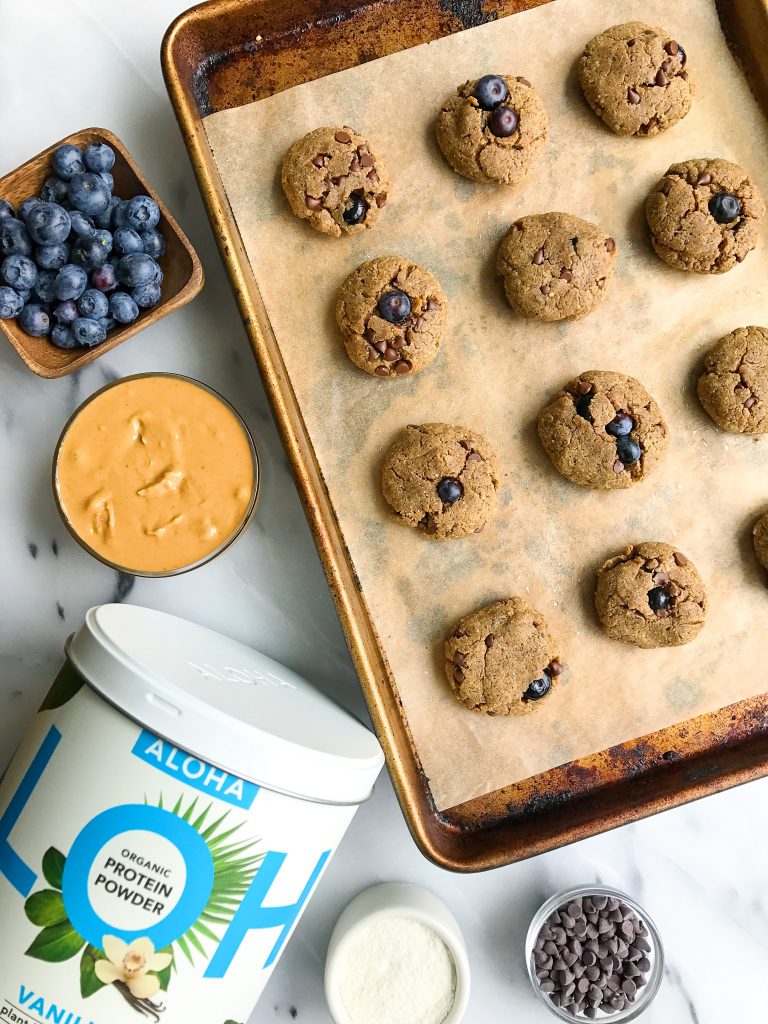 Print
Blueberry Chocolate Chip Breakfast Protein Cookies
Prep Time:

10 mins

Cook Time:

10 mins

Total Time:

20 mins
1/2 cup

creamy peanut butter (or your preferred creamy nut butter)

2 tablespoons

coconut sugar

1

large egg

1 tablespoon

liquid coconut oil

2 tablespoons

unsweetened almond milk

1/2 teaspoon

vanilla extract

1/3 cup

ALOHA Vanilla Protein Powder (or any flavor!)

2 tablespoons

coconut flour

1/4 teaspoon

baking powder

2 tablespoons

organic blueberries (washed and dried)

2 tablespoons

dark chocolate chips
Instructions
Preheat oven to 350 degrees and line a baking tray with parchment paper
Mix together the egg, coconut oil, almond milk, vanilla and nut butter in a bowl
In another both, mix together the protein powder, coconut flour and baking powder
Add dry ingredients to wet then mix well
Fold in the blueberries and chocolate chips then form into cookies and line on tray
Bake for 10-12 minutes and enjoy!
*Store in fridge for up to a week
Author:
Category:

gluten-free, dairy-free, grain-free

Cuisine:

cookies, breakfast
xx, Rach

Thank you ALOHA for sponsoring this post. It means so much to me to work with brands that I love and who support rachLmansfield!