Butternut Squash, Black Bean & Egg Tostadas made with healthy and nutritious ingredients!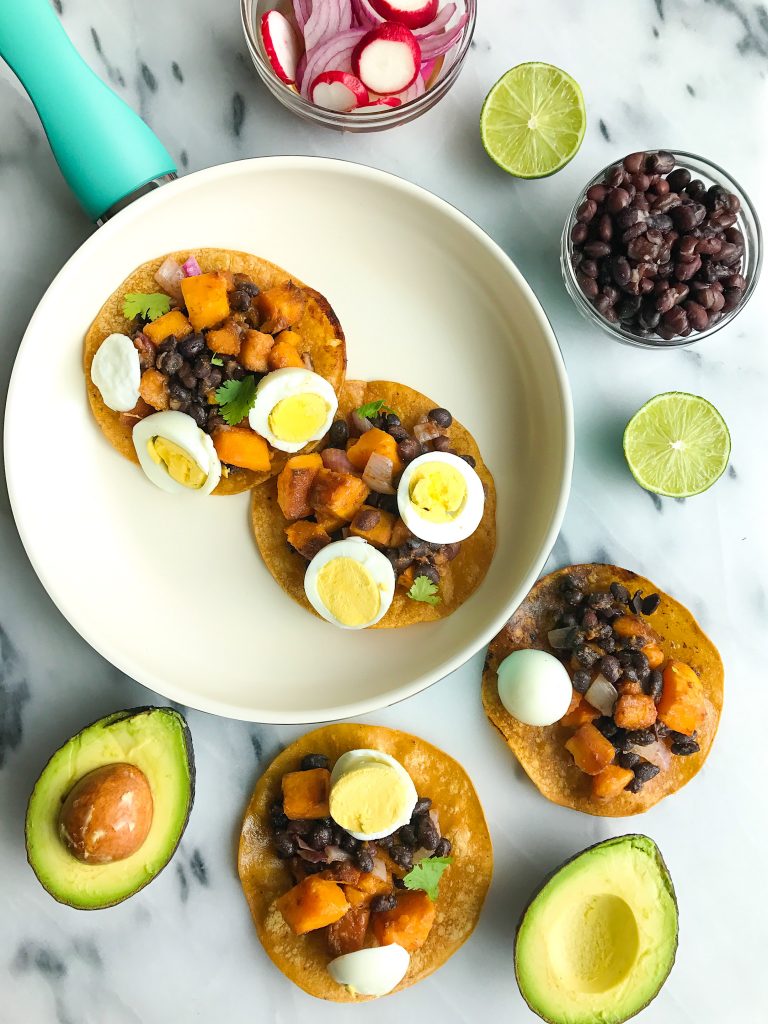 The obsession with GreenPan continues my friends.
I was so excited by your enthusiasm on Instagram last week when I posted the Chocolate Maca Overnight Soaked Porridge recipe featuring GreenPan. I never really paid attention to using non-toxic cookware up until recently and could not be more grateful to have tried out GreenPan and actually love it.
As I wrote about last week, it is so light and easy to cook with and it is still non-stick. No more toxic coated pants filled with gross chemicals. Our meals are pretty much all made with our GreenPan set now. Just like these Butternut Squash, Black Bean & Egg Tostadas.
Plus I am giving away the same GreenPan set I have to one lucky winner, YAY! Full instructions on how to enter are at the bottom of the post after you drool over these tostadas..
It is no surprise that these breakfast-ish tostadas are up on the blog since I eat egg tacos and tostadas every week. I love how easy they are to make and satisfying. You can throw together any veggies and proteins you'd like with your favorite tortilla and some eggs and boom. I like to switch up how I cook the egg too to keep things exciting. I made this particular recipe to help celebrate GreenPan's 10th Anniversary, yay!
These Butternut Squash, Black Bean & Egg Tostadas were made on my GreenPan cookware and they are a healthier version than the pan-fried heavy ones you may see in a restaurant.  I am sharing the full recipe details over on the GreenPan's site and there are a handful of other delicious recipes for you guys to try!