Chickpea Salad Stuffed Avocados for an easy vegan, gluten & grain-free meal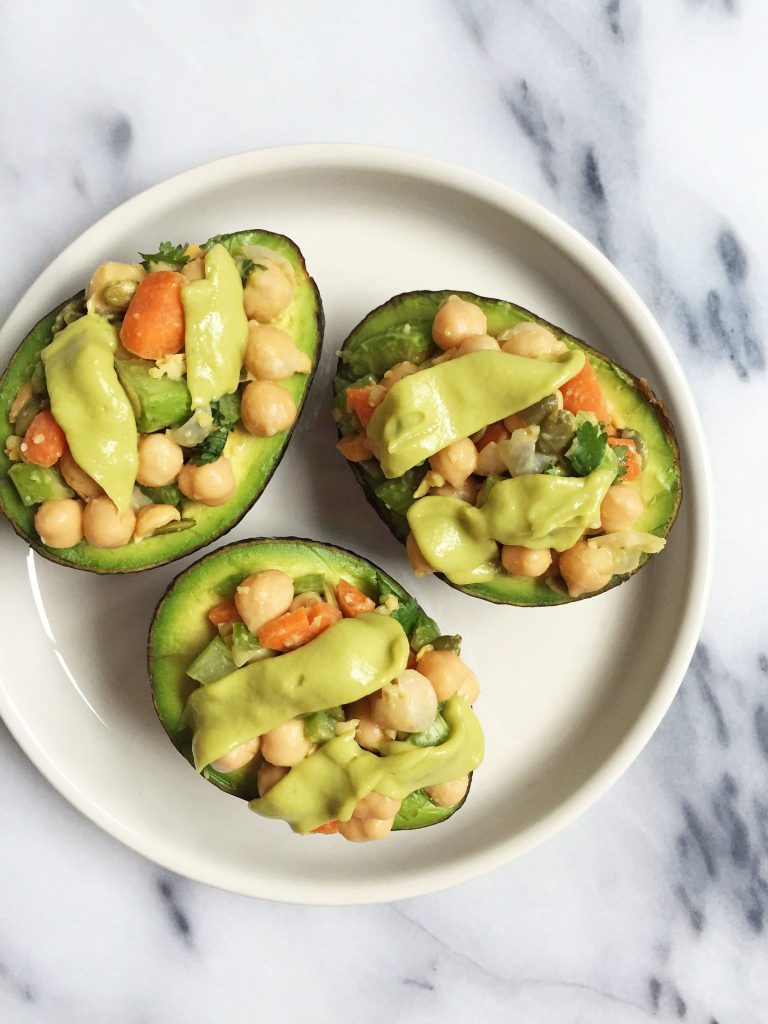 A few years ago I was obsessed with making chickpea salad. Like really obsessed and basically everyone around me looked at me like I had four heads (shocker).
But as someone who doesn't eat meat, packing lunches for work can seriously be challenging. I obviously do not eat cold-cuts, I am not a soup fan and buying lunch just wasn't an option when you are trying to save money as an underpaid entry-level employee. Luckily now I eat whatever is in my kitchen since I work from home, but I make lunch for Jord 4x a week.
I am not going to sit here and lie to you and say making lunch everyday for Jord to take to work is easy. The truth is it is a STRUGGLE. He loves variety, which is great. But our tastebuds are so different. I'm someone who can eat peanut butter & jelly, english muffins, or some toast variety everyday and be happy. 
Also Jord loves taking tuna salad to work and since I am a mercury paranoid wife, I am not sending tuna salad to work with him more than a couple times a month. This brings me to our latest lunch go-to, Chickpea Salad Stuffed Avocados.
These Chickpea Salad Stuffed Avocados are seriously the best. They are vegan, gluten & grain-free and they are SO easy to make. Also, I am pretty sure that pretty much anyone will love this lunch.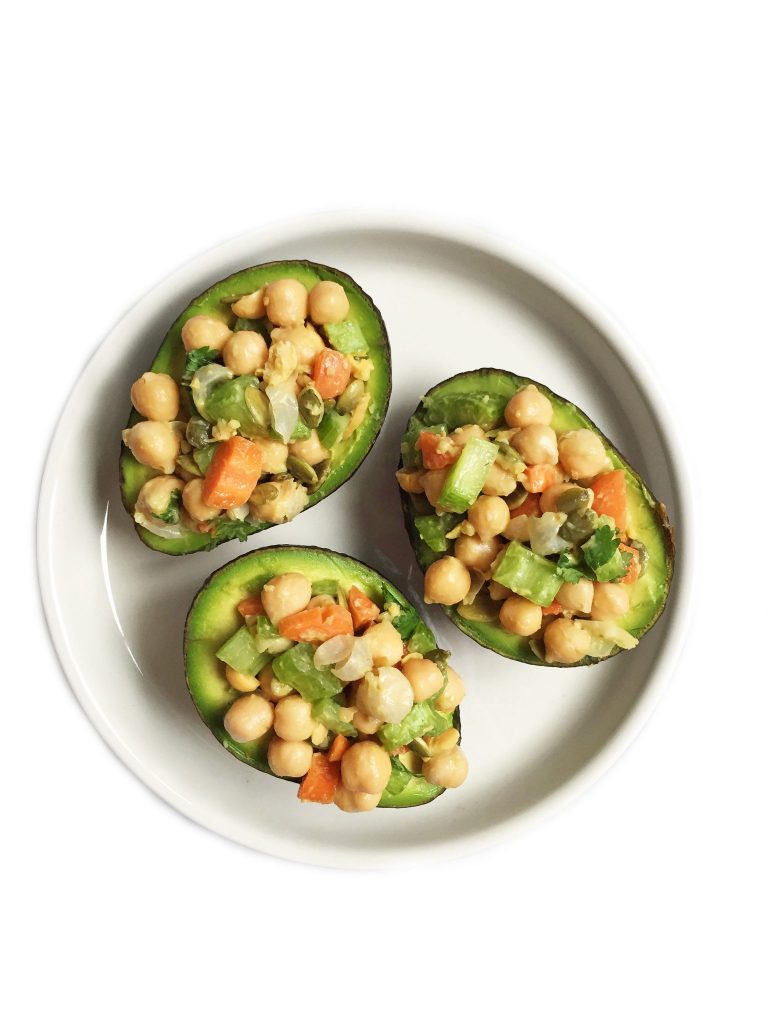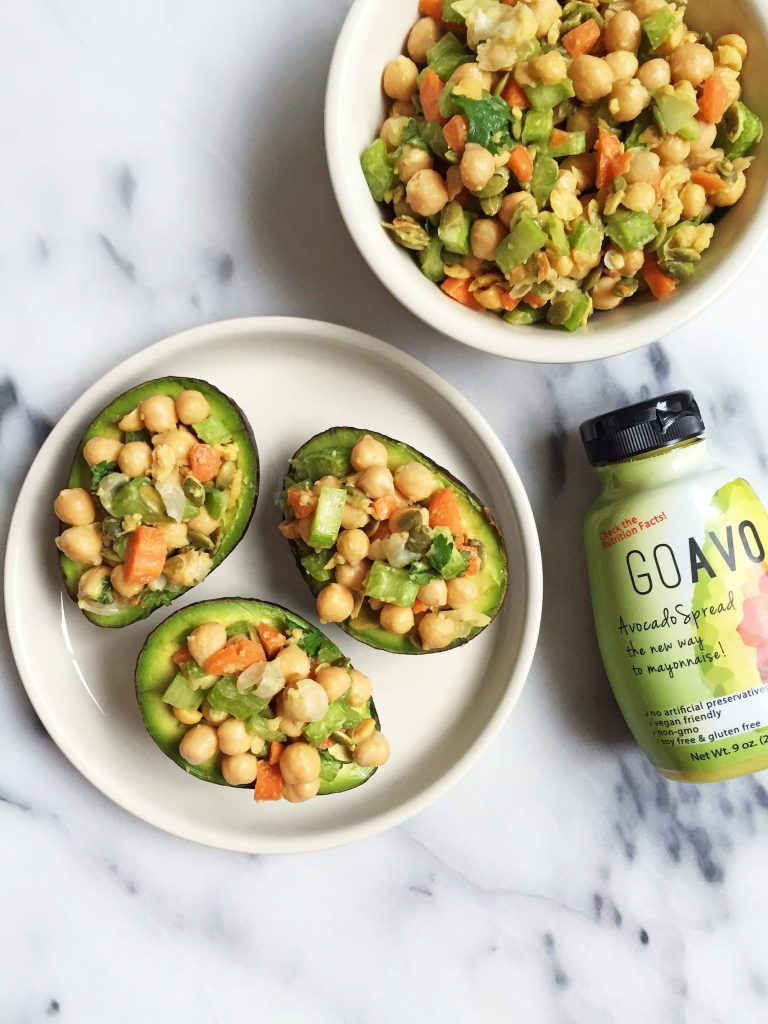 I prep a batch on Sunday's so it is in the fridge for us during the week. You also can stuff this chickpea salad into avocados, on top of salad or on a sandwich. I have tried all 3 versions and each are delicious, but my favorite way is stuffed in avocados.
The chickpea salad is filled with cilantro, celery, carrots (or no carrots if you are like me and hate them) and mixed with my new go-to spread, GoAvo. Go Avo is an avocado spread that basically a game changer. It is made with all clean ingredients, nothing artificial. It is also non-GMO, vegan-friendly, soy and gluten-free. It is the perfect addition to your salad, sandwich, anything really. Just think avocado in a spreadable, delicious form.
GoAvo also comes in 3 varieties: basil, original and chipotle. I can attest that all 3 are delicious and you may or may not be seeing some more GoAvo recipes on the blog soon.
When you make these Chickpea Salad Stuffed Avocados, I recommend prepping only the salad the night before. Don't stuff into the ripe avocados until you are about to eat because you don't want the avocados to brown. And don't worry about the GoAvo browning, it's natural and you just have to mix it up. It is totally okay and doesn't effect the quality of the spread.
Finally, if you do make these Chickpea Salad Stuffed Avocados, share them with me on Instagram or your favorite social channel. I love seeing what recipes you guys make from the blog, and I have a feeling you babes are going to really love this one 🙂
[bctt tweet="Avocados Stuffed with Chickpea Salad #vegan #glutenfree" username="rachLmansfield"]
Print
Chickpea Salad Stuffed Avocados
Author:
Yield:

4

avocado halfs

1

x
Category:

vegan, gluten-free, grain-free

Cuisine:

lunch, dinner
Scale
Ingredients
1

can organic chickpeas (I used no salt added)

2 tablespoons

chopped organic cilantro

1/4 cup

chopped organic celery

1/4 cup

chopped organic carrots

1/4 cup

pepitas

3 tablespoons

GoAvo Avocado Spread

2

ripe avocados
Instructions
Wash and strain chickpeas before prepping
In a medium mixing bowl, mash chickpeas leaving some chunks
Add in celery, carrots, pepitas and GoAvo and mix well (similar to what you do with tuna salad)
Cut avocados in half and remove pit
Stuff chickpea salad in each half and enjoy!
If you have left over chickpea salad, place in fridge in air tight container and enjoy within 5 days
xx, Rach

Thank you GoAvo for sponsoring this post. It means so much to me to work with brands that I love and who support rachLmansfield!