Flourless Dark Chocolate Chip Ginger Oatmeal Cookies that are gluten-free and made with healthy ingredients!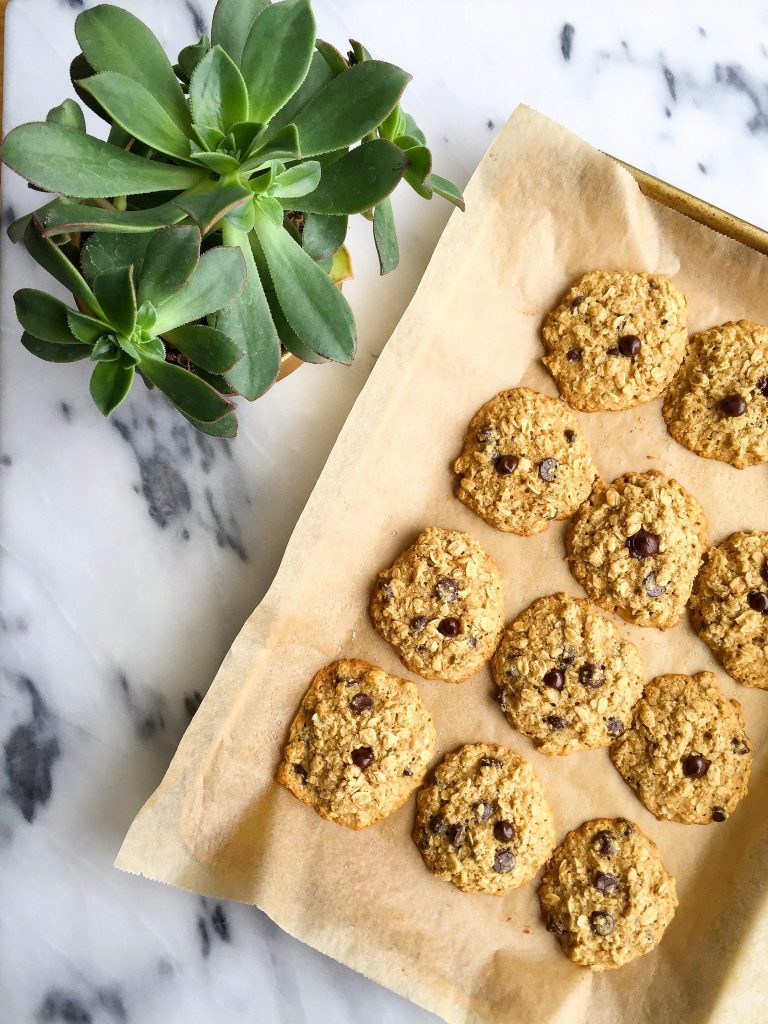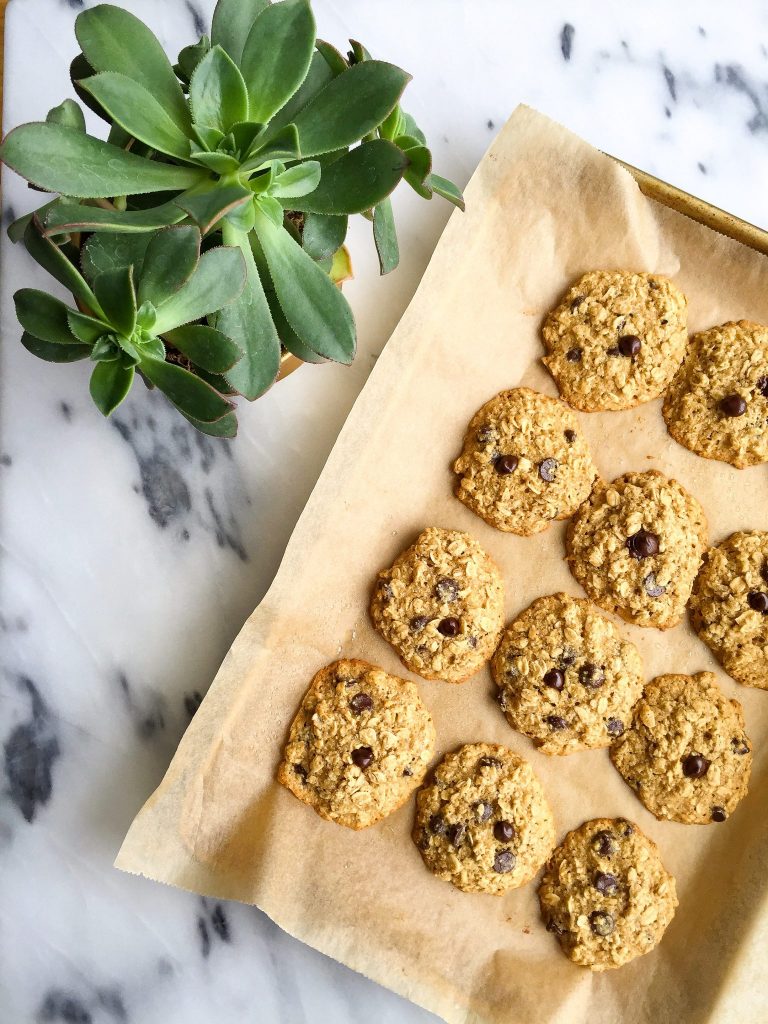 All I crave every night after dinner are cookies. Warm cookies and almond milk are seriously my weakness. Last week I made over 5 dozen cookies between testing for my baking class and blog eats. Needless to say we are on cookie OVERLOAD but I am loving it.
When I was younger and my Mom used to take me to the mall, she would bribe me with a rainbow sprinkles cookies from Mrs. Fields. Those were (and still are) the BEST cookies ever. So soft and sweet and the rainbow sprinkles make them 100x more fun to eat, right? Then when I went to high school, I used to buy 3 chocolate chip cookies from the cafeteria for $1.00 almost everyday. The cookies tasted like raw cookie dough, they were SO good.  Fast forward a few more years and I went to college where the dining hall literally had 10 kinds of cookies each day. Sugar, peanut butter, chocolate chip, you name it. I used to put some in a to-go container and bring them back to my room. I even set the fire alarm off once by microwaving an M&M cookie, OOPS! It was worth it though 🙂
So basically you get the point. Cookies have a piece of my heart. And these Flourless Dark Chocolate Chip Ginger Oatmeal Cookies are just another dreamy cookie on the list. We have made 3-ingredient Peanut Butter Cookies, Paleo Chocolate Chip Cookies, a Vegan Peanut Butter Cookie Pie on the blog so far… just to name a few.
These Flourless Dark Chocolate Chip Ginger Oatmeal Cookies are just in time for the holiday season and they are made with less then 10 ingredients that won't have you feeling like a fat lard after, I promise! They are pretty low in sugar too, which is a game changer in the cookie world.
These Dark Chocolate Chip Ginger Oatmeal Cookies also have a special ingredient. They have COLLAGEN in them! Yup, that's right we are adding collagen into our cookies now.
You are probably wondering what is collagen? Well Vital Proteins slays the collagen game my friends. I use their marine collagen every single day. Whether it is in my water, tea, baked goods like banana bread or my overnight oats, I try to get at least 1 scoop in everyday!
Marine collagen helps promote healthy joint health, is great for our hair skin & nails and it has a solid amount of protein in it too. I am convinced it has made a difference in my hair too AKA my soft spot of my appearance. My hair has never been longer and the extra nutrients do it wonders.
The best part of using it, is you don't even taste the collagen when you add it in. There are a few different kinds of Vital Proteins so you can find what works best for you. Try it out and let me know what you think!
Print
Dark Chocolate Chip Ginger Oatmeal Cookies
Author:
Yield:

8

-

12

cookies

1

x
Category:

dairy-free, gluten free-friendly

Cuisine:

dessert
Scale
Ingredients
1 cup

quick oats (old fashioned should work too)

3/4 cup

oat flour (do not sub another flour)

1

scoop Vital Proteins Marine Collagen (can omit if preferred but I love it!!)

1

and 1/2 teaspoons baking powder

1 teaspoon

cinnamon

1.5 teaspoons

ground ginger

2 tablespoons

butter, melted and cooled (dairy-free or regular)

1 teaspoon

vanilla

1

large egg (have not tested flax)

1/2 cup

honey or maple syrup

1/2 cup

dark chocolate chips
Instructions
Preheat oven to 325 and line a baking tray with parchment paper and grease with nonstick spray
Beat together butter, egg, honey and vanilla in a medium bowl
Mix in oatmeal, oat flour, collagen, baking powder, cinnamon and ginger
Fold in dark chocolate chips and place batter in fridge for 30 minutes
Using a tablespoon, spoon dough onto tray and form into cookies (about 2 tablespoons per cookie)
Use your hands to form
Bake in oven for 10-14 minutes until the edges are crisp
Let cool for a few minutes and enjoy!
Will stay good in airtight container at room temp for 5 days or freeze for a couple months
xx, Rach


Thank you Vital Protein for sponsoring this post. It means so much to me to work with brands that I love and who support rachLmansfield!