Dark Chocolate Maple Sea Salt Grain-free Granola for a vegan and low-sugar granola!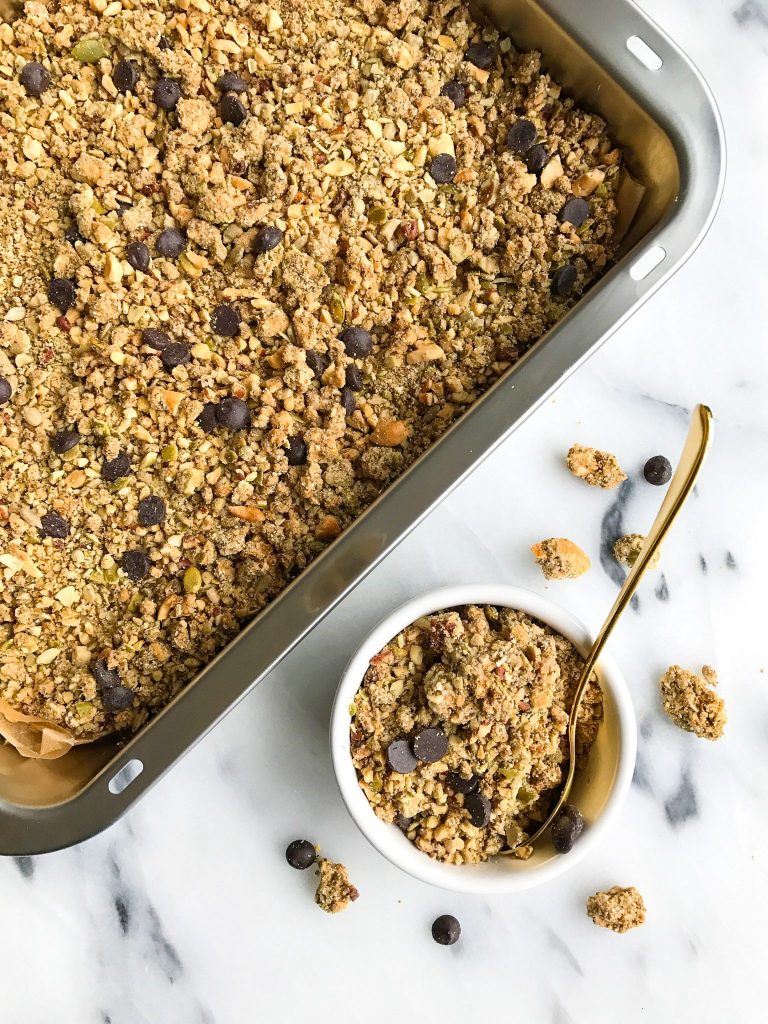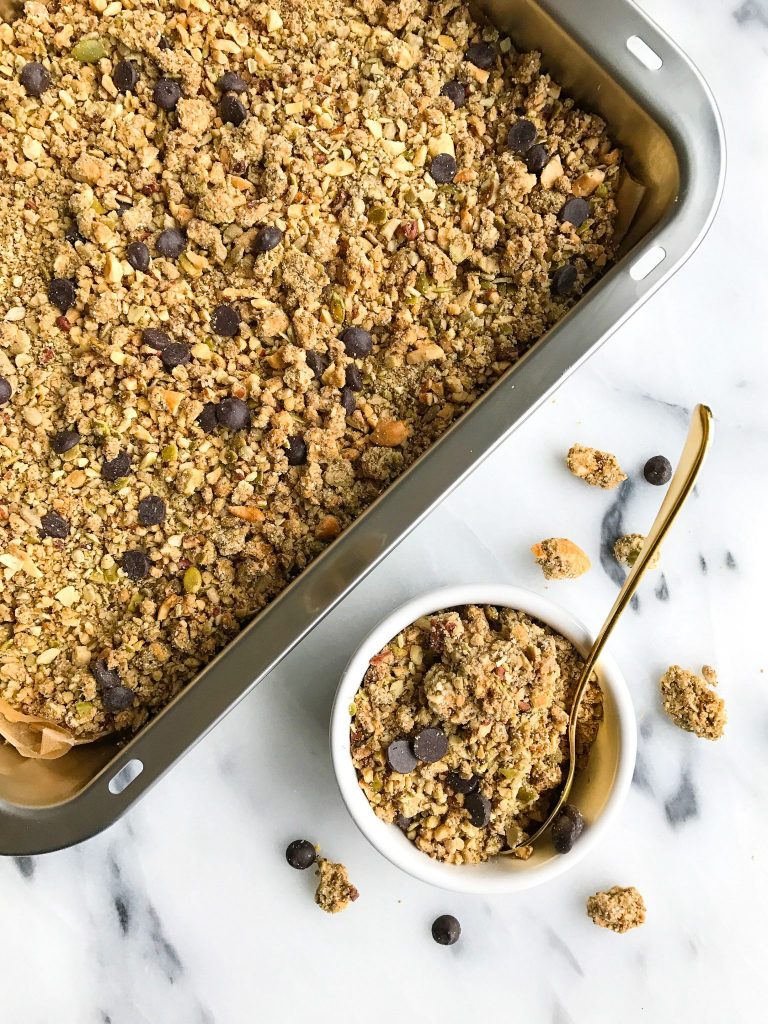 When I arrived home from Thanksgiving weekend in New Jersey, there was a 52 lb package waiting for me at the front desk. I think it has to be the heaviest package that someone has ever delivered to my apartment.
I saw the Wolf Gourmet logo on the side and was SO excited. As someone who doesn't own a toaster nonetheless a convection oven, this is flipping game changer you guys. Jord was probably more excited than I was. He anxiously waited until I was "ready" to take it out of the box.
I received the Wolf Gourmet Countertop Oven with the gorgeous red knobs since a few of my other appliances are red as well. Pretty random coming from the black, white and gray chick but apparently I was feeling ballzy the day I registered for my bridal shower.The Wolf Gourmet Countertop Oven is absolutely GORGEOUS you guys. It is stainless steal with six different cooking modes. So you can pretty much make anything in this oven and it will turn out amazing. Bake, roast, broil, literally whatever you want! It heats up SUPER quickly to. I only waited for a couple of minutes when I was heating it up for this grain-free granola.
Jord is most excited about the integrated temperature probe. He literally asked me twice if I tested it out yet but full disclosure, I have not. Supposedly it can give you precise control to roast to perfection without even opening the door? There is a LCD screen on the front that gives you the details! Jord will be geeking out over this and probably make me roast a chicken or something soon.
I was also pretty nervous that the oven would overheat on my small counter top, but there is a fan with high-volume airflow vents so there are no hot spots, AKA less chances of me burning my apartment building down.
I used the convection setting to bake this granola too. My Mom always told me that it helps reduce cooking time because we have that option in my parent's kitchen. My apartment building oven isn't as fancy so I am taking full advantage of convection bake over here with my Wolf Gourmet.
But to be honest I am just so excited to have something to make TOAST in! Yes, just classic toast. We currently toast on a grill pan (lolz, ghetto) and now we can toast with this fancy pants Wolf Gourmet gem.
My first recipe I made using it was this Dark Chocolate Maple Sea Salt Grain-free Granola. Duh, because your girl can't go more than a day without eating granola. I have been spending so much money buying granola every week for Jord and I, so it was time I made homemade one. I also have been loving grain-free granola now for awhile. It keeps me much fuller for longer and the healthy fats and protein are on point. I have a couple other grain-free granola recipes here on the blog too, 6-ingredient Chocolate Granola and Grain-free Almond Butter and Jelly Granola.
The Dark Chocolate Maple Sea Salt Grain-free Granola is also entirely vegan and it is relatively low in sugar. I love the salty and sweet flavor taste. It also is super easy to make. A few of my favorite nuts, seeds and more and that's it.
You can pair it with your go-to yogurt, nut milk or just shove handfuls of it into your mouth when you pass the fridge like I do. Oh and yes, I also keep this in the fridge. You don't have to but I keep all my granolas in the fridge. They stay extra crunchy that way and I live for a crunchy granola.
Let me know if you guys make this grain-free granola and if you have a countertop oven! I would love to hear your thoughts and what you make in yours too 🙂
Print
Dark Chocolate Maple Sea Salt Grain-free Granola
Author:
Yield: About

3 cups

1

x
Category:

grain free, gluten free, dairy free

Cuisine:

breakfast, granola, snacks
Scale
Ingredients
1 cup

cashews

1 cup

pecans

1/3 cup

almond flour

1/2 cup

pumpkin seeds

1/2 cup

sunflower seeds

1/3 cup

creamy almond butter

3 tablespoons

coconut oil

2 tablespoons

maple syrup

4 tablespoons

chia seeds

1 tablespoon

maple sugar

1/2 teaspoon

vanilla extract

1/2 teaspoon

sea salt

1/4 teaspoon

cinnamon

1/3 cup

dark chocolate chips
Instructions
Preheat your Wolf Gourmet Convection Oven to 300 degrees (or your regular oven)
Line a baking tray with parchment paper
In food processor combine cashews, pecans, pumpkin seeds and sunflower seeds until broken up but do not over pulse! Just a few times to break up the nuts and seeds
In a small sauce pan, melt together almond butter, coconut oil, maple syrup and vanilla extract for a about a minute over medium heat until it is a liquid mixture then set aside
In a large bowl, add the broken nuts and seeds followed by almond flour, maple sugar, chia seeds, sea salt, cinnamon and mix well
Pour liquid mixture in the bowl and make sure everything is evenly coated
Add granola to parchment paper and make sure that the granola bakes close together, do not spread apart on the baking tray to ensure you get clusters!
Bake for 20 minutes then rotate baking tray and bake for another 20 minutes
Let cool then add dark chocolate chips and enjoy!
*Will stay good for about a week in airtight container, I like to keep in fridge!
xx, Rach


Thank you Wolf Gourmet for sponsoring this post. It means so much to me to work with brands that I love and who support rachLmansfield!