Flourless Dark Chocolate Strawberry Fudge Brownies for an easy grain & a dairy-free dessert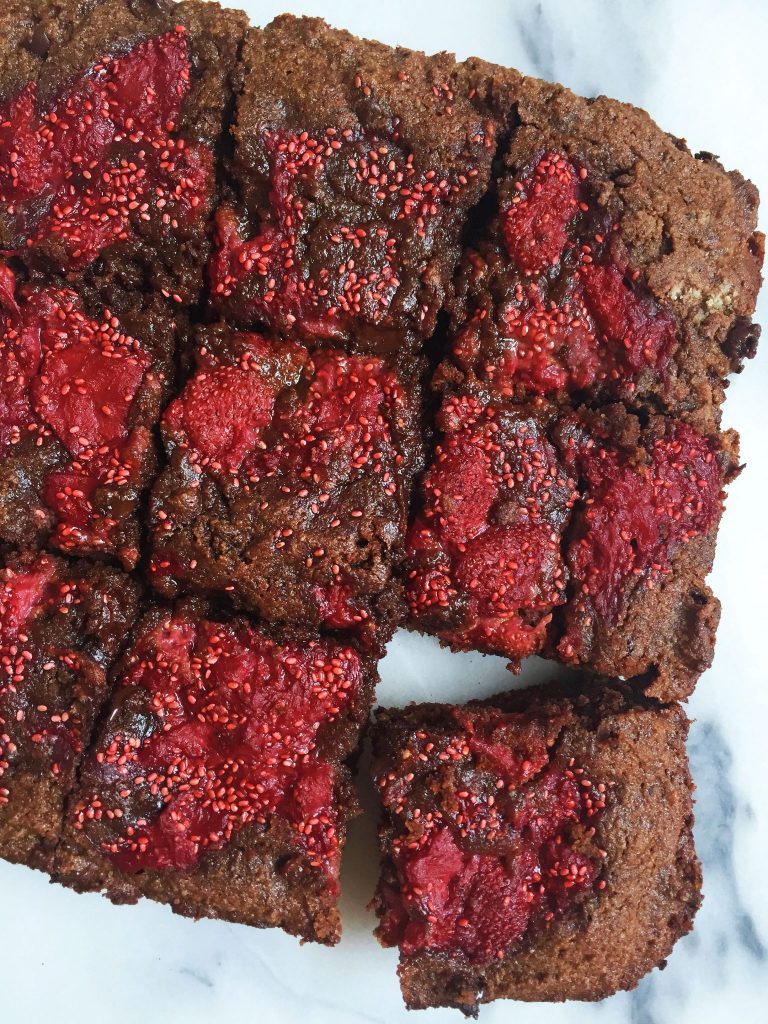 Strawberries and dark chocolate are a power couple in the dessert world. Literally anything you do with these two ingredients turns out absolutely amazing AND delicious.
Like these Flourless Dark Chocolate Strawberry Fudge Brownies. Boy are they are a mouthful to say and eat. But in the best way possible. These brownies are seriously the most fudgey brownies I have ate in my entire life. The fact that they have no refined sugar, flour, butter, canola oil still mind boggles me. Basically don't underestimated the powers of clean ingredients my friends because they CAN satisfy that sweet tooth craving we all get.
My favorite part of these brownies is the Strawberry Chia Jam inside. These brownies are giving chocolate covered strawberries a run for their money, let me tell ya.
So let's chat about this jam. You may be familiar with my jam recipes from Strawberry Rhubarb Cupcakes and these Almond Butter & Jelly Breakfast Bars. I am obsessed with making jam. It is so easy and so underrated. But for this particular jam, I used a special ingredient. Yup that's right, there is an ingredient you are so not expecting in it.
Remember those bomb Flourless Vegan Blueberry Lemon Pancakes and Grain-free Dark Chocolate Cherry Donuts? Yup of course you do because I post about them on Instagram 21941728374x a month. Anyways, all three of these recipes use my go-to beverage, Zevia. I owe Zevia A LOT due to the fact that I used to be an avid diet soda drinker (don't judge me, I know you probably were too) and because of companies like Zevia, I don't have to drink gross chemicals anymore. Zevia is the real deal people. I love it after lunch when I used to have a soda and it satisfies that carbonated drink I enjoy. Plus they have so many flavors for us like orange, grape, lemon-lime, etc.
But anyways, back to this jam (rambling at it's finest). I used Strawberry Zevia in it! Yup, Zevia has a strawberry flavor. It gives that extra kick of strawberry and I love adding a bit a fizz to my jam now. You can even make this jam on its own and have it on toast with nut butter or add it into your oats. Since it is so versatile, I have been making it on repeat!
I personally love it in my extra fudgey brownies. And speaking of brownies, we can now chat about those. These brownies are made with almond flour, which I was presently surprised with because you never know what almond flour is going to do. It it so temperamental. We have a love/hate relationship as I am sure you can all relate to. I haven't tested another flour for these brownies so I recommend following this recipe exactly as is. I tested a handful of versions before nailing it and as soon as you take bite and taste that fudge factor, you will know why.
Finally when you do make these Flourless Dark Chocolate Strawberry Fudge Brownies, don't forget to tag me in them on social media! I love seeing when you make recipes from the blog and hearing what you think.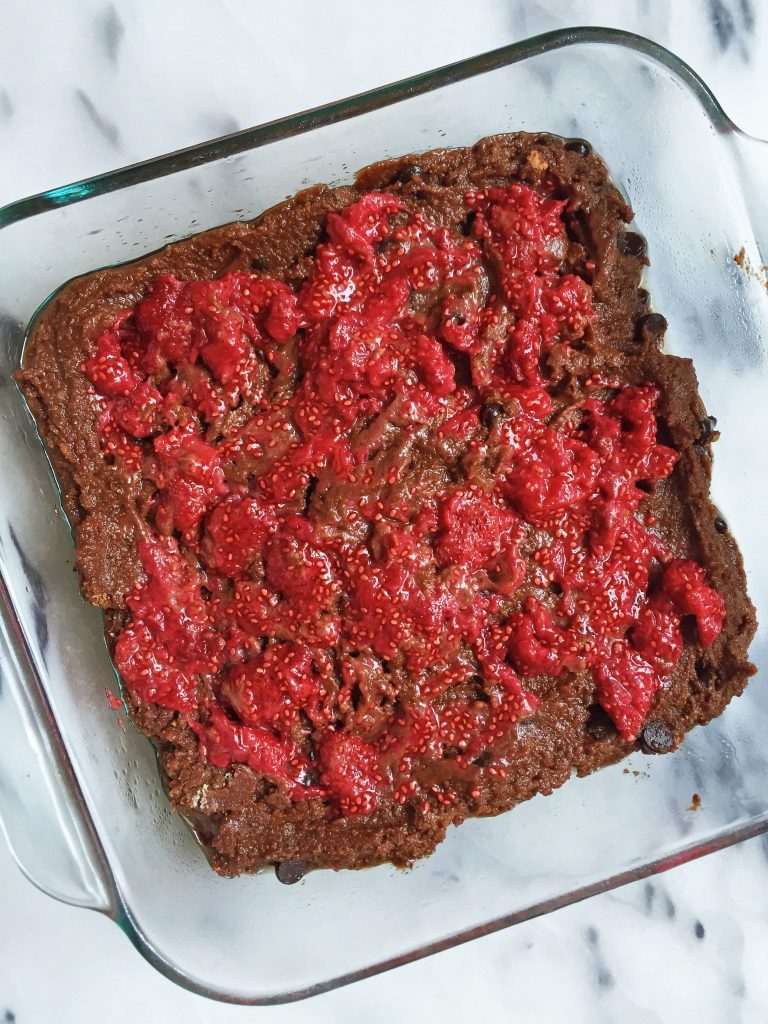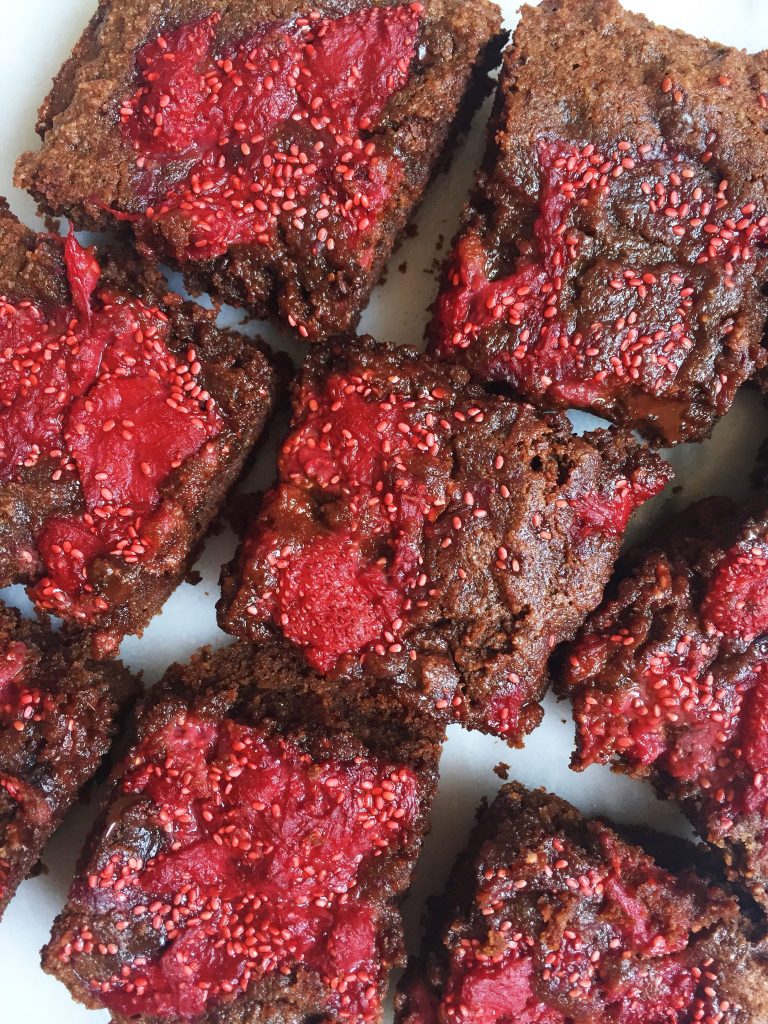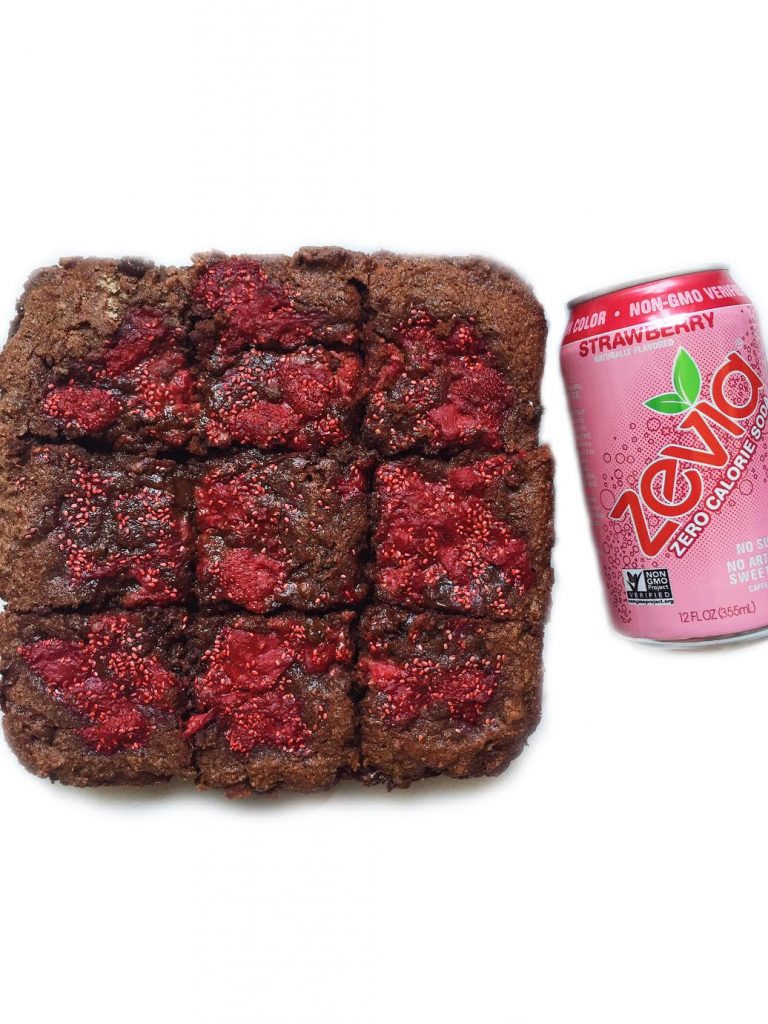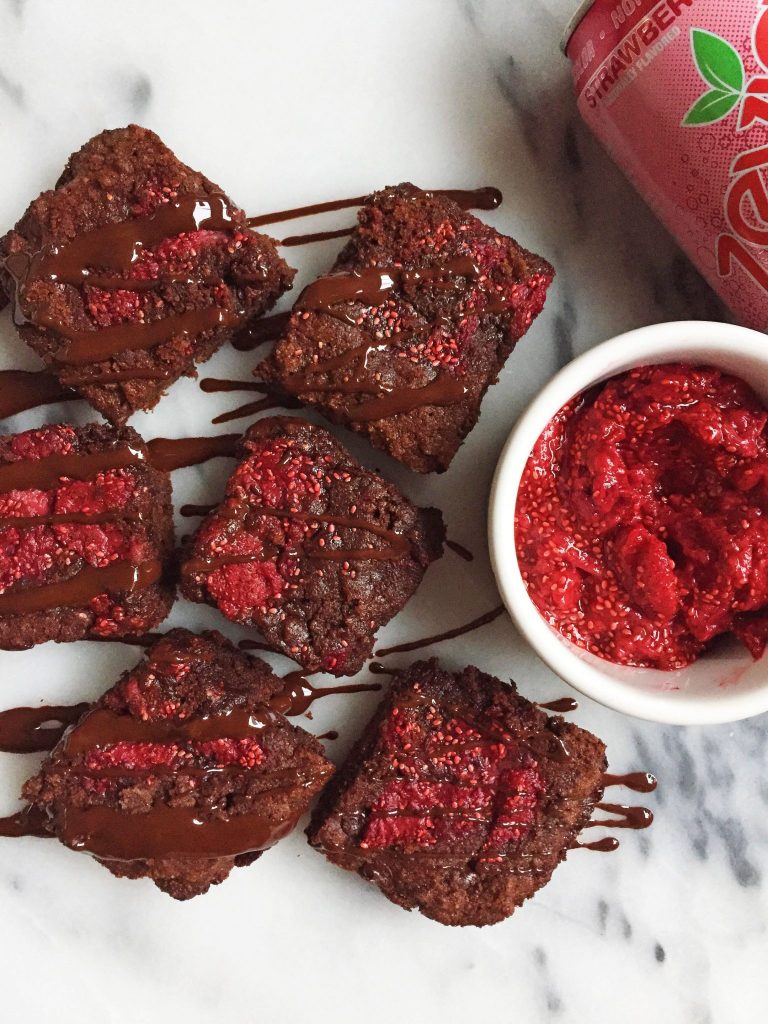 Print
Flourless Dark Chocolate Strawberry Fudge Brownies
Author:
Yield:

9

brownies

1

x
Category:

grain free, gluten free, dairy free
Scale
Ingredients
Dry ingredients:

1 cup

almond flour (have not tested other flours)

1/3 cup

coconut sugar

1/2 cup

cacao powder

1/2 teaspoon

baking powder
Wet ingredients:

3

eggs (have not tested flax or chia egg)

1/3 cup

maple syrup (honey or agave will work)

1/2 cup

coconut oil, melted and cooled
Strawberry Chia Jam:

1.5 cups

strawberries (organic recommended, not frozen)

3 tablespoons

Strawberry Zevia

2 tablespoons

maple syrup

1.5 tablespoons

chia seeds
Mix-in's:

1/2 cup

dark chocolate chocolate chips
Instructions
Preheat oven to 350 degrees and grease 8×8 baking dish well (I used coconut oil spray)
Begin making the strawberry chia jam by combining strawberries, Strawberry Zevia and maple syrup in a small sauce pan
Bring to a low boil then simmer and mix in chia seeds
Mash the strawberries, leaving some chunks
Keep stirring for about 15 minutes or so until the jam is formed
Remove from heat and set aside
Begin making brownies by combining wet ingredients and mixing with Kitchen Aid hand mixer (you can use a spatula as well but easier with mixer)
Add dry ingredients and mix with spatula
Fold in strawberry jam and dark chocolate chips
Bake for 25-30 minutes or until toothpick comes out clean
*Will stay good for about 5-7 days in fridge*
xx, Rach

Thank you Zevia for sponsoring this post. It means so much to me to work with brands that I love and who support rachLmansfield!