Flourless Golden Milk Pancakes with homemade Cinnamon Maple Syrup for a delicious plant-based breakfast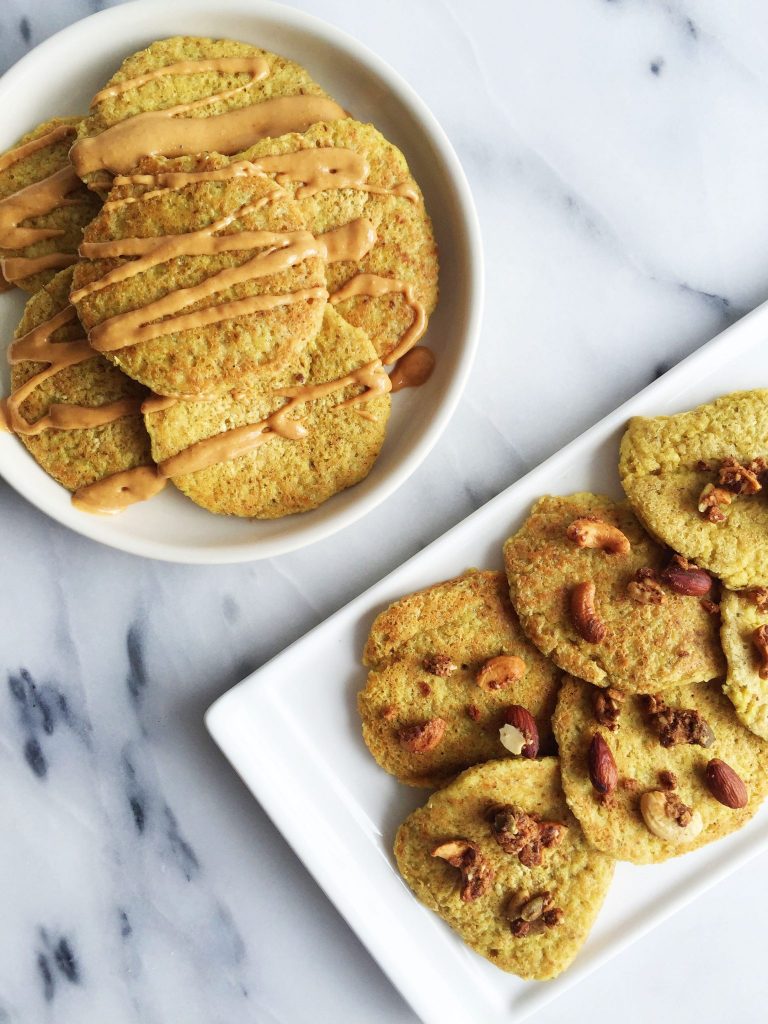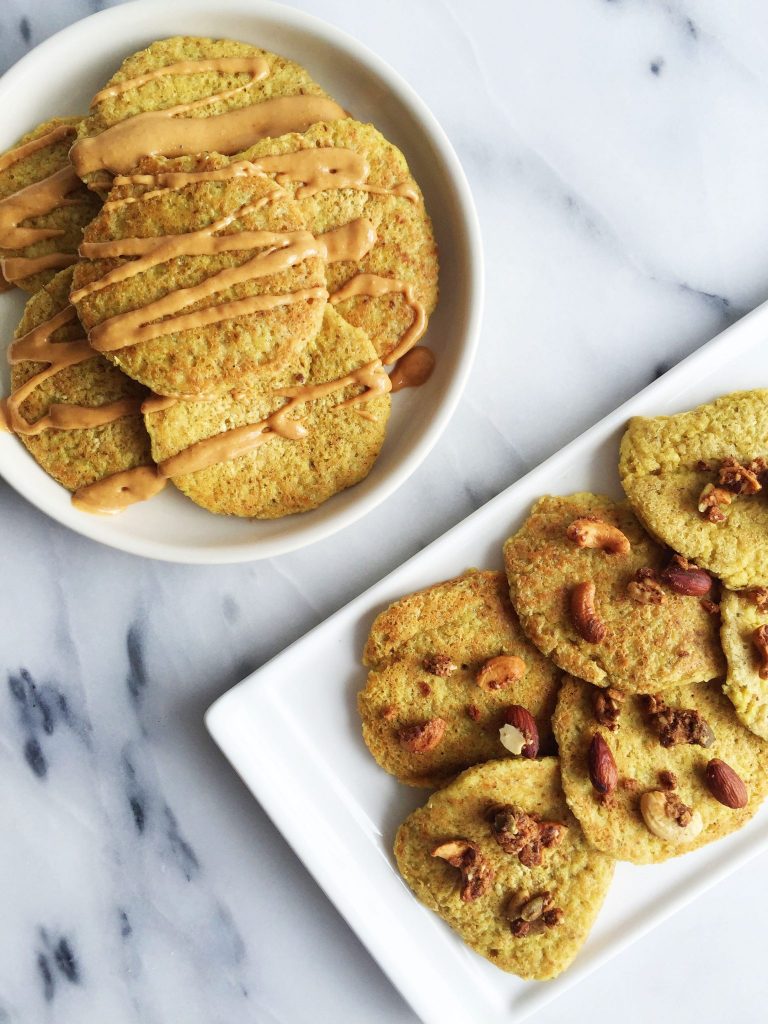 I think it was around this time last year that I started to drink "golden milk". In case you are scratching your head like, "what the beep is golden milk?". It's a sweet milk with turmeric spice and other flavors like a honey or cinnamon, etc. I would make it as a sweet mid afternoon beverage every day during the winter. Since I am not much of a coffee drinker, I am always looking for a warm pick me up to make.
I typically boil together almond milk, splash of turmeric, honey, coconut oil, and nut meg together when I make my own golden milk. Bring to a light boil then simmer for about 15 minutes, and it is damn GOOOD babes!
When I first started to sip golden milk, I giggled when I looked in the mirror because the turmeric completely died my lips and mouth yellow, HA! I looked ridiculous. I then started to drink it with a little extra attention to how I sipped golden milk so I wouldn't look crazy when I was with other people. Guess that is a perk of working from home though 🙂
When REBBL reached out to me to try their beverages, I was SO excited that they had a Golden Turmeric Milk. Plus I first learned about REBBL's Turmeric Golden-Milk in the summer months when I wasn't having my warm milk anymore. I was OBSESSED with REBBL's to the point where I never even made my own golden milk anymore.
Then I also learned more about REBBL and their mission, and loved finding a brand who actually is making a difference in the world. REBBL is here to create real food products unparalleled in taste, nutrition and function. They also have a direct impact in the fight against human trafficking. Yup, a company with a real mission in addition to feeding us delicious beverages.
Their beverages come in two lines: organic coconut milk-based protein and elixirs (both with amazing flavor). They also have super herbs in them, which are REBBL's star ingredients. They are known of have an effect on the nervous system, helping to calm the adrenals and decrease the flood of stress hormones (HA so need that). Each of REBBL's beverages have super-herbs in them to provide us with good-for-you ingredients, that can help vitalize and balance our bodies.
Some of their super-herbs you can find in their beverages are: reishi, ashwagandha, maca and turmeric.
Today we are focusing on REBBL's Turmeric Golden-Milk.
REBBL's Turmeric Golden-Milk has a coconut milk base and also has organic honey, vanilla, turmeric, ginger and other delicious and good-for-you goods in it. Turmeric itself is SO good for you guys. I try to sprinkle it on everything. It is easier for me to remember in the winter when I roast veggies and do more cooking though. Start off with a little sprinkle then you will learn to love it even more.
Turmeric is one of the most valuable herbs in the human diet. It is known to help support inflammation, rapid physical recovery and cognitive function and protection.
To make REBBL's Turmeric Golden-Milk even more versatile, we are making GOLDEN MILK PANCAKES today! Yup, a sweet stack of golden milk pancakes paired with a homemade cinnamon maple syrup. I cannot wait for you babes to try these!
Print
Flourless Golden Milk Pancakes with Cinnamon Maple Syrup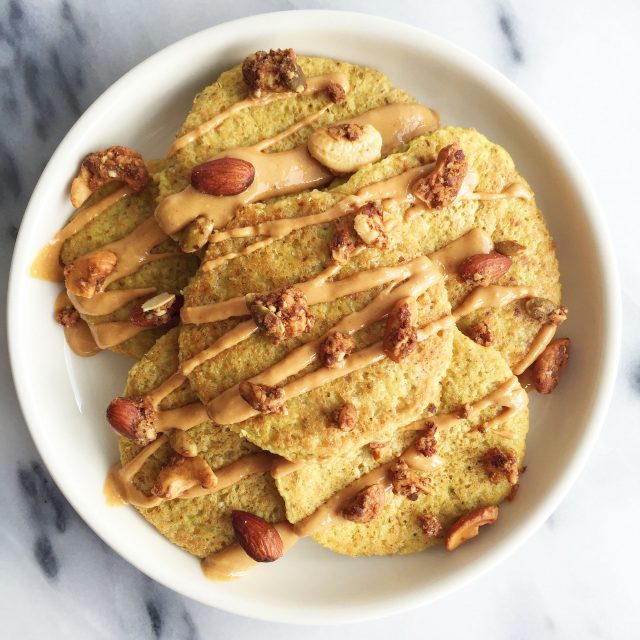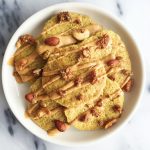 Author:
Prep Time:

10 mins

Cook Time:

10 mins

Total Time:

20 mins

Yield: About

8

-

10

pancakes

1

x
Category:

vegan-friendly, gluten free-friendly

Cuisine:

breakfast
Scale
Ingredients
2 cups

oat flour (I have not tested this with other flour)

2 tablespoons

coconut oil, melted & cooled

¼ cup

REBBL's Turmeric Golden-Milk (can sub with another milk too)

¾ cup

unsweetened almond or coconut milk (another milk works too)

1

chia or flax egg (you can use regular egg too)

1/2 teaspoon

cinnamon

1/4 teaspoon

turmeric
Mix-in's:

1/3 cup

mixed nuts (I used pecans)
Cinnamon Syrup:

1/2 cup

maple syrup

1 teaspoon

cinnamon
Instructions
To make the Cinnamon maple Syrup:
Combine syrup and cinnamon in a sauce pan and bring to a low boil
Let it boil for about 2-3 minutes then remove from heat and set aside
Begin making pancakes:
Make chia egg by combining 1 tablespoon ground chia (NOT chia seed, simply blend chia seeds to get ground chia), 3 tablespoons water and mix in a small bowl and let it sit for 5 minutes or until it takes on a goopy texture similar to raw egg yolk
In medium bowl, mix together pancake ingredients and let sit for a few minutes to thicken
Fold in pecans or your mix-in's of choice
Grease a medium skillet with coconut oil or butter
Heat to medium-high and make sure the skillet or pan is well greased
Place 2 tablespoons of batter onto the skillet per pancake
After cooking 2-3 minutes (the pancakes will start to bubble a little on the one side), flip pancake and cook for another 2-3 minutes
Finally, enjoy with syrup, nut butter and your choice of toppings!
*Pancakes will stay for about 5 days in fridge and syrup about 7*
xx, Rach


Thank you REBBL for sponsoring this post. It means so much to me to work with brands that I love and who support rachLmansfield!