Fudgey No-Bake Chocolate Chip Freezer Cookies for a delicious vegan and grain-free dessert!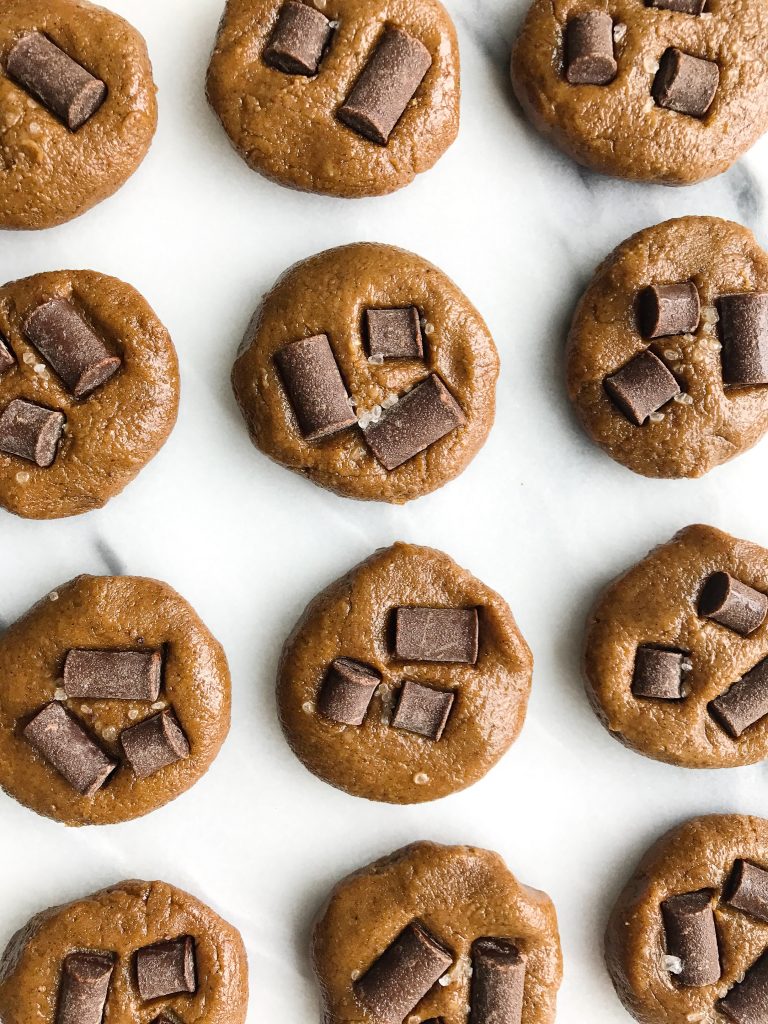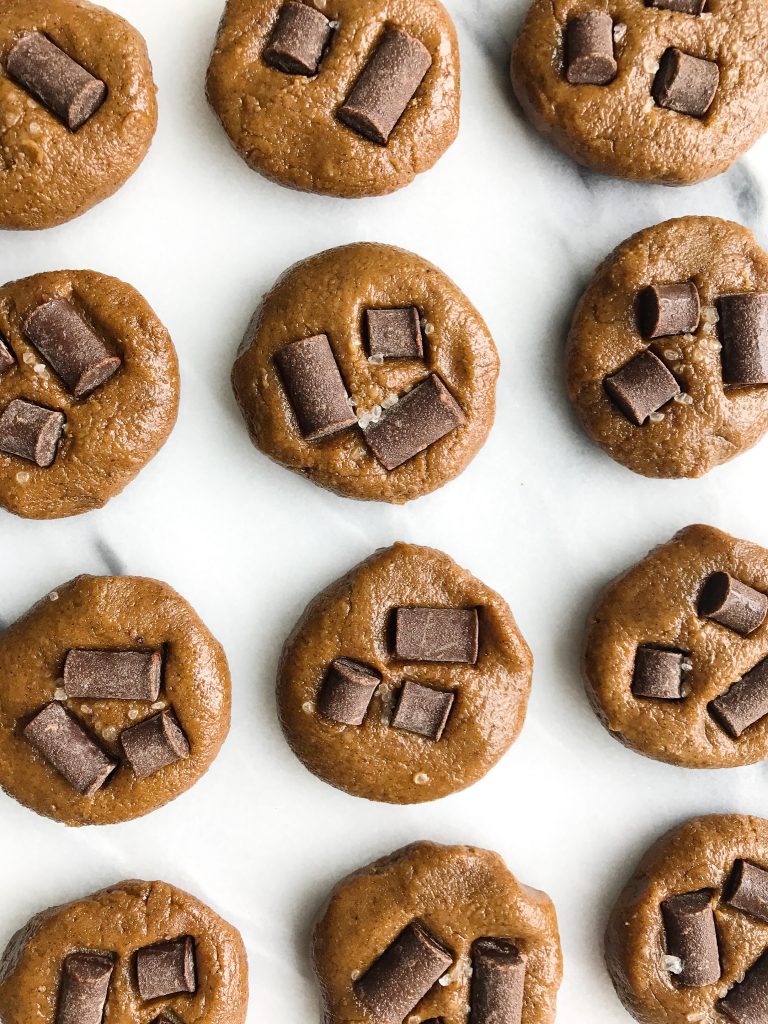 Cookies are life. But no one is turning on their oven when it 90 degrees in August (unless you are me and are nuts). That is why we are making these Fudgey No-Bake Chocolate Chip Freezer Cookies.
All you need are a few of my favorite ingredients, a food processor/blender and a FREEZER to make the cookies. They are extra fudgey, totally delicious and they are relatively low in sugar for cookies if you ask me. They are filled with healthy fats, they have protein in them and they won't give you that carb overload that many cookies to.
As you probably have noticed, I don't really bake with many oils besides coconut and avocado. These cookies are made with my favorite coconut oil ever from Garden of Life®. I have 2 jars open at all times (each for a different use).
Usage number 1 is food obviously. I melt it in the microwave or over the stovetop to turn to liquid when needed but in the summer it pretty much turns to liquid itself. I love to cook veggies in Garden of Life's Raw Extra Virgin Coconut Oil and love love to caramelize bananas with it. And for baking, SO good.
Usage number 2 is for my hair and skin. Yup, slathering my ends with coconut oil for extra moisture and hydration (more on that here). I also use it for my skin and when shaving. It is amazing and has my skin feeling all kinds of smooth.
Please do keep two jars open if you are going to use it for food and body/hair. Or scoop some out and put into a tupperware just to keep it separate.
You may remember Garden of Life from those amazeballs Mini No-Bake Oatmeal Breakfast Bowls. What I love about Garden of Life is the amount of amazing products they have. It isn't just supplements or vitamins or protein but they have a variety of other products you can use daily like this coconut oil!
Now let's freeze these COOOOOOKIES!
WHAT YOU NEED
Garden of Life Raw Extra Virgin Coconut Oil
Creamy almond butter (I used this one, code RACHL for 10% off)
Protein powder (you can also use Garden of Life's varieties!)
Almond flour
Chocolate chips (I use this one or this one, code RACHL for free surprise with orders!)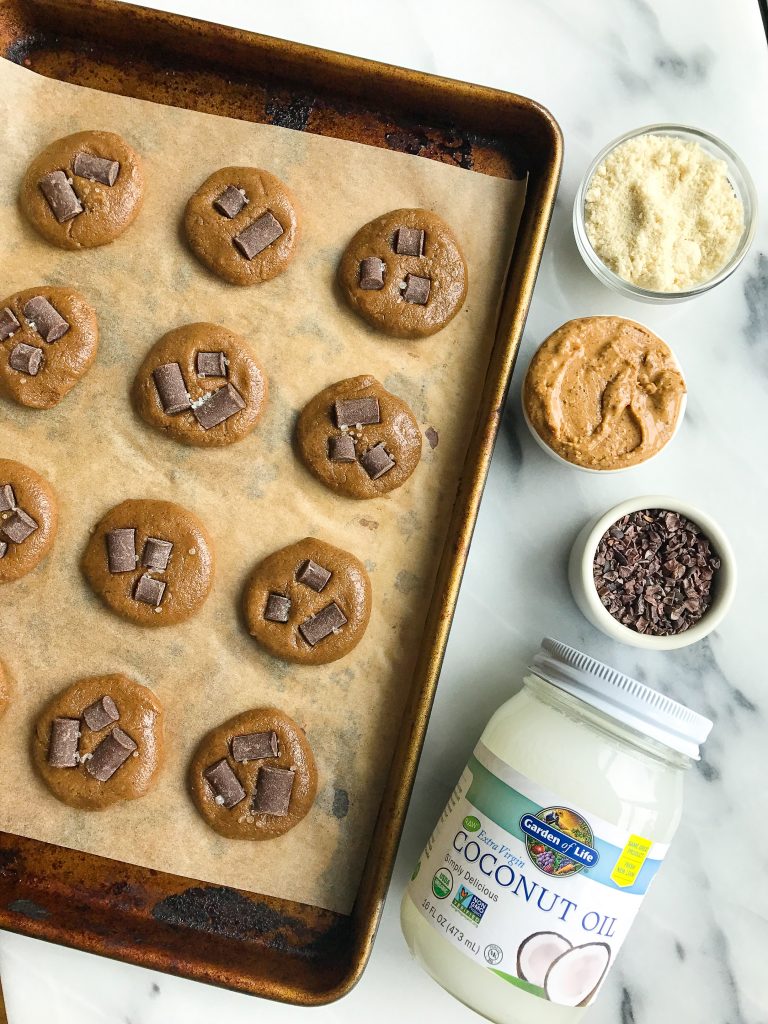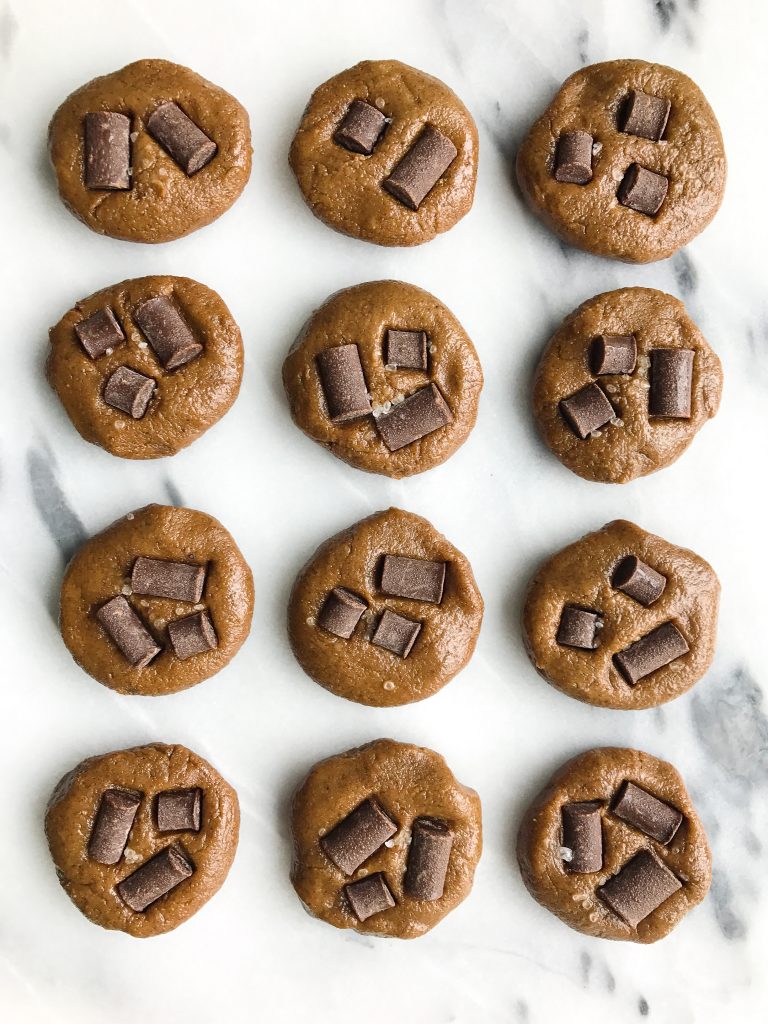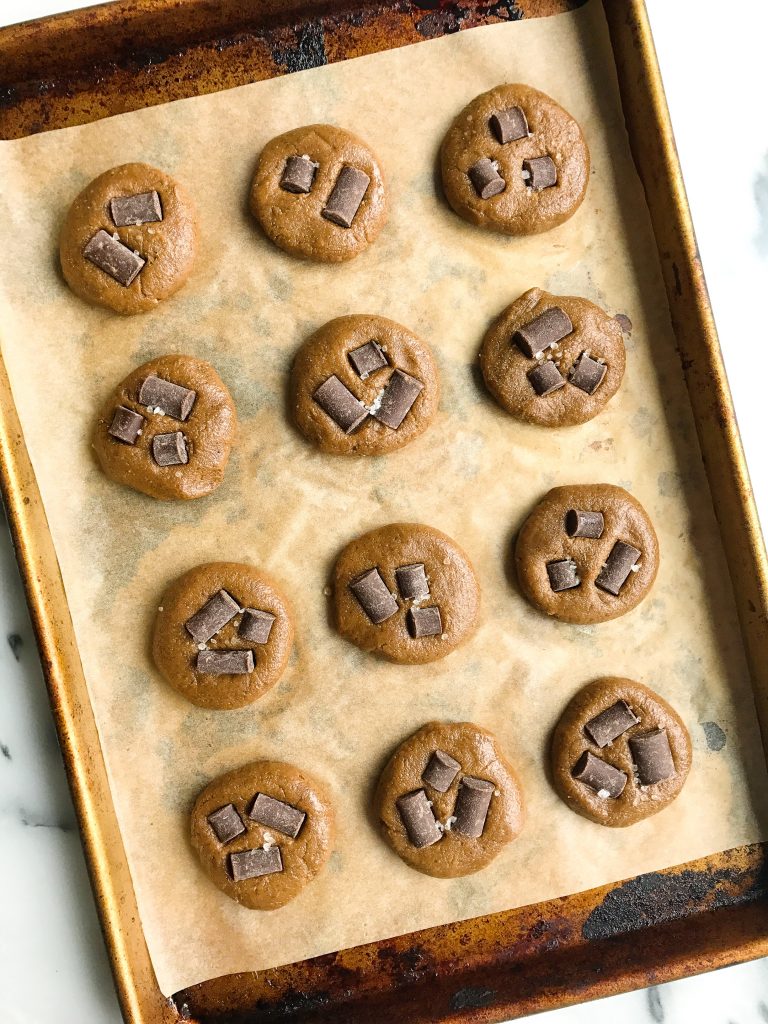 Print
Fudgey No-Bake Chocolate Chip Freezer Cookies
Prep Time:

5 mins

Cook Time:

20 mins

Total Time:

25 mins
1/2 cup

almond flour

2

scoops protein powder of choice (vanilla or chocolate i use)

1/2 cup

creamy almond butter

1/4 cup

coconut sugar

3 tablespoons

unsweetened applesauce

2 tablespoons

Garden of Life Raw Extra Virgin Coconut Oil

4 tablespoons

chocolate chunks

1/4 teaspoon

sea salt
Instructions
Line a baking tray with parchment paper
Add all ingredients except chocolate chunks and sea salt to food processor and blend until dough forms into a big ball in the food processor
If the dough is too liquidy, add more almond flour or protein and if too dry add more coconut oil or almond butter
Using your hands and a spoon, form dough into cookies and add to baking tray
Press in chocolate chunks and sea salt
Add to freezer for 20 minutes and enjoy!
*Store in freezer in airtight container for best quality, up to 3 weeks!
Author:
Category:

vegan, gluten-free, grain-free

Cuisine:

cookies, desserts, snacks
xx, Rach


Thank you Garden of Life for sponsoring this post. It means so much to me to work with brands that I love and who support rachLmansfield!