Garlicky Kale Veggie Sausage Tostadas for an easy and delicious plant-based, gluten-free meal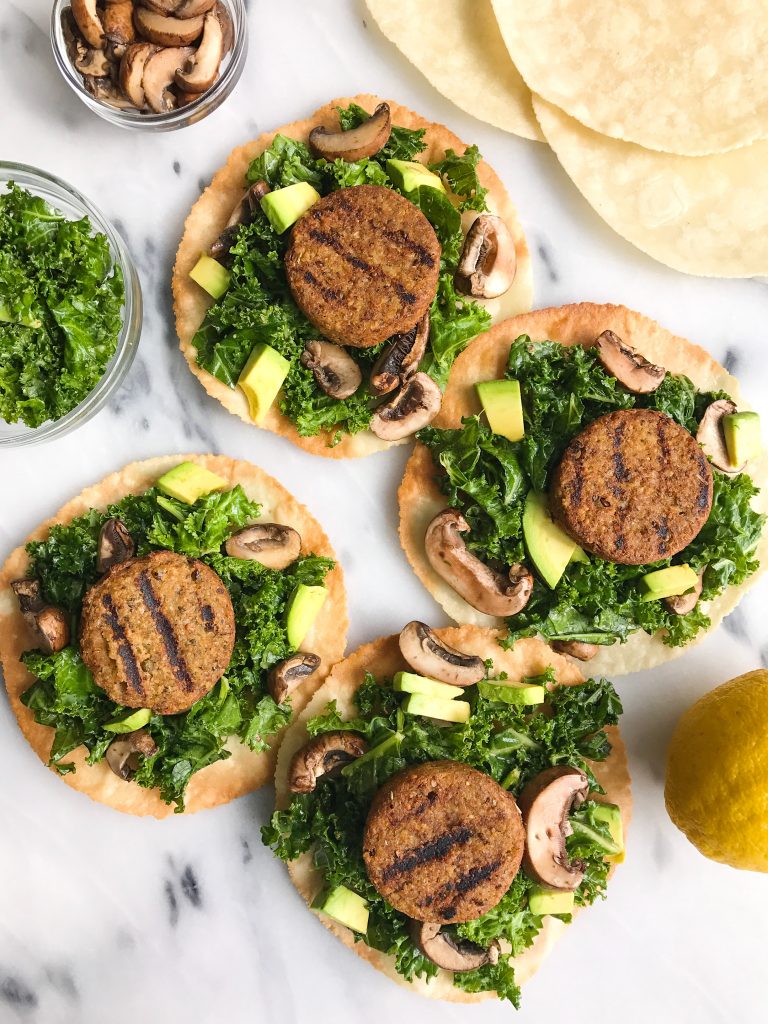 TOSTADAS! Hey, hi, hello you dreamy crunchy flavor bombs.
True life this is the first time I am ever eating tostadas let alone making them for the blog. Typically they have somewhat of an unhealthy connotation to them. Probably because the tortilla is usually fried with creepy oils and they can be loaded up with cheese, sour cream, etc.
But not these babies. These Garlicky Kale Veggie Sausage Tostadas are made with all simple ingredients and they will have you wanting to go salsa dancing. They are that good.
What I love about making tostadas is how versatile they are. You can use pretty much any tortilla (at least in my opinion). Typically corn or flour tortillas are used but I used grain-free ones made with almond flour (sold here). They are honestly too die for and you will likely want to heat them up to eat every single day.
You can use any veggies or proteins you want for tostadas too. For these we are making a garlicky kale salad that is full of flavor and yummy ingredients. We add some avocado and mushrooms to the mix and top it off with one of the best things that has ever landed in my mouth, Hilary's Spicy Veggie Breakfast Sausage.
Usually veggie sausages are filled with all salt and yucky stuff, but not these gems. Hilary's has perfect a delicious breakfast sausage that is even vegan and soy & gluten-free. They are all organic, with no canola oil and tons of spices and flavors. They have a millet and lentil base and even have dates, coconut oil and hemp seeds in them. So many goods in these sausages you guys! Hilary's never lets us down in anything they make. Veggie burgers, dressings, you name it. You should see my freezer, it is basically dedicated to their products. I also have a handful of recipes here using their products.
I use the veggie sausages for my omelettes, on sandwiches, in pastas, anything. But first start with these tostadas, I promise you will love them.
WHAT YOU NEED
Hilary's Spicy Veggie Breakfast Sausage
Kale
Lemon juice
Garlic powder
Avocado
Veggies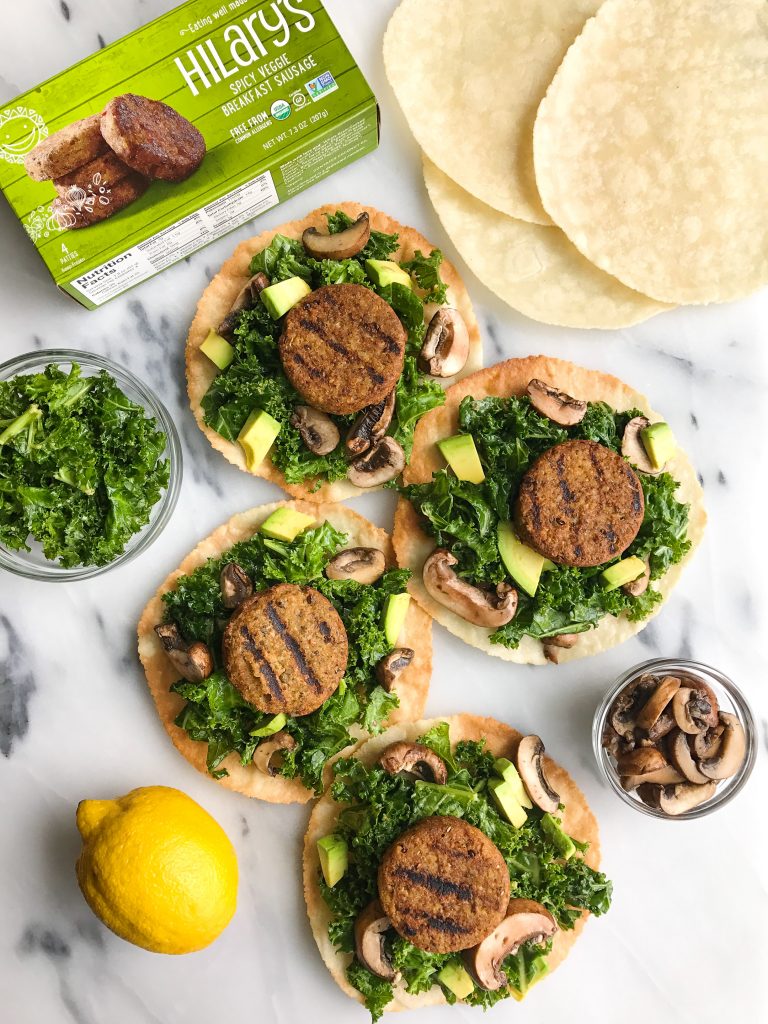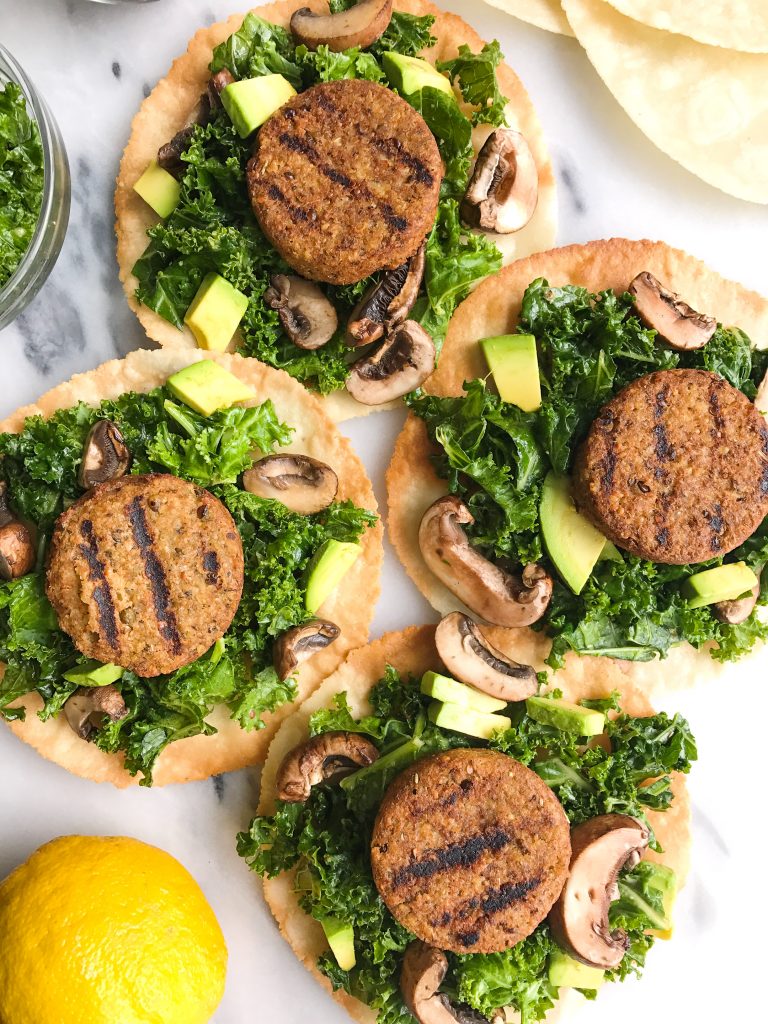 Print
Garlicky Kale Veggie Sausage Tostadas (vegan)
Prep Time:

10 mins

Cook Time:

15 mins

Total Time:

25 mins
Garlicky Kale:

1

bunch raw kale, washed, de-stemmed and dried (about

2 cups

)

2 tablespoons

tahini

1 tablespoon

apple cider vinegar (or water)

2 tablespoons

lemon juice

1 tablespoon

coconut aminos

2 tablespoons

nutritional yeast

2 teaspoons

minced garlic or garlic powder

Tostadas:

4

tortillas of choice (I used almond flour ones)

Toppings:

1

package of mushrooms, washed and sliced

1

avocado

4

Hilary's Eat Well Spicy Veggie Breakfast Sausages
Instructions
Preheat oven to 450 degrees and line a baking tray with parchment paper
Spray or lightly brush tortillas with avocado oil (or cooking spray/oil of choice) and arrange them in a single layer on baking sheet
In a large bowl, add kale
In a small bowl, whisk together tahini, apple cider vinegar, lemon juice, coconut amino, nutritional yeast and garlic to combine well
Pour dressing over kale and massage well, you want to massage the bitterness out of the kale so I recommend using your hands for this (I always do!)
Next, sauté mushrooms in avocado oil in a frying pan until cooked through, remove from pan and add breakfast sausages
Cook the sauces for about 4 minutes on each side or until cooked through
While the sausages cook, bake the tortillas in the oven for 8 to 10 minutes or until golden and crispy
Next mash the avocado in a small bowl to make "guac-like" consistency
Once done, assemble each tostada by adding a layer of mashed avocado, kale, mushrooms, sausage and more avocado if desired
Enjoy immediately!
Author:
Category:

vegan, gluten-free

Cuisine:

breakfast
xx, Rach

Thank you Hilary's Eat Well for sponsoring this post. It means so much to me to work with brands that I love and who support rachLmansfield!