Healthy Copycat Thin Mint Cookies made with all paleo and vegan ingredients for an easy homemade recipe for your favorite girl scout cookie!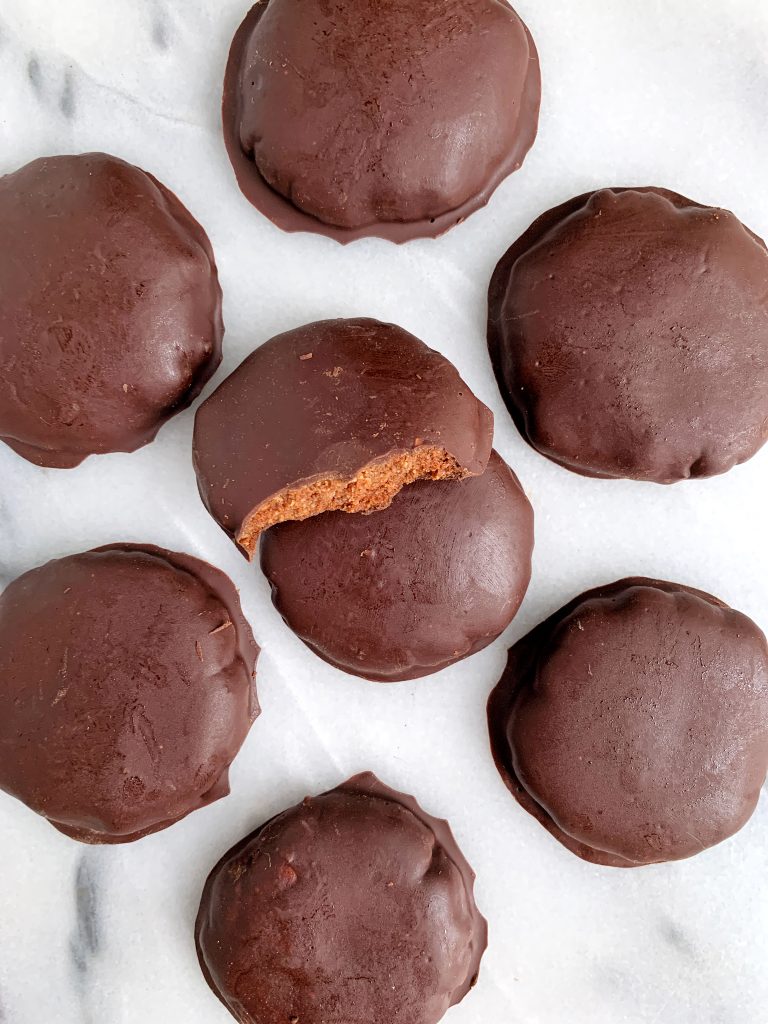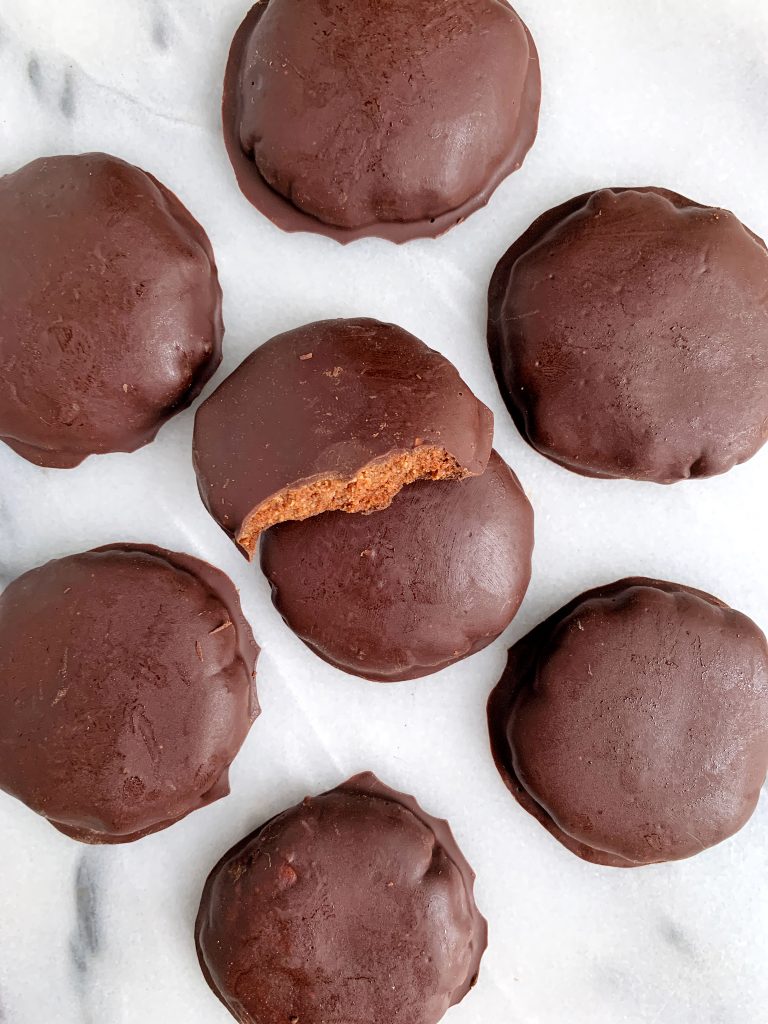 For someone who doesn't even like mint things, it is shocking how much I love thin mint girl scout cookies.
I was a girl scout for a hot minute back in the day. And I would demolish a box of thin mints like they were going out of style. Plus I would keep them in the freezer and they had this extra crunchy texture – SO good.
I recently took a stab at making my own tin mints and was beyond satisfied with the overall product.
When I was baking them, I didn't think they were going to come out too well. The dough is more crumbly than your average cookie dough. But that makes sense since thin mints are indeed a crunchier cookie.
What I love about this recipe is that it is surprisingly easy to make. And it only makes about 8 cookies, so you aren't left with a couple dozen if you only want a few on hand.
These copycat Thin Mint Cookies are paleo, vegan and have zero refined sugar in them!
The cookie part itself is made with just 5 key ingredients that we will get to shortly. Then the outside is a simple chocolate coating.
But right now, I am hoping that you are drooling over the thought of eating thin mint cookies. And perhaps feeling a little nostalgic for this childhood cookie. I have a feeling I will be making a few other girls scout cookies soon, so if you have request, let me know!
The simple ingredients for the thin mint cookies:
Almond flour. I use almond flour in this recipe as the main ingredient. It makes the cookies a bit more dense, filling and I haven't tested other flours yet! Oat flour would like work, but I haven't personally tried. Please don't sub coconut as the cookies will not turn out!
Cacao powder. This gives the cookies that subtle chocolate flavor you want. Cocoa powder could likely work too.
Maple syrup. I use maple syrup here as a sticky liquid sweetener. You can also use honey if you prefer, but coconut sugar won't work as it is a bit too grainy.
Coconut oil. I usually just melt and cool coconut oil to get it to the liquid form need! You only need a little bit in this.
Peppermint extract. The smallest amount is needed yet it is so key in giving these that thin mint flavor!
Dark chocolate. I use a refined sugar free option as you can see. Snag free shipping with code RACHL. It melts perfectly too!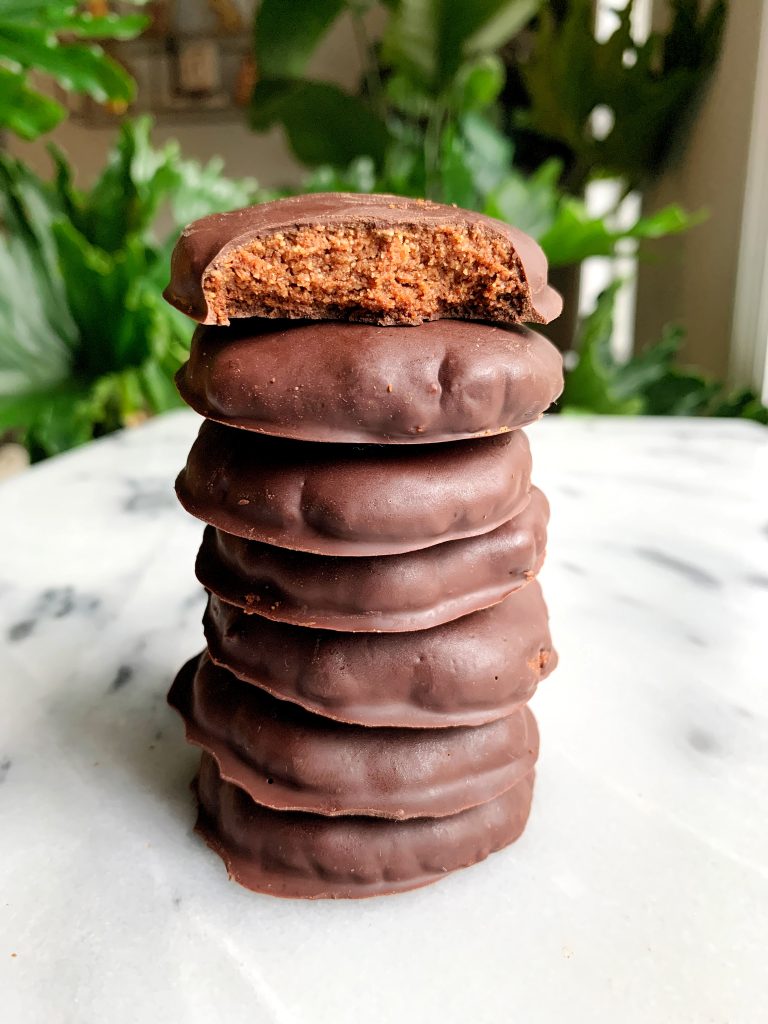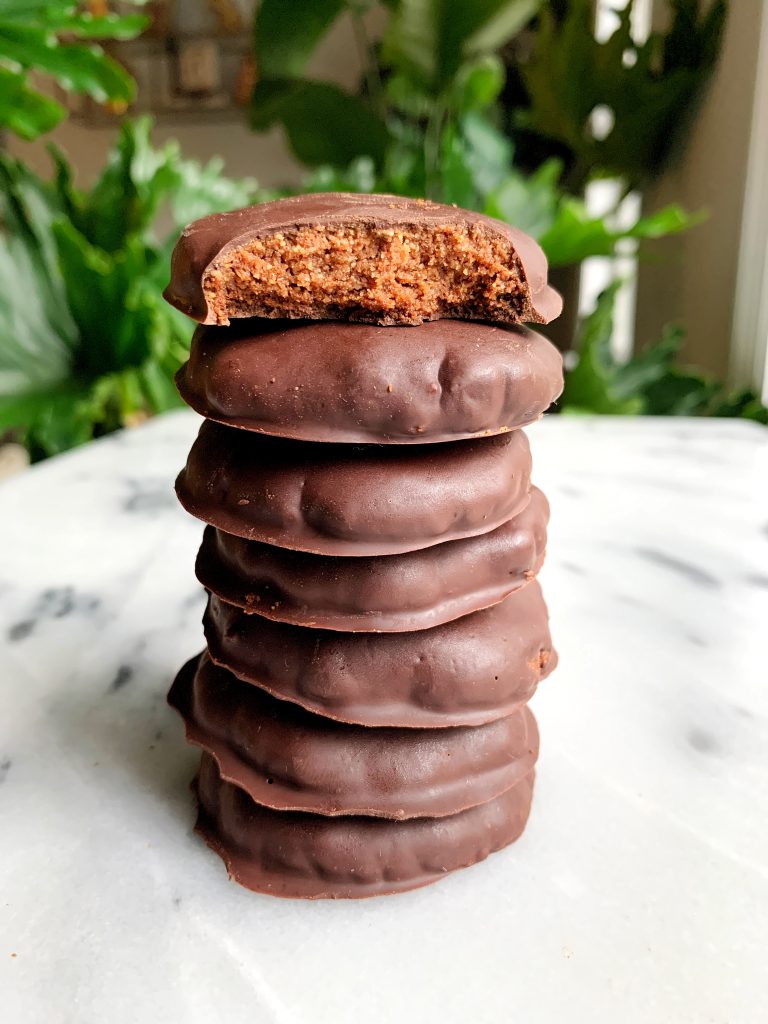 Print
Healthy Copycat Thin Mint Cookies
The Most Insane Paleo Thin Mint Cookies! made with all healthy and vegan-friendly ingredients for an easy homemade recipe for your favorite girl scout cookie!
Prep Time:

5 mins

Cook Time:

15 minutes

Total Time:

45 mins
Cookies:
1 cup

almond flour*

2 tablespoons

cacao powder

2 tablespoons

maple syrup*

3 tablespoons

coconut oil, melted and cooled

1/2 teaspoon

peppermint extract
Chocolate coating:
1 cup

dark chocolate (code RACHL for free shipping)

1/4 teaspoon

peppermint extract
Instructions
Mix together the almond flour, cacao powder, maple syrup, coconut oil and peppermint extract to form the dough
The dough may be a bit crumbly, but that is okay! It won't be as dough-y as traditional cookies
Add the dough to fridge for 10-15 minutes
Preheat the oven to 350 degrees and line a baking sheet with parchment paper
Form the cookies by spooning 2 tablespoons or so of dough into your hand and form into a ball then press down to make a flat cookie about 1/4 inch (these won't rise as they don't have baking powder/soda)
Add cookies to baking sheet then bake in oven for 12-14 minutes
Allow the cookies to cool for a few then melt together the chocolate coating ingredients in 30 second increments in microwave or saucepan
Dip each cookie into the chocolate the place back on the baking sheet
Once all the cookies are coated with chocolate, add to fridge to set then enjoy!
Notes
*Store leftovers in the fridge for up to a week or freeze for longer
**I have not tested other flours and please only use a liquid sweetener like maple syrup or honey for the sticky consistency!
xx, Rach