Mini Zucchini Pizzas with Supergreen Pesto for an easy, grain & gluten-free, healthy pizza idea!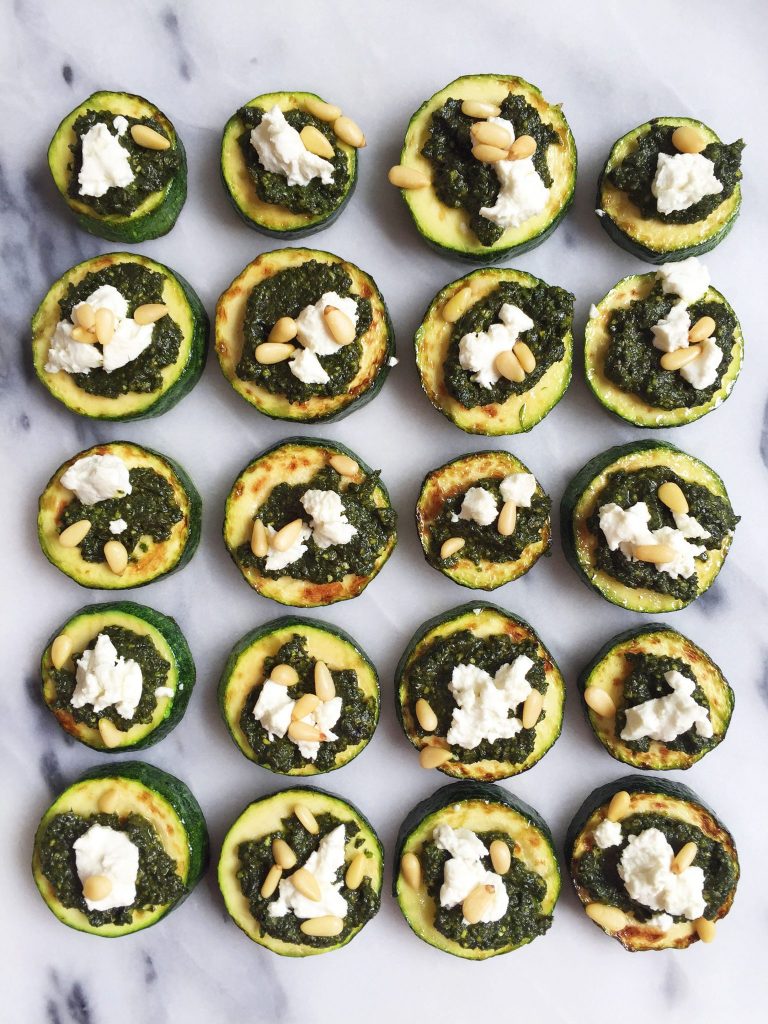 Okay I'm going to give it to you straight right now. This is NOT what I eat instead of pizza because there is no such thing as a pizza substitute, ever. There is only an option of making pizza fancier, duh. And if someone ever tells you that they have a pizza crust substitute for you, they are lying. There is no subbing for pizza crust my friends.
These Mini Zucchini Pizzas with Supergreen Pesto are just a fancy way of saying "zucchini with pesto and cheese on top". They actually look like pizza bagels in my opinion but they are the perfect appetizer for a dinner party, side dish for your meal or just a super trendy snack.
And no, they are not watery I promise. I prepared them in a special way for us so that they don't get all soggy and gross since zucchinis have a ton of water in them.
My favorite part of these Mini Zucchini Pizzas is the Supergreen Pesto on top. It is plant-based and so flipping tasty. Jord and I ate it like 5 days in a row after I made a batch. It goes amazingly well in pasta, in your eggs (game changer), on a sandwich, etc. It is super easy to make and stays really well in the fridge and/or freezer.
The pesto is made with Organic Girl's Supergreens. The hidden gem of all greens. It is packed with baby chard, baby spinach, baby swiss chard, baby arugula and more. SO MANY FAVS. I love this mix so much for a salad too. Basically any Organic Girl's mix is my favorite. Our new apartment is next door to a French market and they even sell it there! It is SO convenient to have access to the freshest greens in town and I don't even have to put a bra on to go and get (HA!).
These Mini Zucchini Pizzas with Supergreen Pesto are ready in less than 20 minutes and are a guaranteed crowd pleaser.
Finally if you do make this recipe (which I hope you do!) don't forget to share it with me on social media! Pin it or share anywhere you'd like!
Print
Mini Zucchini Pizzas with Supergreen Pesto
Author:
Category:

gluten free, grain free, vegetarian

Cuisine:

dinner, appetizer
Scale
Ingredients
Supergreen Pesto:

1

package of Organicgirl Supergreens
About

7

basil leaves (or more or less if you prefer)

3

garlic cloves

1

and 1/4 cup walnuts (have not tested with other nuts)

1/4 cup

avocado oil (have not tested with other oils)
Pizzas:

3

zucchinis sliced in 1/4″ inch rounds

1

container of goat cheese

1/3 cup

toasted pine nuts
Instructions
Sauté zucchini pieces in large pan with oil of choice for about 2-3 minutes on each side and set aside
Using the same pan, quickly toast the pine nuts as well for about 2-3 minutes or until fragrant, remove and set aside
Preheat oven to broil (high or low)
On a lined baking tray, spread across the zucchini slices
Spread pesto, goat cheese and pine nuts on top of each slice (you may have extra left over depending on how much you use)
Broil in oven for about 2-3 minutes until cheese gets melted
Enjoy immediately!
xx, Rach

Thank you OrganicGirl for sponsoring this post. It means so much to me to work with brands that I love and who support rachLmansfield!