Paleo Banana Bread French Toast + Thoughts on my 26th Birthday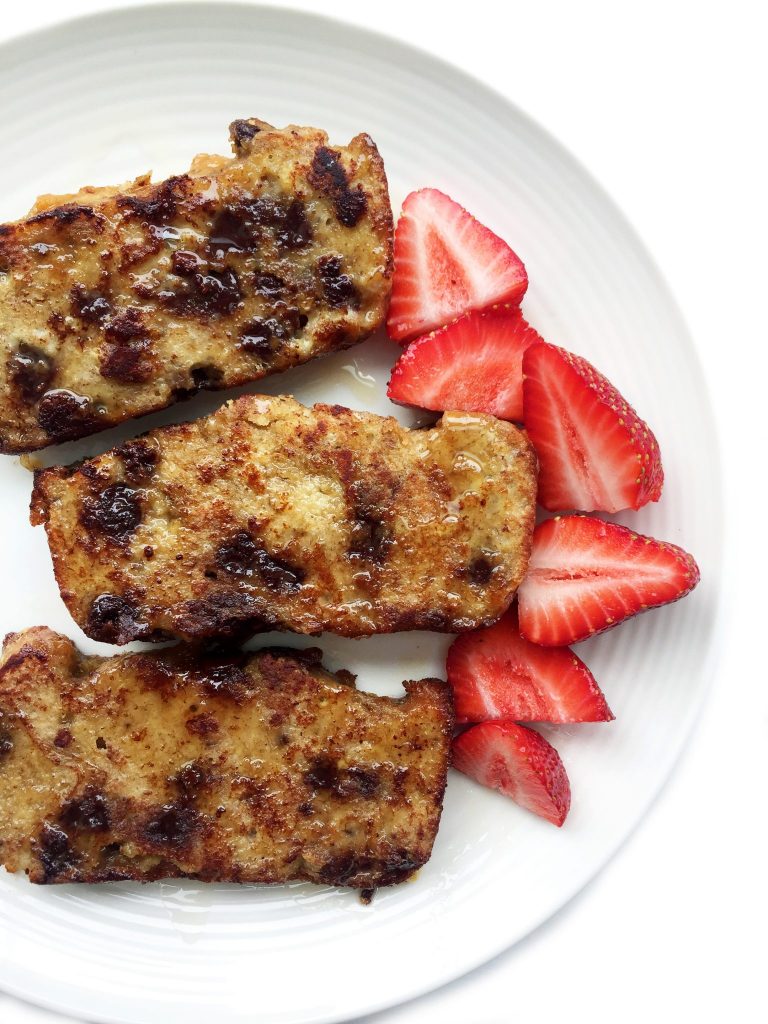 For some reason the age of 26 has always been my "dream" age. I have a vision that 26 will be the best year of my life for some odd and completely unexplainable reason.
When I was younger I used to think everything would be perfect by that time. I would have all my shit together and life would be going according to my "plan". Yes that's right, my "plan". The infamous and somewhat ridiculous "plan".
This plan consisted off a few key parts: being married, living in NYC or Cali, being super successful in my career and basically not worrying about anything like money (besides my daily worry of getting wrinkles and grey hair).
In short, everything in my life would be perfect. 
Even though my 12 year old self was pretty nieve about the not worrying thing and being super successful in my career, I have to say I am pretty impressed that I at least crossed off the first two parts of my list. I am married to my best friend, the peanut butter to jelly and my soul mate (too cheesy?). Plus I live in the greatest city to be in during your mid-twenties with a handful of my closest friends and family. I live above a Whole Foods and I have access to endless opportunities here in the city.
Now the being super successful in my career part is what stumps me the most. I envisioned working at some magazine as an editor (ha okay, Rach). So when I come home at night I'd kick off my heels, have a glass of wine and my cook would make me dinner (hence the not worrying about a thing goal).
While I can't say I wish wore a business suit everyday or that I was working for "the man", I now have a different perspective on what being successful actually looks like. And it is a complete 180 compared to what I thought it success was when I was younger.
Since December I have been working full time for rachLmansfield aka myself. I don't have a boss, an office or a commute to work. I have my studio apartment, Whole Foods and Fairway Market downstairs and a passion to help inspire others to eat clean, stay fit and just be happy with themselves. I don't have a bi-weekly pay check coming in or vacation days I take each year. I don't have someone to cover for me when I go away for a week (although I did just hire my fabulous intern, Emilie). I am running the show everyday. I call google my boss because every time I don't know what to do, I google it.
Sounds pretty scary when I type it in front of me. In fact, I am scared shitless half of the time. I never know what tomorrow brings in my job. I can't say what I will be doing in August let alone a year from now. My blog could collapse and Instagram may be useless soon.
But what I can confidently say is that despite the uncertainty, I have never been happier or more content with myself. That itself is a huge accomplishment for me or anyone to ever feel. I have extremely high expectations for myself and the life I live and have to frequently remind myself to appreciate everything and soak it all in. I have a support system like no other (hi j, hi mom, hi dad). Plus I wake up everyday with a smile on my face.
I am taking everyday for what it is and putting myself out there, connecting with you babes and doing my best to make drool-worthy, clean and delicious eating attainable for everyone.
I guess the point of what I am rambling about is, while you may have a plan or a vision for what you will be doing at some point in your life, remember it could be completely different than what you thought. But different isn't always bad, in this case for me different is completely amazing. As is this recipe I am now sharing with you for the rest of the post.
I am pretty sure if I had to choose one thing to live off of for the rest of my life it would be banana bread.
Specifically a paleo chocolate chip banana bread because I love the how light it is but at the same time it is completely satisfying. It is officially on the weekly rotation for us and I wanted to make something special with it for my birthday breakfast this year. I mean, is it really a birthday without eating your favorite banana bread for breakfast?
To spice things up a bit, I decided to "french toast" my banana bread.
I know babes, 26 is looking really crazy over here (ha!).
Usually you make french toast when the bread goes somewhat stale but I don't think a loaf of banana bread has been in my sight for long enough to get stale.. oops.
For this Easy Paleo Banana Bread French Toast, you do want to cook the loaf of banana bread a few minutes longer. It cannot be mushy and undercooked or it will simply fall apart when you make it into french toast. That is how we make up for the fact that it isn't stale bread.
[bctt tweet="Easy Banana Bread French Toast completely paleo & gluten-free" username="rachLmansfield"]
Print
Paleo Banana Bread French Toast
Author:
Yield:

6

pieces

1

x
Category:

paleo, gluten free

Cuisine:

breakfast
Scale
Ingredients
6

slices of banana bread cooked for 5-10 extra minutes (I used my paleo/nut free one)

1/4 cup

unsweetened almond milk (or your preferred milk)

1

egg
Sprinkle of cinnamon
Instructions
Whisk together egg and almond milk
Grease medium size skillet and put on medium heat
Carefully dip each piece of banana bread into the mixture and fully coat it
Cook on the skillet about 3 minutes each side or until it is crisped on both sides
Top with fruit and maple syrup
Enjoy within 5-7 days if kept in fridge
xx, Rach