Paleo Carrot Cake Donuts made with less than 10 ingredients and ready in just 15 minutes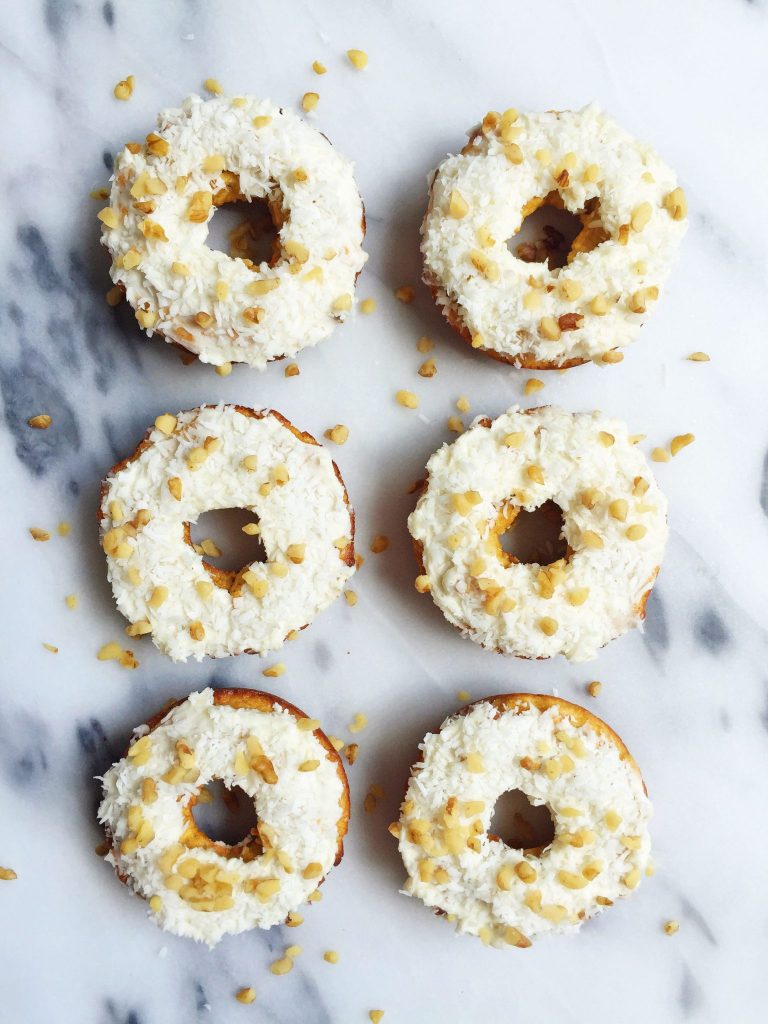 The homemade donut obsession has officially begun. After making my Grain-free Dark Chocolate Cherry Donuts a few weeks ago, I have been dreaming up a million other donuts for us. Let's just say we have a very donut-filled future ahead of us. So now let's get this donut show on the road.
These Paleo Carrot Cake Donuts were obviously next on the list. They are made up of 10 easy ingredients that I just so happen to have on hand when I went to make them. They are paleo, grain-free, gluten-free, dairy-free and refined sugar-free. Now don't go running away from me, I promise they taste amazing. In fact, even Jord loves them.
Because the only way I eat carrots is when it is basically in cake, I have to keep fooling myself into eating them. Paleo Carrot Cake Donuts did just the trick. Maybe because they are filled with nut butter, coconut oil, honey and all other ingredients that I love. Also since we love these Raw Carrot Cake Bars so much, it seemed like the right next step in our relationship to make carrot cake donuts for us. Because what isn't to love about carrot cake + donuts + a paleo recipe?
I topped my carrot cake donuts with cashew cream from my Raw Carrot Cake Bars and sprinkled some additional coconut flakes and walnuts on top. Another topping idea is some sort of browned butter or vanilla-ish frosting. Um, I am salivating just thinking about it.
Also, I highly recommend suing almond flour in these donuts. I have not yet tested any other flours and almond works very well. Many of you ask if you can sub alternative flours for many of my recipes and while I am sure you can, I always specify if I have tested any in the recipe part. I personally love baking with almond flour because of it's nutritional value and because the taste of it. If we are eating dessert, we should at least get something healthy out of it, right?
Finally, if you do make these Paleo Carrot Cake Donuts, I will love you forever if you share them on Instagram or your favorite social channel. I love seeing you babes make my recipes, it truly keeps me going and inspires me for what to make next. Since so many of you are making my Grain-free Dark Chocolate Cherry Donuts and Raw Carrot Cake Bars, that is one of the reasons I made these Paleo Carrot Cake Donuts for us.
[bctt tweet="Easy Carrot Cake Donuts made in less than 15 minutes #paleo" username="rachLmansfield"]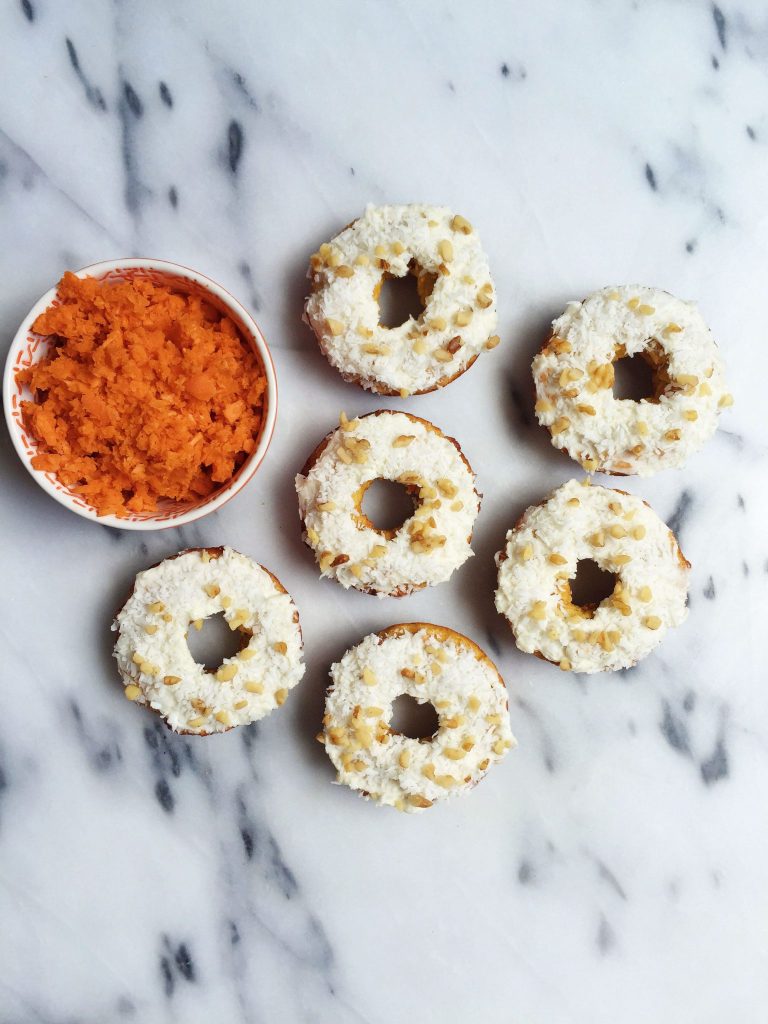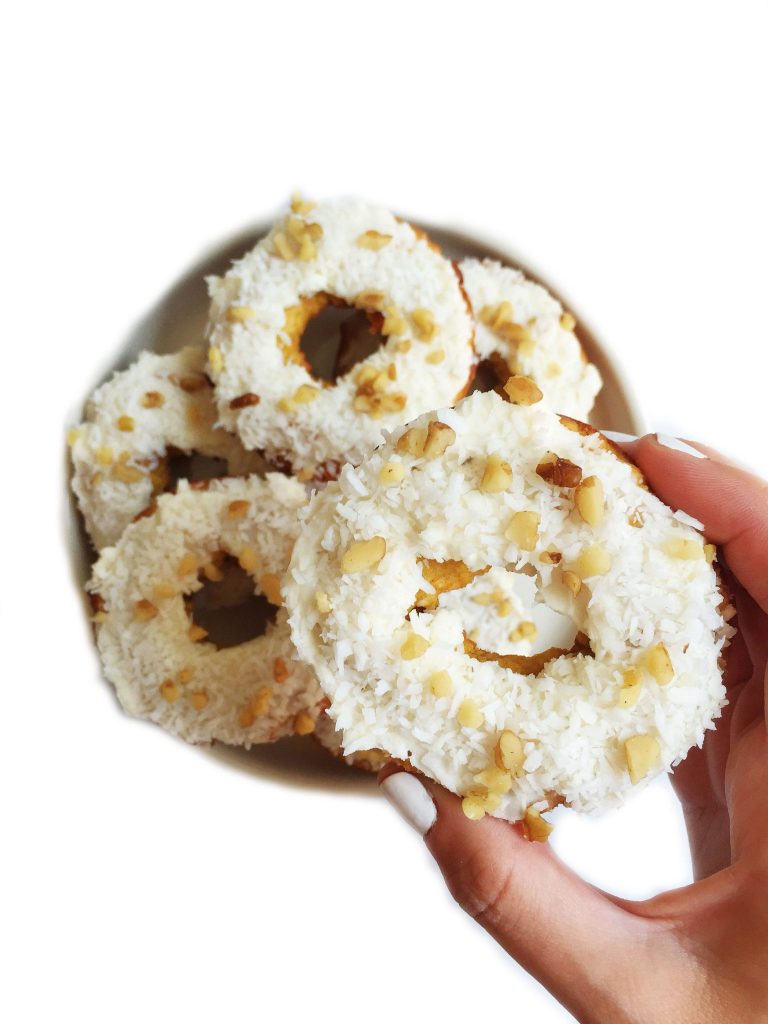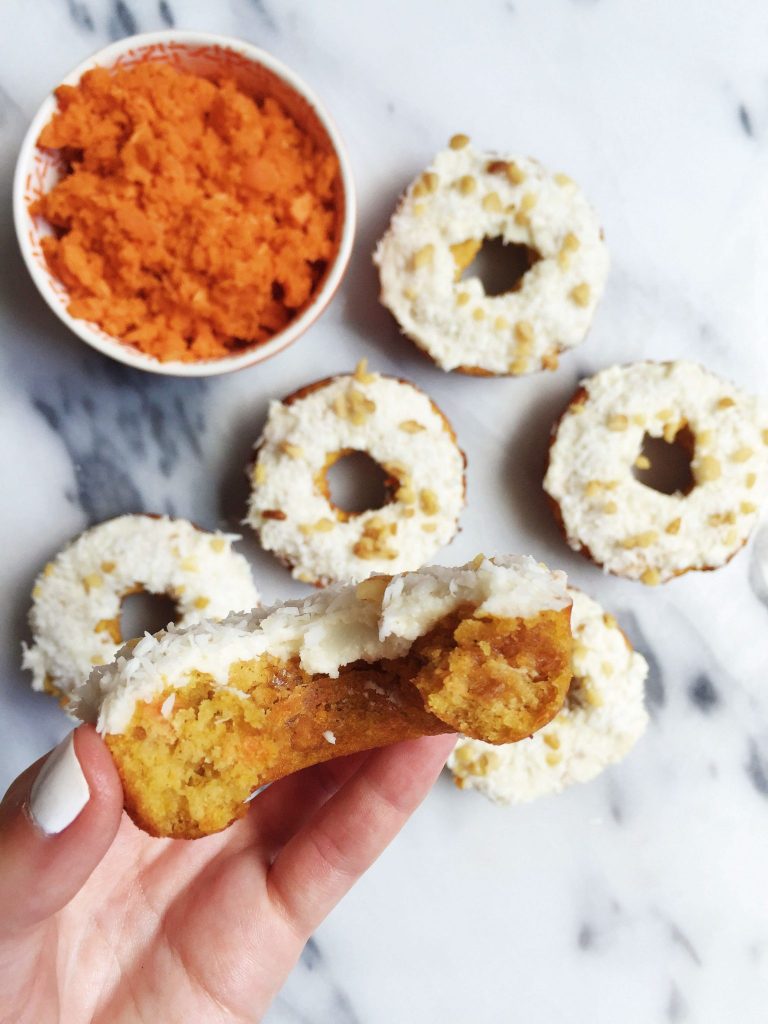 Print
Paleo Carrot Cake Donuts
Wet ingredients:

3/4 cup

shredded carrots

⅓ cup

coconut oil, melted and cooled

2 tablespoons

raw honey (maple syrup or agave will work)

2

eggs at room temperature

1 teaspoon

vanilla extract

1/3 cup

creamy/drippy nut butter (I used almond butter)

Dry ingredients:

1

and 1/4 cup almond flour

1 teaspoon

baking powder

Add in's:

½ cup

walnuts

shredded coconut

Optional: frosting of choice (I used a cashew cream)
Instructions
Preheat oven to 350 degrees and grease donut pan well
While oven heats up, whisk together wet ingredients (I used a Kitchen Aid) until well combined
Add in dry ingredients and mix well
Fold in walnuts and shredded coconut
Bake in oven for 10-12 minutes, or until tooth pick comes out clean
Let cool for a few minutes then remove from donut pan and enjoy!
Will stay good in fridge for 5-7 months
Author:
Category:

paleo, dairy free, gluten free

Cuisine:

snack, dessert
xx, Rach