Poached Egg Breakfast Tacos made with 6 simple ingredients for a quick & delicious breakfast
GUYS! I am so flipping excited right now. As many of you know, I married my best friend, Jordan, this past September and today he is doing a guest blog post on here! Jord is the Justin's peanut butter to my jelly, the avocado to my toast and the love of my life. He is an AMAZING cook and is so creative in the kitchen, I am often jealous of his savory creations and natural ability to food style. We make an unbeatable team in the kitchen since I love to make breakfasts and desserts, and he is all about the "real food" as he calls it ;-). Now here is my J and his bomb a$$ Poached Egg Breakfast Tacos using my favorite oragnicgirl greens!
---
Hi I'm Jordan (or as Rach likes to call me, Jord), I've been the guy, now husband!, behind rachLmansfield's recipe creations, who gets to assists her in eating all her successes (and rare failures). Rachel has given me the great honor of creating a recipe and writing a blog post for her blog. Eggs are my specialty, so I am sharing my favorite egg recipe with you today.I'm not much of a writer and most definitely not as outgoing as my partner in crime, but here's a little bit of my egg history.
When my parents first let me use the stove, I was all about making omelets and breakfast foods (coincidence Rach and I are both breakfast lovers). Fast forward to college and studying abroad, I pretty much survived on eggs and my egg creativity continued to grow. Post college is when my egg obsession really took off, eggs on pizzas, eggs on burgers, you name it I'll put an egg on it.
For today's post I decided to make Poached Egg Breakfast Tacos!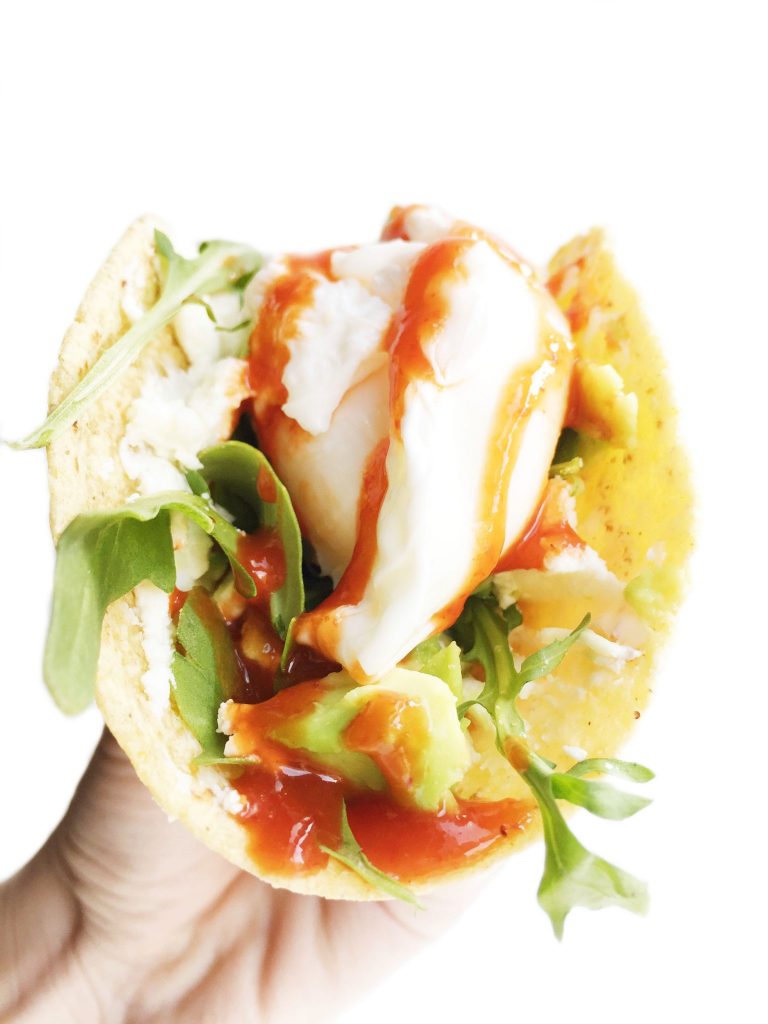 What is better than combining two of my great food groups: eggs and tacos. I love when the egg yolk, creamy goat cheese, avocado, arugula and hot sauce all mix together. Some might be thinking, 'how does the arugula work into this taco?', but it adds a bit of a crunch and that extra arugula bite to this savory taco. Plus Rach always has our kitchen stocked with organicgirl greens, we try to add them into our diets as much as we can.
Thank you Rach for the blog post opportinuty and these awesome photos!!
[bctt tweet="Poached Egg Breakfast Tacos // savory breakfast at its finest"]
Print
Poached Egg Breakfast Tacos
Author:
Yield:

3

tacos

1

x
Category:

gluten free

Cuisine:

breakfast, entree
Scale
Ingredients
3

eggs

3

corn tortillas

1

avocado

1/4 cup

goat cheese
hand full of organicgirl arugula
hot sauce of choice
Instructions
Boil water in a medium sized sauce pan (water should be about 3 inches high and add a splash of white vinegar)
Crack your eggs into separate containers, do not crack them in the same container!!! (I usually use a 1/2 cup measuring cup)
As the water is starting to boil begin to heat the tortillas on the stove (in a pan or right onto the flame)
Once the tortillas are warm and begin to brown spread the goat cheese over the tortilla
Dice the avocado and sprinkle on top of the goat cheese
Take a handful of the arugula and place on top
Once the water gets to a boil stir it in a clockwise fashion to create a whirlpool
Then drop one already cracked egg into the center of the whirlpool
Let it cook in the water until the egg white is fully cooked and the yolk is still runny
Take out with a slotted spoon and gently pat down with a paper towel
Repeat for the other eggs.
Once the eggs are poached add them to the taco and add hot sauce
xx, Rach & Jord