Savory Breakfast Tacos with Easy Coconut "Cream Cheese" for an easy and delicious breakfast!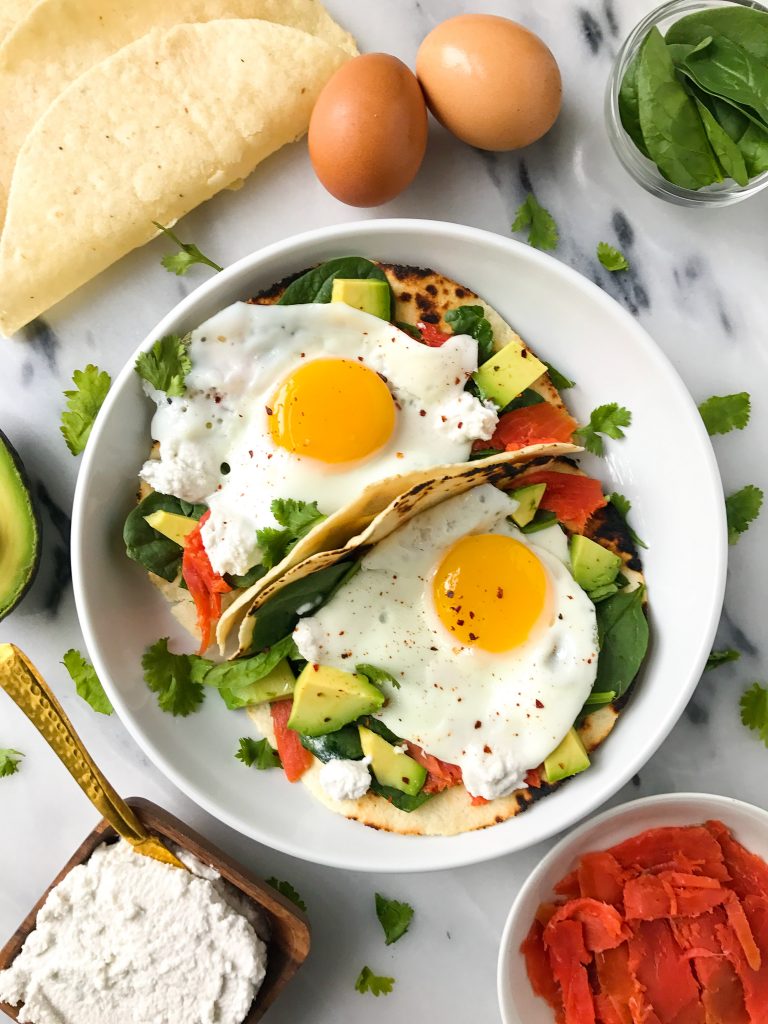 I've been wanting to share my favorite savory breakfast tacos with you guys for so long and they are finally here. We are making tacos with Handsome Brook Farms!
But you're not just getting tacos today. You are also getting a game-changing plant-based cream cheese recipe that is made out of COCONUT MILK! Yup, that is right. Coconut "Cream Cheese" is officially happening.
Before we get into the recipe details for the coconut cream cheese though, let's chat more about the breakfast tacos and what I like to put in my savory brekkie tacos!
We have tortillas, lox, avocado, greens and of course the eggs! Aka the main star of any breakfast taco. I kid you not when I say that Jordan and I eat eggs a handful of days/meals throughout the week. I love the healthy fats and protein they easily add to my eats and they are just so versatile and simple.
I am very particular about the eggs I keep in our kitchen and have been since I started eating the yolk again a couple years ago. After doing my research and taste-testing various eggs, I am amped to share my go-to egg brand with you babes.
And now let's get into the "why"..
It's no surprise when people tell me that they get really overwhelmed and confused when they are trying to pick out eggs. There are so many terms like cage-free, pasture-raised, etc. And not many know which to buy.
I personally love eating Handsome Brook Farm's eggs because I can actually trust the eggs I am getting. It is a guarantee that their eggs come from organic-fed, pasture raised hens. They are fed an all-natural diet, which gives their eggs their trademark golden-orange yolk that you want to look for.
Handsome Brook Farm is certified by American Humane and I love that all of their eggs are pasture raised. Their hens get ample space to roam around and enjoy themselves. They get fresh air, sunshine and aren't stuck in a cage or tight space. They work with a series of small family farms with smaller flocks and ensure that their farmers get their fair wage they deserve and work hard far.
I used their store locator to find where I can get their organic pasture raised eggs by me! Now you know why my egg yolk's are always so pretty in color 😉
Now let's make some TACOS and Coconut '"Cream Cheese" aka next level dairy-free, soy-free cream cheese.
WHAT YOU NEED
Handsome Brook Farm Organic Pasture Raised Eggs
Smoked Wild Salmon
Avocado
Tortillas (I love these)
Spinach
Nutritional yeast
Print
Savory Breakfast Tacos + Coconut "Cream Cheese"
Cook Time:

5 mins

Total Time:

5 mins
Coconut "Cream Cheese":

1

13 ounce can of full fat Coconut Milk (or around

13 ounces

– chilled in fridge overnight)

1/2 tablespoon

nutritional yeast

1 teaspoon

garlic powder

1/2 teaspoon

sea salt

1/2 teaspoon

black pepper

Juice from

half a

lemon

Breakfast Tacos:

2

Handsome Brook Farms Organic Pasture Raised Eggs

2

tortillas of choice (see above for brand I used)

4 tablespoons

of wild smoked salmon

1/2

avocado, diced

1/2 cup

spinach
Instructions
Coconut "Cream Cheese":
Using a can opener, open the coconut milk can and scoop out solids into a medium-sized bowl (leave liquid in can, we may use)
Let the solids sit for about 5 minutes to soften a bit
Add garlic powder, nutritional yeast, salt and pepper and lemon to bowl and whisk with hand mixer until fluffy for about 3 minutes (if not softening, add just a tiny bit of the coconut water from the can)
Once cream cheese is fluffy and mixed well, pour into a tupperware of choice and leave in fridge for about 5 days
Breakfast Tacos:
Grease a cast-iron or medium-sized pan and turn to medium/high heat
Crack two eggs onto the pan and turn the heat down to LOW and cook for about 3 minutes so the egg white is cooked but the egg yolk is going to stay runny
Meanwhile, heat tortillas how you prefer and add to plate and add avocado, lox and spinach
Add eggs on top then add cream cheese!
Enjoy immediately!
Author:
Category:

grain-free, gluten-free, dairy-free

Cuisine:

breakfast, tacos
xx, Rach
Thank you Handsome Brook Farm for sponsoring this post. It means so much to me to work with brands that I love and who support rachLmansfield!
SaveSave