Soft & Chewy Chai Spiced Oatmeal Snickerdoodles made gluten-free and vegan!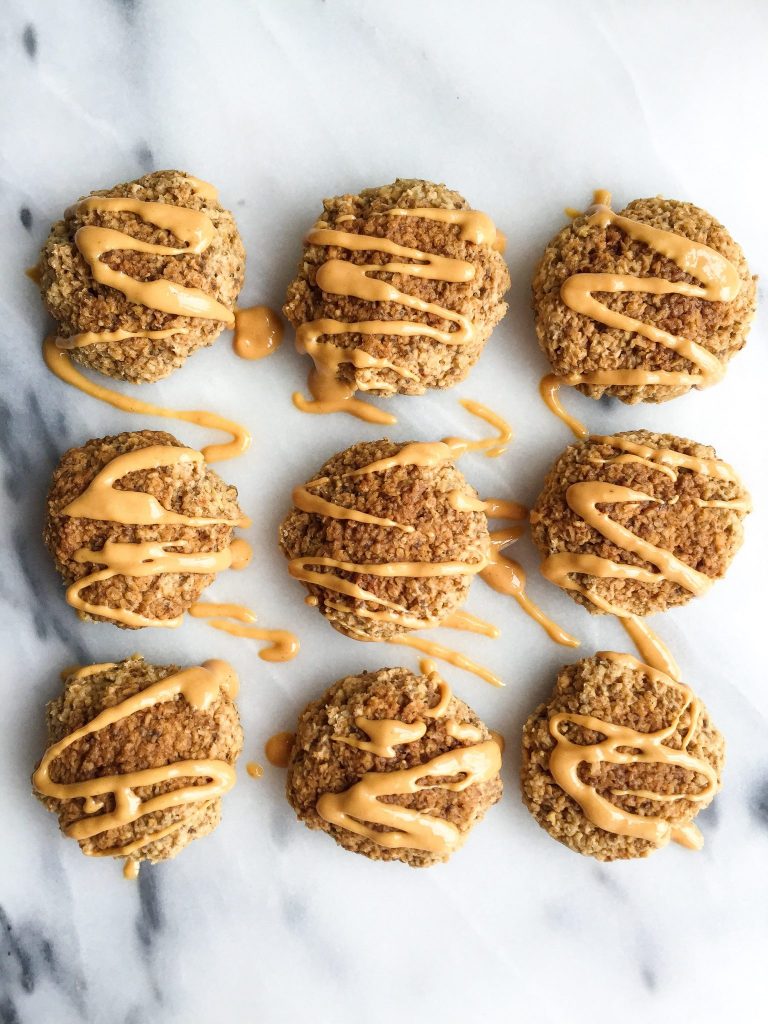 Welcome to the family Soft & Chewy Chai Spiced Oatmeal Snickerdoodles.
You guys, these cookies are EVERYTHING. Imagine chai lattes, snickerdoodles and oatmeal cookies all in one recipe. Yup, that is happening right now and they are just in time for the holiday season.. holllllaa!
These Chai Spiced Oatmeal Snickerdoodles are seriously so easy to make and they are DELISH. Plus they have an oat flour base and can really be a breakfast cookies if you ask me. They're made with all simple ingredients and are packed with that sweet, cinnamon-y, chai flavor.
Since college, I have been obsessed with chai-flavored things. I used to get it at the coffee shop on campus for the library or before class. Since I have never been a coffee drinker, I was always drinking a million types of tea. My best friend told me to put cinnamon in my hot chai tea once and it is seriously a game changer. She told me this like 5 years ago and I still do it!
Now I am absolutely addicted to REBBL Ashwaganda Chai Super-herb Elixir. I literally freaked out over the flavor when I first had it. It is AMAZING. It is made with coconut milk, a little coconut sugar, so many delicious spices AND ashwaganda. You are probably trying to pronounce that (I still probably say it wrong), and are wondering what ashwaganda is. It is pretty much a super-herb powerhouse. It can help support sustained physical endurance, improve quick recovery and cognitive function. Plus it can enhance relaxation, HA. Something we all need, right?
The ashwaganda REBBL uses, is high quality and it is produced according to standards from traditional preparation methods. It also has a "neutral" character that makes it perfect for enhancing vitality for all ages and body types.
I love how REBBL teaches us all the different super-herbs out there. I never heard of any of them and now I feel like I am fueling my body with even more goods. I used their elixirs in the Flourless Golden Milk Pancakes and The Easiest Dark Chocolate Hazelnut Tart too. And now these cookies. I love adding their products to my recipes for extra flavor and the extra boost of nutrients. I also have their Golden-Milk Elixir a lot instead of making my own too. Hello time saver…
These Chai Spiced Oatmeal Snickerdoodles are super soft, chewy and they're gluten free and vegan-friendly. If you love cinnamon and chai as much as I do, you are going to LOVE these. Plus eating them for breakfast was the best motivation to get up in the morning 🙂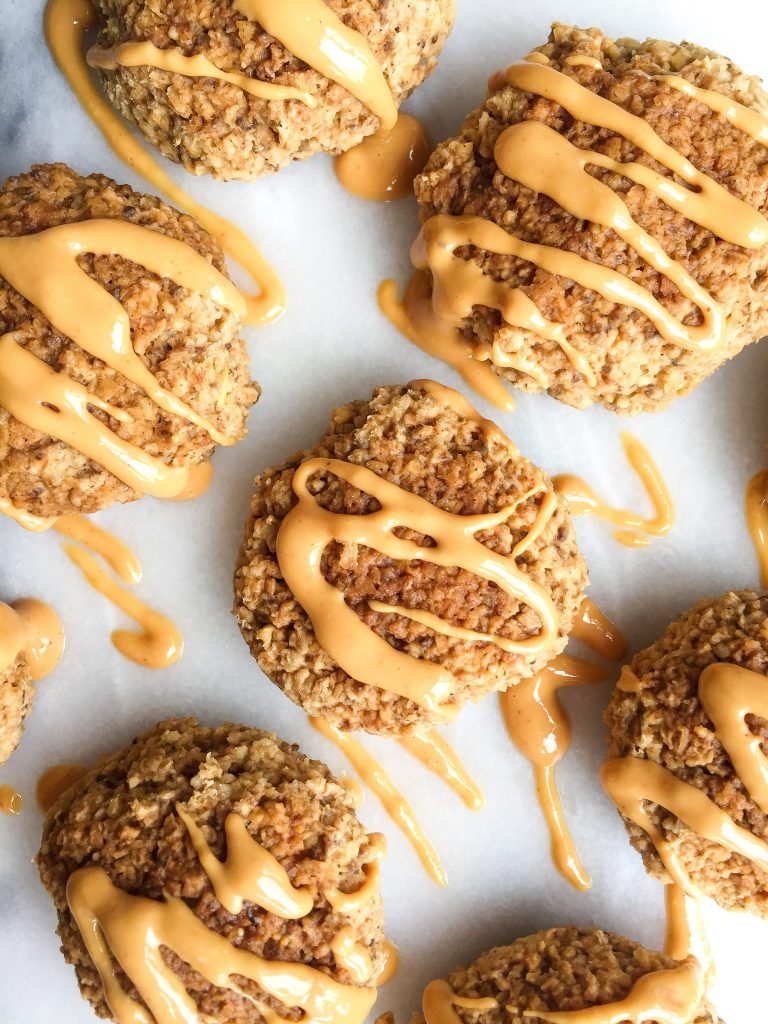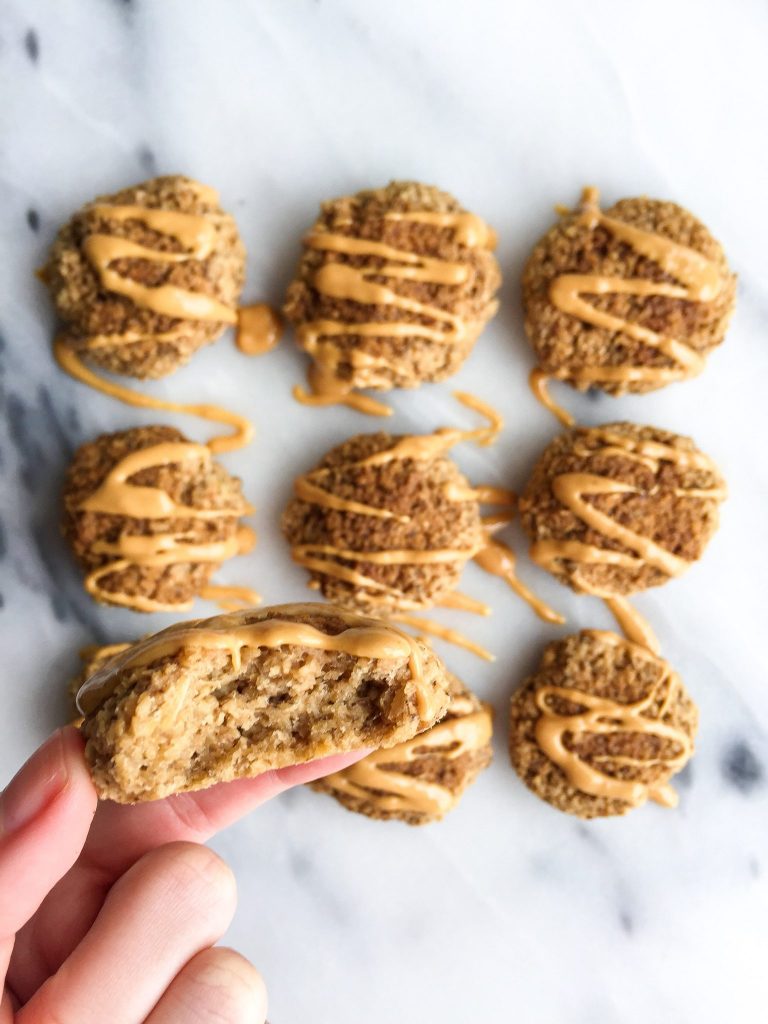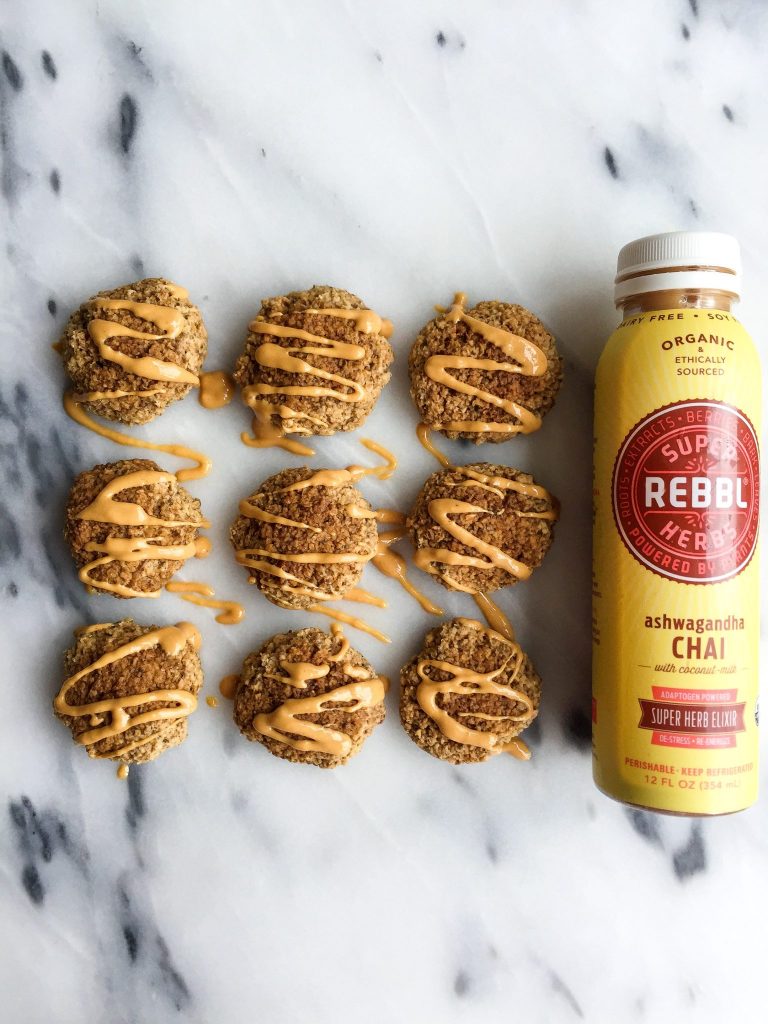 Print
Soft & Chewy Chai Spiced Oatmeal Snickerdoodles
Author:
Prep Time:

5 mins

Cook Time:

10 mins

Total Time:

15 mins

Yield: About

9

cookies

1

x
Category:

vegan, gluten free

Cuisine:

cookies, dessert
Scale
Ingredients
Dry ingredients:

1.5 cups

oat flour (oatmeal food processed to flour – have not tested other flours)

1/4 cup

coconut sugar

1/2 teaspoon

allspice

1 teaspoon

baking powder

1 teaspoon

ground cinnamon

½ teaspoon

ground ginger

¼ teaspoon

ground cloves

¼ teaspoon

ground cardamom
Wet ingredients:

1/4 cup

vegan butter (or regular)

1

chia egg

1/4 cup

REBBL Ashwagandha Chai (or sub more milk but this tastes best for more chai flavor)

1/4 cup

unsweetened vanilla almond milk
Instructions
Preheat oven to 350 degrees and line a baking tray with parchment paper and grease well
Mix together dry ingredients in a medium bowl and set aside
In another bowl, mix together wet ingredients with hand mixer
Add dry ingredients to wet and mix well
Evenly scoop about 1-2 spoonfuls of dough per cookie and line across tray
Bake in oven for about 10 minutes
Drizzle with your favorite nut butter of choice!
*Will stay good for about 5 days in air tight container or freezer for longer
xx, Rach

Thank you REBBL for sponsoring this post. It means so much to me to work with brands that I love and who support rachLmansfield!