Grain-free Chicken No-Parmesan made with healthy ingredients for an easy and quick weeknight dinner. All gluten-free and dairy free-friendly!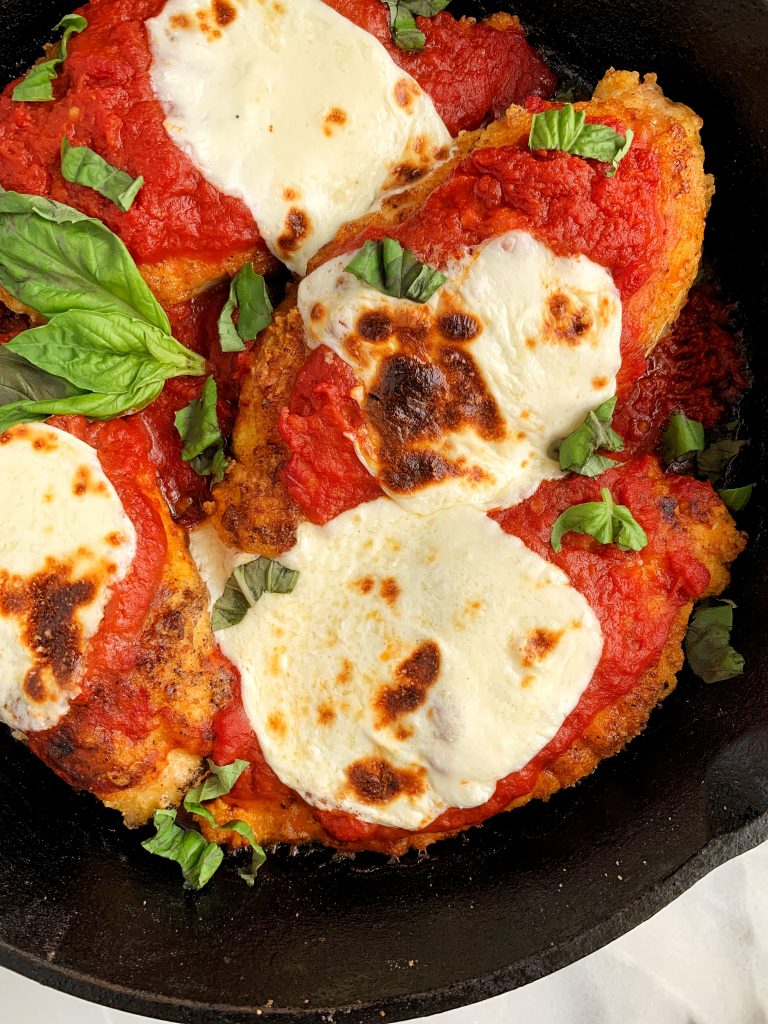 You guys are in for a real treat with today's recipe.
We are making the best ever GRAIN-FREE CHICKEN NO-PARMESAN!
Now just go with me here. You are probably wondering how this is the best ever recipe that looks like chicken parm, yet it has no parmesan in it. Instead we are using buffalo mozzarella. Oh and this isn't deep fried like you would find it in a restaurant or anything. It is a healthier version of a classic and it just so happens to be gluten-free, grain-free and even Whole30-friendly if you ditch the mozz.
I have a new healthy cookbook you guys must check out.
And this is all thanks to my talented friend and cookbook author, Alex Snodgrass. Alex also just came out with her very first cookbook, The Defined Dish, which is named after her amazing food blog and Instagram account. This is also where I first came across Alex (thank you Instagram world!).
When I tell you that Alex is truly the ying to my yang, I mean it. She creates every savory recipe I would never think of and makes it look so delicious. She thinks of the most epic ideas and also takes the classics you grew up with and makes them healthier. Her book is filled with Whole30-friendly meals and everything is easy enough to be a weeknight recipe.
Alex is also a mom of two, so she knows how to make food that the whole family can eat. We made her Weeknight Lamb Bolognese Sauce for Christmas Day and it was kick a$$. I also flagged the Greek-style Meatloaf and Cheeseburger Meatballs to make soon. Ezra has also loved every single recipe we have made from here too. Especially this gluten-free chicken no-parmesan.
The book's itself is set up in such a unique way. Each chapter is a different cuisine or genre of cooking. Alex has chapters like "Tacos y Más", "Date-Night Dinners" and "Cleaned-up Kid Food". Every single time I read her book, I flag a new recipe.
Alex is also going to be on a panel with me during Just the Good Stuff's book tour in March during our Austin stop (surprise!!). Stay tuned for more on that but I cannot wait for you guys to meet her!
I hope you enjoy this recipe as much as we did and snag a copy of The Defined Dish for your kitchen.
Now, what ingredients are we using in this healthy gluten-free and Whole30-frinedly chicken no-parm?
Boneless skinless chicken breasts. You will need 4 large chicken breasts for this recipe. You can use smaller chicken tenders too if that is all you have or want to spice things up.
Eggs. I haven't tested flax egg here, but I'm sure it would work well or another egg replacer can.
Almond flour. I haven't used another flour. Almond meal would also work to keep it grain-free. Coconut flour wouldn't work well but if you have a nut allergy, sub oat flour (but use a little less).
Tapioca flour. This helps to thicken the flour mixture a bit.
Spices. A mix of a few key spices to make the chicken even more flavorful.
Extra Virgin Olive Oil. I used avocado oil too. Any of these two work best.
Marinara sauce. I use store-bought sauce because it is 10000x easier.
Buffalo Mozzarella. You can use any cheese you prefer. Sub a dairy-free one to make this recipe paleo or omit for Whole30.
Basil
For more Whole30-ish recipes, head on over to this blog post where I share all of our favorites!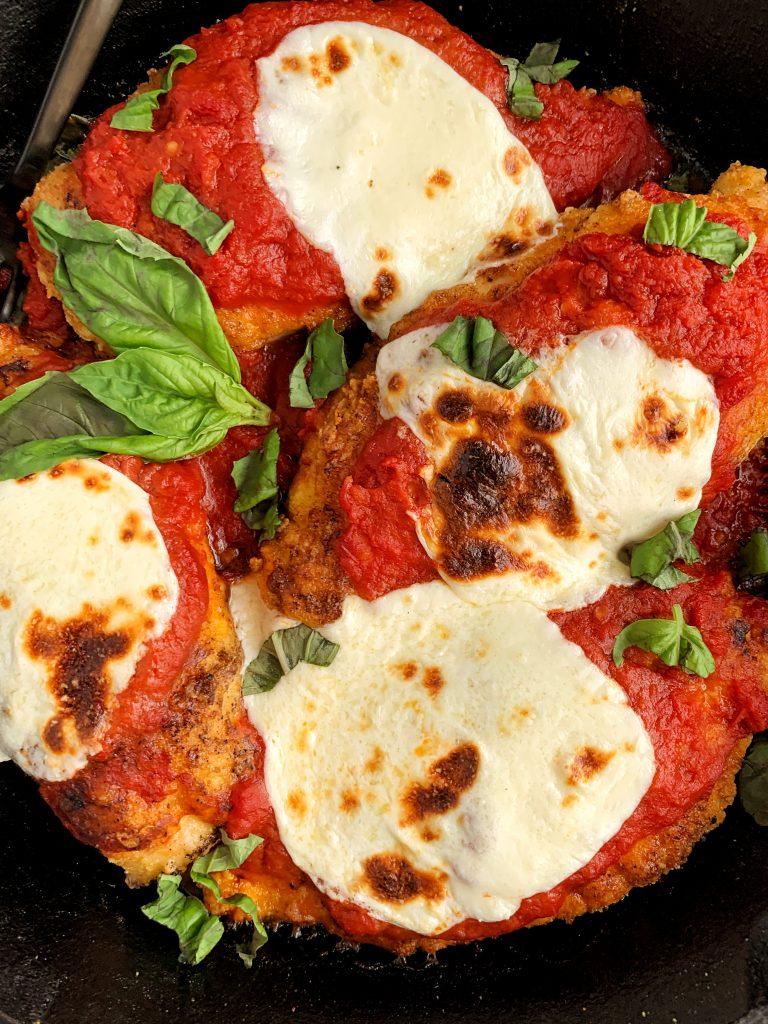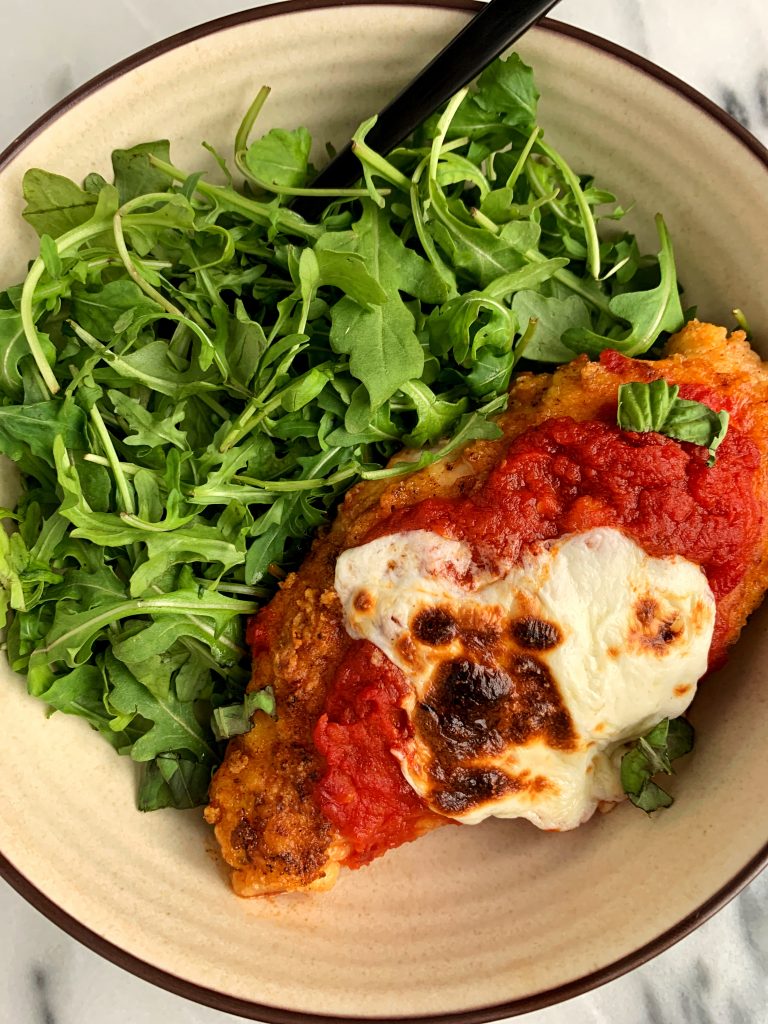 Print
The Best Grain-free Chicken No-Parmesan
Grain-free Chicken No-Parmesan made with healthy ingredients for an easy and quick weeknight dinner. All gluten-free and dairy free-friendly. Plus can easily be made Whole30.
Prep Time:

10 mins

Cook Time:

25 mins

Total Time:

35 mins
4

(8-ounce) boneless, skinless chicken breasts

2

large pasture-raised eggs

3/4 cup

almond flour

1/2 cup

tapioca starch

1 teaspoon

dried parsley

1 teaspoon

garlic powder

1 1/2 teaspoon

kosher salt

1/2 teaspoon

freshly grond black pepper

1/2 teaspoon

paprika

1/4 cup

extra virgin olive oil (or avocado oil)

1

(8-ounce) ball fresh buffalo mozzarella, drained and torn into 1-inch pieces (sub dairy-free cheesier to make paleo or omit for Whole30)

Fresh basil leaves for garnish
Instructions
Preheat oven to 375 degrees
In a medium bowl, whisk together eggs
In a separate bowl, combine almond flour, tapioca starch and spices
Dip a chicken breast in the egg and flip to coat both sides, shaking off excess liquid then immediately dredge in the almond flour mixture to coat evenly all over. Shake off excess and set chicken on clean plate. Continue until all the chicken is coated.
In a large oven-safe skillet, heat oil over medium-high heat. Cook chicken until golden brown and cooked through (4-5 minutes on each side).
Remove the pant from heat and ladle 1/4 cup sauce over each piece of chicken and add the cheese on top if using.
Transfer pan to oven and cook for 12-15 minutes until cheese is bubbly! I also broiled for 1 minute.
Notes
*Store leftovers in fridge for 5 days
xx, Rach