Sharing The Best Healthy Snickerdoodle Cake Bars made with all dairy-free and gluten-free ingredients and no refined sugar.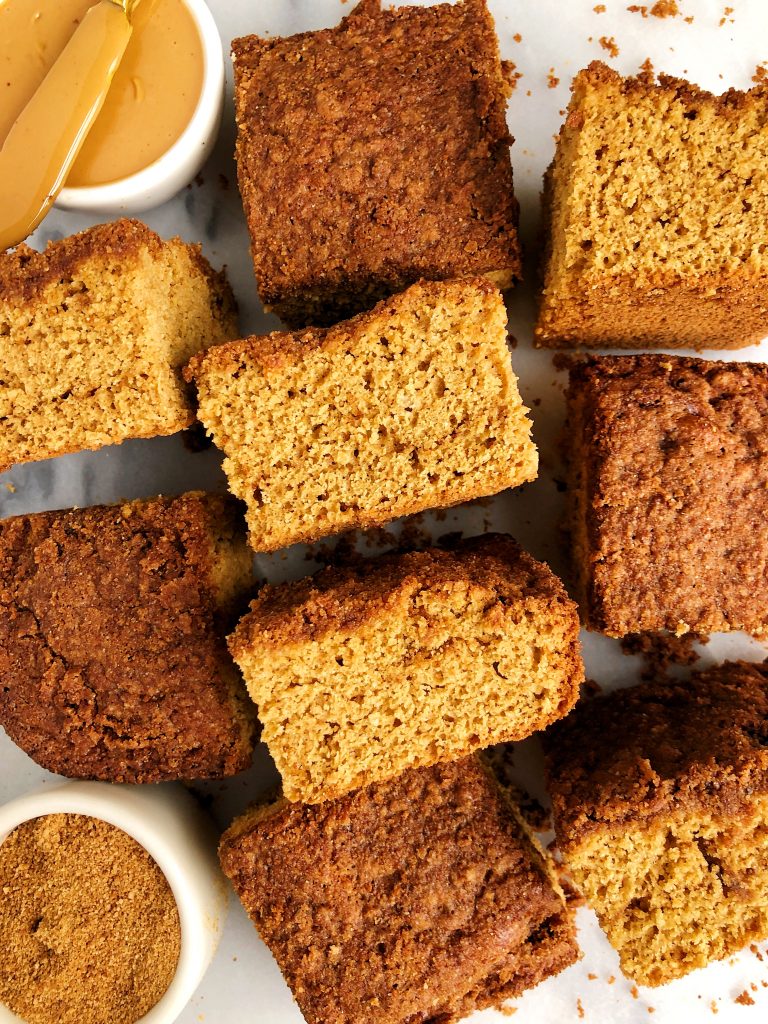 You guys.
This recipe is everything. I'm talking e-v-e-r-y-t-h-i-n-g. One of my personal favorites on the blog ever (and Jord's too!).
Snickerdoodles are by far my absolute favorite cookie to get when I'm at a bakery. I don't make them often at home but spoiler alert: there is a snickerdoodle recipe in my cookbook coming out in Spring 2020. But not to worry, you're not going to need to wait that long for these Healthy Snickerdoodle Cake Bars because they're here today.
Let's back up a bit though. There are two things I am excited about in this blog post. The first being the obvious one – the Healthy Snickerdoodle Cake Bars. The other being the brand I have partnered with for this blog post, Brandless.
I first introduced Brandless to you guys over on Instagram last month but now we are going a bit deeper about them here on the blog and I am giddy. Brandless (the name itself is genius) focuses on making better stuff accessible and affordable for more people. They sell high-quality products at fair prices and are a direct-to-consumer brand. The carry all of their own products (no other brands – hence the name). Brandless focuses on building relationships directly with suppliers and customers and this eliminates all the extra costs that can add up.
You'd think their products would be a little iffy then, but no! They carefully source everything. All of their 350+ everyday essentials are high quality and go through vetting and testing to make sure they meet their standards. Brandless offers a variety of organic, Fair Trade, gluten-free, vegan, non-toxic and more products. And they range from pantry items to cooking supplies to cleaning products. Most recently they launched baby products that I have been testing for Ezra and they are awesome.
I'll stop swooning over Brandless now and get to the recipe but I highly recommend looking into them guys!
Healthy snickerdoodle everything, please!
For this recipe I sourced Brandless' coconut sugar, rolled oats, coconut oil and cinnamon (all organic). The oats are not gluten-free so if you do shy away from gluten, please use an alternative oat. I was beyond impressed with the quality of all of these products and especially the coconut sugar. It is the perfect texture and sweetness needed to make these snickerdoodle bars.
I hope you guys fall in love with this recipe as much as we did and also take some time to stalk the Brandless site. I will keep trying out new things and keep you guys in the loop over on Instagram and the blog.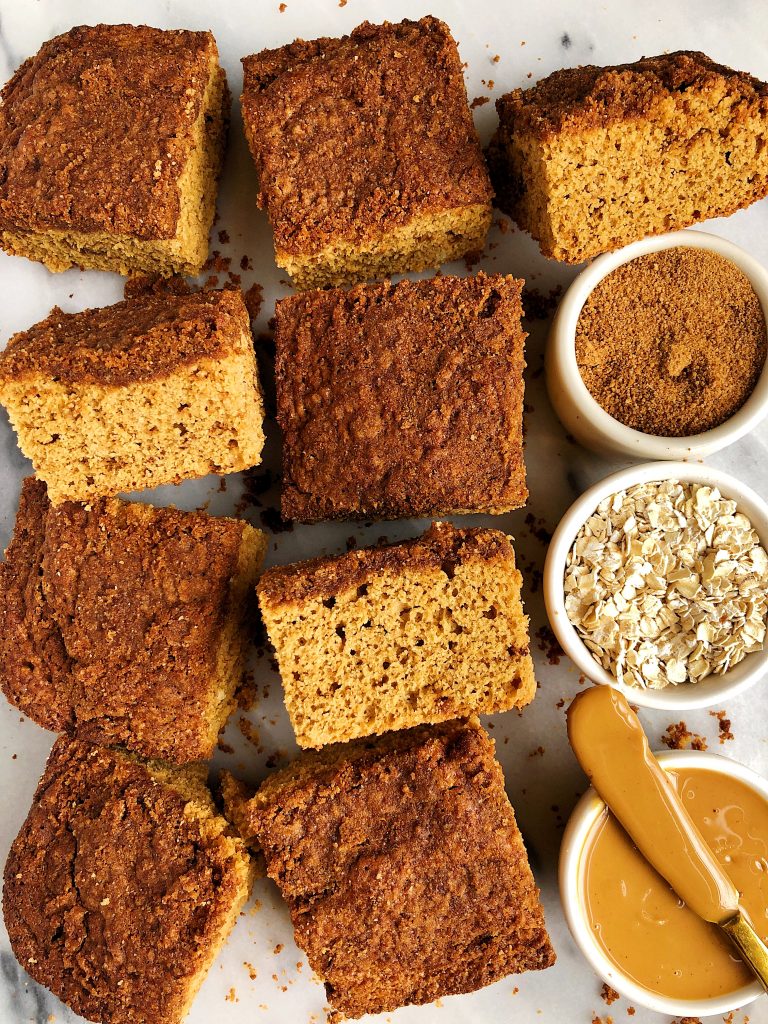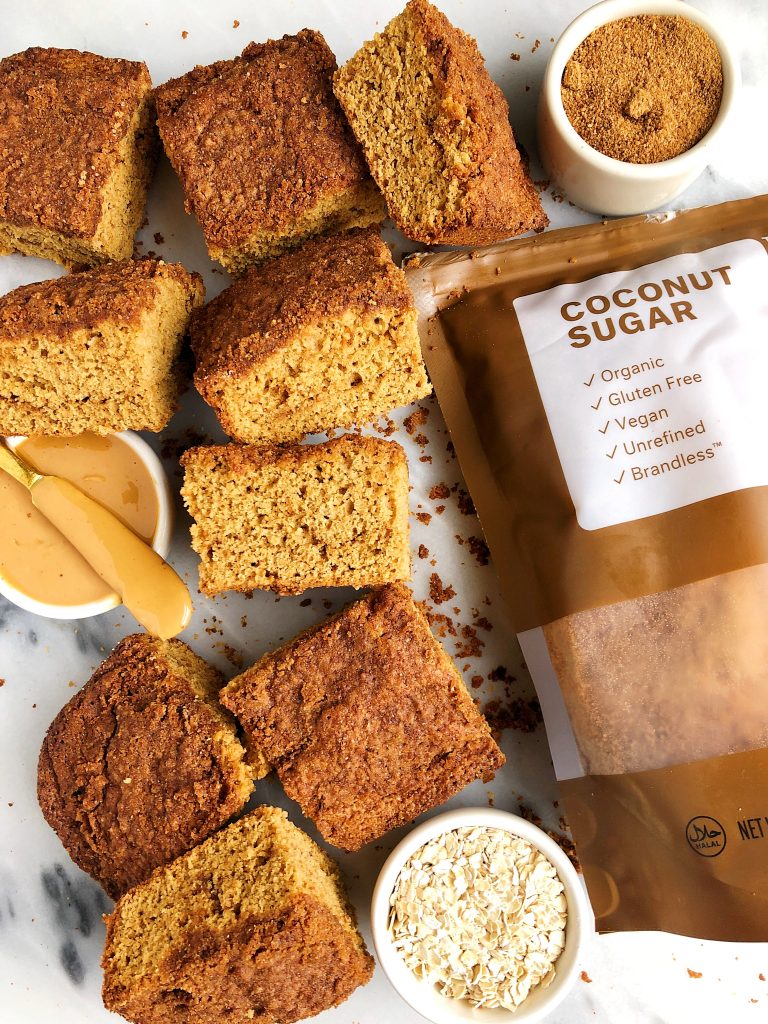 Print
Healthy Snickerdoodle Cake Bars
Sharing The Best Healthy Snickerdoodle Cake Bars made with all dairy-free, gluten free-friendly ingredients and no refined sugar for an easy dessert recipe!
Prep Time:

5 mins

Cook Time:

35 minutes

Total Time:

40 minutes
Cake:
Cinnamon Sugar:
Topping:
Instructions
Preheat oven to 350 degrees
Grease an 8-inch baking dish with coconut oil or line with parchment paper
In a large mixing bowl, whisk together the eggs, coconut oil and vanilla extract
Mix in the flours, baking powder and coconut sugar until smooth and well combined
In a small bowl, mix together the cinnamon sugar ingredients and set aside
In another small bowl, mix together the topping ingredients with a fork to make crumbles of sorts
Spread half the cake batter into baking dish then sprinkle the cinnamon sugar topping on top
Spread the rest of the cake batter across then sprinkle the topping evenly across the cake
Bake in oven for 35 minutes, slice and enjoy!
Notes
*To make oat flour: simply add oats to blender or food processor and blend until oats turn into a flour-like consistency. Store leftovers in airtight container in pantry.
xx, Rach
Thank you Brandless for sponsoring this post. I love being able to partner with brands I truly love and believe in!