The Dreamiest Almond Joy Brownies that are vegan, gluten-free and packed with an extra boost!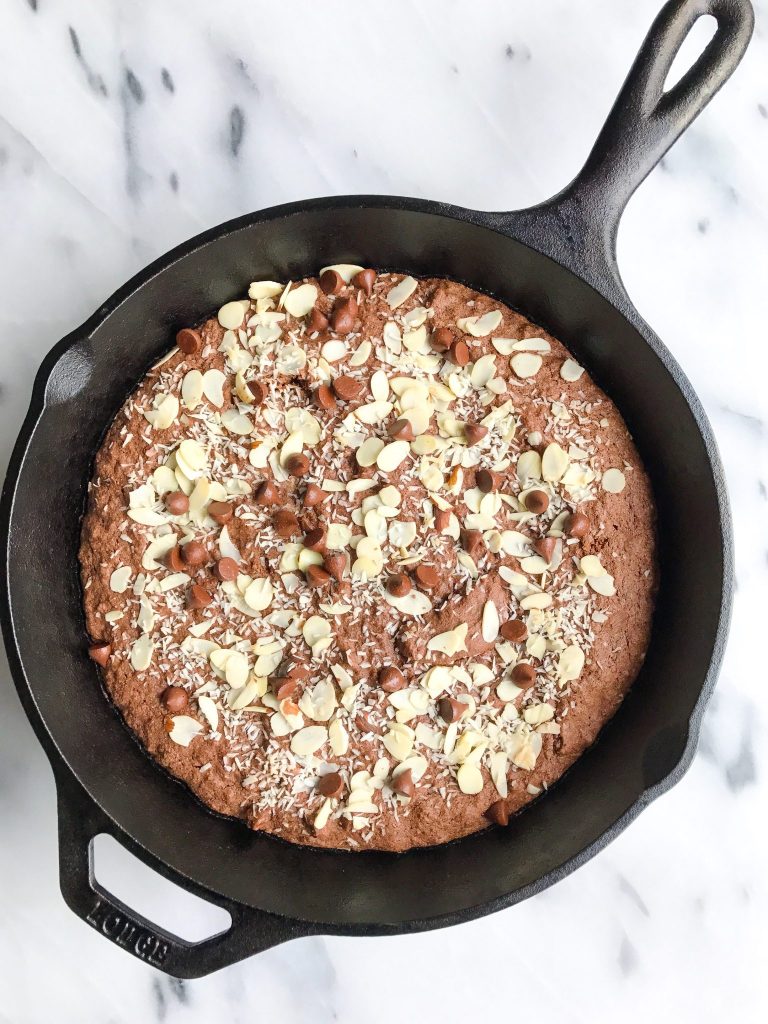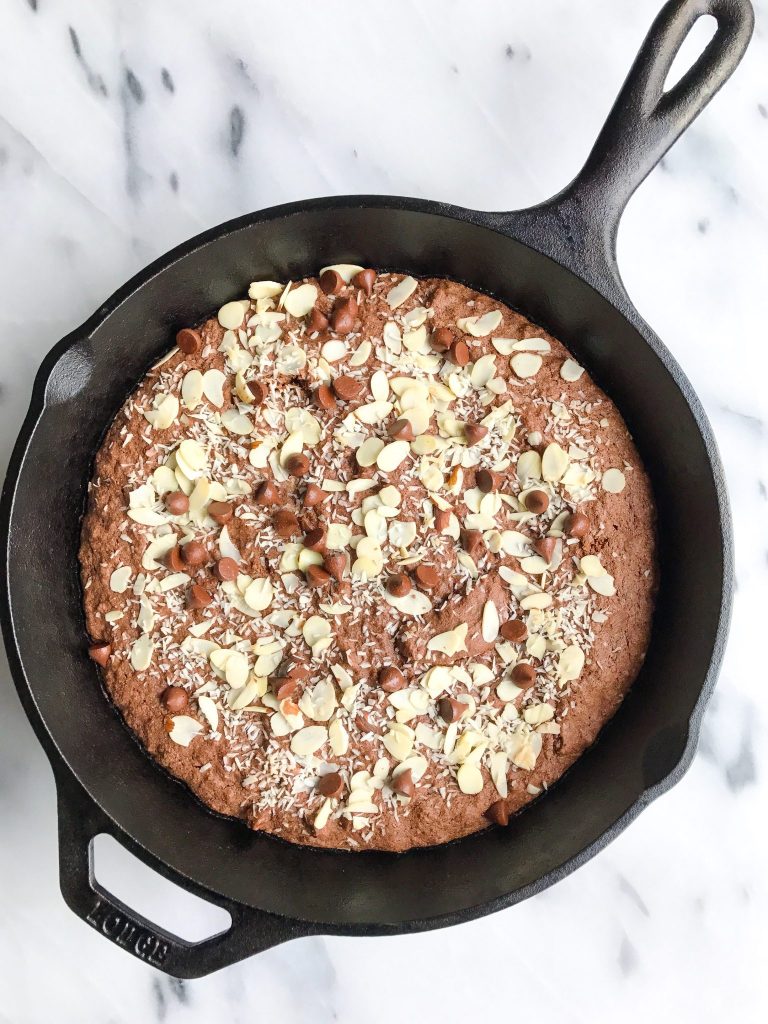 When I was younger, I truly hated coconut. Like all things coconut were beyond disgusting to me.
This included all the Almond Joys on Halloween and any cookies that had coconut sprinkled on top or in them. This pretty much lasted until I was 21 and actually started to care about the foods I put into my body.
Now you can find me using coconut oil, coconut flour, coconut sugar and coconut flakes on the reg. It is amazing how much our taste buds change as we get older and adjust our eating habits from oreos to coconut oil cookies.
These Almond Joy Brownies are nothing short of dreamy or coconut-y. They are SO simple and easy to make and they are the perfect mix of fudgey and cakey brownies. I am never able to decide if I enjoy fudge brownies or cake brownies better so obviously I mix them both together. Remember the back of the brownie mixes and how they would give you options to prepare the brownies based off your preference? The struggle was real. My family always preferred fudge so clearly we went with those..
But these Almond Joy Brownies take any boxed brownie mix to the next level. They are gluten-free and vegan, made with oat flour and even have an extra special ingredient you may not expect.
Hummus.
Yup, you read that right, The Dreamiest Almond Joy Brownies have HUMMUS in them. And not just an ordinary hummus. They have Hope Foods hummus in them.
My obsession with Hope Foods began last spring when I first found out about their products. They make the most unique hummus and dip flavors ranging from Kale Pesto Hummus to Thai Coconut Curry Hummus to my personal favorite, Dark Chocolate Hummus. I know, I know you are probably questioning the whole sweet hummus deal but I guarantee you will love their Dark Chocolate Hummus and the Dark Chocolate Coconut Hummus.
You can likely find me spooning it straight from the container when it is in my fridge. Whenever I find it at my local Whole Foods, I stock up on a few containers like a crazy person. Once the lady at the register asked if I was having a party. I chuckled and proudly told her I was just addicted to Hope Foods Dark Chocolate Hummus. She chuckled and said she would officially have to try it now.
But what makes Hope Foods so perfect? (Besides their flavors obviously…)
Their ingredients are sourced from local farmers that share similar values around using clean ingredients, clean water. And they are providing agricultural jobs. Unlike many other hummus brands in the fridge, they don't use any preservatives in their products and they only use cold pressure (no high height) to retain the freshest flavor.
But why Hope? Why is there hummus named Hope? They named their company Hope Food because their belief in the power of better, pure and clean food. The began selling their Spicy Avocado Hummus (it is AMAZEBALLS btw) at the Boulder Farmers' Market and aw so much success that it took off from there. They are a company full of hope and it is truly admirable.
And don't think it stops just at hummus. They have spreads and guacamole too for us to enjoy. All made in small batches in Colorado (aka one of my dream trips for this year).
I can't even imagine the giddiness I would have being inside Hope Foods factory. Besides wanting to eat everything in sight, it would be so magical to be surrounded by a team and family with such Hope and love for the food they create.
Now let's get to these Almond Joy Brownies….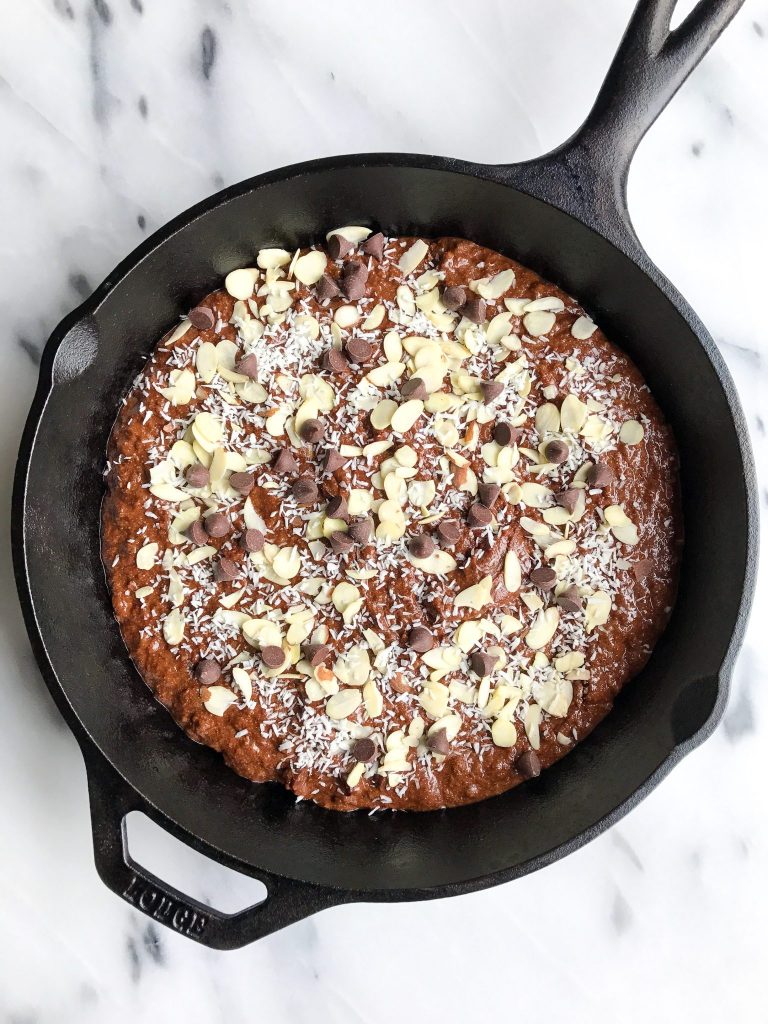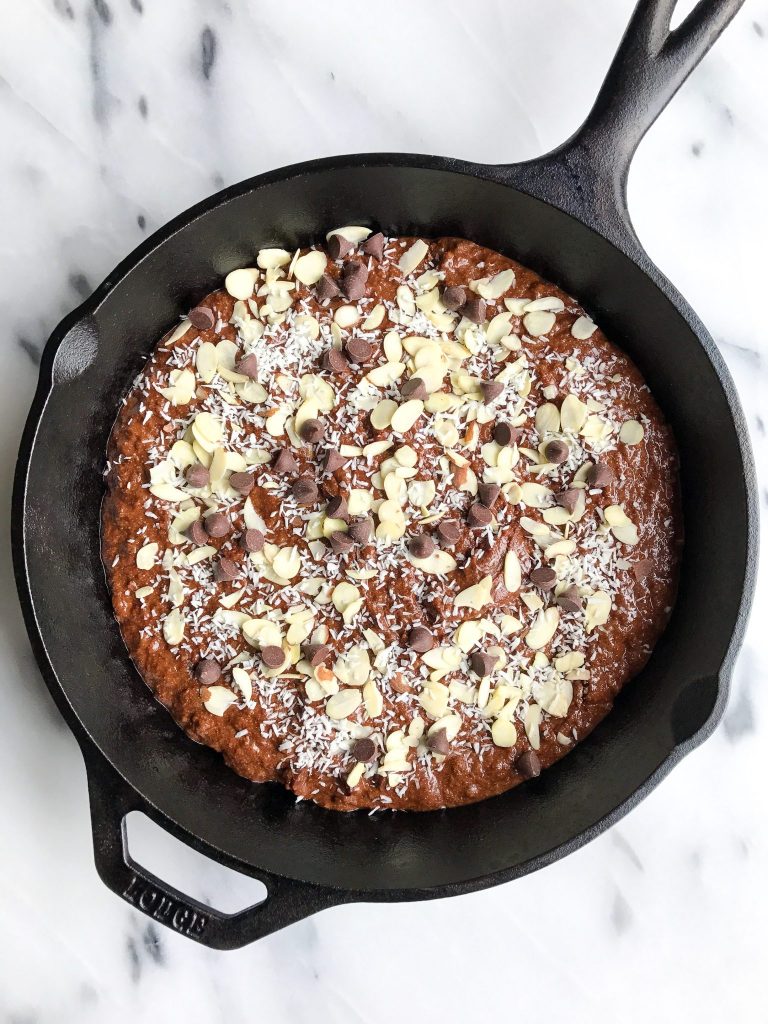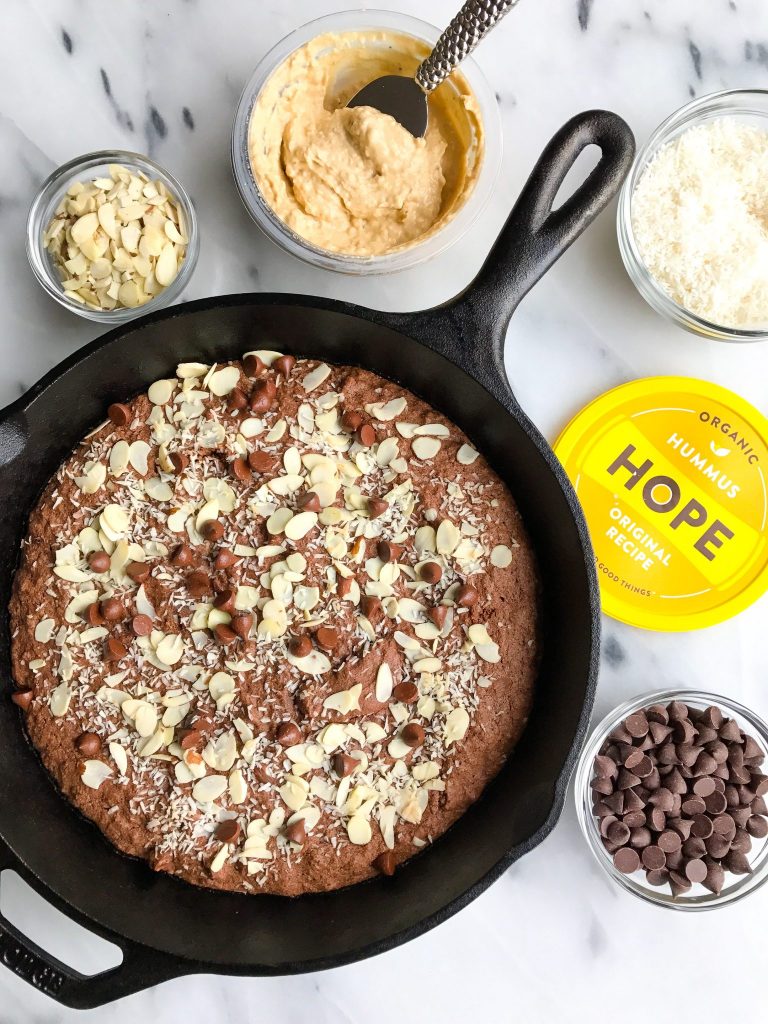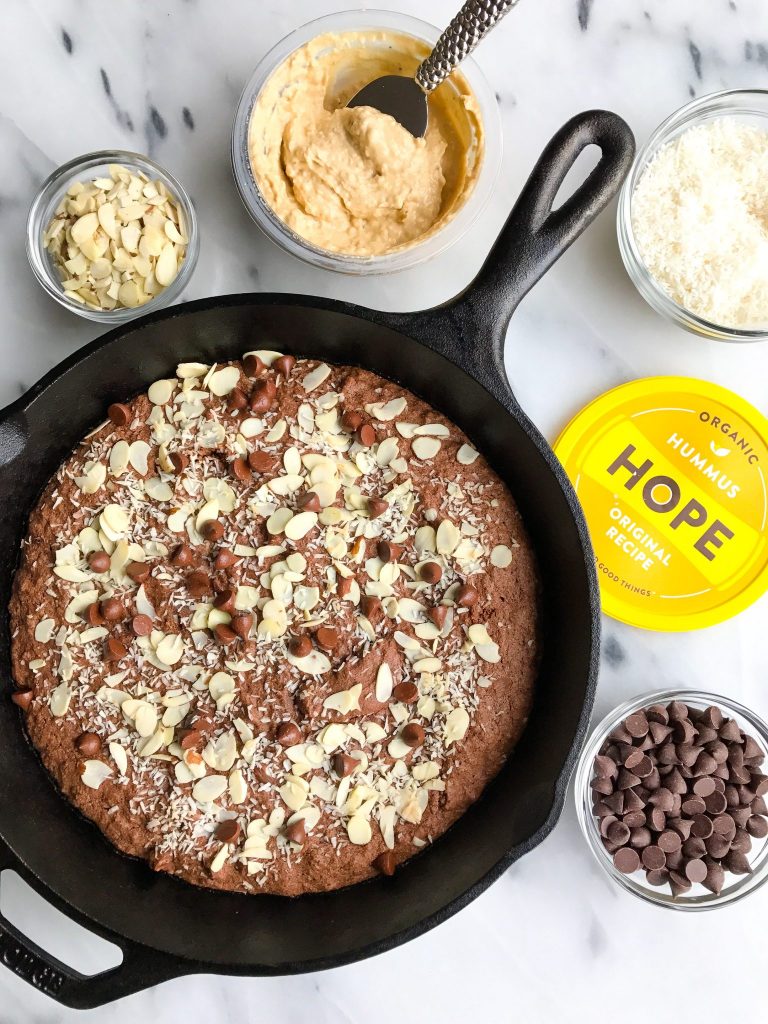 WHAT YOU NEED:
oat flour (oatmeal blended/processed into flour)
coconut sugar
cacao powder
baking powder
2 chia egg
maple syrup
coconut oil
Hope Foods Hummus
almond butter
vanilla extract
almond extract
dark chocolate chips
chopped almonds
coconut flakes
QUICK NOTES:
I have made these brownies a few times now with all 3 of my recommend Hope Foods hummus flavors. I think the Dark Chocolate and Dark Chocolate Coconut flavors taste best in this recipe but Original also works (just isn't as sweet)
You can also make this in an 8×8 baking dish if you do not have a skillet (just eye ball the baking time)
Regular egg can also work if you prefer over chia or flax egg
I do not recommend subbing another flour here as I have only used oat flour
Here are a few of my other favorite brownies here: Dark Chocolate PB Skillet, The Ultimate Healthy Brownie and 3-ingredient Raw Pecan Brownies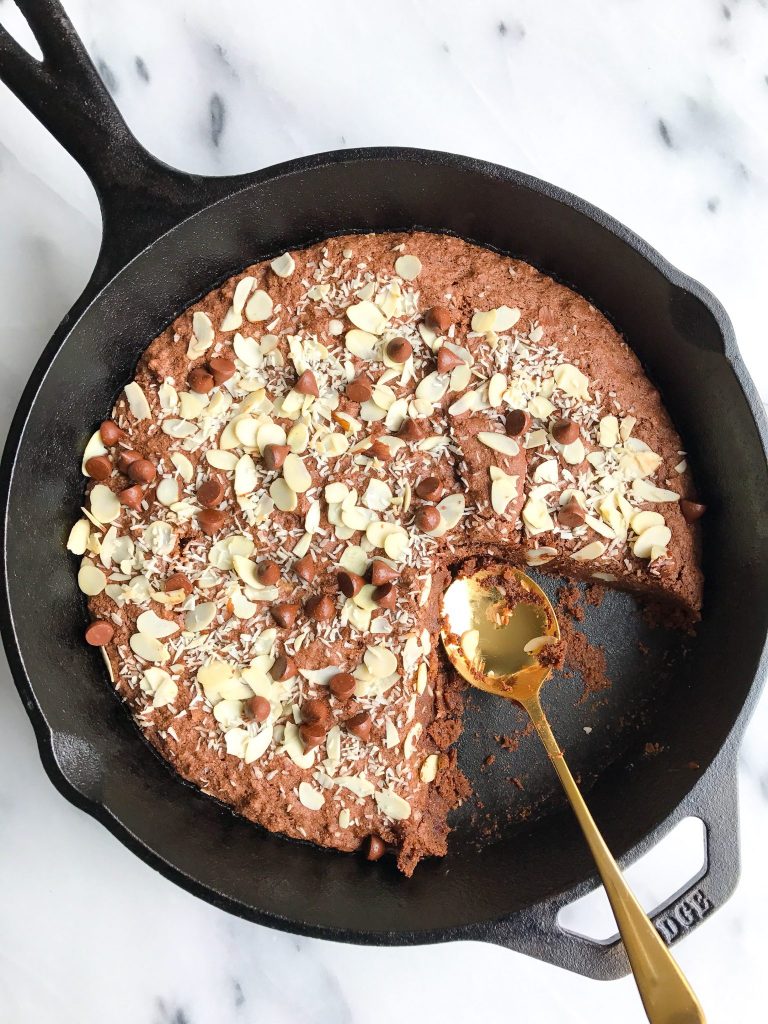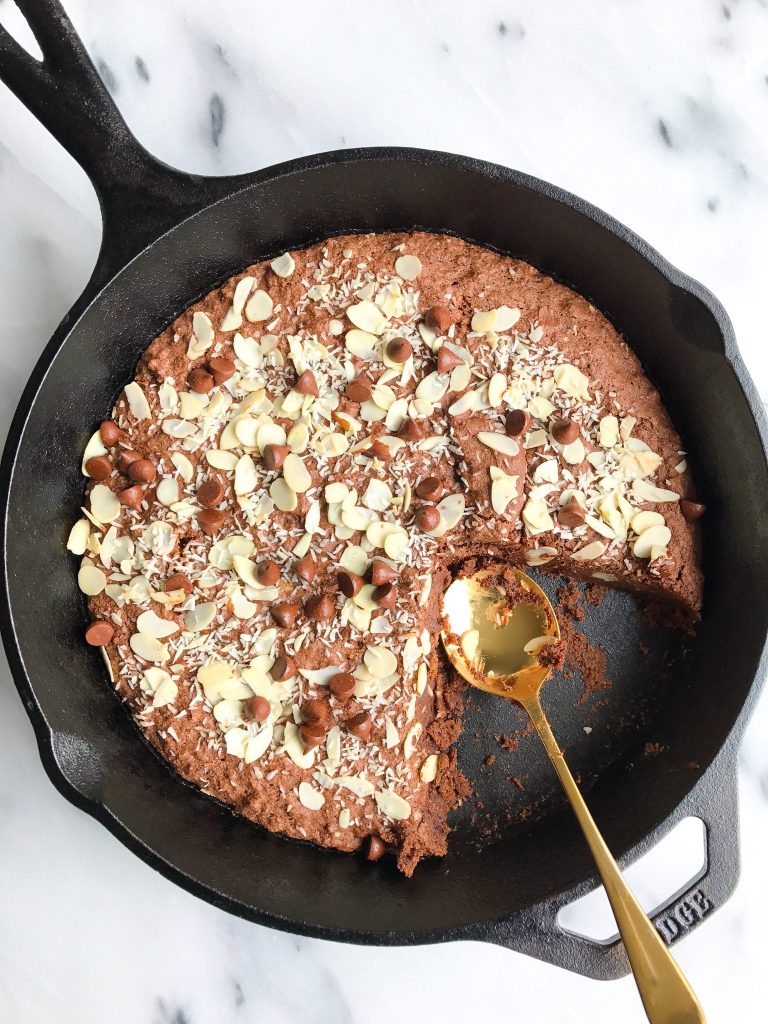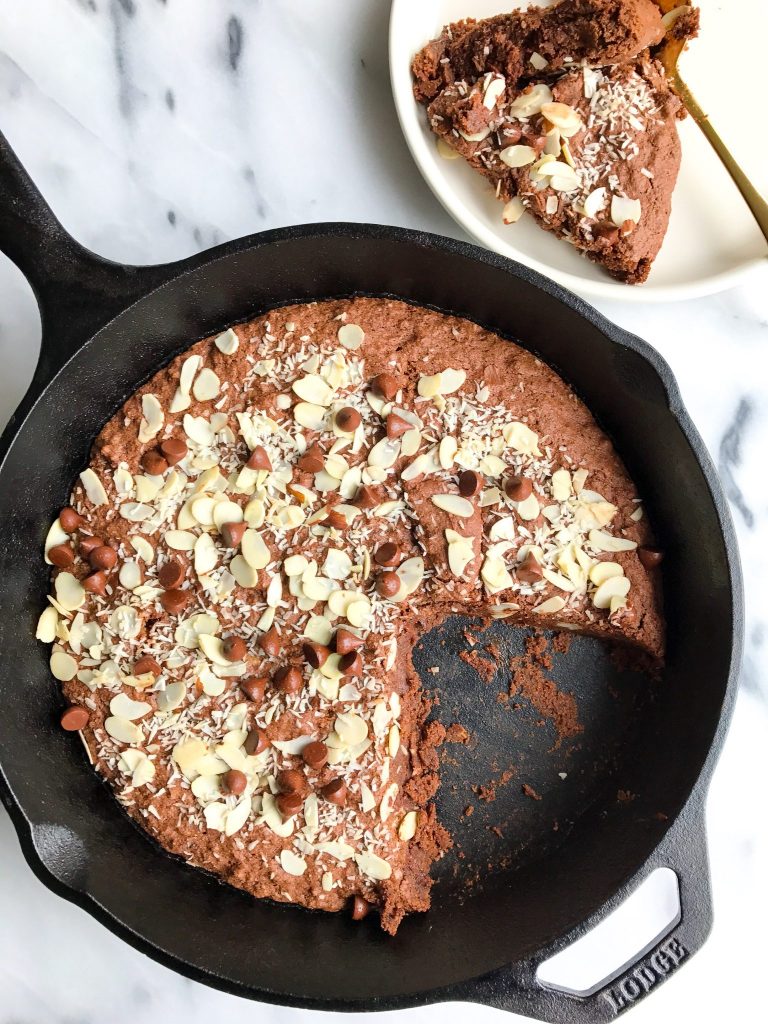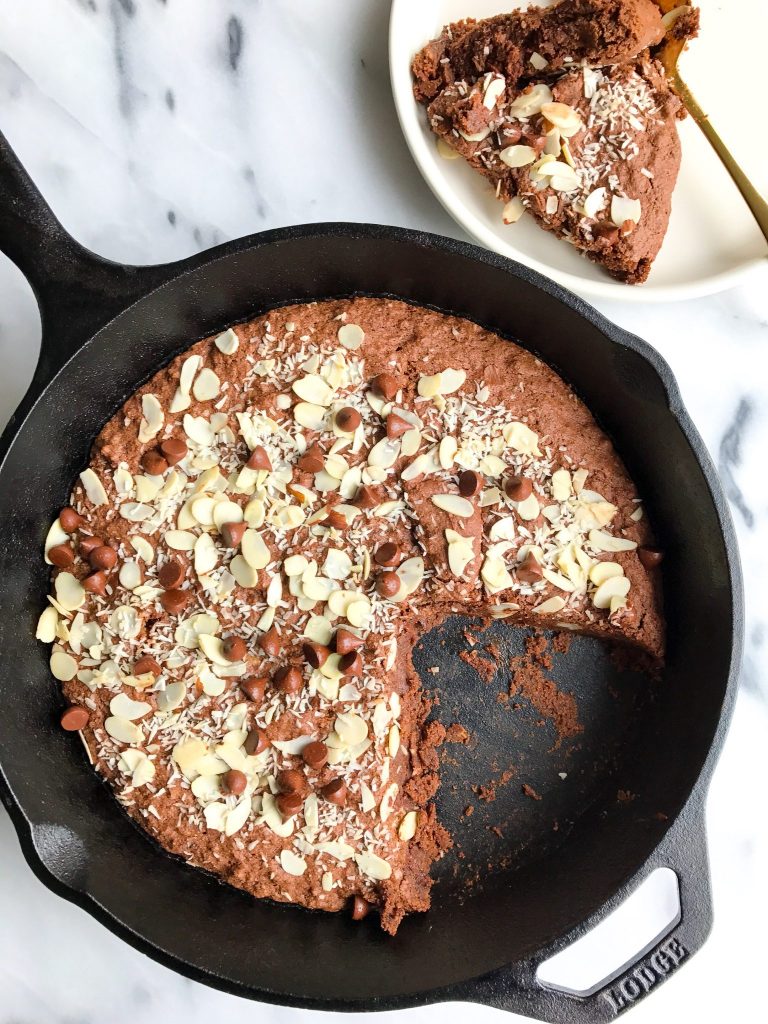 Print
The Dreamiest Almond Joy Brownies (vegan)
Author:
Prep Time:

5 mins

Cook Time:

20 mins

Total Time:

25 mins

Yield:

1

skillet (about

8

brownies)

1

x
Category:

vegan, gluten free-friendly

Cuisine:

dessert, brownies
Dry ingredients:

1.5 cups

oat flour (I have not tested other flours)

⅓ cup

coconut sugar

½ cup

cacao powder

½ teaspoon

baking powder
Wet ingredients:

2

chia eggs (

2 tablespoons

ground chia +

6 tablespoons

water mixed)

⅓ cup

maple syrup (honey or agave will work)

½ cup

coconut oil, melted and cooled

1/4 cup

Hope Foods Hummus (i recommend dark chocolate, or chocolate coconut)

1/3 cup

creamy almond butter

1/2 teaspoon

almond extract

1/2 teaspoon

vanilla extract
Mix-in's:

1/3 cup

dark chocolate chocolate chips

1/4 cup

chopped almonds

4 tablespoons

coconut flakes or shaved coconut
Instructions
Preheat oven to 350 degrees
Lightly grease your skillet with coconut oil
Mix together dry ingredients in a medium bowl and set aside
In another bowl, mix together wet ingredients (I used a Kitchen Aid)
Add dry ingredients to wet and mix well
Fold in dark chocolate chips then pour onto skillet
Sprinkle almonds and coconut flakes on top
Bake in oven to 20 minutes
Enjoy with your favorite ice cream or as is!
*Will stay good in airtight container for 5 days or freeze for longer!
xx, Rach


Thank you Hope Foods for sponsoring this post. It means so much to me to work with brands that I love and who support rachLmansfield!