The Dreamiest Pumpkin Almond Butter Cups made with just 6 healthy ingredients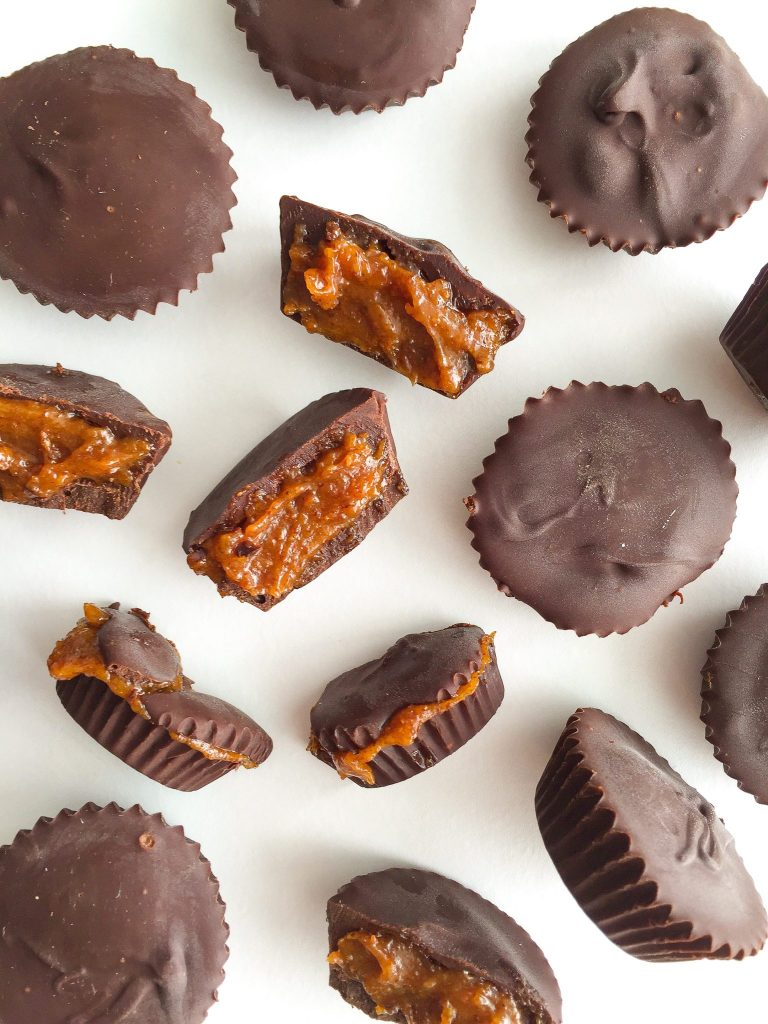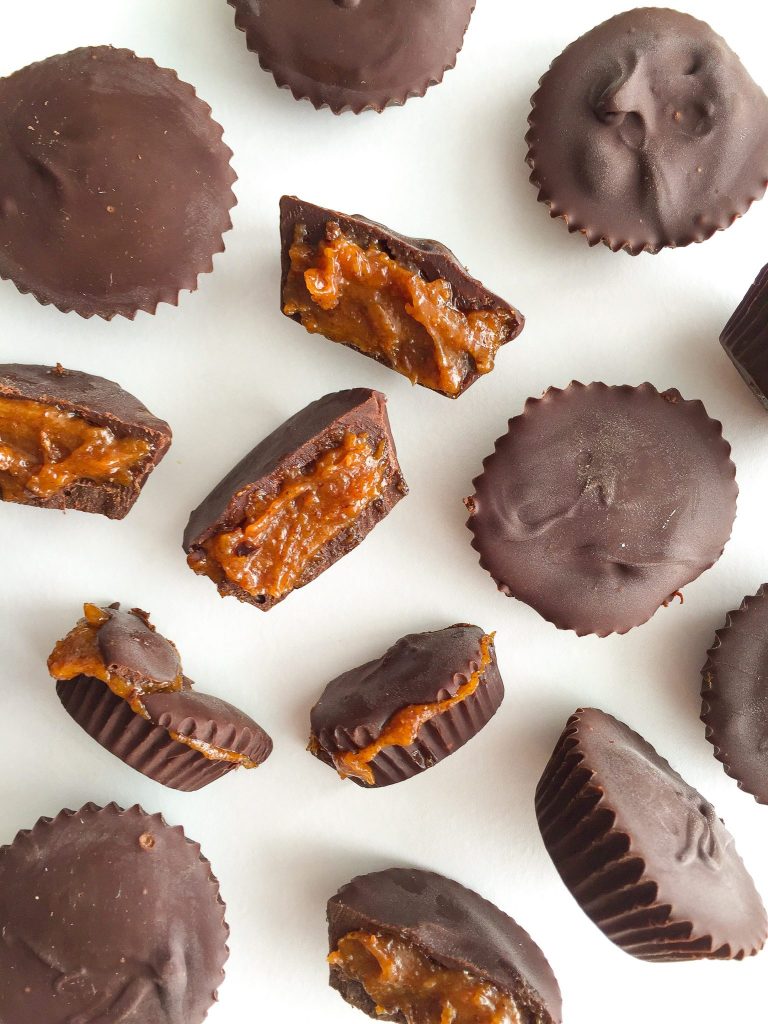 These DREAMY Pumpkin Almond Butter Cups are basically everything you could want and them some. They are made with just 6 healthy ingredients and are SO perfect for your chocolatey pumpkin fix.
At first I was little hesitant combining almond butter cups with pumpkin but the combo is on point and exactly what you will be craving.  Dark chocolate cup filled with a creamy pumpkin almond butter center. The pumpkin center is fadeout of canned pumpkin (I used a pumpkin pie filling with spices), almond butter and raw honey.
I love adding a bit of honey in it for extra sweetness to the cup. Plus it makes the pumpkin inside even more rich and sticky like chocolate cups should be.
I used Heavenly Organics in this recipe, which is 100% raw organic honey. They practice a non-violent form of honey cultivation aka they actually care about the bees! Heavenly Organics was just focusing on a Clean Bee Campaign for the month of October for National Honey Month. Through this they raised awareness to everyone of the pesticides that many people put into their honey they make. Heavenly Organics does NOT put pesticides in their honey! Pesticides can endanger both our health and the health of the bee colonies. Heavenly Organics strives to have an ethical business that is good for people, animals and the environment. They employ people in conflict zones in northern India (where their founder is from) allowing them to stability and an income for their families.
Heavenly Organics is also asking for OUR help! Please sign the petition to ban chemicals contaminants found in honey that harms bees and can be human health hazards. More info here!
Not to mention Heavenly Organics has the cutest branding ever and has three types of honey! White, neem and acacia. I used the white honey in this but I have taste each of them and they are all so dreamy. They go perfectly in my golden milk too when I make it at night.
In fact, make some golden milk, take a few of these Dreamy Pumpkin Almond Butter Cups and enjoy an after dinner treat babes. We all need it.
And if you do make these, don't forget to share it on social! Cannot wait to hear what you think.
Print
The Dreamiest Pumpkin Almond Butter Cups
Author:
Yield: About

15

1

x
Category:

grain-free, gluten-free

Cuisine:

dessert, snack
Scale
Ingredients
Dark chocolate cups:

1 cup

of dark chocolate chips

1

–

2

teaspoons coconut oil
Pumpkin filling:

1/4 cup

canned pumpkin (I used a pumpkin pie spiced one!)

1/3 cup

creamy almond butter

1

–

2

tablespoons raw honey (I used Heavenly Organics)
Instructions
Line mini muffin pan with liners
Melt about 3/4 cup dark chocolate chips with the coconut oil in microwave and heat in 30 second increments, stirring well in between
Fill each liner about 1/3 way fill with the chocolate
Place in freezer and begin making pumpkin filling
Blend together the pumpkin filling ingredients in food processor
Roll into little balls and add on top of dark chocolate in each muffin tin
Melt remaining dark chocolate the same as before and top off each cup! You may need more chocolate depending on how much you used on bottom
Place in freezer for 30 minutes then enjoy!
Store in airtight continuer or bag in freezer for couple months
xx, Rach


Thank you Heavenly Organics for sponsoring this post. It means so much to me to work with brands that I love and who support rachLmansfield!