Vegan Chocolate Peanut Butter Oatmeal Bars ready in under 30 minutes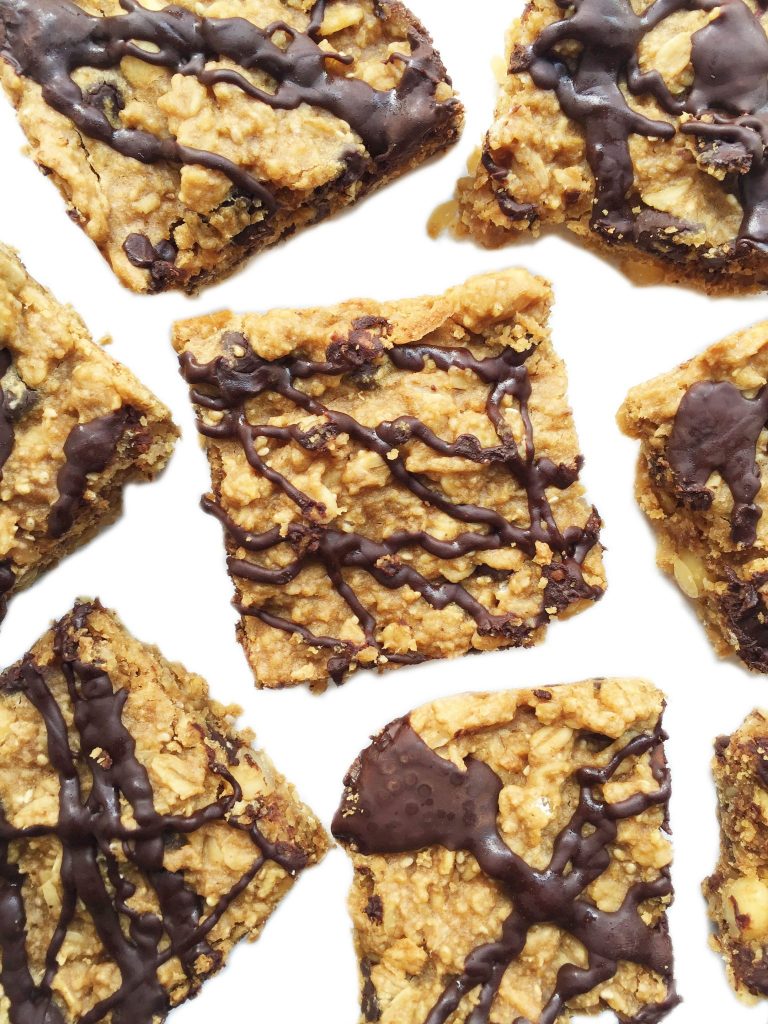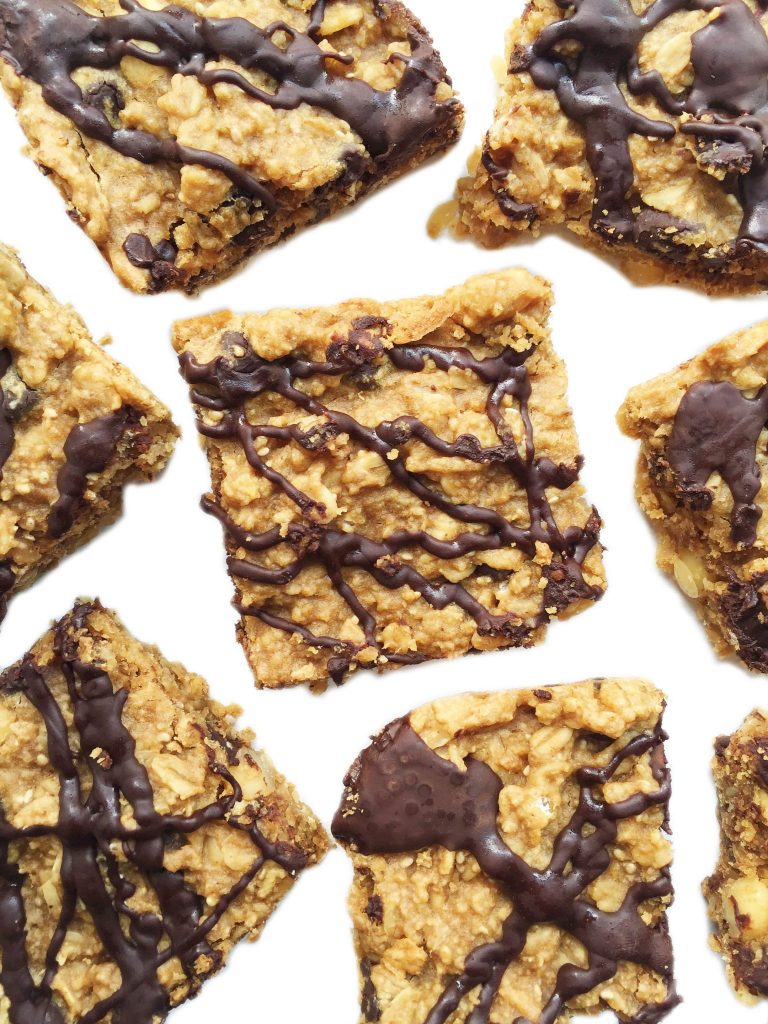 There are seriously no words to describe how much I love these Vegan Chocolate Peanut Butter Oatmeal Bars. I was on the phone with my Mom the other day and she asked me what I was doing the rest of the afternoon. I responded and said "I have a clear afternoon so I might as well relax and bake or something". She just laughed because baking is literally my way of relaxing.
When I'm in my kitchen (and by kitchen I mean the wall in my studio apartment), I am my happiest. I love sorting through my cabinets seeing what ingredients I have on hand and using them to make something new and delicious. My favorite is when I ask Jord if there is anything he is craving and he says "something good". Not the most helpful response but hey, he's an easy crowd pleaser 😉
I then say "give me an ingredient to base it around".
This time it was "peanut butter". From there I think about things I haven't made in awhile or have been wanting to make. That's when I realized, I have never made an actual bar recipe on the blog. We have brownies and such, but not one snack or breakfast or dessert bar has ever been made. I was mind boggled. I'm pretty embarrassed considering I am a bit of a bar-snob. I love having bars on hand in my gym bag or whenever I am on the run. They're such an easy snack and can be nutritious if you pick the right one.
Now I can also snack on these Vegan Chocolate Peanut Butter Oatmeal Bars. They are seriously AMAZEBALLS. I am still in shock that they are vegan. No eggs! You probably could add them if you want to though, but definitely not necessary.
You can eat one of these for a snack, dessert or pair it with some fresh fruit or yogurt for breakfast. The chocolate drizzle on top makes them a lot fancier than they actually are (seriously, I wish photographed them before because they were actually kind of ugly!).
Now these bars also may have the most ingredients I have ever used before in a recipe but don't let that intimidate you. They are so easy to make and once you take a bite, you will thank me (I hope!).
Here are the key ingredients:
almond milk
unsalted peanuts
dark chocolate chips (dairy free) – I really love using this one too because it has NO added sugar! code rachLcoconutcups for free chocolate surprise when you order anything!
Print
Vegan Chocolate Peanut Butter Oatmeal Bars
Author:
Yield:

9

bars

1

x
Category:

breakfast, dessert, snack

Cuisine:

vegan, glutenfree
1 cup

old fashioned oatmeal

1 cup

oat flour (oatmeal pulsed in food processor for a few seconds)

1/2 teaspoon

baking powder
Sprinkle of cinnamon
Splash of vanilla extract

3/4 cup

almond milk (or milk of choice)

1/2 cup

creamy peanut butter (room temperature or warm)

1 tablespoon

of maple syrup

1/4 cup

coconut sugar

1/2 cup

unsalted peanuts

1/2 cup

dairy free dark chocolate chips +

1/3 cup

for drizzle
Instructions
Preheat your oven to 350 degrees
Grease an 8×8 baking dish
Combine oatmeal, oat flour, baking powder, cinnamon, vanilla extract and almond milk together and mix well
In a separate bowl, add the maple syrup and peanut butter together (if peanut butter is hard, pop in microwave for about 15-20 seconds to soften)
Add to dry ingredients and add coconut sugar
Mix well until everything is combined
Fold in peanuts and chocolate chips
Bake for about 20 minutes
Let the bars cool for about 20-30 minutes
Melt chocolate chips in microwave (I added coconut oil too) in 15 second increments until melted
Drizzle across the bars in the baking dish
Cut & enjoy!
xx, Rach
SaveSave
SaveSave