Vegan & Gluten Free Dark Chocolate Cookie Dough Cups made with less than 6 ingredients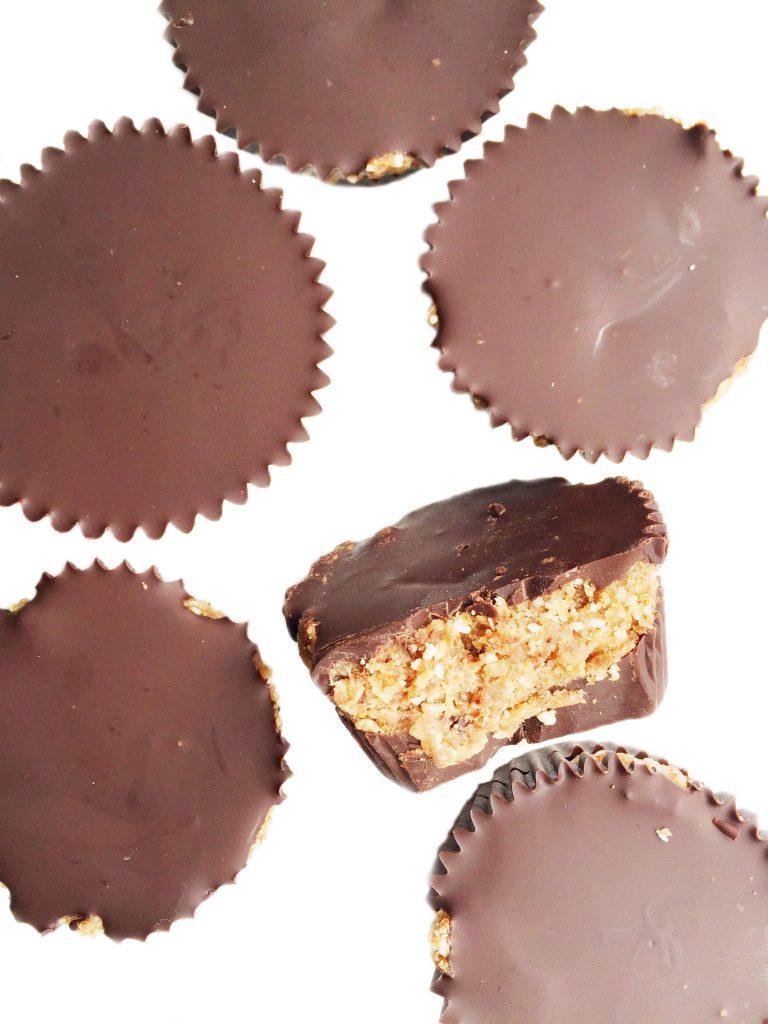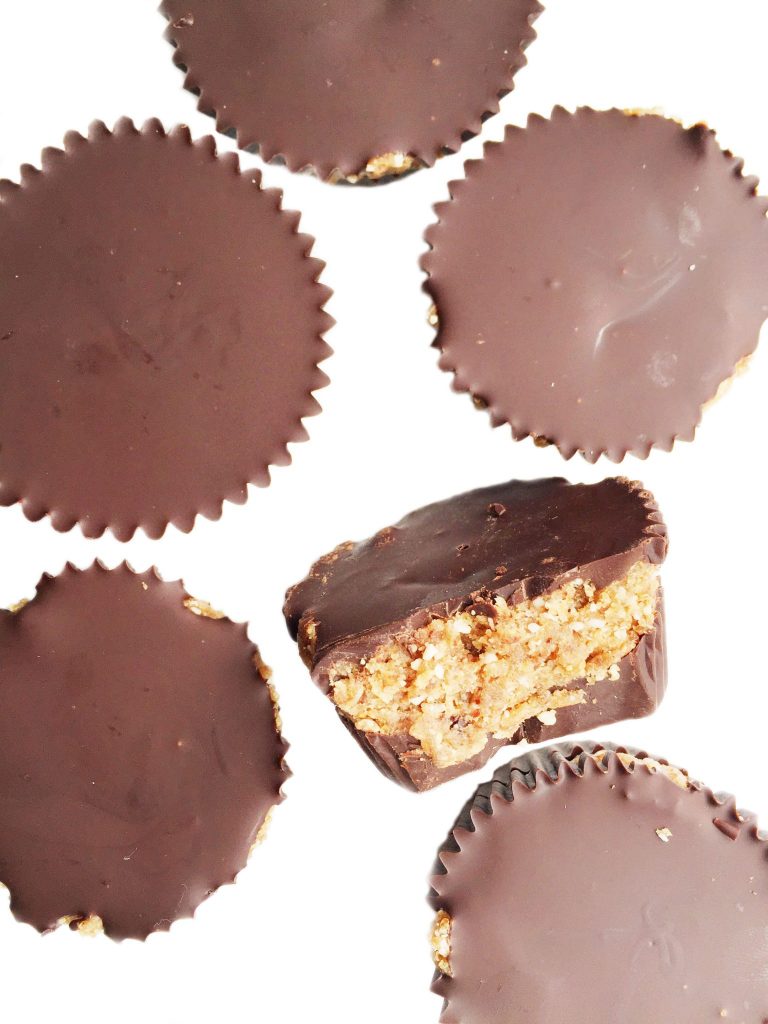 Nope you're not dreaming right now.
We are actually making & feasting on Vegan & Gluten Free Dark Chocolate Cookie Dough Cups.
It is about time we combined two of our favorite food groups and made 1 orgasmic dessert. Dark chocolate + chocolate chip cookies are basically my life line. And peanut butter of course, but cookies and chocolate are the real deal.
These Vegan & Gluten Free Dark Chocolate Cookie Dough Cups are easy to make too. I'm not going to lie to you and say they're the easiest recipe ever because they're not. There are a few more steps in this recipe but, it's beyond worth it. Plus the recipe makes a big batch (about 18-22 cups) and you can freeze some for later. I wish I could say I was able to freeze some but when word got out I made this, I had to give a few away. Jord also was obsessed with them, so we all know how that goes…
One of my favorite ingredients in this recipe is the coconut flour because I think it is really unexpected. Most raw cookie dough has chick peas or cashews in it. I used Better Body Food's Coconut Flour, since apparently I am voting Better Body Food's for President this year. I am beyond obsessed with their products. You may recognize them from a handful of my recipes like Flourless Peanut Butter Chocolate Chip Pancakes, Stovetop Oatmeal Raisin Cookie Granola, & 3-ingredient Peanut Butter Cookies.
I told you, I am obsessed. And there are a handful I didn't even blog about!
In addition to Better Body Foods Coconut Flour, you will also need: raw almonds, vanilla almond butter, pitted dates, dark chocolate chips, coconut oil (I also used Better Body Foods).
You also may want to get some muffin liners to make your life 10000000x easier later 😉
[bctt tweet="Vegan & Gluten Free Dark Chocolate Cookie Dough Cups – YES!"]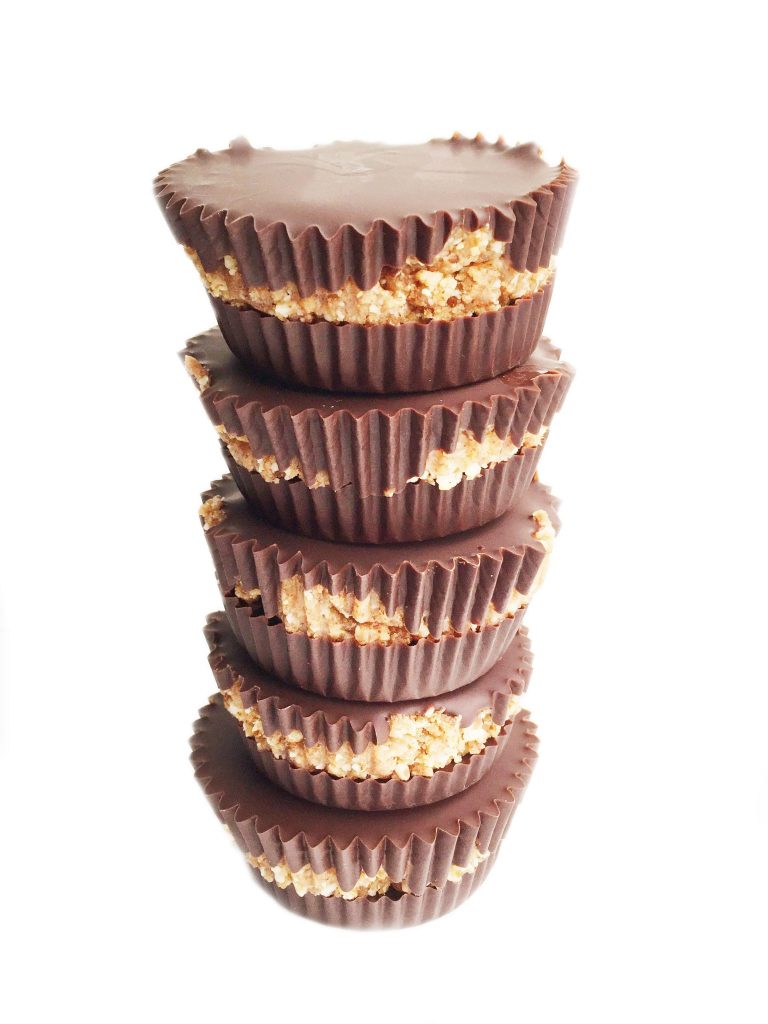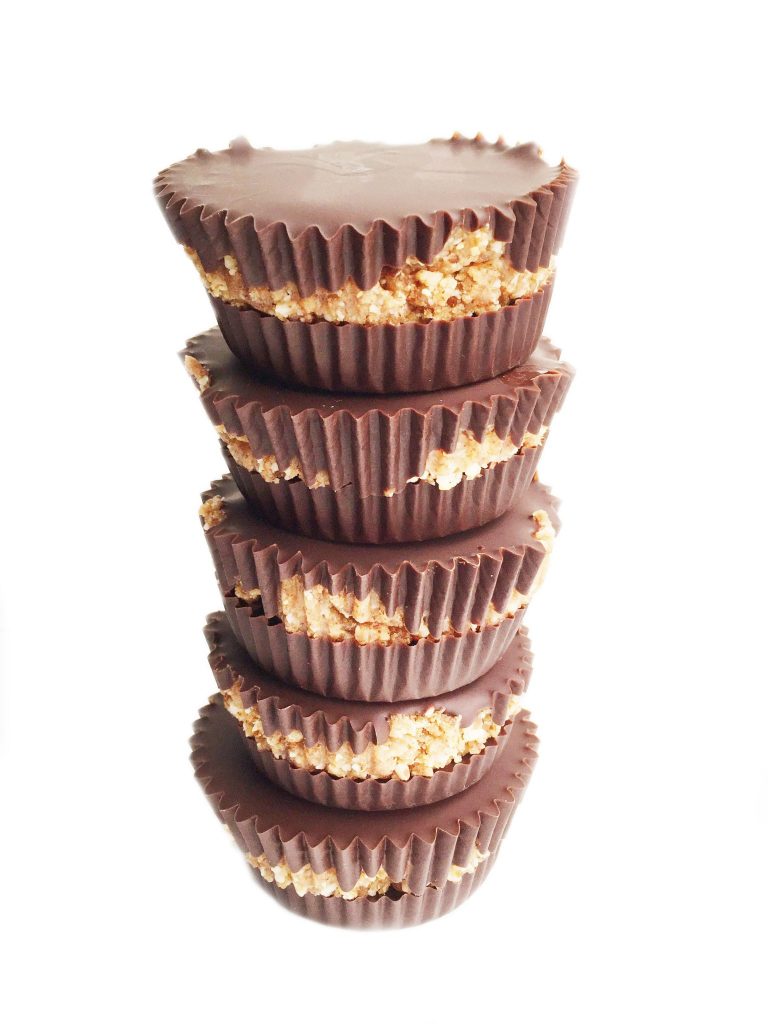 Print
Vegan & Gluten Free Dark Chocolate Cookie Dough Cups
Author:
Prep Time:

30 mins

Cook Time:

20 mins

Total Time:

50 mins

Yield: About

18

-

22

cups

1

x
Category:

gluten free, vegan

Cuisine:

dessert, snack
Cookie Dough:

1 cup

of raw almonds

1/4 cup

coconut flour

1/2 cup

vanilla almond butter

2.5 cups

of pitted dates (soft)
Dark Chocolate:

2

9 ounce bags of dark chocolate chips (i used df/gf – you also may have left over)
Coconut Oil (just bring out the whole jar!)
Instructions
Line your muffin tins with liners (use 2 in each)
Pour 1 cup of dark chocolate chips into a microwave safe bowl & 1 tablespoon of coconut oil
Microwave until melted (I did 30 second increments)
Place about 2 tablespoons of dark chocolate into each muffin liner
Repeat this step until each muffin holder is filled half way with chocolate
Place muffin tray into freezer for about 10 minutes, until chocolate is hard
While the chocolate is hardening, place all cookie dough ingredients in food processor and pulse until completely blended together (it should be doughy with a little grain texture)
Place about 2 tablespoons of cookie dough on top of the chocolate in each muffin tray
Repeat the chocolate step again and top off each cup with chocolate so the top is covered
Gently tap the muffin tray on the counter to make sure chocolate is evenly distributed
Pop back into freezer for 10 minutes and enjoy!
Keep in fridge for up to a week (or freezer even longer!)
xx, Rach
This post contains affiliate links, which means that if you purchase a product through a link you clicked on here, I receive a portion of the sale. Thanks for supporting the blog and making rachLmansfield.com possible! xx