Veggie Huevos Rancheros Skillet Bake with Avocado Crema for a deliciously healthy dairy-free breakfast!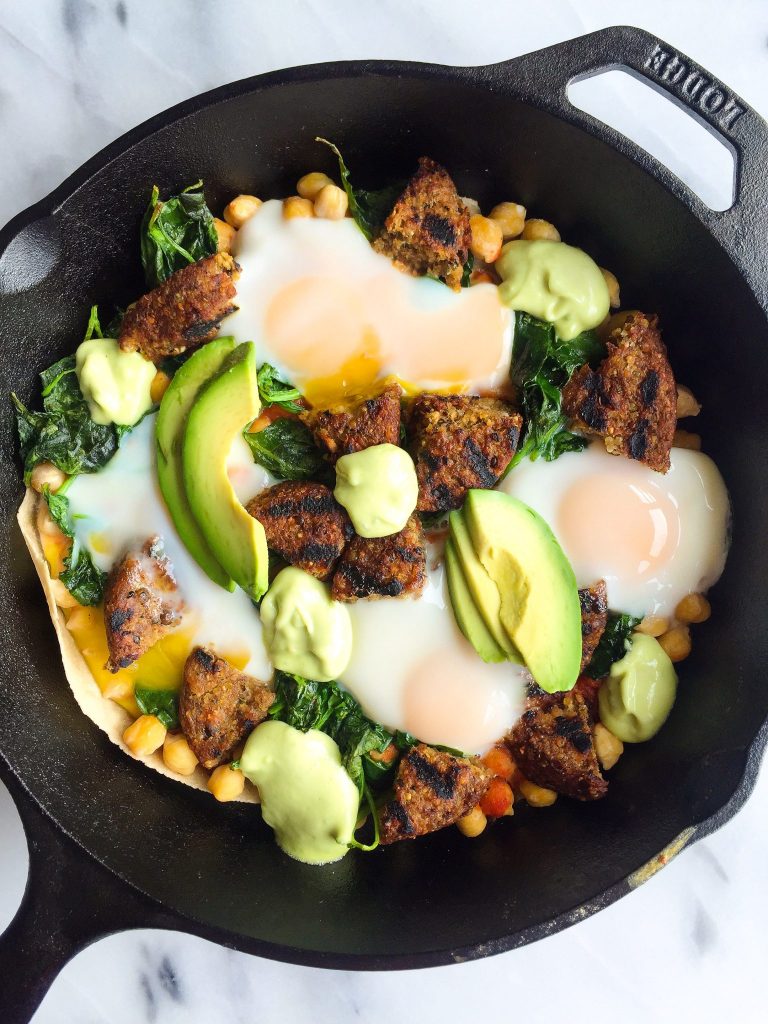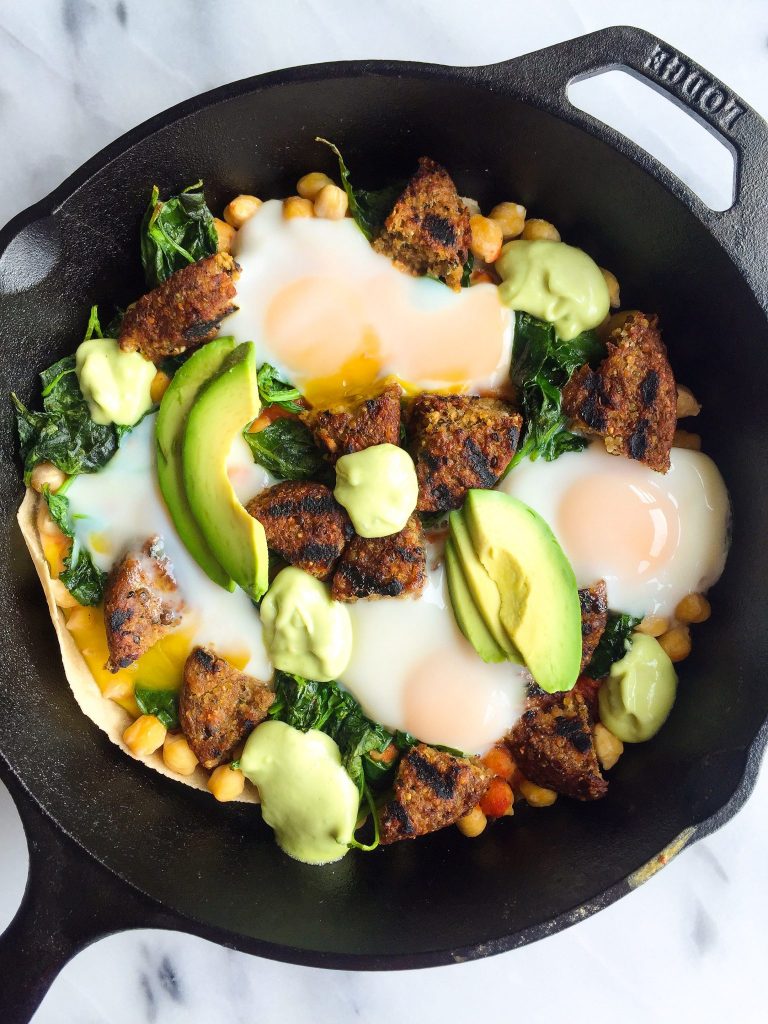 I have an addiction.
Like can't go a day without these gems. When Whole Foods ran out of them for a week, I basically had a panic attack. You also probably see me post about them on my Instagram stories regularly on my weekly grocery hauls or on my random dinner creations.
Yup, it is Hilary's.
Hilary's, you have my heart.
Hilary's is a complete industry game changer. They make everything from veggie burgers to dressings and now they are dabbling in the SAUSAGE world. And the best part? All of Hilary's products are allergen free. Each of their products are made with clean ingredients and are free from common allergens and flipping taste DELICIOUS. Their products aren't highly-processed either like most of our freezer aisle options. They have coconut oil, healthy grains and more making it super convenient and easy to eat delicious and clean.
Jord asks me daily if I am sick of the burgers yet and to be honest, I'm not. I eat them with everything. I crumble them up into pasta, I put them in my eggs, I eat them on a grain-free bagel or piece of toast. I find a way to eat my Hilary's and not get bored. Not too mention they have SO many different flavors. I love the kimchi one if I want a spicy variety but the adzuki, black rice and root vegetable ones are my absolutely favorite.
And recently Hilary's took it to the next level with sausages! Aka the main star of this Veggie Huevos Rancheros Skillet Bake. Their sausages come in two flavors, apple maple and spicy veggie. Both absolutely amazing. They are made out of lentils, millet, dates and other wholesome ingredients.
As soon as I tried the sausages for the first time, I was literally in heaven. I made the best egg sandwich ever and it has such a kick of flavor and their nutritional value is on point.
Hilary's veggie sausages are absolutely to die for and go so perfectly in this Veggie Huevos Rancheros Skillet Bake. I pair it with homemade avocado crema for an easy and delicious mexican-flared breakfast dish.
The skillet bake is made up of tortillas, chickpeas, spinach and more for a hearty and satisfying egg bake. It is meat-lover approved too since Jord totally loved this dish. He is pretty picky with the veggie burgers and such and he even loves Hilary's. I make us the bites to dip in hummus too.
I am so grateful to have made this dish for Hilary's. It is brands like these that make clean eating absolutely delicious and feasible for us. I cannot thank them enough!
Print
Veggie Huevos Rancheros Skillet Bake with Avocado Crema
Author:
Yield:

2

-

3

1

x
Category:

dairy-free, vegetarian

Cuisine:

breakfast
1

garlic clove

1/3 cup

chopped onions

1 cup

spinach

2

tortillas (I used almond flour from Siete Foods)

1/3 cup

chickpeas (I used organic unsalted)

1/4 cup

salsa of your choice

4

eggs

1

avocado, sliced
Avocado Crema:

1

avocado

2 tablespoons

mayo of choice (I used a vegan one)

2 tablespoons

cilantro

1/2

lime, juiced
Instructions
Heat oven to 400°F and heat skillet in the oven for a few minutes and begin making the beans
Spray a medium pan well and turn on to medium heat
Add garlic and onion and saute for about 1 minute, until fragrant
Add spinach and stir. Let beans cook for a minute or so
Once soften, set beans aside in a bowl and begin cooking the veggie sausage according to package instructions (about 3 minutes on each side)
Once veggie sausage is done, remove from heat and take warmed skillet it out of the oven (be careful it will be HOT)
Lightly spray the cast iron skillet and add the 2 tortillas on top
The add the veggie mixture, chickpeas, followed by the salsa and veggie sausage
Create four wells in the skillet for the eggs to be placed on top of
Gently crack the eggs one at a time on top of the salsa and sausage in the skillet
Place skillet on a rack in the middle of the oven and cook for about 10 to 15 minutes, until eggs are white but are still a little jiggly when the pan is moved.
While the eggs bake, begin making avocado crema
Pulse together ingredients in blender or food processor until creamy (about 30 seconds) and then set aside
Remove skillet from oven and serve immediately with avocado slices and avocado crema
xx, Rach


Thank you Hilary's Eat Well for sponsoring this post. It means so much to me to work with brands that I love and who support rachLmansfield!