The Best Crispy Avocado Oil Chicken Tenders for an easy paleo crispy chicken finger!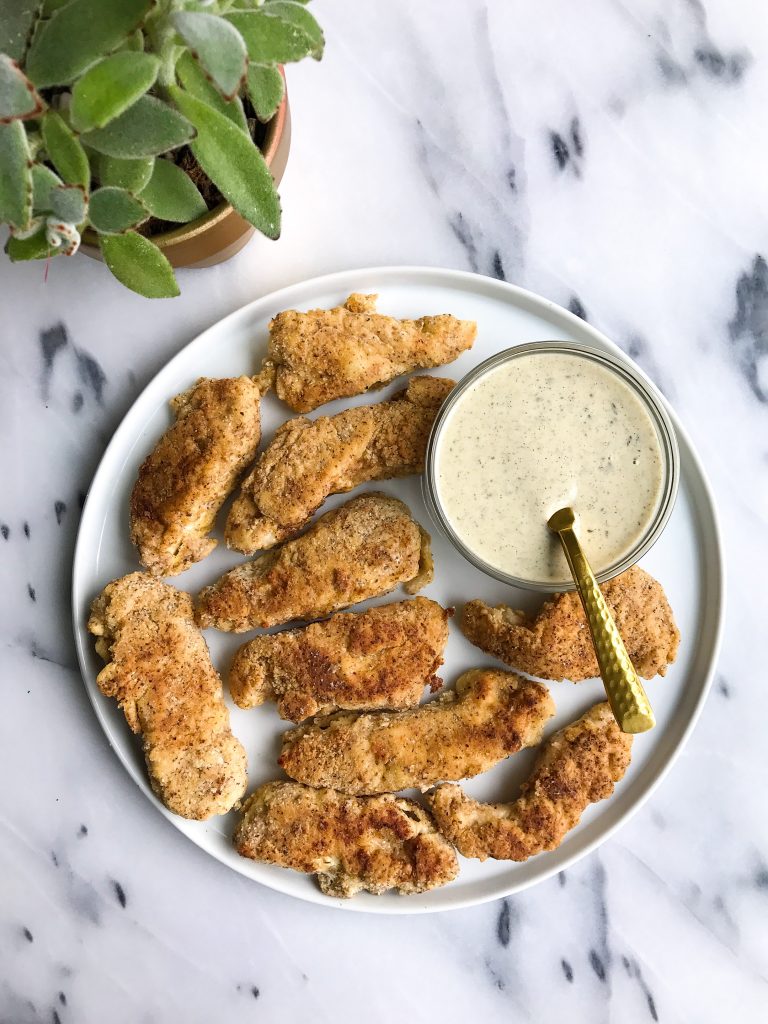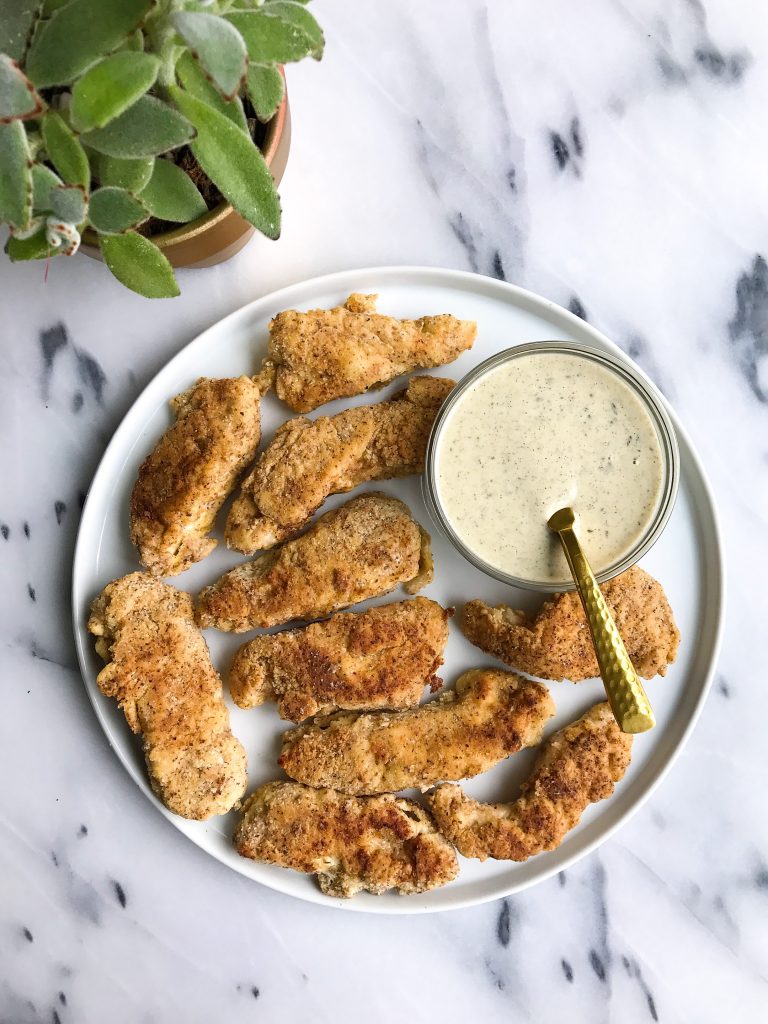 In May, I ate my first chicken finger in like 7 years and basically moaned at the table it was so good. And no, it wasn't a chicken nugget from McDonald's or something. It was an organic hormone-free chicken finger and it was fried in avocado oil and cassava flour. Dipped in this avocado sauce.
Needless to say it was the best thing ever and I dreamt of that chicken finger often wishing I had access to that restaurant still. But it was in Austin and I will be 100% eating there again sometime in my future, for SURE.
When I came home, Tessemae's sent me their newest dressing, Organic Avocado Ranch, and I took that as a hint from above that I needed to try and recreate those dreamy chicken fingers.
So here we are. Making The Best Crispy Avocado Oil Chicken Tenders that you don't even need a fryer for. I housed 4 of these chicken strips while testing the recipe for these. You are going to love them. I perfected the instructions to to ensure extra crispiness and "flour" coating on top. Thanks to the lady I met at the nail salon who taught me the secret to making the best chicken fingers. You have to DOUBLE DIP. Who wold have thought? You will see what I mean in the directions though.
These Crispy Avocado Oil Chicken Tenders got amazingly well with Tessemae's Organic Avocado Ranch. This dressing (like most of Tessemae's products) is Whole30 approved. There is no gluten, dairy, soy or added sugar! It's made with basically all organic ingredients and even cage free egg yolks (THANK YOU!). Jord and I killed a bottle the first week we had it opened, you are going to love!
WHAT YOU NEED
Boneless chicken breasts or thighs
Almond flour
Arrowroot flour
Garlic powder
Paprika
Sea salt
Eggs
Avocado oil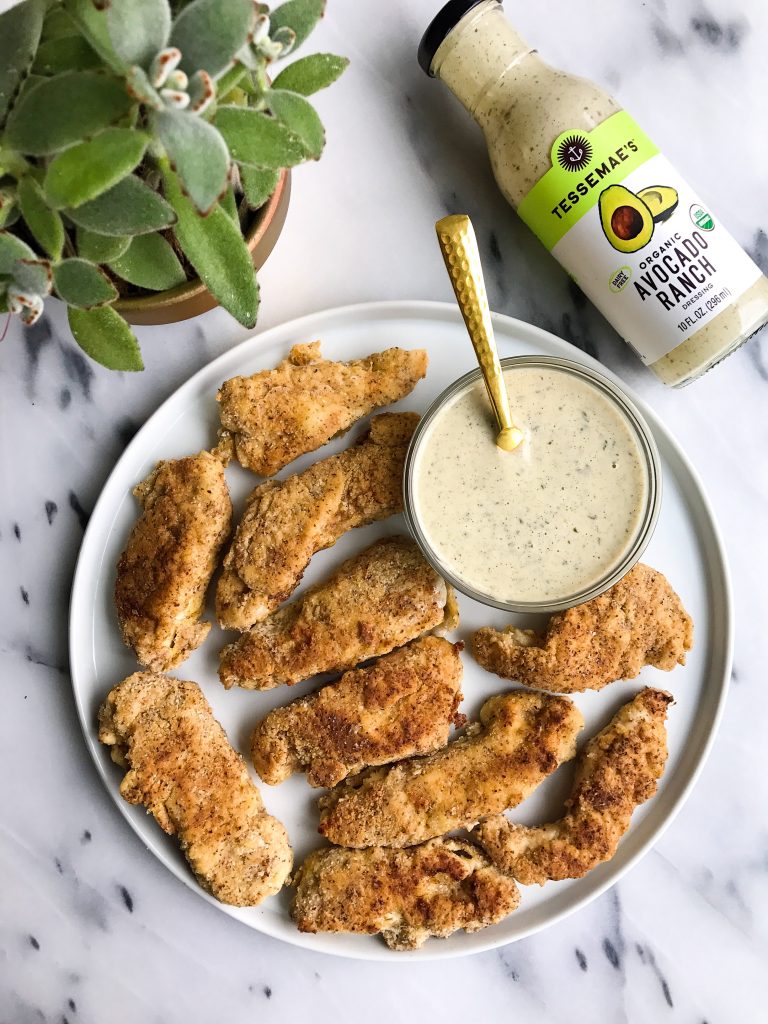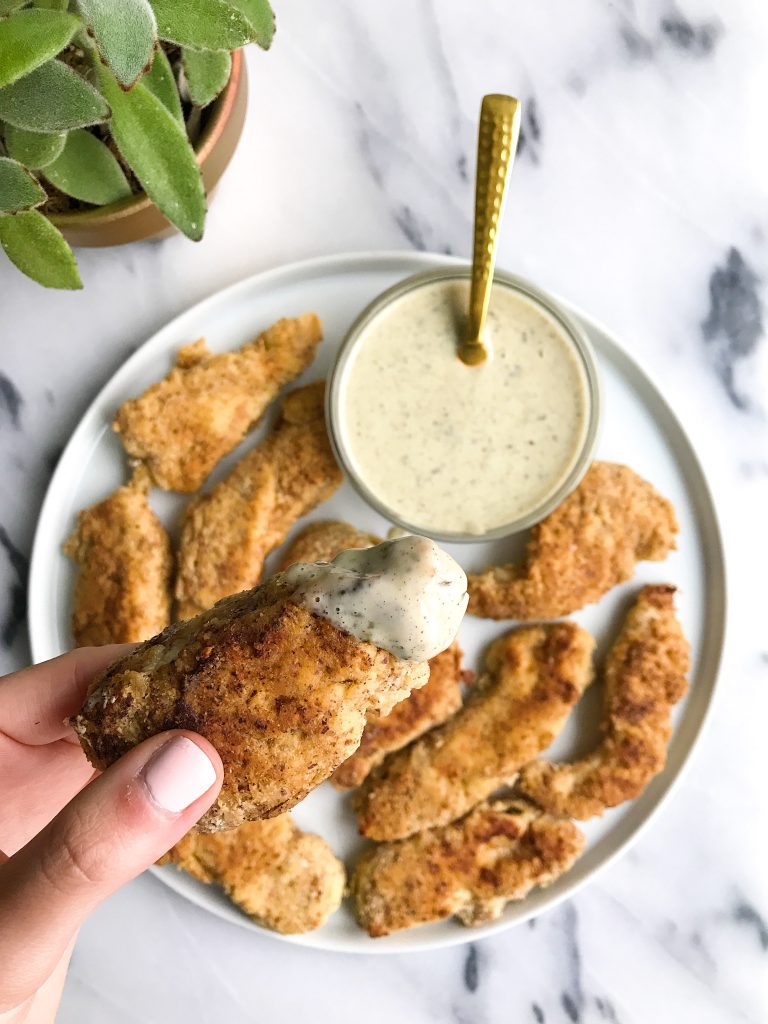 Print
The Best Crispy Avocado Oil Chicken Tenders (paleo)
1

lb boneless chicken breasts or thighs cut into small pieces/strips

3/4 cup

almond flour

1/2 cup

arrowroot flour (tapioca also works)

1/2 teaspoon

garlic powder

1/2 teaspoon

smoked paprika

2

eggs whisked

Avocado oil (bring the bottle out!)

Tessemae's Avocado Ranch Dressing
Instructions
In a shallow medium bowl, mix together almond flour, tapioca flour, garlic powder, paprika
In a small bowl whisk together the eggs
in a large skillet, turn heat to medium-high to heat it up well
Pour a generous amount of avocado oil into the pan and then turn to medium heat
Using a fork, take one piece of the chicken and dip it in the egg, followed by the flour mixture
Then dip it back into the egg and flour mixture (yes double dip!)
Add to skillet and cook on each side for about 3 minutes each or until done
Repeat for each piece of chicken
Enjoy with Tessemae's Avocado Ranch
*These taste best day of but you can leave in fridge and eat within 5 days
Author:
Category:

paleo, gluten-free, whole30

Cuisine:

dinner, lunch
xx, Rach


Thank you Tessemae's for sponsoring this post. It means so much to me to work with brands that I love and who support rachLmansfield!