How to Make the Best Breakfast Tacos with fried eggs for really anytime of the day!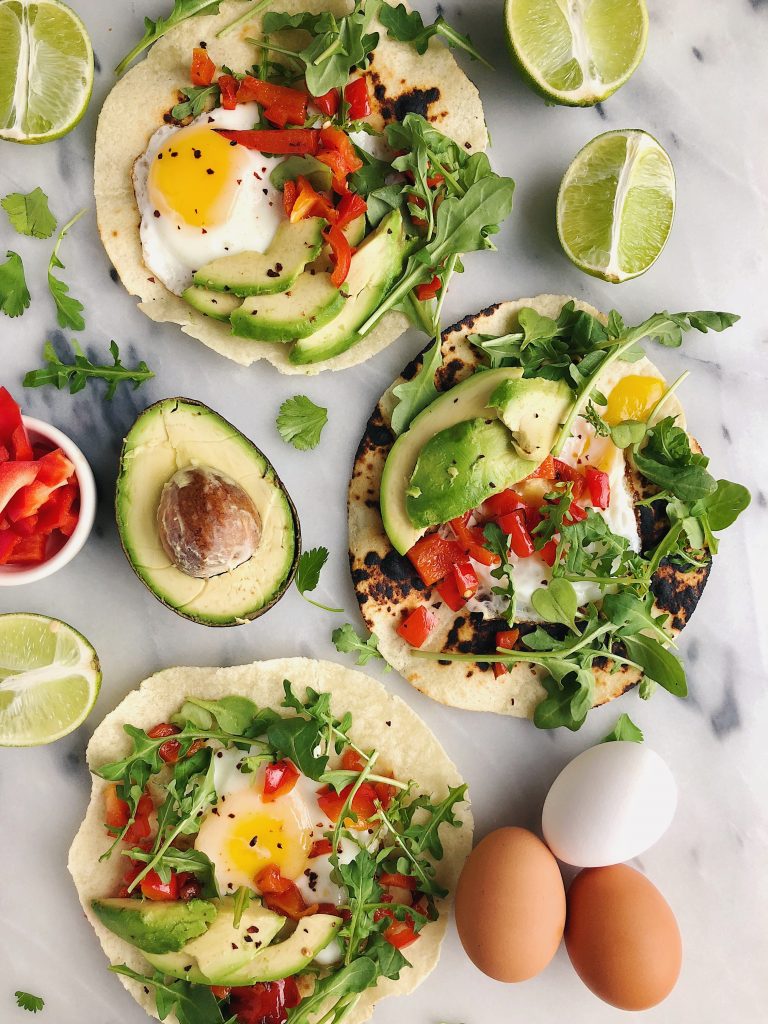 If you follow along on Instagram, you know breakfast tacos are my thing. The thing I eat at least 5x a week and usually I don't even eat them for breakfast! I love having egg tacos for lunch or dinner and they always hit the spot.
When people ask me how I enjoy eating eggs the most, I always tell them I make the most epic breakfast tacos using them. I can't really take full credit for my egg taco love affair though because Jordan is the real egg master. He taught me everything I know about the basics of frying a perfectly yolk-able egg.
Whenever we don't have set dinner plans and don't know what to make we always just look at each other and go "breakfast tacos?". They always hit the spot, every single time.
You can get so creative with your eggs when you make breakfast tacos. You can do a soft scramble, fry them, poach the eggs or even make an omelet to add on top. So many ways to prepare them and opportunities to think outside the box a bit. And the best part? Each time they are still just as nutritious for you.
One large egg are is a nutritional powerhouse with over 6 grams of protein and nine essential amino acids! And I always eat the yolk. Egg yolks houses most of the nutrients that eggs provide like vitamin D, B12, selenium and over 40% of the protein. I also love how they are affordable high-quality protein that you can keep in the fridge at any time. Such a staple over here!
The American Egg Board, the marketing arm for U.S egg farmers, is asking us (yes, you and me!) "how do you like your eggs?". They are providing so many delicious ways to eat eggs on their site and on their social channels (Facebook, Twitter and Instagram).
These breakfast tacos are how we enjoy our eggs and I am sharing our tips and tricks for how to make the most epic fried egg breakfast tacos ever. Follow the directions below and you'll get that perfectly runny yolk to poke just as you bite into that crunchy or soft tortillas (ya we have two ways of preparing that too!)
WHAT YOU NEED
Tortillas
Red peppers (or any veggie of choice)
Avocados
Arugula (or any greens of choice)
Avocado oil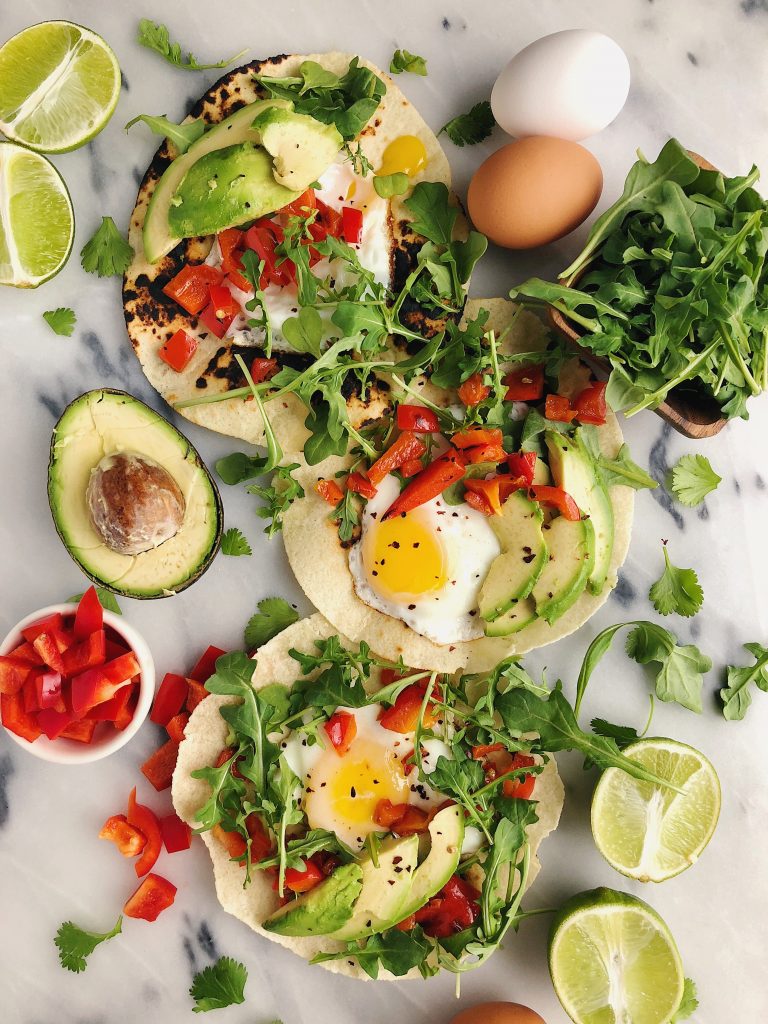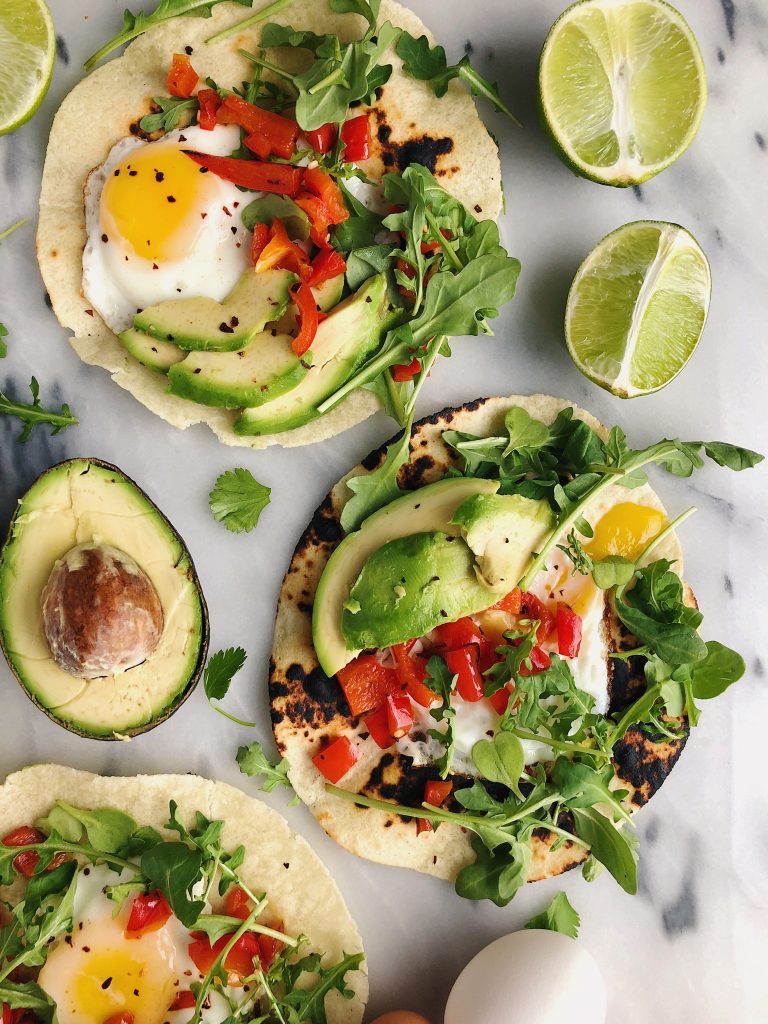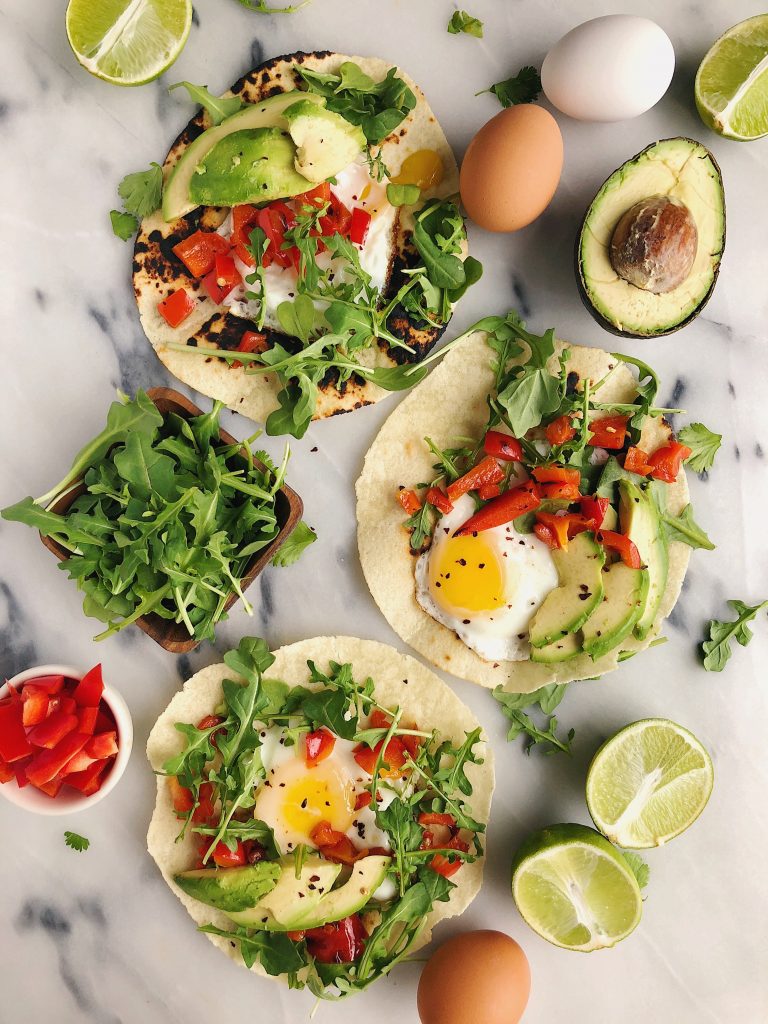 Print
How to Make the Best Breakfast Tacos (gluten-free)
Prep Time:

5 mins

Cook Time:

10 mins

Total Time:

15 mins
Yield: 1 (2 tacos for 1 person) 1x
3

tortillas of choice (see above for which we used!)

3

eggs (I use pasture-raised)

1 cup

baby arugula

1

red pepper, sautéed

1

avocado

1/2

–

1

tablespoon avocado oil

Red pepper flakes
Instructions
In a large cast iron skillet (or the skillet you have), add avocado oil to the pan and turn to medium high heat
Let the pan heat for a minute or two then turn to low heat and crack each egg in to the pan
Cover the pan and let the eggs cook covered on low for about 5 minutes (sprinkle pepper flakes on top if desired as they cook), you want the egg white around the yolk to be cooked but the yolk to be runny! If you overcook by even 10 seconds or so the yolk will cook
While the eggs cook you have 2 ways you can heat the tortillas: over a flame on your stove or on a grill pan if you have electric stove
To heat over the flame (like the tortilla that has a burnt look in the pics), add tortilla directly to flame and let it heat on medium for about 1-2 minutes and keep flipping until it is crisped on each side
The longer you let it cook, the crunchier it will be so if you prefer to fold your taco and hold it, heat for only 1-2 minutes total!
Repeat until all tortillas are cooked
If you are using a grill pan, let the grill pan heat on HIGH heat for a few minutes (you may want to heat this before the eggs start cooking so it gets hot) then add tortillas on the grill pan and heat for about 3 minutes on each side
Top each tortilla with peppers, arugula, avocado and eggs! Some goat cheese or feta is also very delicious to add!
Author:
Category:

gluten-free, dairy-free, paleo-friendly

Cuisine:

breakfast, tacos
xx, Rach
Thank you American Egg Board for sponsoring this post! It means so much to me to work with brands that I love and believe in! xx