No-Bake Raspberry Chia Jam Bars made vegan, gluten free & paleo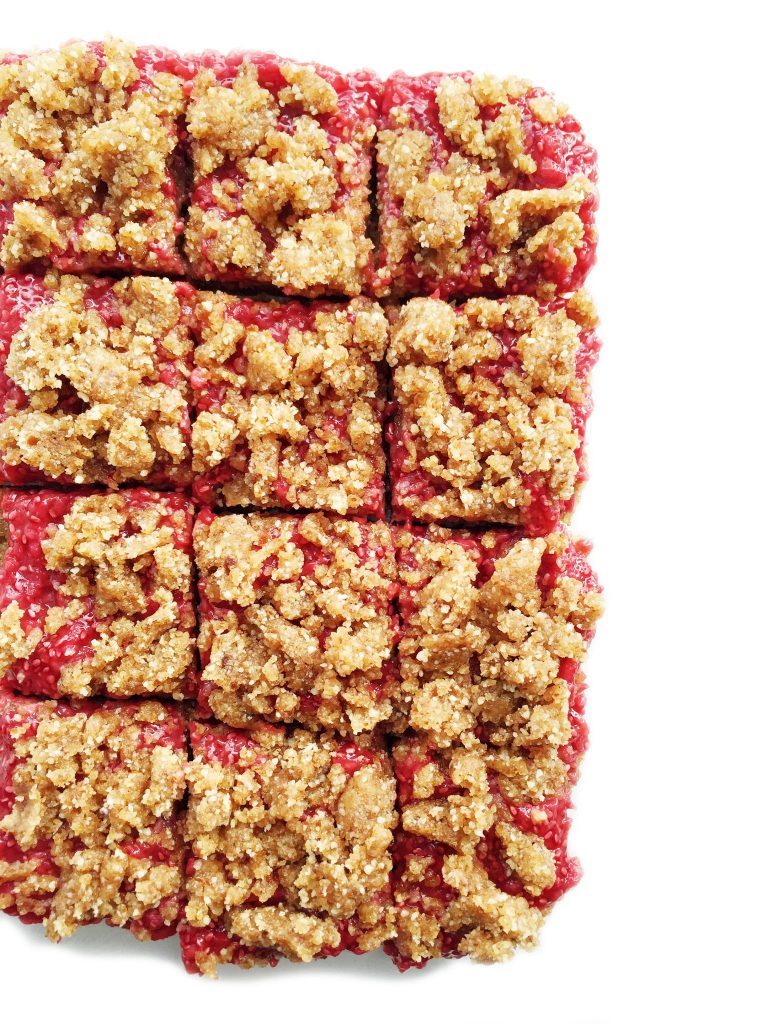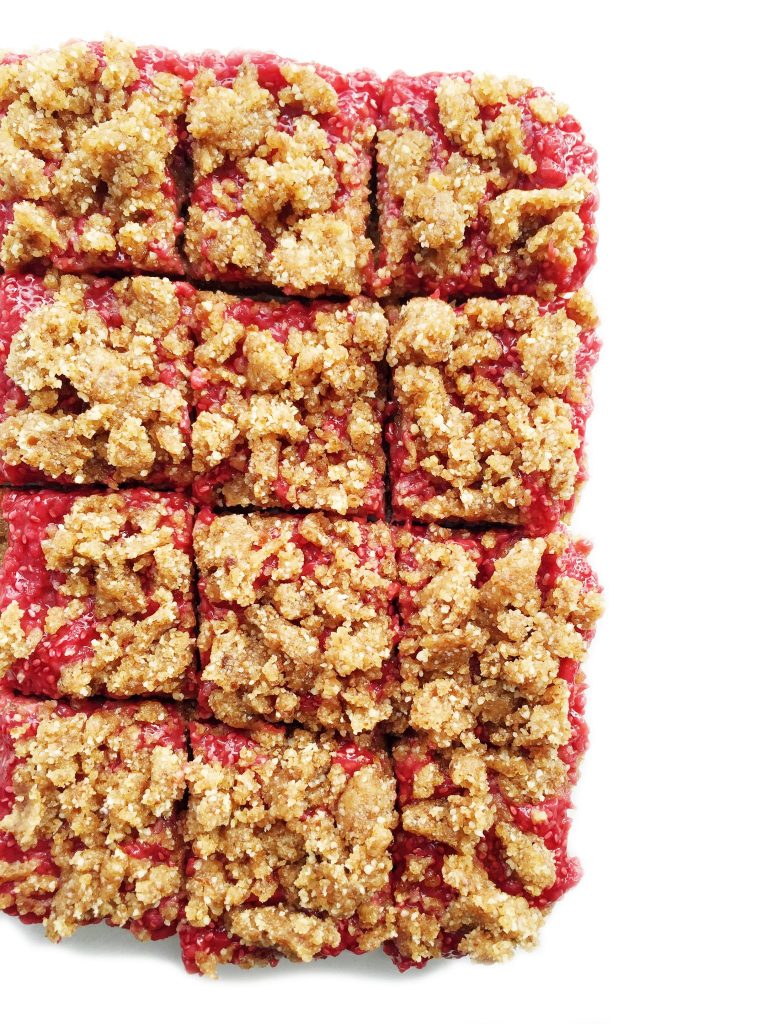 Okay guys, here they are… The latest and greatest, No Bake Raspberry Chia Jam Bars. Just in time for hopefully some warm weather over here in NYC.
Ever since March hit, I have been all about the fresh berries. Thankfully my local grocery stores have been having the most delicious & organic berries (always buy organic when possible). They have been a staple in fridge for oatmeal, toast, parfaits and all the treats.
I love the sweet & tarty taste berries add to things and the extra dose of vitamins, antioxidants & fiber. You absolutely want to incorporate berries into your diet when they are in season.
One of my personal favorite things to make with fresh berries is homemade chia seed jam! It is so easy and SO much healthier than buying store bought, sugar filled jams.
These No-Bake Raspberry Chia Jam Bars are topped with my own homemade raspberry chia jam. It takes about 30 minutes to make the jam but it is very easy and minimal effort is involved. It stays good in the fridge for a week and you can double or half the recipe as you see fit for you.
At first I wanted to make some sort of pie but my laziness got ahead of me and I figured most of you could relate to.
That's why we are making another easy no bake recipe today thanks to our favorite Food Processor. No bake recipes are actually taking over my blog lately as you saw with these No-Bake Chocolate Chip Cookie Brownie Bars, 4-ingredient Raw Almond Butter Cookies & these 3-ingredient Raw Pecan Brownies.
These bars are made with just 4 ingredients and you leave some extra on the side for a crumb topping to sprinkle on top. They will stay good in the fridge for a week or the freezer for a couple months.
For the bar & crumb topping, you will need raw almonds, raw walnuts, pitted dates & coconut oil.
For the raspberry chia jam, you will need raspberries (fresh or frozen), maple syrup (agave or honey will work) and chia seeds.
[bctt tweet="Vegan, Gluten free & Paleo No-Bake Raspberry Chia Jam Bars "]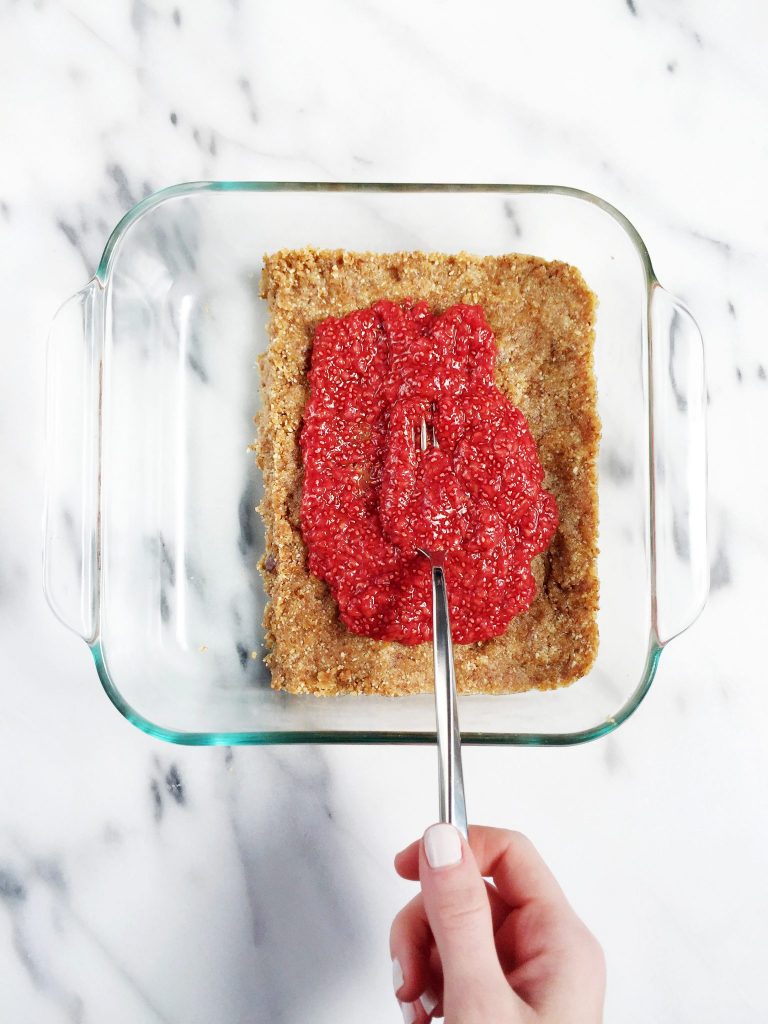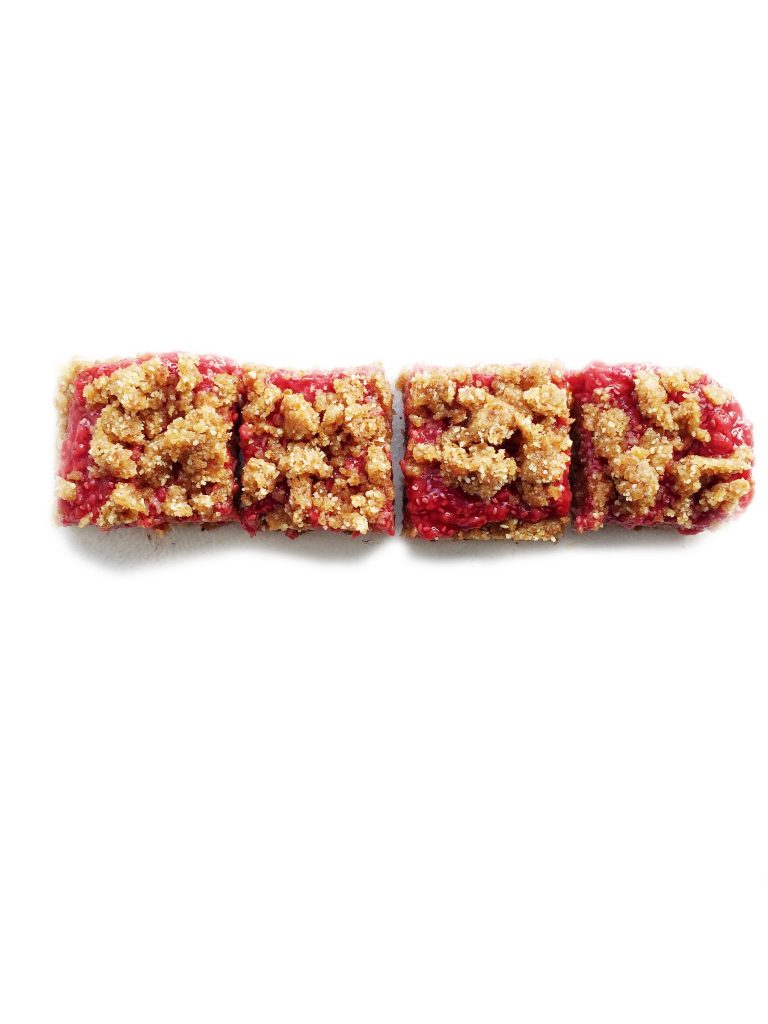 Print
No-Bake Raspberry Chia Jam Bars (Vegan, GF & Paleo)
Crust + Topping:

1 cup

raw almonds

1 cup

raw walnuts

1 cup

pitted dates soften (or about

15

large dates)

1 tablespoon

coconut oil

Chia Jam:

2 cups

of organic raspberries

1 tablespoon

maple syrup (you can sub honey or agave if you prefer)

1.5 tablespoons

chia seeds
Instructions
For the Crust:
In your food processor, pulse almonds until they are made into flour
Add walnuts and pulse again to combine
Add dates and pulse again to combine
Add coconut oil and pulse again to combine
Using your hands or spoon, press down the crust into 8×8 baking dish and be sure to leave about 1/2 cup aside for the topping
Put the baking dish in the fridge and begin making jam
For the Jam:
Combine the raspberries and maple syrup in a medium-sized non-stick pot
Bring to a low boil and stir
Once it's boiling, reduce heat to medium and let it simmer for 5-7 minutes
You can mash the raspberries with your spoon so it's a little chunky still
Add your chia seeds to the pot and and consistently stir for 15-20 minutes
The jam should start to thicken and you must stir consistently to avoid it from sticking to the pot
Once it's thick to your liking, remove from heat and set aside.
Combing Crust & Jam:
Once the jam is cooled, pour 1.5 cups on top of crust and spread evenly (so you will have about 1/2 cup left over)
Sprinkle the extra crust on top
Pop back in the fridge to let it form for about 45-60 minutes
Will stay good for 7 days in fridge
Author:
Category:

paleo, vegan, glutenfree, grainfree

Cuisine:

dessert, snacks
xx, Rach
This post contains affiliate links, which means that if you purchase a product through a link you clicked on here, I receive a portion of the sale. Thanks for supporting the blog and making rachLmansfield.com possible! xx