How to make Brownie Brittle Using Brownie Mix! This is such a delicious spin on making brownies and you can use your go-to brownie mix to make it.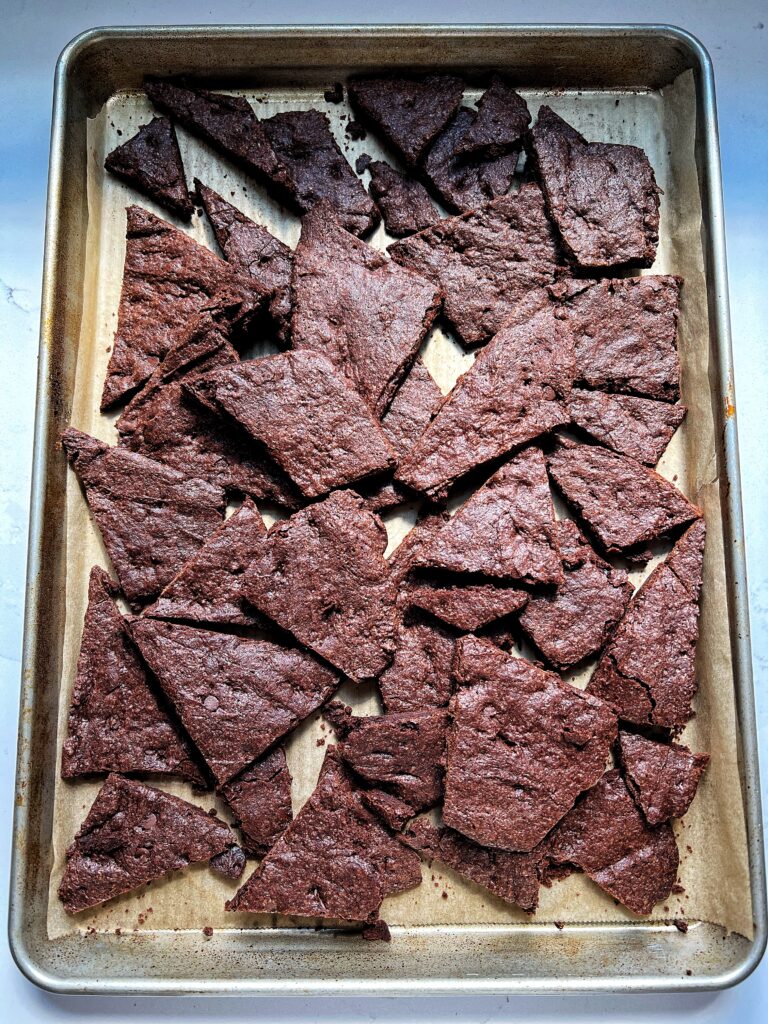 Do you LOVE brownie brittle as much as we do?! Because this is a staple in our home now. I used to buy brownie brittle all the time and usually the ingredients aren't that healthy. I love using a healthier brownie mix to make these. Or you can also use a more traditional one too. Just make sure quantities are the same as listed below so your brittle is pure perfection.
My entire family housed this recipe in a couple of days. I left out a Tupperware on the container and every time we walked by, a piece was taken out. It's phenomenal dipped in milk or some peanut butter. And it's delicious on it's own too. If you love desserts frozen like I do, I recommend freezing it because this brownie brittle frozen is too die for!
And the best part of this recipe? It is a total baking hack using your go-to brownie mix. It is so easy to make this and you will have delicious brownie brittle in under 30 minutes.
Tip: add in any toppings or mix-in's you want like chocolate chips, walnuts, coconut flakes or sprinkles!
What ingredients are in this brownie brittle:
Brownie mix of choice – for the quantities I use with this – you need an 18 ounce brownie mix. If the brownie mix is less or more, the other ingredients may vary

Water – filtered or tap water

Oil – anything in liquid form so melted coconut oil, olive oil or even melted butter can work here

Egg – I haven't tested flax egg but I'd think it would work well!
How to make brownie brittle using boxed brownie mix:
Preheat oven to 325 degrees F and line a baking sheet with parchment paper and lightly spray it with nonstick cooking spray and set aside

Whisk together the water, oil and egg

Then add in brownie mix and fold in chocolate chips if desired or any other mix-in's

Pour the batter onto the prepared baking sheet

Use an offset spatula to spread batter into a thin layer

Bake for 25-30 minutes and cool completely before breaking apart with a knife or cutting with a pizza cutter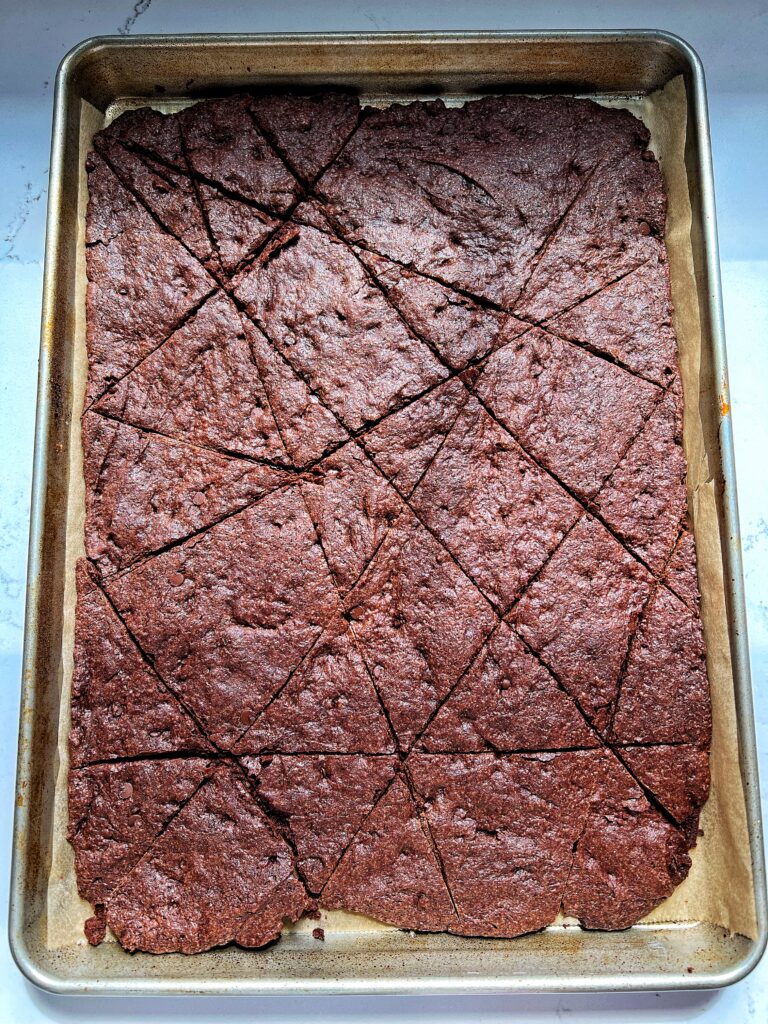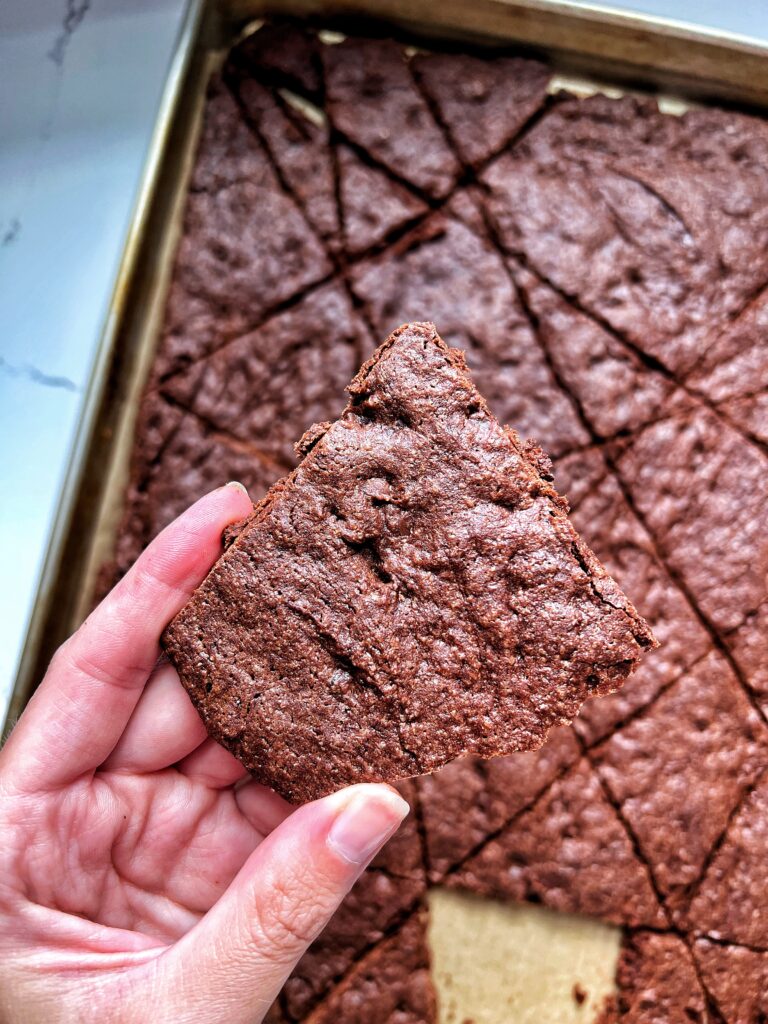 Best tips for success making brownie brittle:
Make sure the brownie mix you are using is 18 ounces! Or as close to it as possible. That is the size of the mix I used and the consistency turned out great with the egg, oil and water.
Don't worry abut the instructions on the back of the brownie mix – use the quantities I list below
Spread the brownie batter across a large baking sheet. It shouldn't be thick or you will get more of a cakey brownie rather than brittle
Feel free to add in any desired mix-in's like chocolate chips, coconut flakes, walnuts or anything! Sprinkles would be cute too
This tastes SO good frozen too!! I keep a bag in my freezer and it's amazing to snack on cold and dip in some milk
A few other delicious chocolatey desserts to make:
Vegan Peanut Butter Cup Mousse
Healthy Flourless Brownies (nut-free + gluten-free)
INSANE Gluten-free Brown Butter Chocolate Chip Cookies
Paleo Chocolate Pudding Cake (vegan)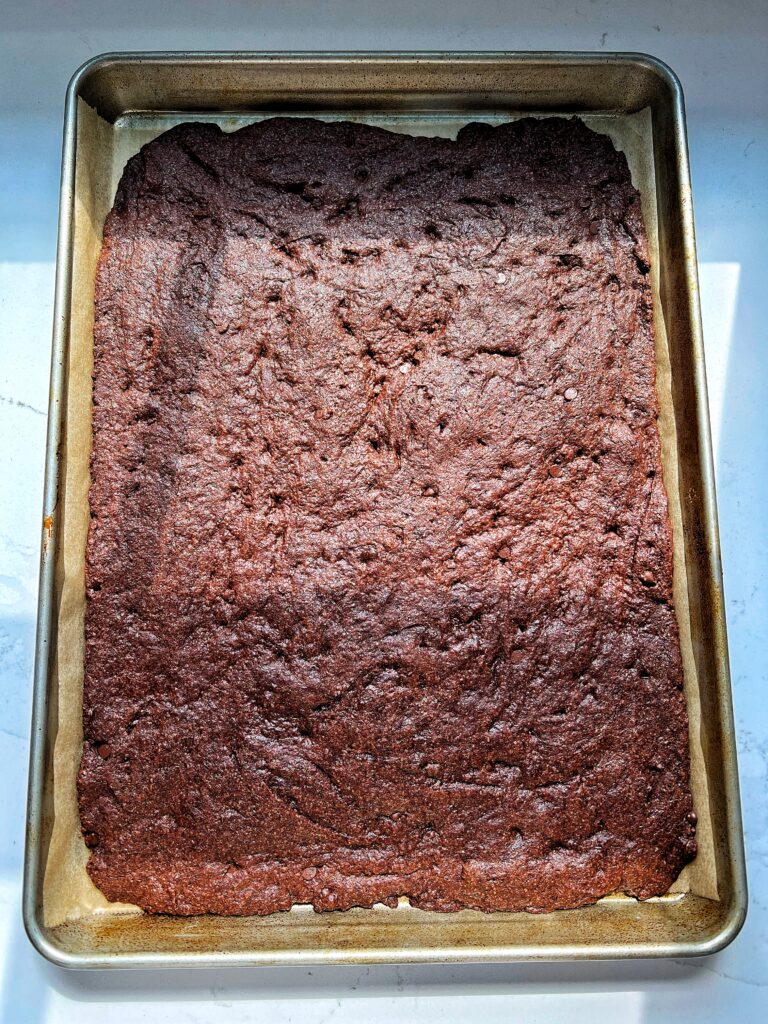 Print
Brownie Brittle Using Brownie Mix
How to make Brownie Brittle Using Brownie Mix! This is such a delicious spin on making brownies and you can use your go-to brownie mix to make it.
Prep Time:

5 mins

Cook Time:

25 mins

Total Time:

30 mins
Yield: Makes about 20 pieces of brittle 1x
1

18-

ounce

brownie mix of choice

½

cup

water

⅓

cup

oil (anything in liquid form so melted coconut oil, olive oil or even melted butter)

1

large

egg
Instructions
Preheat oven to 325 degrees F and line a baking sheet with parchment paper and lightly spray it with nonstick cooking spray and set aside

Whisk together the water, oil and egg

Then add in brownie mix and fold in chocolate chips if desired or any other mix-in's

Pour the batter onto the prepared baking sheet

Use an offset spatula to spread batter into a thin layer

Bake for 25-30 minutes and cool completely before breaking apart with a knife or cutting with a pizza cutter
Notes
*Store in airtight container for 5 days or freezer for 2 months