Deliciously easy Crispy Whole30 Carrot Fries that are vegan and gluten-free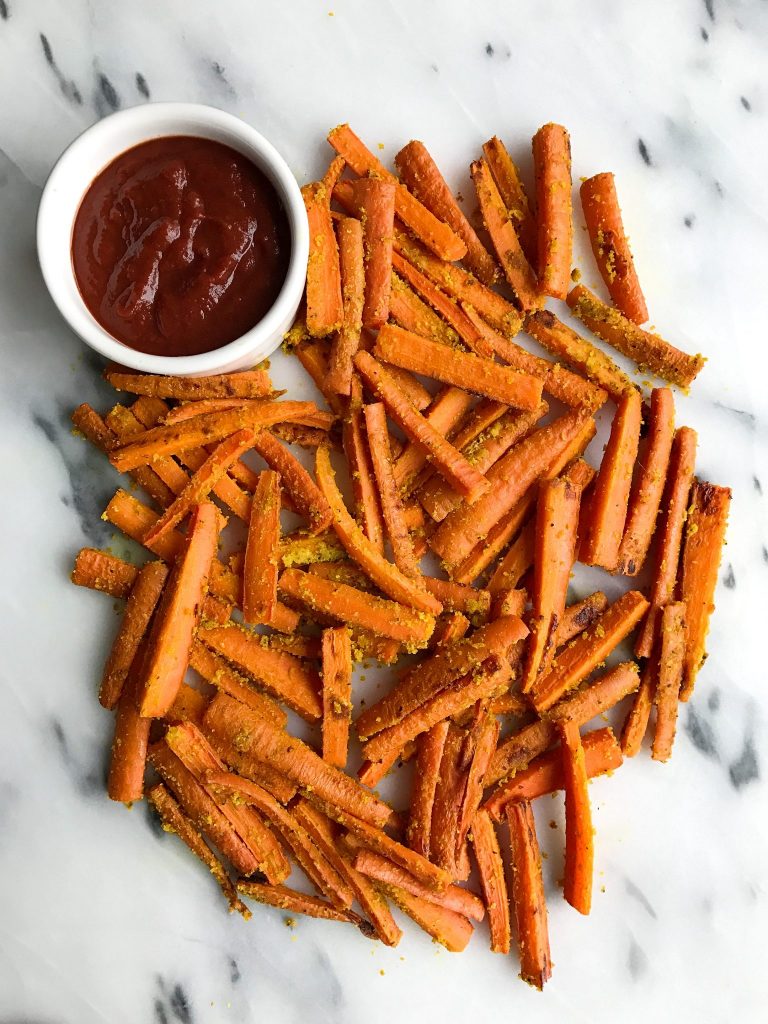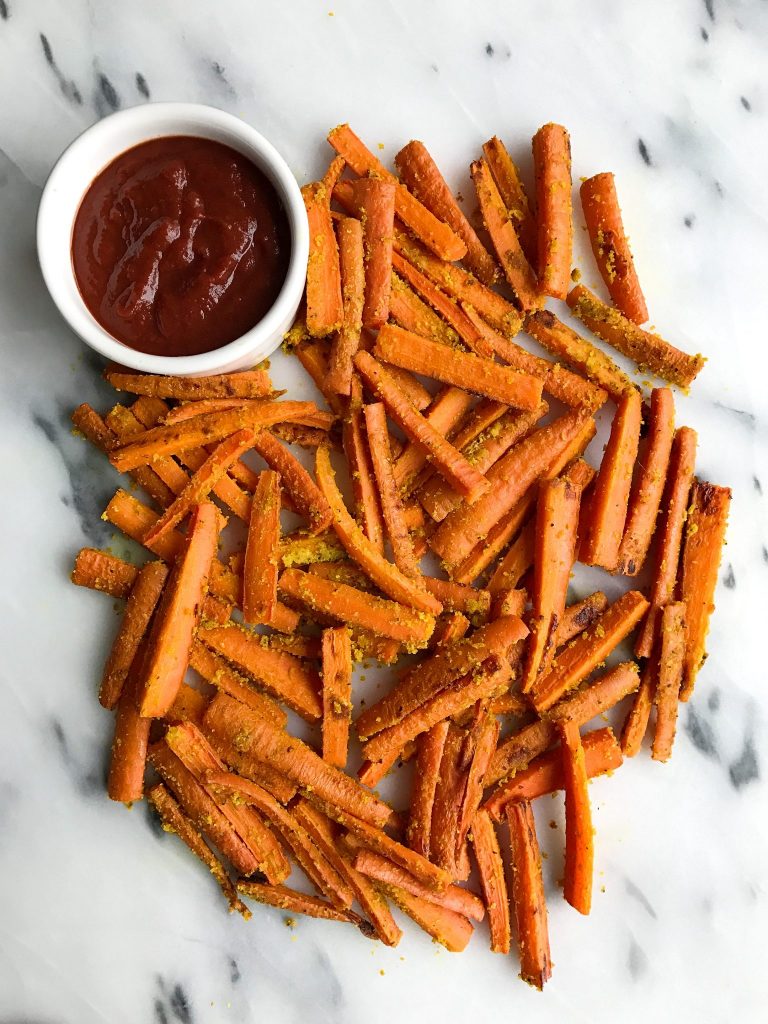 This is crazy you guys. Well at least to me..
I was browsing on Instagram right when 2017 began with J and we noticed so many people doing Whole30. I said to him "wow I cannot believe how many people are starting the new year with Whole30, I don't think I could ever do that". No chocolate for 30 days is so not for me 😉
J turned over and said "I think I'm going to do it."
I was 100% shocked. My Jord, who has the most balanced perspective on food wants to Whole30. He says he is craving a challenge and has never really done one surrounding food. He is also the easiest eater I know. Jord will literally eat anything you put in front of him.
In case you aren't familiar with Whole30, it is a 30 day program that is supposed to "change your life". It pretty much strips out certain food groups like grains, dairy, legumes and sugar from your diet for 30 days. This way you can see if any foods are negatively impacting you. The foods and beverages we intake can impact your skin, digestion, allergies and so much more. Whole30 is said to help "reset" your system. Reset your metabolism and your overall bodily system when it comes to food.
I am personally not a fan of diets, labels or any of that. But I am quite curious about Whole30. I think that if you are looking for a reset or if you are craving a "cleanse" or sorts, this is the way to do it. No juice cleanses or any of that crap.
Jord is doing Whole30 all on his own. I'm not joining in on this, but I am going to try to support him in anyway I can during it. I guess that means I will be eating desserts in the corner so he doesn't see 😉
I am also not really used to meal prepping anymore. Working from home plus blogging about food doesn't really give me a reason to, but with Whole30 the meal prepping is essential. We spent 4 hours in the kitchen yesterday prepping all of J's meals for the week, plus hours before hand mapping out recipes, getting ingredients, etc. I'm not going to lie so far it is a definite time commitment, but just like anything else, if you want to something, do it right.
I am going to keep you guys posted on J's Whole30 journey and some of the recipes we make along the way. It is definitely going to be challenging for me since my number 1 taste tester is out of commission for 30 days. No desserts on Whole30, like whaaatttt?!
Now the real crazy part here is I had planned to make these Crispy Whole30 Carrot Fries before Jord even knew he was doing this. Talk about a coincidence.
Naturally I turned to one of my favorite brands, Tessemae's, for a little Whole30 guidance. A ton of their products are Whole30 like their mayo, buffalo sauce, ketchup, dressings and more! These are saving Jord right now when it comes to adding dipping sauces and such for meals.
These Crispy Whole30 Carrot Fries are a game changer. They are made with almond flour, a ton of spices, a little avocado oil and they pair perfectly with Tessemae's Whole30 Ketchup. The longer the better with roasting them because in my opinion, carrots taste best when they are cooked realllllly long. Then I broiled these for an extra crisp.
A delicious and simple Whole30 side dish for anyone to enjoy 🙂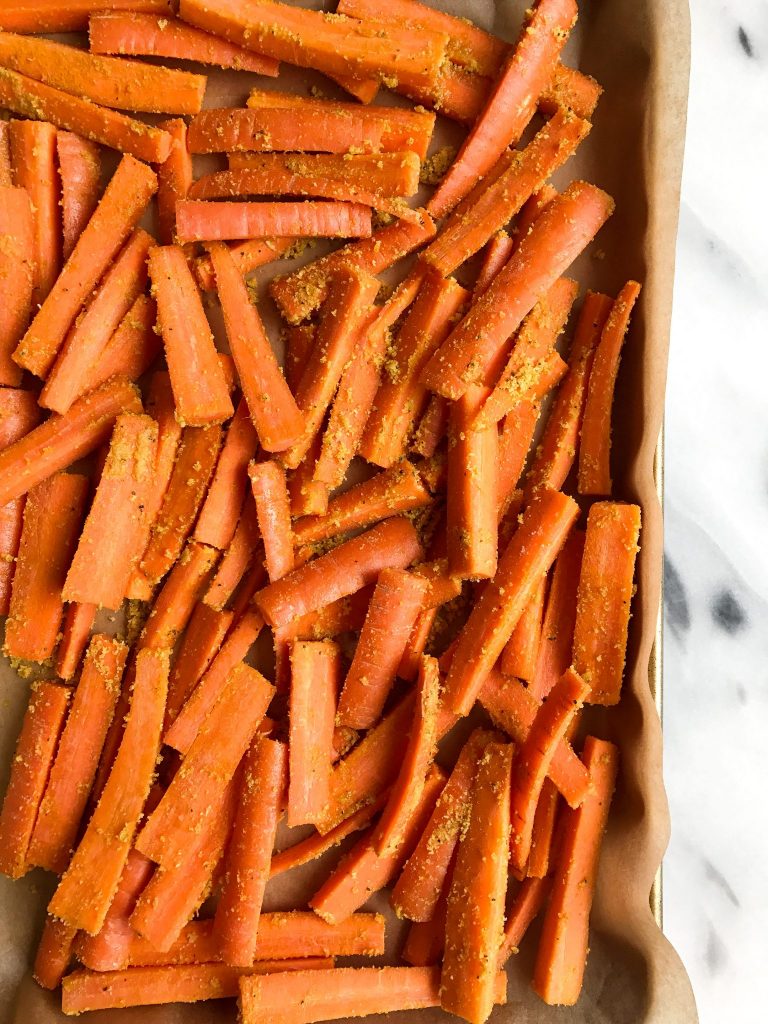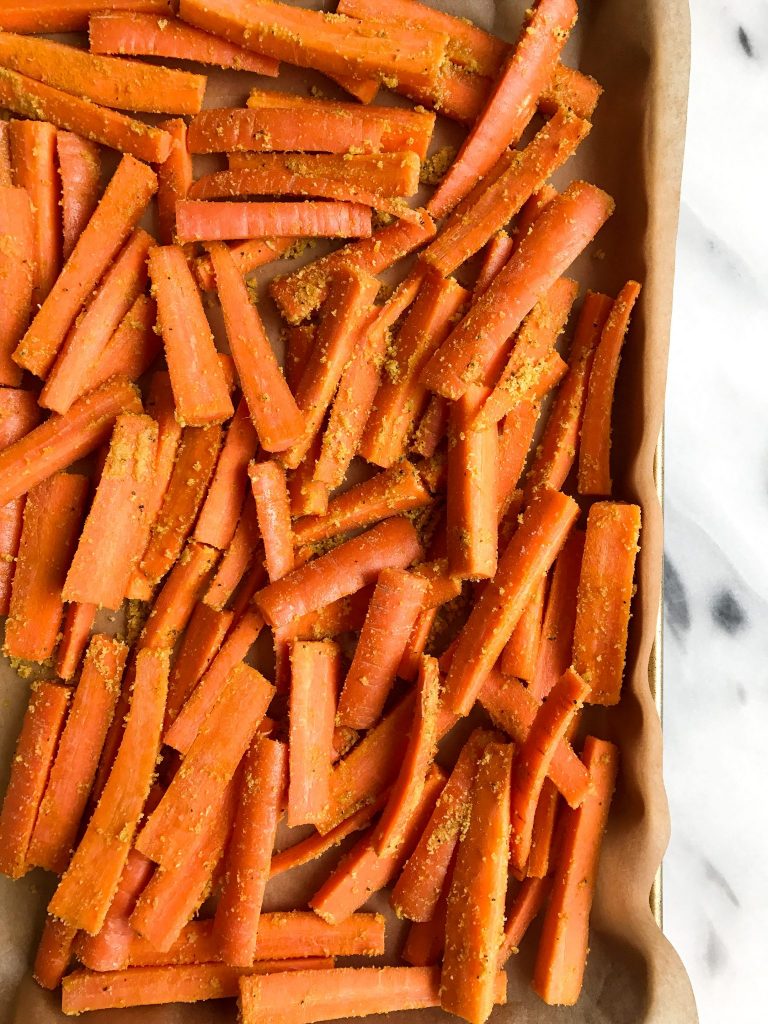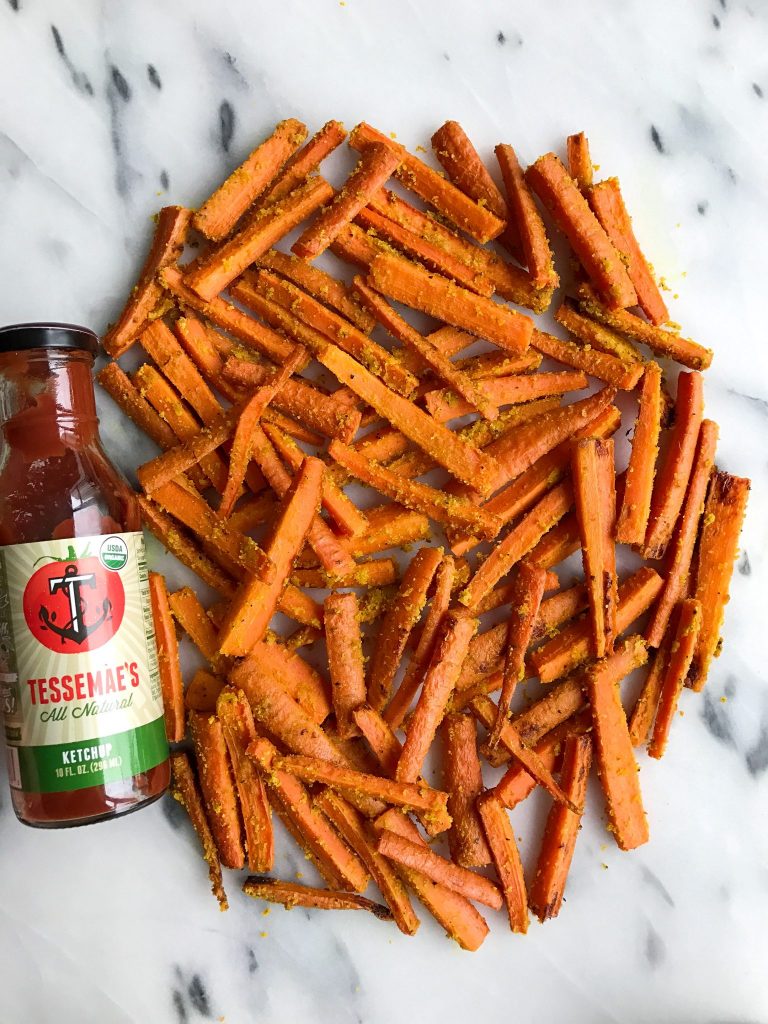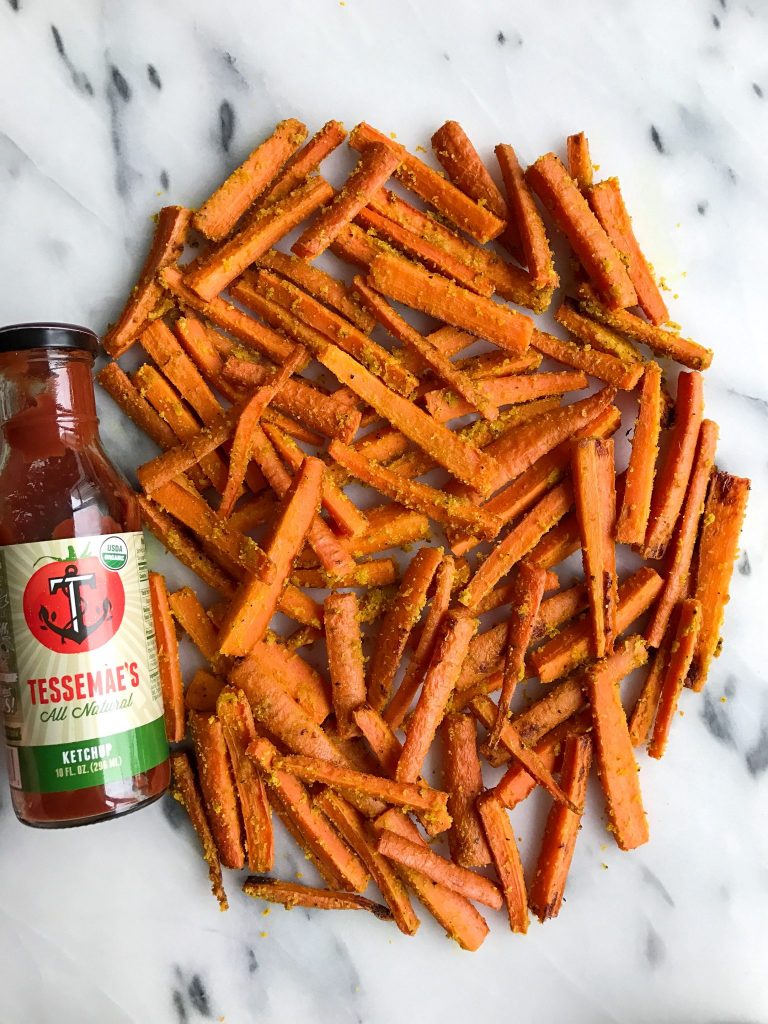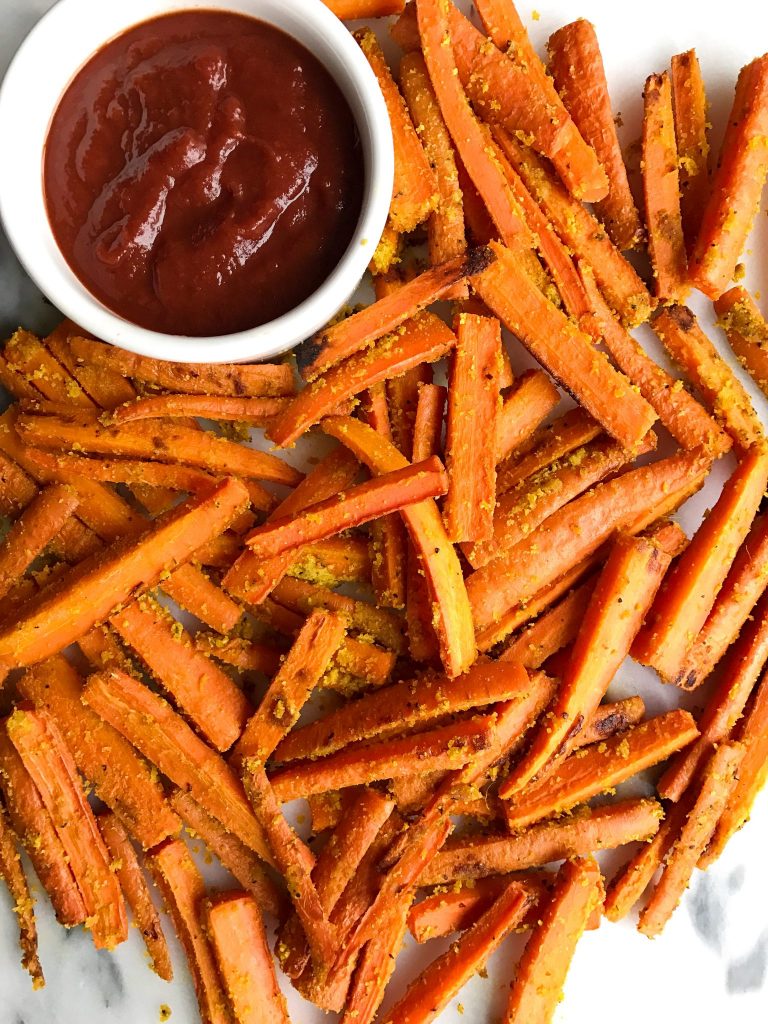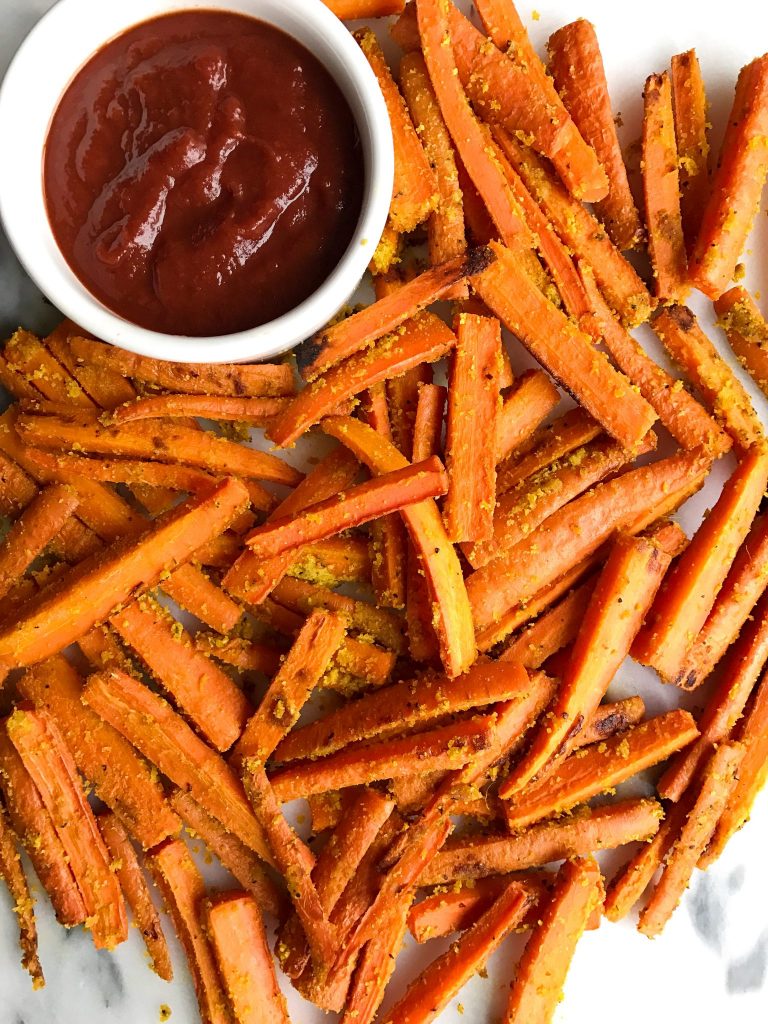 Print
Crispy Whole30 Carrot Fries
10

large carrots (sliced in half, then in three's)

1/2 teaspoon

garlic powder

1/2 teaspoon

black pepper

1/2 teaspoon

turmeric

1.5 tablespoons

avocado oil

1/4 cup

almond flour

Tessemae's All Natural Ketchup to serve with

42

5

about

20

minutes and flip

11

+13 min
Instructions
Preheat oven to 425 degrees
In a large bowl, combine flour, oil and spices and mix well
Add in carrots and evenly coat
Line a baking tray with parchment paper and add coated carrots
Cook for about 20 minutes then flip carrots over to rotate
Bake for another 10-12 minutes
Broil for about 2-3 to crisp (optional)
Enjoy with ketchup!
*Will stay good in fridge for about a week!
Author:
Category:

Whole 30, gluten-free, grain-free

Cuisine:

snack, fries
xx, Rach


Thank you Tessemae's for sponsoring this post. It means so much to me to work with brands that I love and who support rachLmansfield!