Gluten-free Peanut Butter Cookie Crisp Cereal made with gf oat flour, creamy peanut butter and sweetened with maple syrup.
W
Where are all my cereal lovers at?
I am raising both of my hands right now.. Cereals and granola are hands down one of my favorite foods ever. I have always been huge cereal lover. When I was younger it was Cinnamon Toast Crunch, Peanut Butter Captain Crunch, Cheerios, you name it. The only cereal I didn't like was Frosted Flakes or Corn Pops. I needed those sweet cereals.. clearly nothing as changed 😉
I always wanted to get Cookie Crisps and Reese's Puffs but my Mom won't let me (ugh, thanks Mom). I just wanted to eat cookies for breakfast. Obviously now I don't blame her since that was sugary crap and who wants to give their kids pure sugar?!
As I got older and my taste buds evolved (thanks goodness), I was all about Special K. Literally any variety of it. And the flavored Cheerios. Then I was introduced to granola and my breakfast world got a whole lot better. I remember going to the south of France and they had a granola bar with over 10 types of granola at the hotel. I ate my body weight in granola every morning I was there..
In college, I realized that eating pizza at 1am with my friends didn't really look good on my tush, I turned to granola and almond milk for my "drunk" late night snack (shocker). Yes, my friends would eat pizza and chicken fingers and I would eat my latest granola or cereal obsession and almond milk. I have been this high maintenance with food since I was 19 😉
But today we are making our childhood dreams home true. We are making a healthier version of two classic cereals. This Homemade Peanut Butter Cookie Crisp Cereal combines Reese's Puffs AND Cookie Crisps all in one. So for all my mommy readers out there, these are a must try for your kids! I promise they will love them, they're so delicious and made with all simple goods.
And the best part? This Homemade Peanut Butter Cookie Crisp Cereal is gluten free AND dairy free! Plus they only take 10 minutes to make!
WHAT YOU NEED
Egg (can likely sub flax egg but I haven't tried)
Peanut butter (creamier the better)
Maple syrup
Coconut oil
Vanilla extract
Gluten-free oat flour (or spelt flour!)
Dark chocolate chips (code RACHL for free shipping)
QUICK NOTES
You can make these with any nut butter if you have allergy to peanuts (just won't taste like Reese's Puffs anymore)
You can roll the dough into smaller cookies to get more in this recipe, I just did about 1.5 teaspoons per cookie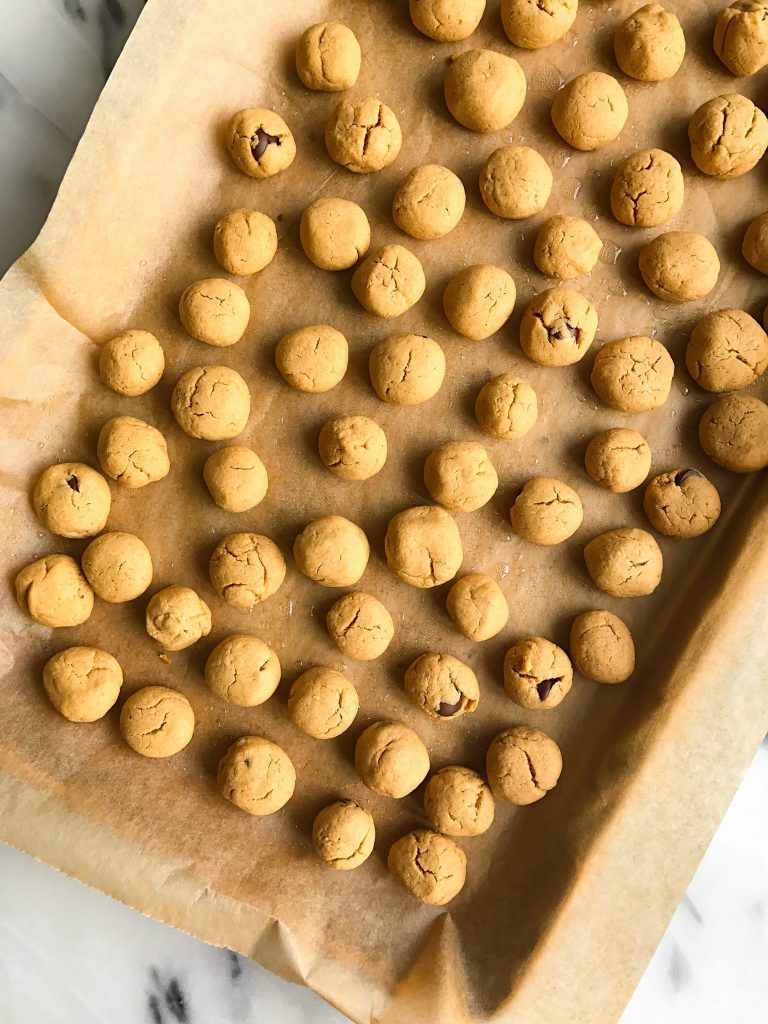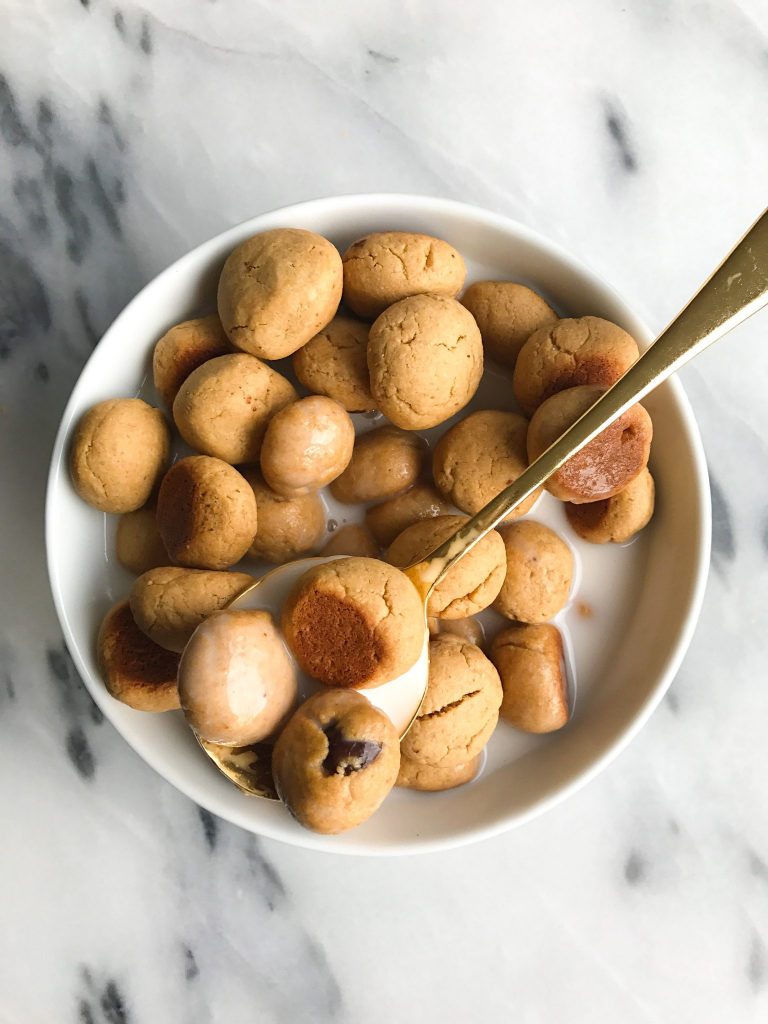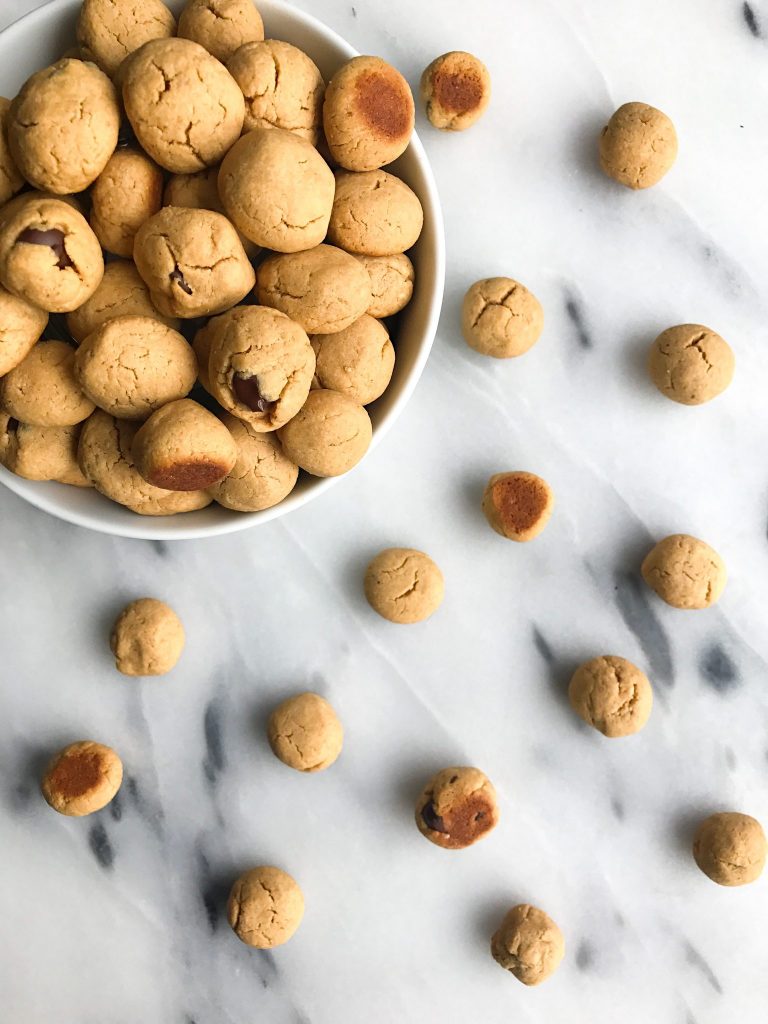 Print
Homemade Peanut Butter Cookie Crisp Cereal
Author:
Yield:

2

servings

1

x
Category:

gluten free, dairy free

Cuisine:

breakfast, snack
Instructions
Preheat oven to 350 degrees
Add first 4 ingredients into mixing bowl
Mix until combined with Kitchen Aid or mixer of choice
Add oat flour and baking powder and mix until dough forms
Roll dough into small penny size balls and place onto lined baking tray
Bake in oven for 10 minutes
Enjoy with your choice of milk!
*Will stay good in airtight container for 5 days
xx, Rach