Sharing the easiest Paleo Pumpkin Chili Recipe ready in less than 30 minutes for a quick Whole30 meal!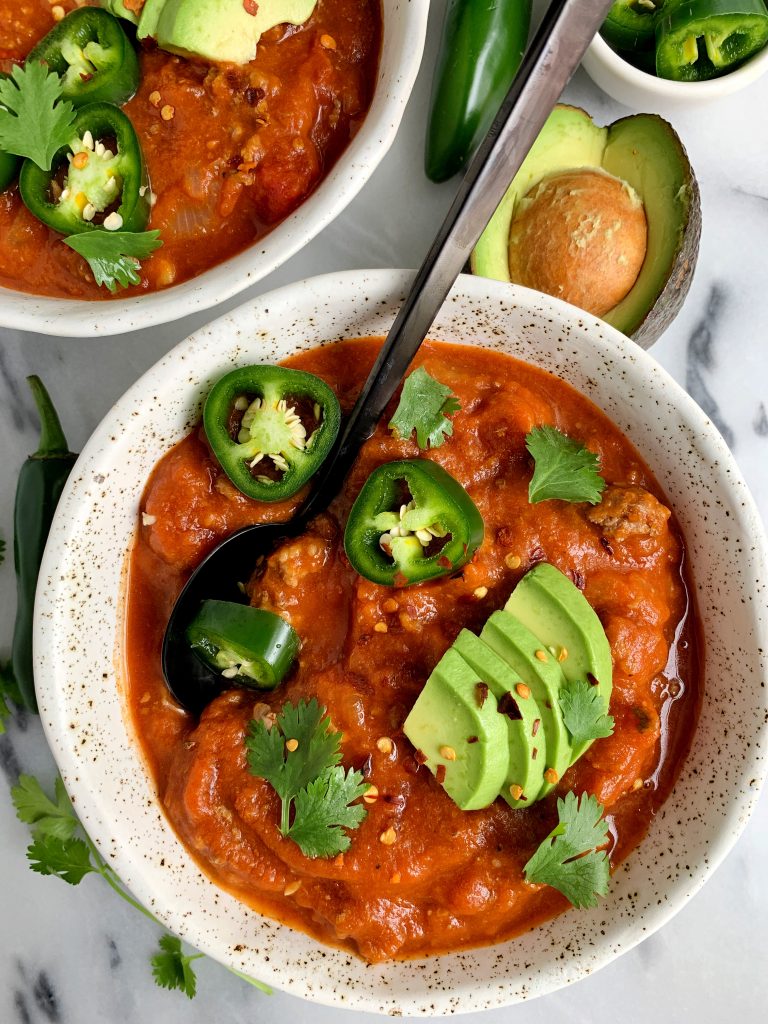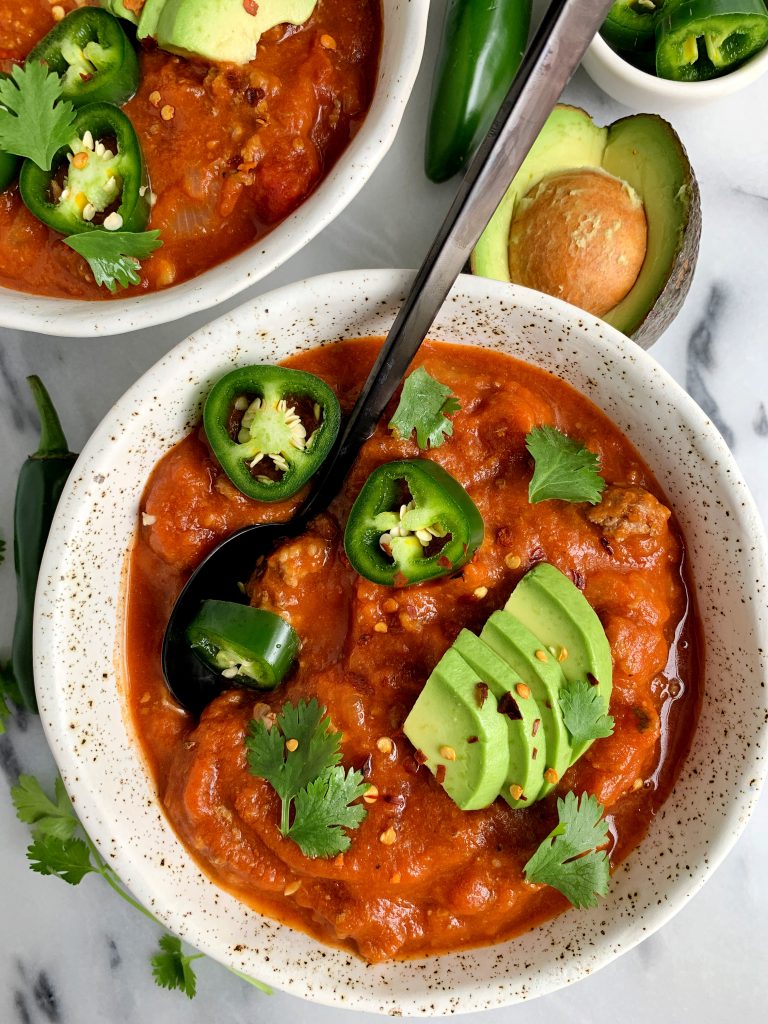 When it comes to prepping foods for lunch and dinner, I am a no-frills kind of cook.
Half the time we are prepping food on Sundays because it makes the week so much easier. I chat all about food prep in my cookbook, Just the Good Stuff. There is an entire chapter dedicated to prepping food for the week and what we usually make.
This pumpkin chili, is definitely one of those items that takes minimal ingredients and effort to cook. Plus you don't have to do much to reheat it or prep it to serve before eating.
This paleo Pumpkin Chili is too simple to make.
Jord is the real chili master, so when he tried my recipe and actually enjoyed it – that's how I knew it was good. I was convinced he was going to think it was flavorful or dull. But after he took one bite, he genuinely seemed to enjoy it.
This makes me quite the happy chili maker over here.
What I love about this paleo chili recipe, is how simple the ingredients are. I use grass-fed beef usually, but anything works. I also add in a can of organic pumpkin puree to thicken up the chili a bit. This is instead of slicing some sweet potatoes in it. Made my life 10x easier to add a the pumpkin instead.
The ingredient that gives this recipe the most flavor though is Bonafide Provisions Organic Bone Broth . When am I not cooking with bone broth though?!
My absolute obsession and go-to ingredient for any savory recipe. I love adding it to my lamb burgers, tahini noodles, anything!
I stock up on Bonafide Provision's bone broth from the store. And I find it in the freezer aisle. It is one of those things that I have in my freezer or fridge at all times. Jord always jokes when we go to the store that it isn't even something I need to put on my list anymore. That and eggs. The two things we always have plenty of!
I hope you guys love this chili as much as we do. Feel free to serve it with some grain-free tortillas or anything you're craving.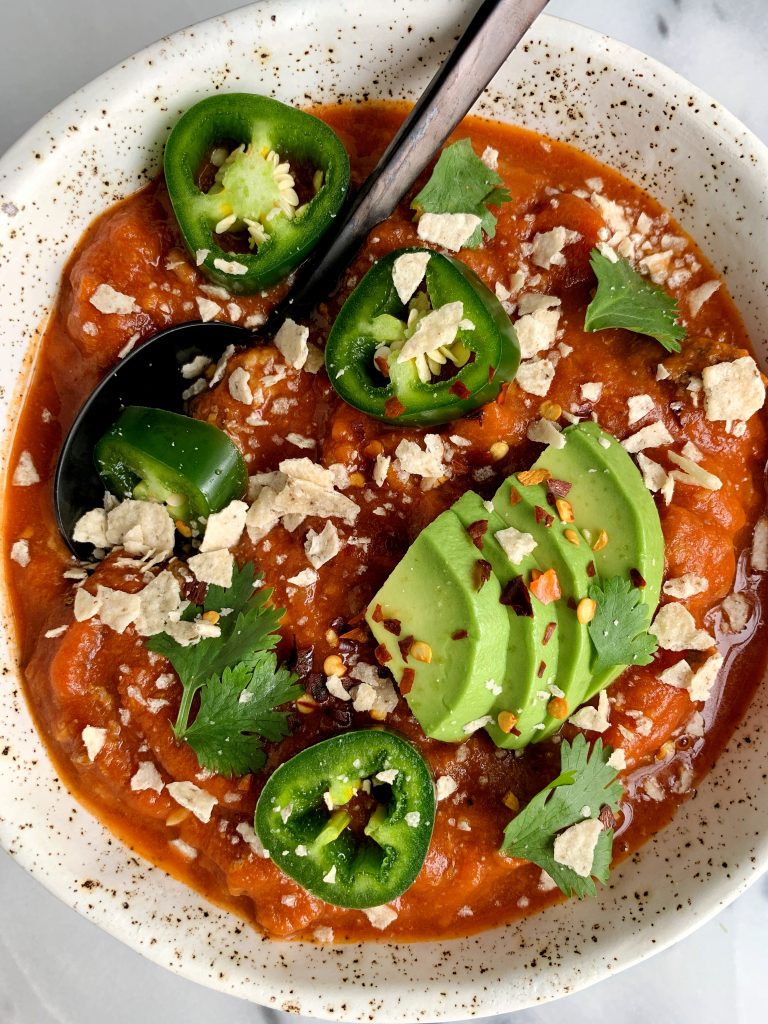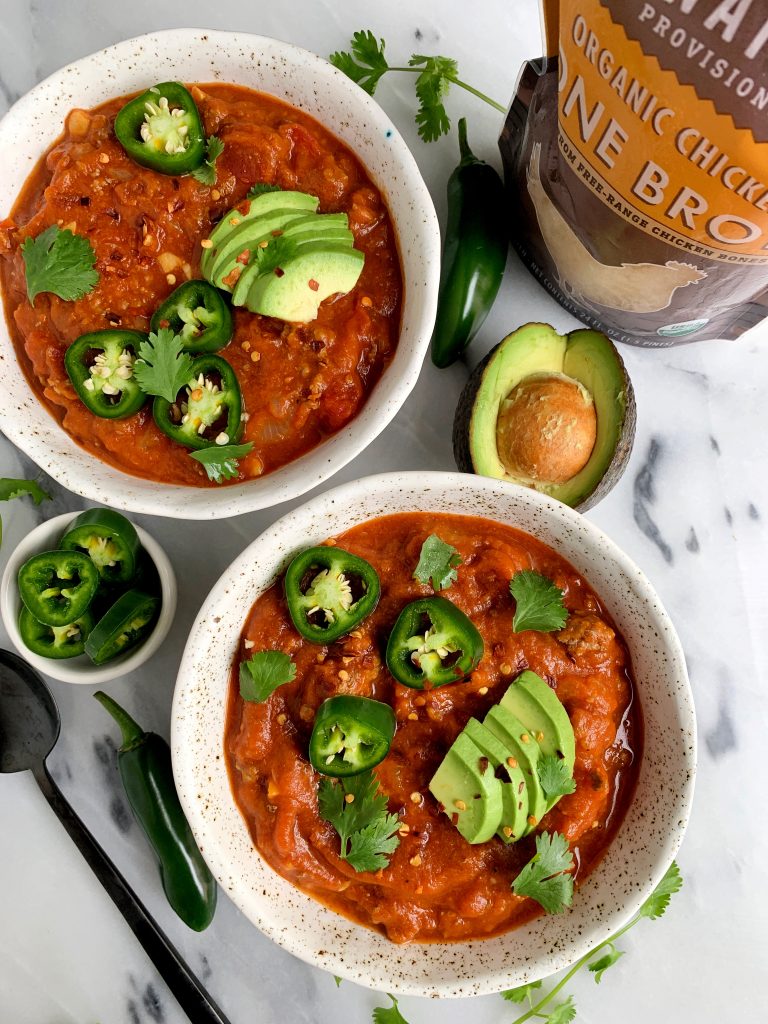 Print
The Easiest Paleo Pumpkin Chili Recipe
Sharing the easiest Paleo Pumpkin Chili Recipe ready in less than 30 minutes for a quick Whole30 meal!
Prep Time:

5 mins

Cook Time:

30 mins

Total Time:

35 minutes
2 tablespoons

avocado or olive oil

1

small onion, chopped

3

garlic cloves, minced

1

lb grass-fed meat (beef, pork, turkey or chicken)

1

(6-ounce) can tomato paste

1

(15-ounce) can organic pumpkin puree

1

(28-ounce) can organic diced tomatoes

1 tablespoon

chili powder

1 tablespoon

cumin

1 teaspoon

smoked paprika

1 teaspoon

oregano

1 teaspoon

turmeric

1 teaspoon

cayenne

Sea salt + pepper to taste

Toppings: avocado, unsweetened coconut yogurt, jalapeño, cilantro
Instructions
In a large pot over medium heat, heat the oil with onion and garlic
Cook for about 5 minutes or until fragrant then add in the ground meat and cook until no longer pink. Drain fat if desired.
Add the remaining ingredients (not toppings) to the pot and stir well to evenly combine
Bring the chili to a boil then cover and simmer for 20 minutes
Serve with desired toppings and enjoy while warm
Notes
*Store leftovers in fridge for 5 days
**I am sure you can also make this in a slower cooker/crock pot!
xx, Rach
Thank you Bonafide Provisions for partnering with me for this post!