Paleo Sweet Potato Bun Lamb Burgers for an easy and delicious Whole30 approved meal. No grill needed, just your oven and some flavorful bone broth!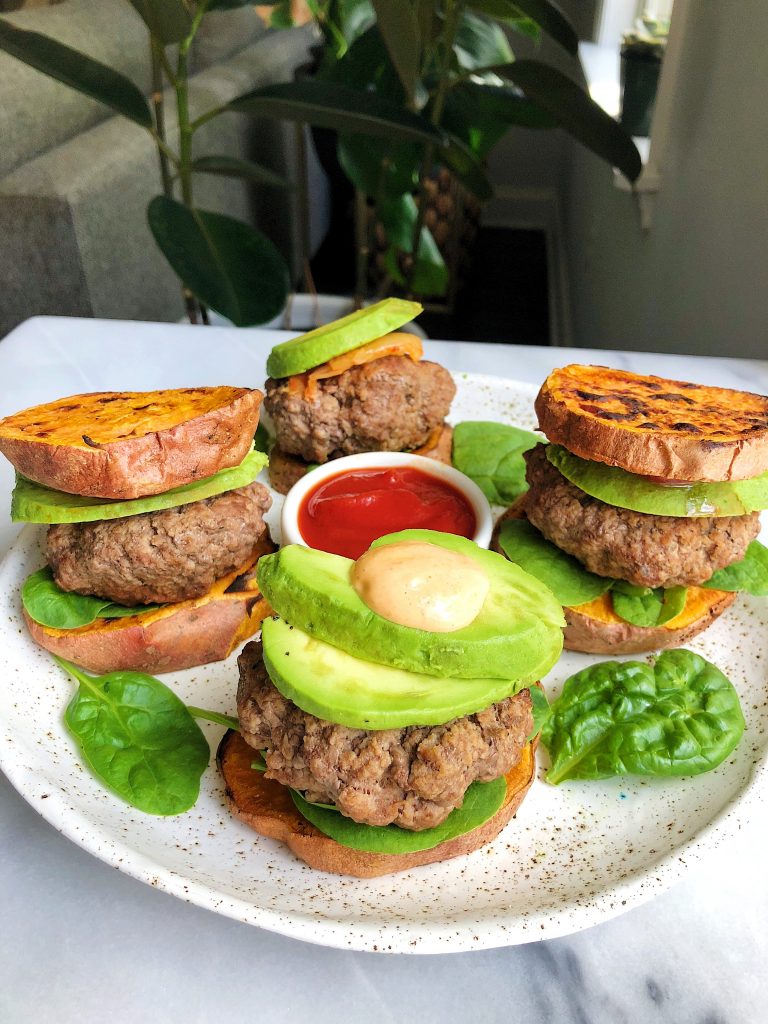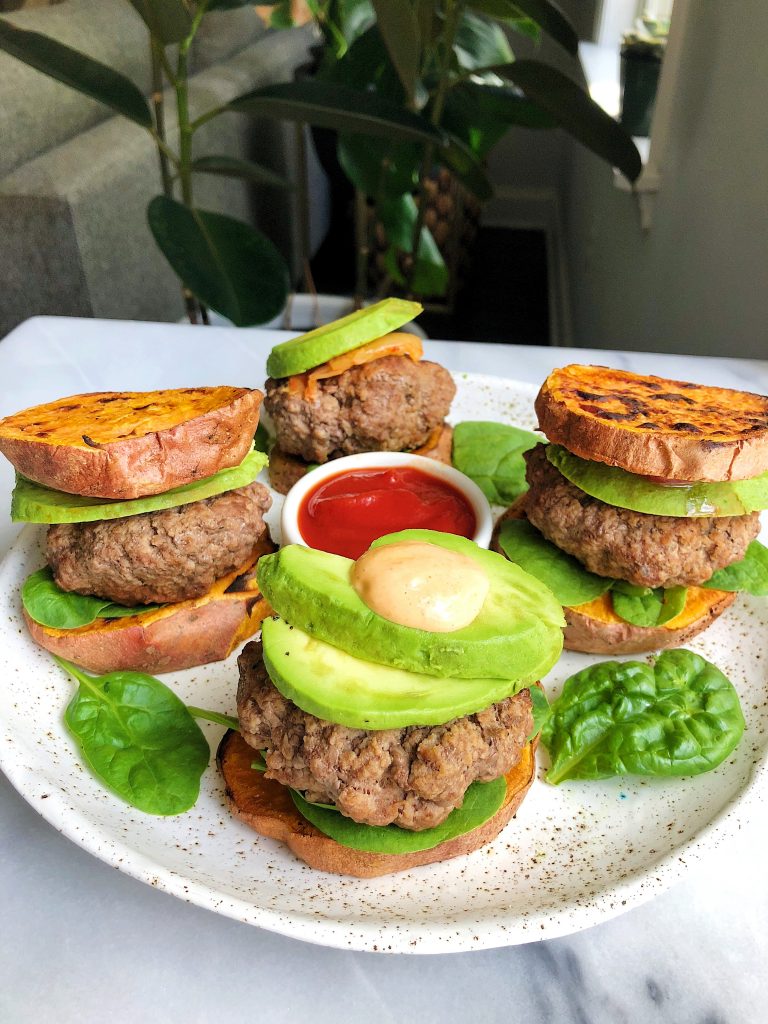 Okay, don't let this recipe make you think I don't do actual buns with my burgers. I like to say I am an equal opportunist when it comes to food, but I am always looking for new recipes and ways to spice things up a bit.
Jord tried doing a mini Whole30 after our trip to Europe (which lasted 7 days), but during it I made these Paleo Sweet Potato Bun Lamb Burgers and they have quickly become one of my favorite recipes to make for dinner now!
The sweet potato buns are really just wedges of sweet potatoes (we're not that fancy) and they're broiled to perfection to make them crispy yet soft and the best consistency for the lamb burgers and all the dream toppings inside. I love adding avocado, some special sauce and some greens. I also added some kimchi to one and it was too die for.
The grass-fed lamb burgers are my favorite part of this recipe. Lamb is my go-to burger to make at home. I usually don't see it on many menus so I love making it every week or two. The flavor of lamb is delicious as is, it is one of those meats that doesn't need too many spices (at least in my opinion). I used my cast iron skillet to make them over the stove and poured a generous amount of Bonafide Provisions organic bone broth to keep the lamb extra juicy and add even more flavor. Add their bone broth to my recipes as been such a game changer as you guys have seen.
Bone broth over the past year + has become a daily staple in my life. I drink it when it is 100 degrees out and I cook with it daily. We stock up on bags every single weekend because we go through them so fast! I love keeping Bonafide's broth around because I trust the quality of it, it has just the perfect amount of flavor and they offer so many delicious varieties.
Have you guys tried those Whole30 Almond Butter Thai Noodles, Green Goddess Mac & Cheese or Paleo Crispy Chicken Nuggets? They all use Bonafide Provisions too and are delicious savory recipes for you! Don't forget to share your creations with me on Instagram! I cannot wait to see.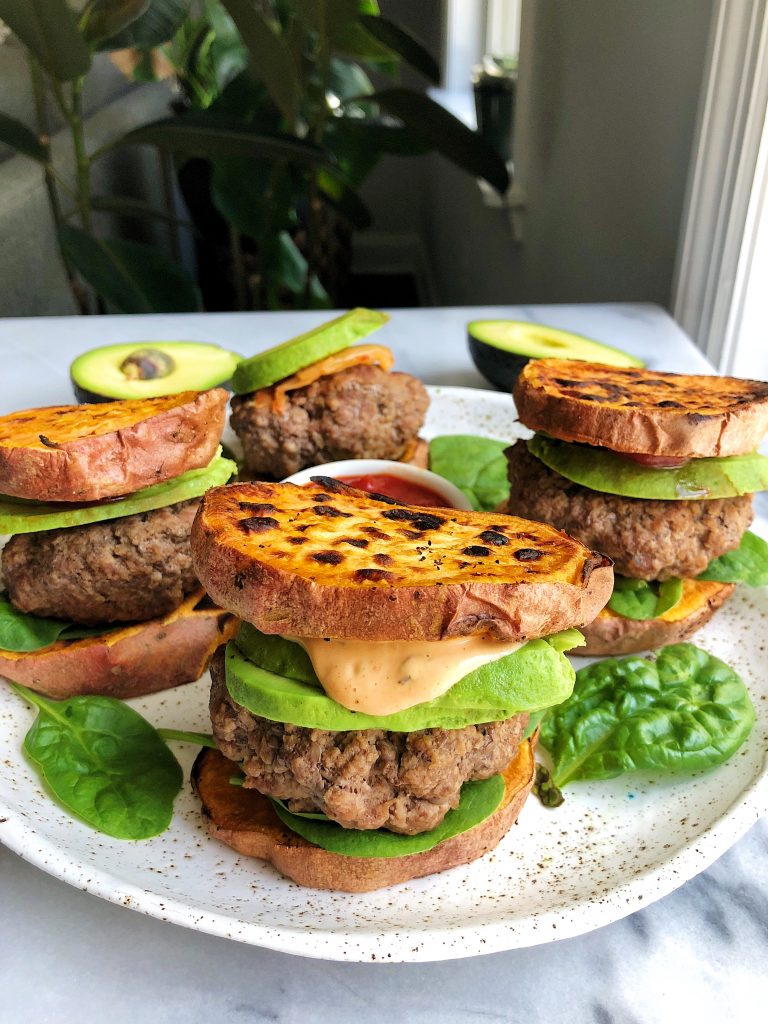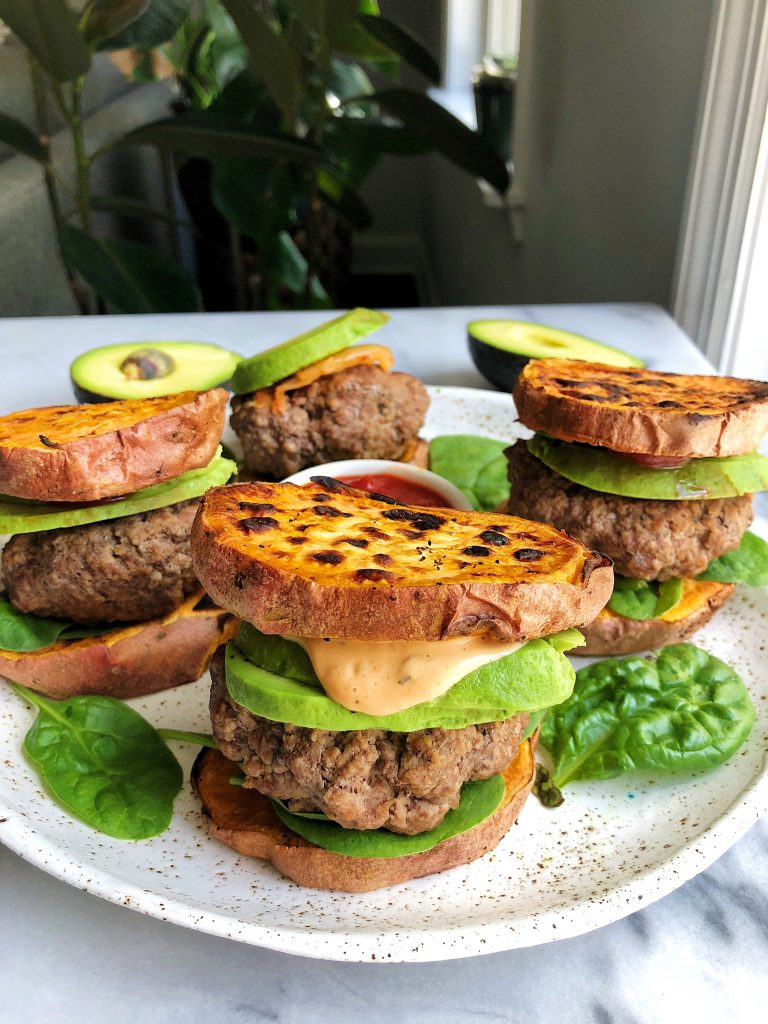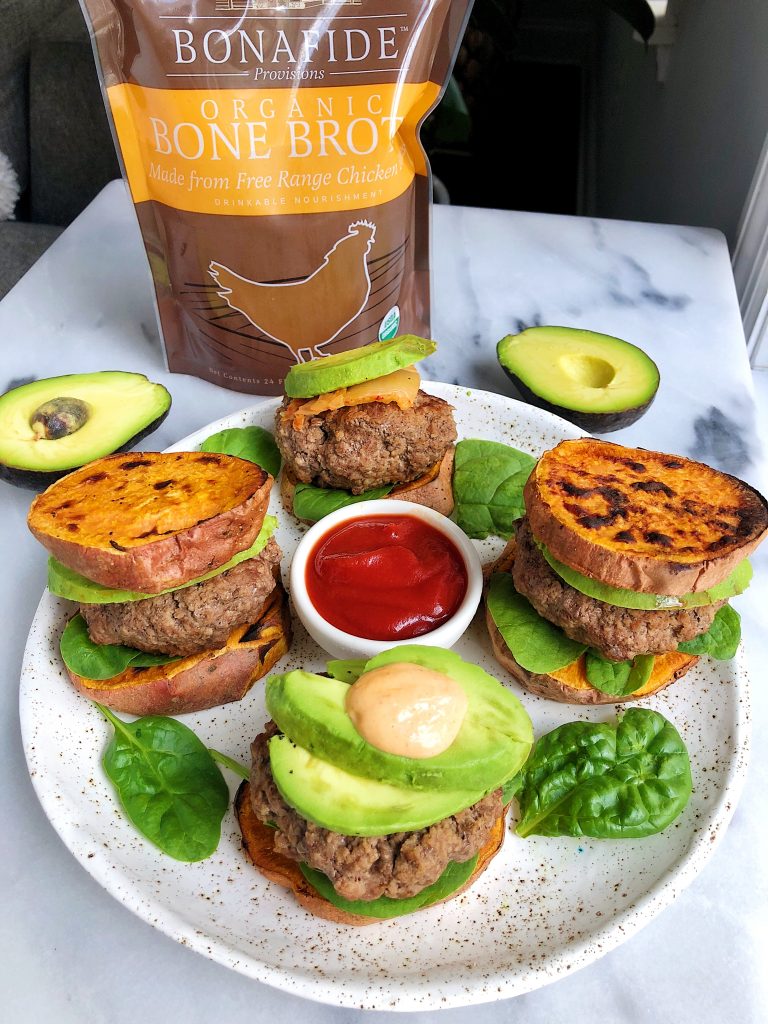 Print
Paleo Sweet Potato Bun Lamb Burgers
Paleo Sweet Potato Bun Lamb Burgers for an easy a delicious whole30 recipe!
Prep Time:

5 mins

Cook Time:

15 mins

Total Time:

20 minutes
1

large organic sweet potato (or

two

medium)

1 teaspoon

avocado oil

1/2 teaspoons

garlic powder

1/2 teaspoon

ground black pepper

1

lb grass-fed lamb (or sub any ground meat you prefer)

1/2 teaspoons

garlic powder

1/2 teaspoon

ground black pepper

1

bag of Bonafide Provisions Organic Bone Broth (I used chicken!)

1 cup

organic greens (I love arugula and spinach for this!)

1

avocado, sliced

Condiments of choice (I love this Whiole30 one and this not Whole30 one)
Instructions
Slice the ends of the potatoes, then cut into 1 inch rounds then coat with avocado oil, black pepper and garlic powder
Add the sweet potatoes to lined parchment paper and turn over on high BROIL and add to oven for 6-8 minutes then flip over and broil for another 6-8 minutes until they are bubbled a bit and softened
While the sweet potatoes cook, mix together the grass-fed lamb with garlic powder and black pepper then heat a large cast iron skillet and grease with a bit of avocado oil over medium heat
Pour about 1/3 cup of bone broth to the skillet then form the patties and add to skillet and cook for about 5 minutes on each side or until cooked on each side (makes the patties extra juicy and flavorful!)
Continue to add broth to the skillet as it absorbs (I used about 1 cup total)
Once done, add the burger to one of the sweet potato rounds with greens, condiments of choice and avocado then top with other avocado round and enjoy!
Notes
These stay well for about 5 days! I do not recommend freezing this recipe
xx, Rach
Thank you Bonafide Provisions for sponsoring this post! It means so much to me to work with brands I love and believe in on the blog!
SaveSave
SaveSave
SaveSave
SaveSave
SaveSave