Sharing a handful of my favorite Whole30-approved recipes with you!
Okay okay, I have never done Whole30. I'm by no means an expert on the 30 day challenge, but last year Jord completed his first Whole30 (see more here). I also did a couple of elimination diets (more on that here) so when it comes to having to follow some sort of strict and regimented, I have been there. It is definitely no joke and everyone who says doing a Whole30 is easy, definitely has one thing in common, they are prepared!
I have found that these elimination diets and resets can be very beneficial for some to help figure out any triggering foods that make you feel off. They are also a great way to hit the reset button and fuel your body with whole and delicious foods. My only hesitation on doing elimination diets, is that they can be triggering for some when it comes to developing phobias of foods or becoming fearful of grains, dairy, etc. Sure you may feel better omitting maple syrup or rice, but a life without sushi or cookies or pancakes is not one I'm trying to live. I ask that anyone who embarks on any cleanse or anything this year to keep that in mind and try to stay away from any extremes.
Now for the FOOD! I am going to be sharing a few more Whole30 recipes this month but wanted to put together a list for you guys early in the month. Just in case you are doing Whole30 starting on January 1, I have you covered. Please also note that Jord didn't follow any of the rules like no chia pudding or pancakes. We just focused on the foods to eat/not to eat ad eating all whole foods!
Favorite Whole30-approved products:
Whole30 Frequently Asked Questions:
What isn't allowed on Whole30? A whole lot of ISH. Gluten, grains, dairy, sugars, snacks, you name it. You focus on eating veggies, fruits, proteins, etc. Visit the Whole30 site for more info!
Can you do Whole30 forever? I personally wouldn't recommend it, but it is up to you! I am not a huge fan of the overall program but of course am a huge advocate for eating wholesome foods and recipes made with just the good stuff (…see what I did there?!)
Why haven't you done a Whole30? I haven't felt the need to to be honest. I do think something like this is a great way for someone to cut heavily processed foods out of their daily lives and start fresh if you are feeling off. I personally just haven't had that urge! Jordan did it 1.5 times (he quit half way through) but as you'll see a lot of my recipes *happen* to be Whole30 since I focus on eating a lot of foods made with real ingredients. But I need my desserts too 😉
Recipes from the blog that happen to be Whole30..
I hope you love each of these recipes as much as we do and don't forget to share with me on social when you make them! If you see an ingredient in any of these recipes that isn't Whole30-approved, it can easily be subbed with something else. Comment on the post and I can help you!
Whole30 Breakfast Ideas:
Savory Breakfast Salad with Creamy Cilantro Jalapeño Dressing (vegetarian) made with a few ingredients for a breakfast-y spin on a salad!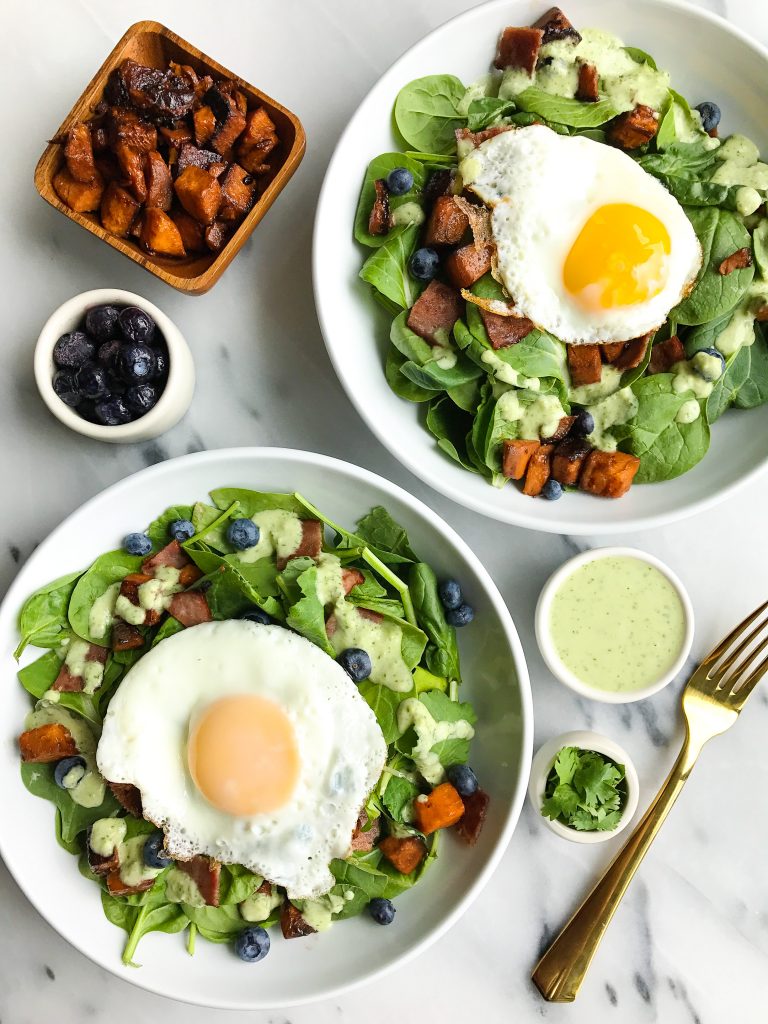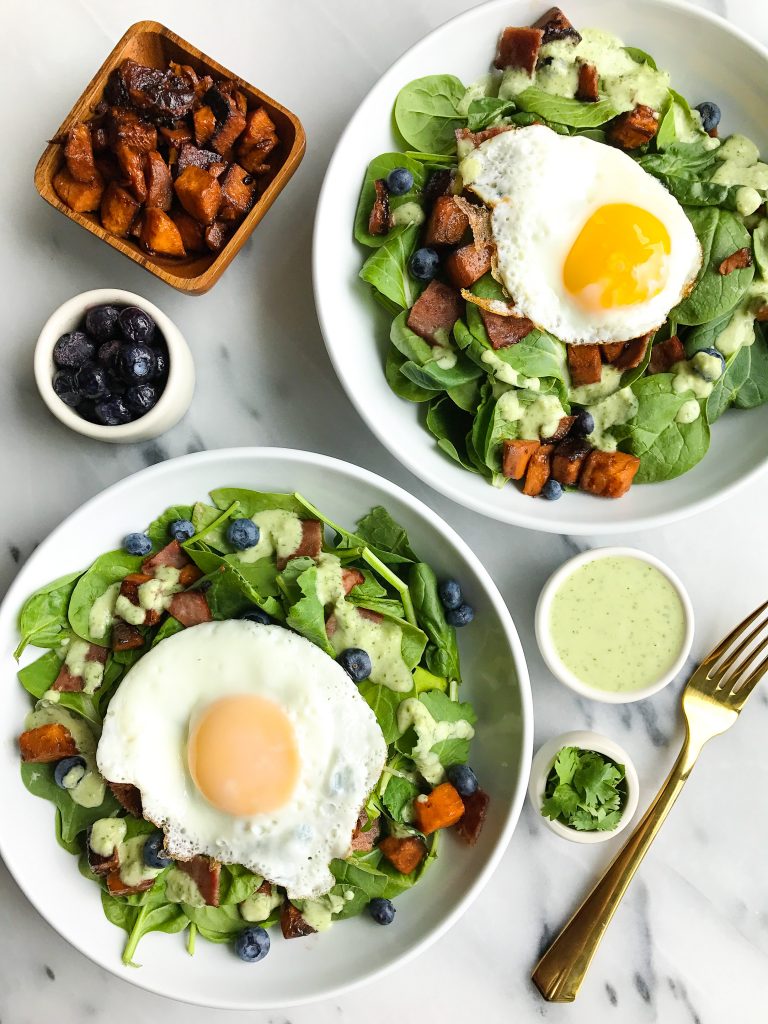 Savory Veggie Breakfast Waffles probably one of my favorite hash brown waffle recipes and the ingredients just so happen to be Whole30!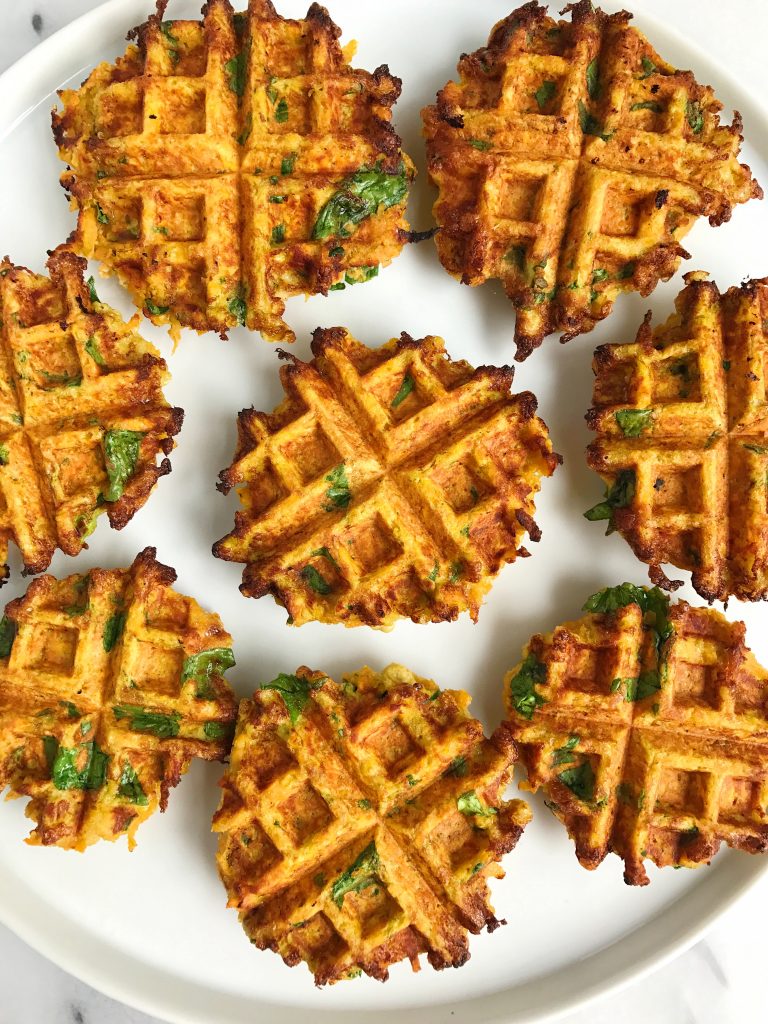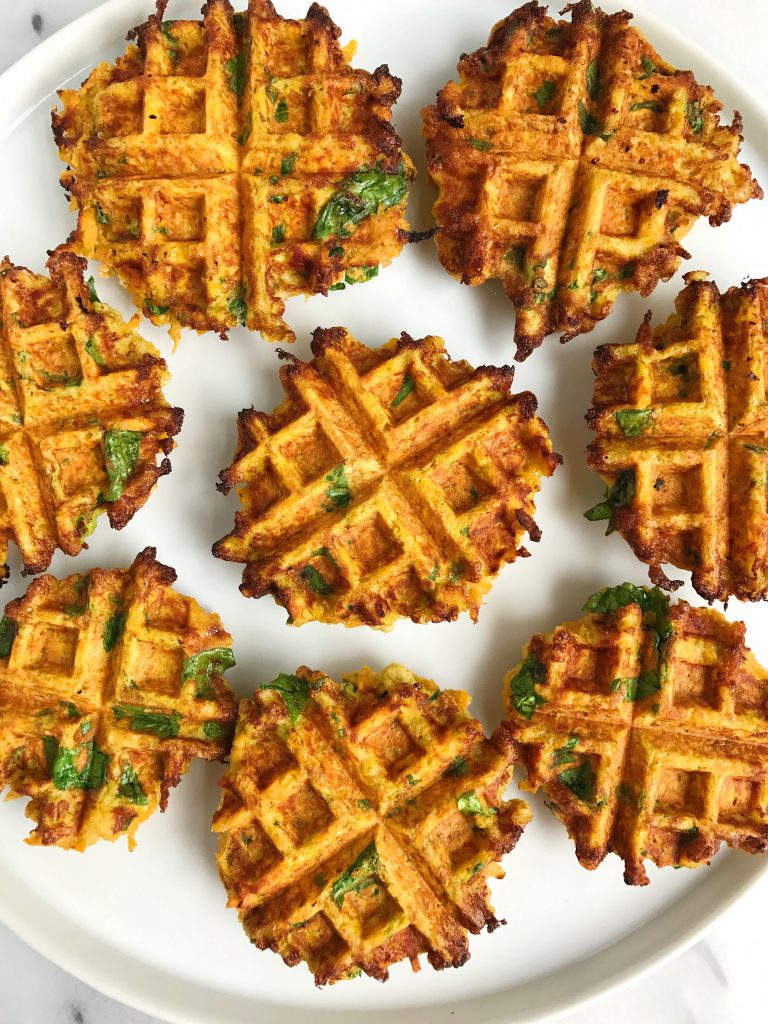 Veggie Smoked Salmon Quiche with Sweet Potato Crustis a great option to prep early in the week to pack for work or school.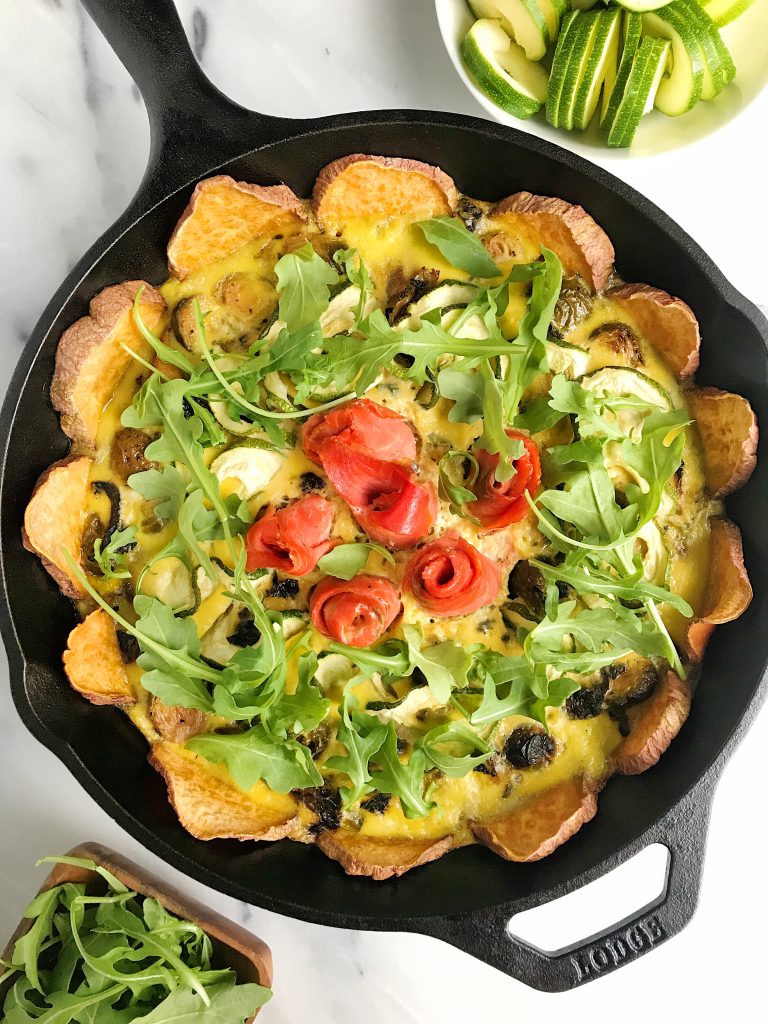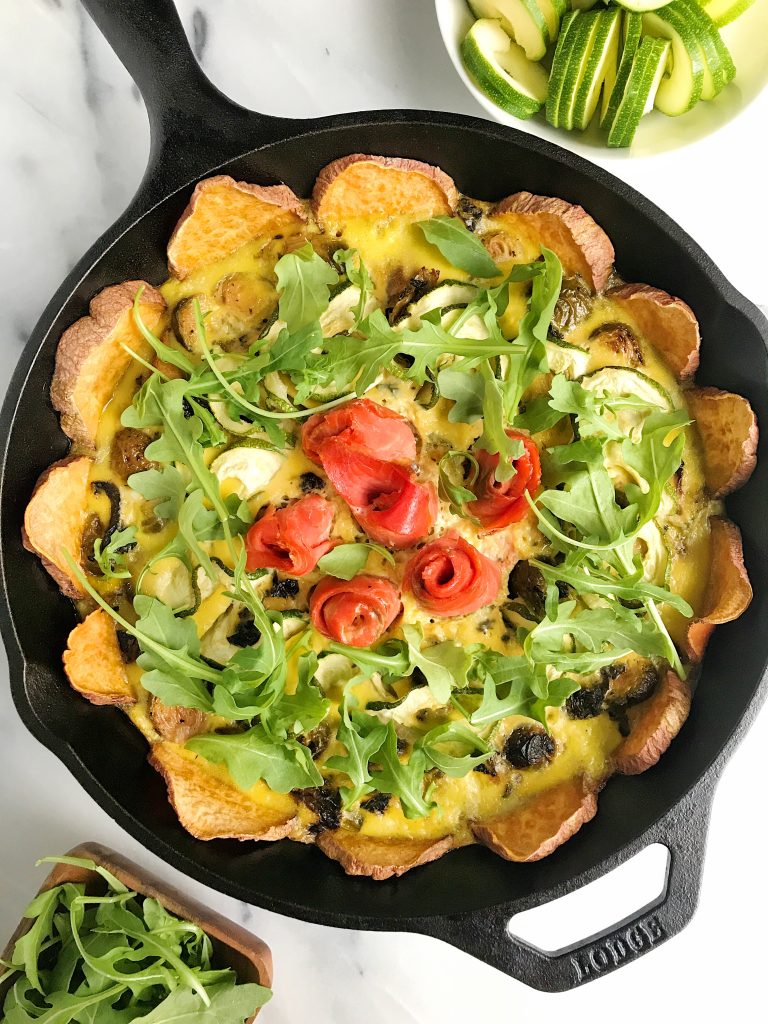 Creamy Banana Bread Chia Seed Pudding isn't technically allowed on Whole30 but all of the ingredients besides toppings are approved. Plus I made this for Jord to take to work since it was quick and easy.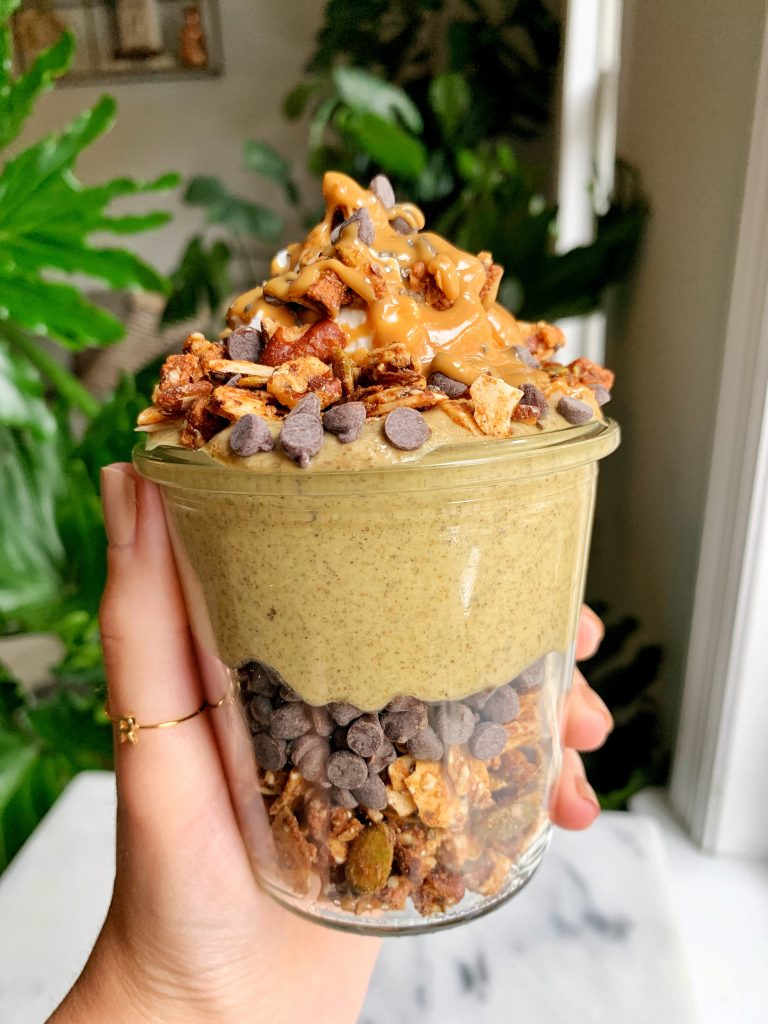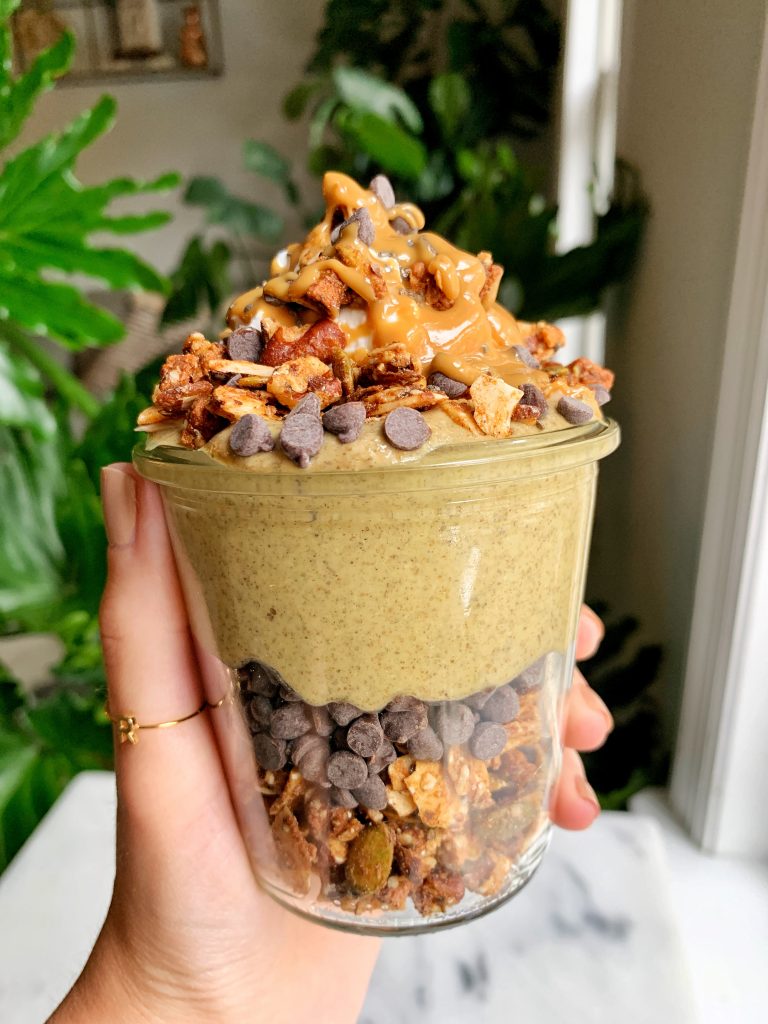 6-minute Jammy Soft-Boiled Eggs in Bone Broth has to be one of my go-to quick meals at least once a week. I love adding them on top of anything I have handy in the fridge.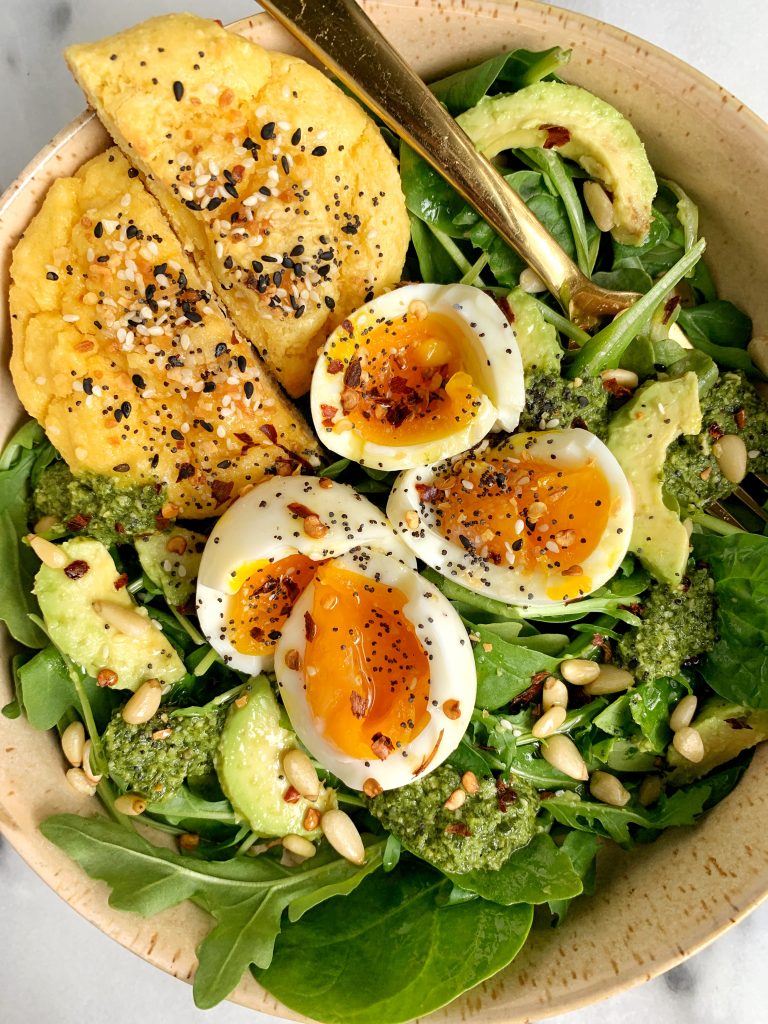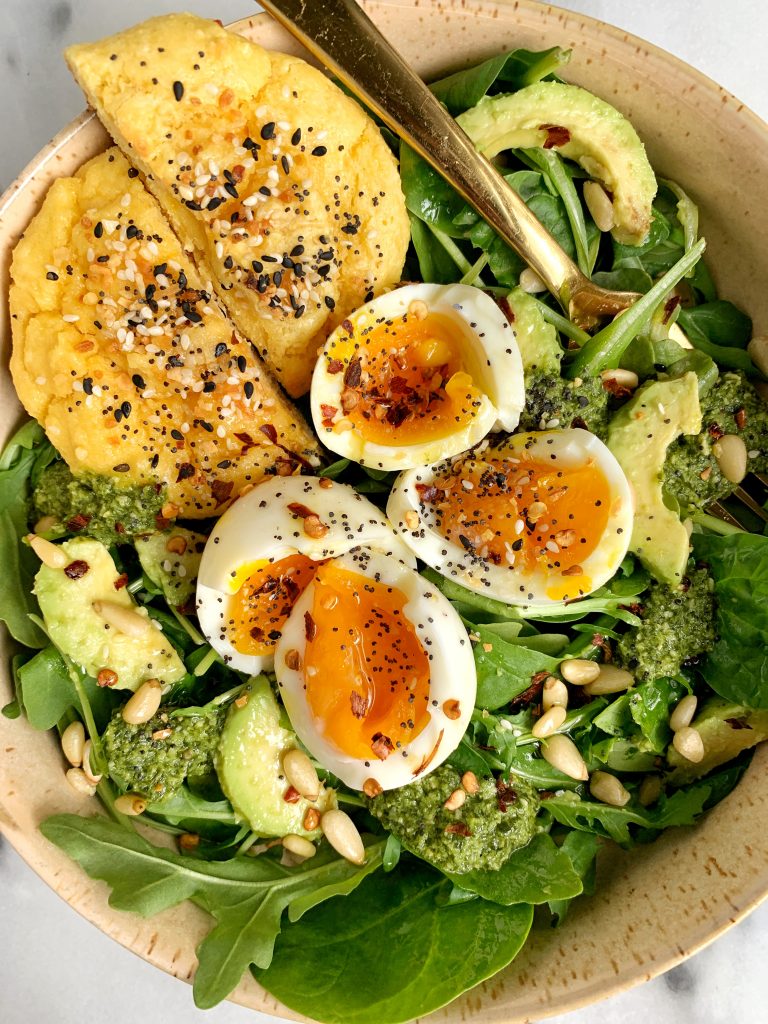 Whole30 Vegan/Vegetarian Ideas:
Garlic Cream Sauce Sweet Potato Noodles (vegan) were one of those recipes I kept making over and over again. The garlicky alfredo is too die for!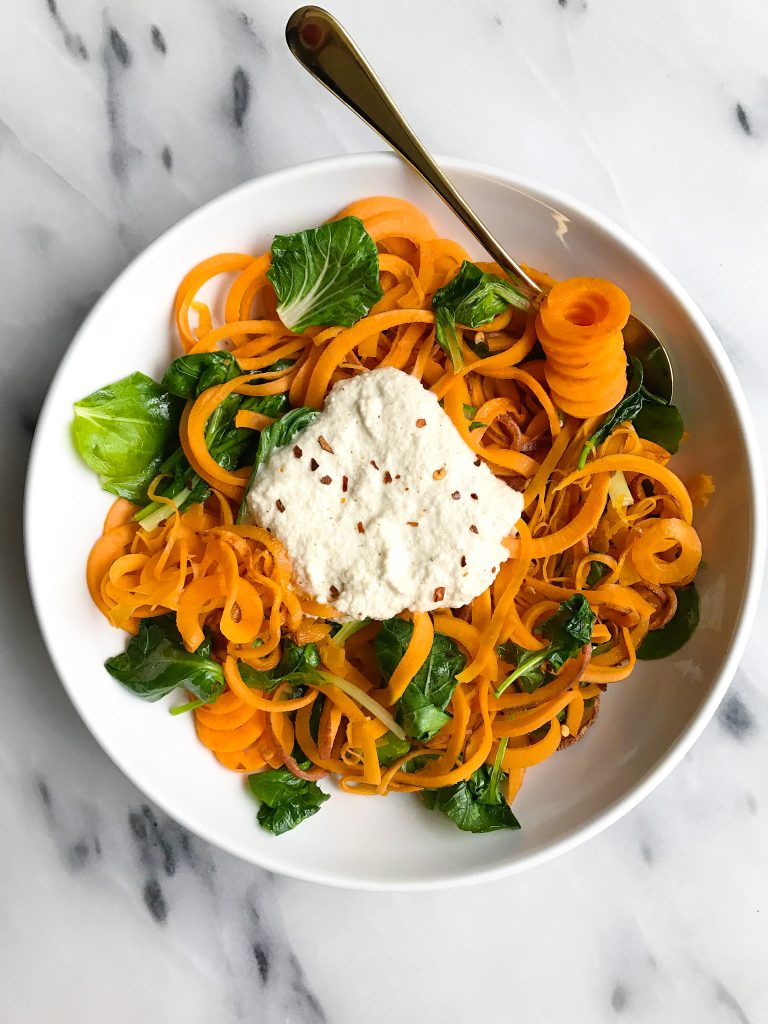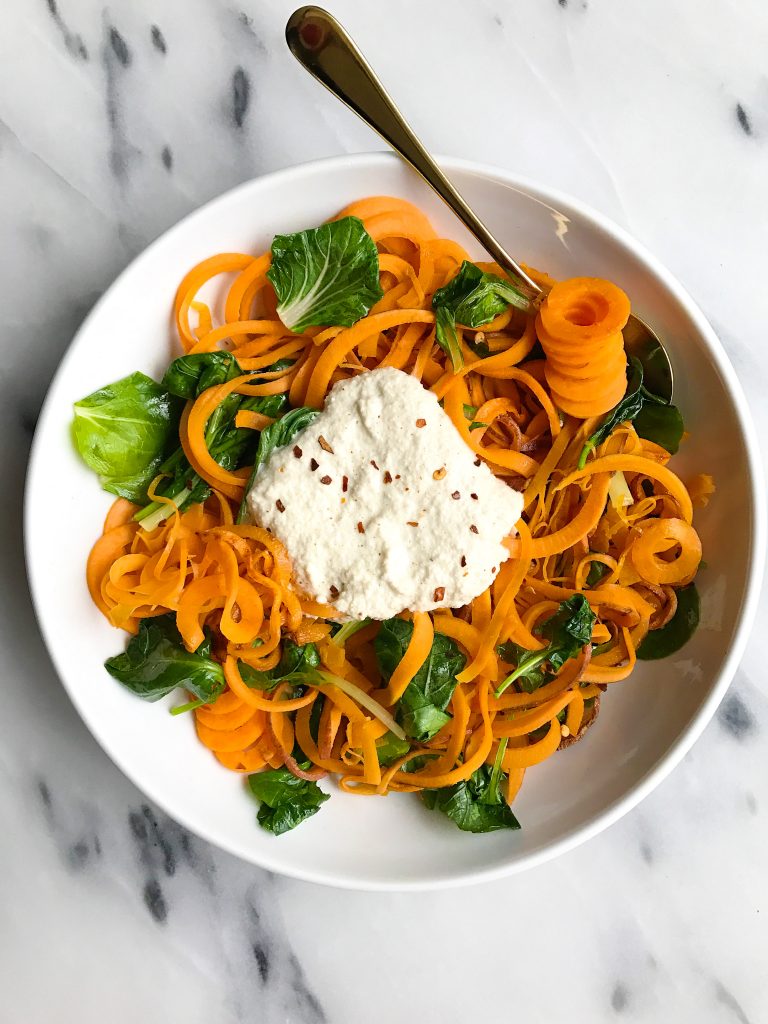 Whole30 Loaded Veggie Burgers (vegetarian) sans bun are the easiest Whole30 veggie burger ever!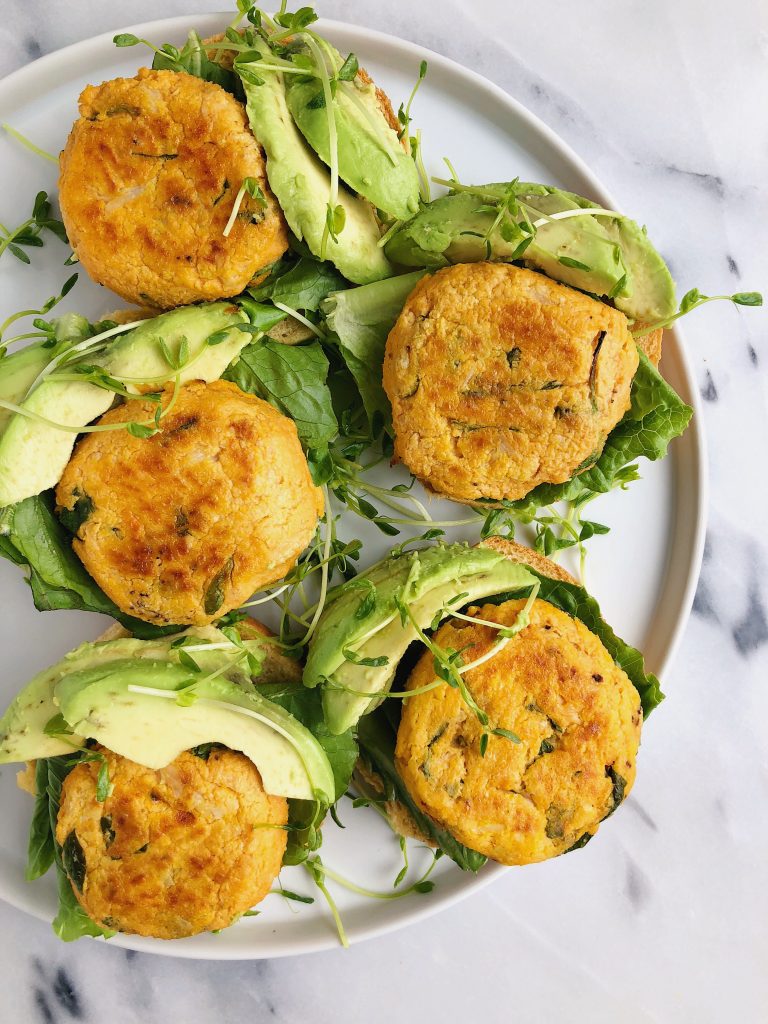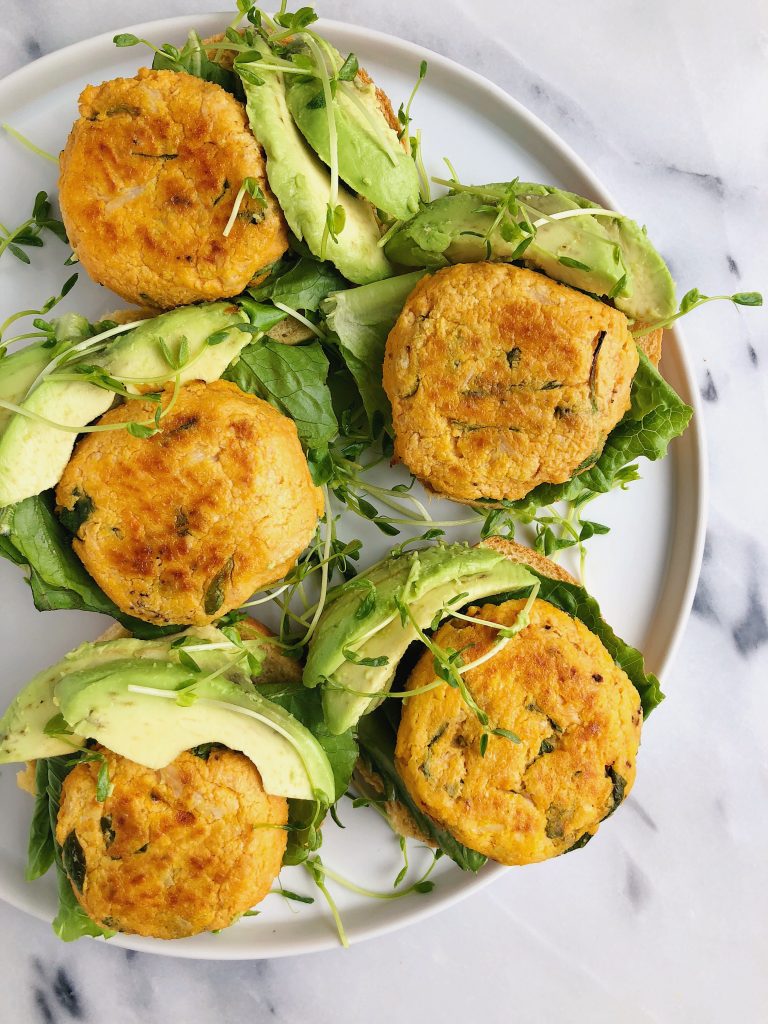 Easy 5-ingredient Basil Alfredo Sauce (vegan)has the best flavor bomb thanks to this creamy basil sauce. With zoodles it tastes so good!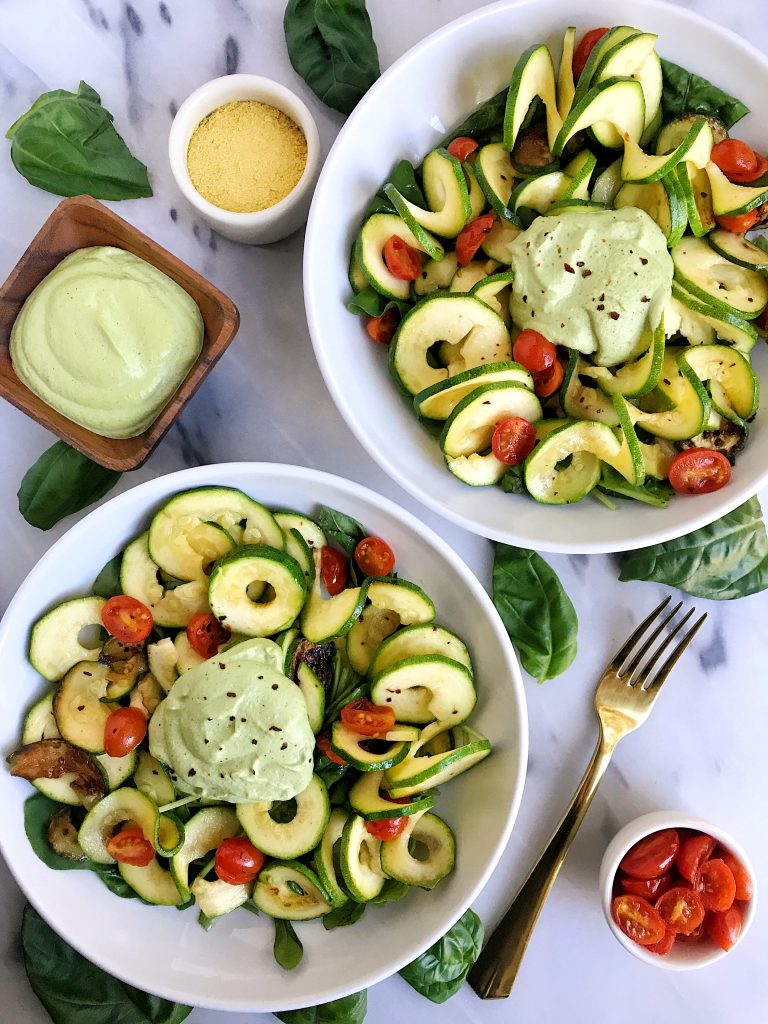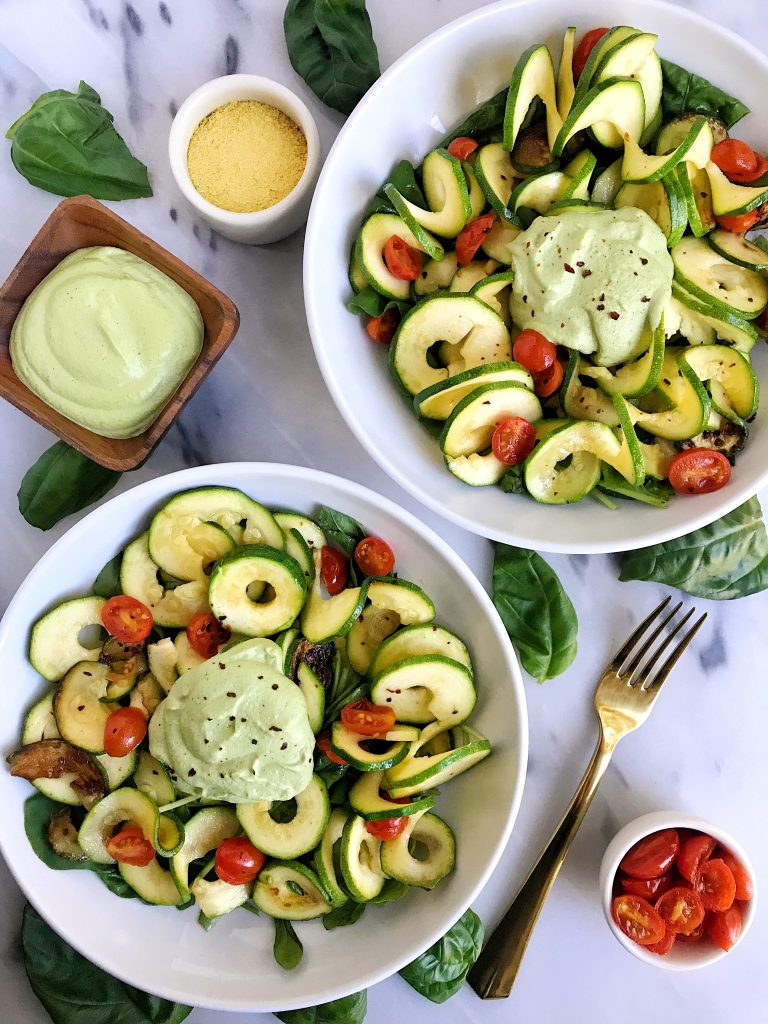 Creamy Thai Kabocha Squash Soup (vegan)made me realize I actually do like soup when it has a creamy texture. This soup is so flavorful and easy to make!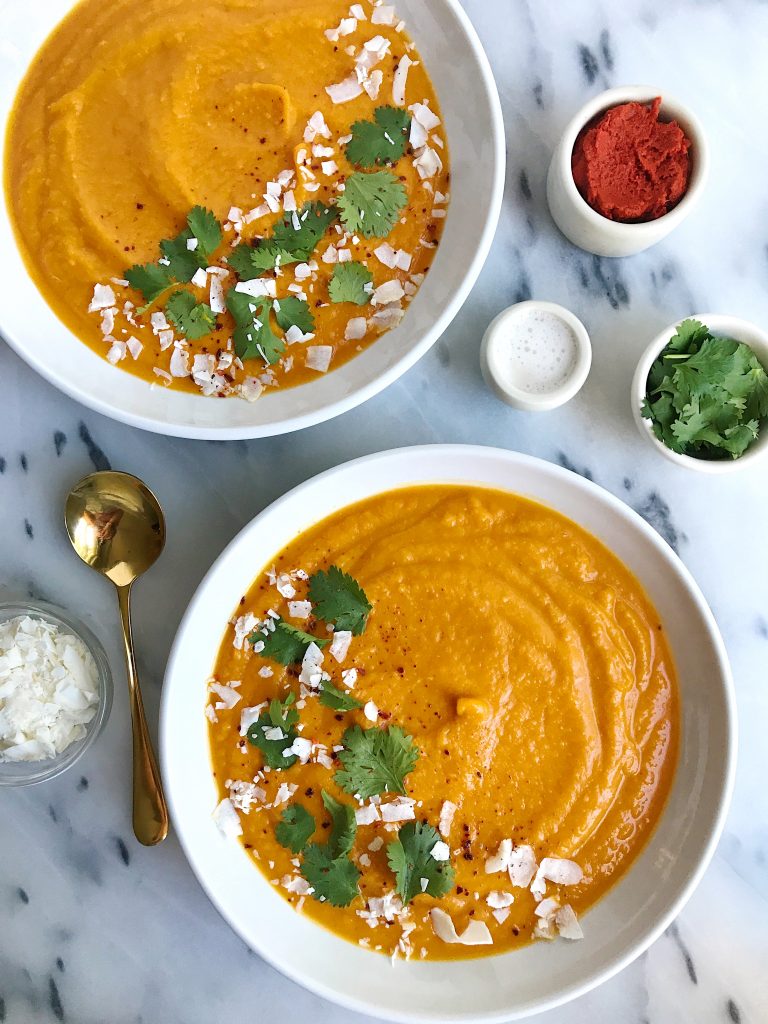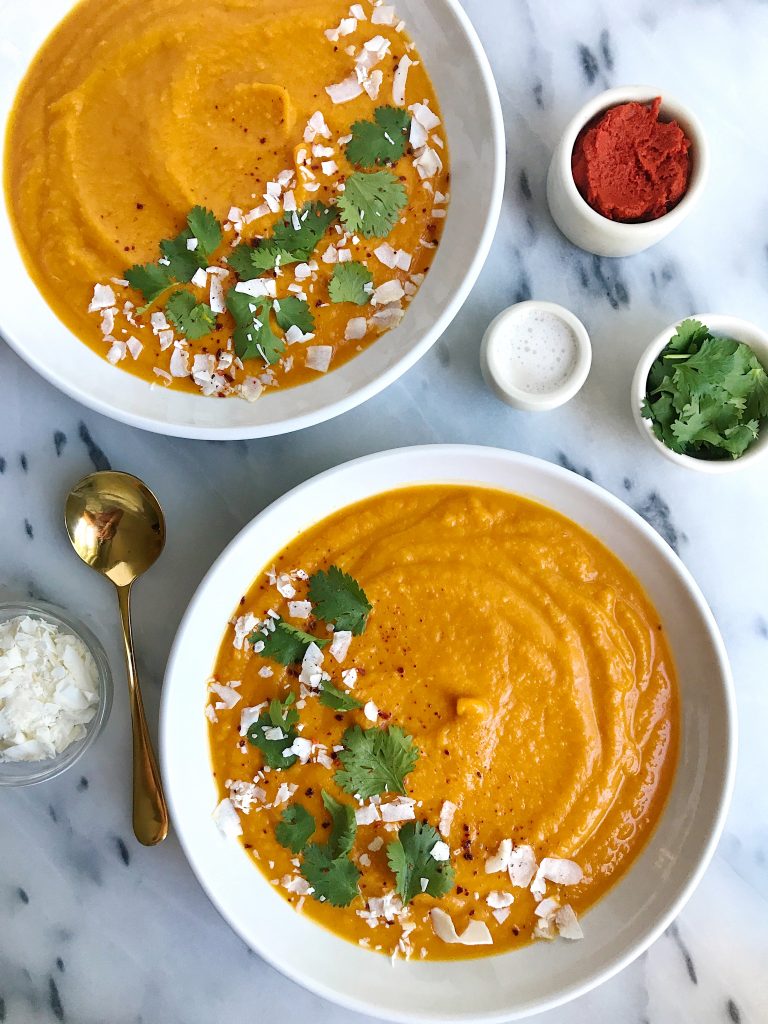 Avocado Greens Caesar Salad with Sweet Potato Croutons (vegan) always hits the spot and the sweet potato croutons are delicious dipped in the leftover dressing.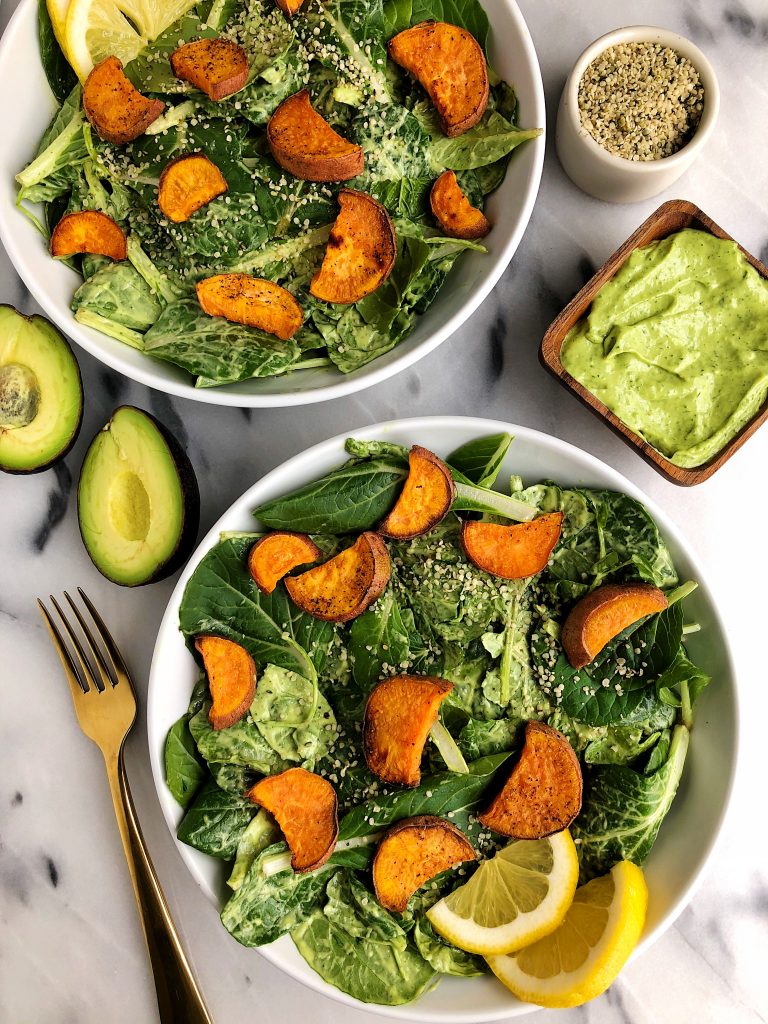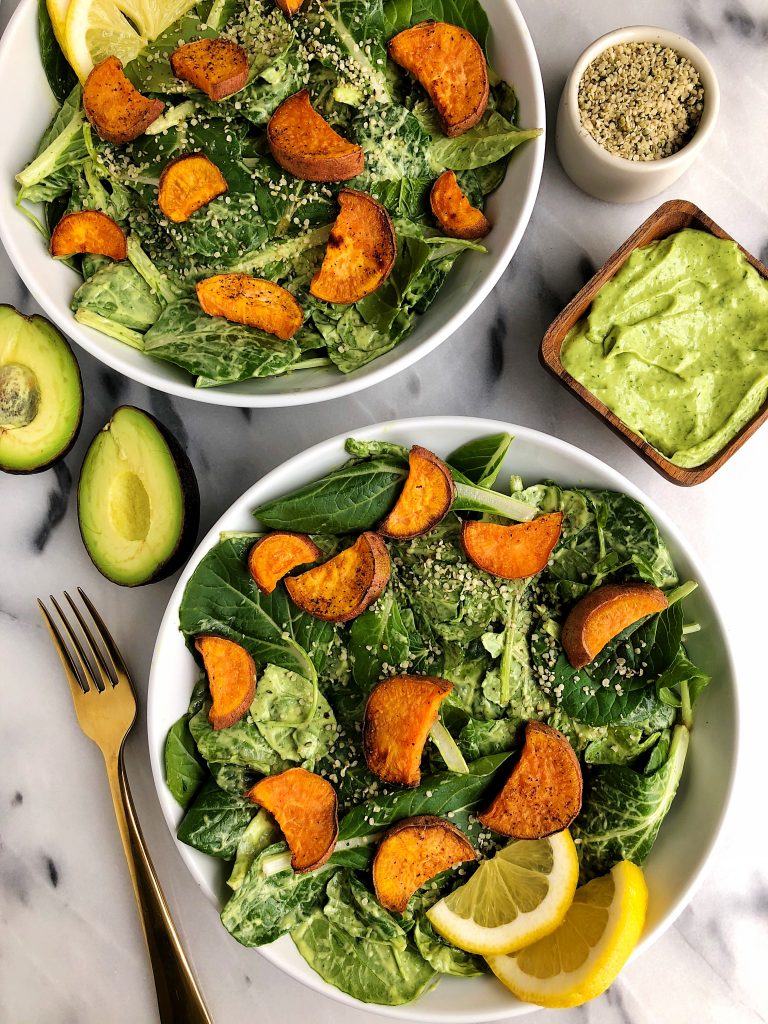 Chickpea-less Sweet Potato Falafels (vegan) served without the grains and you have yourself a delicious Whole30 approved sweet potato cake!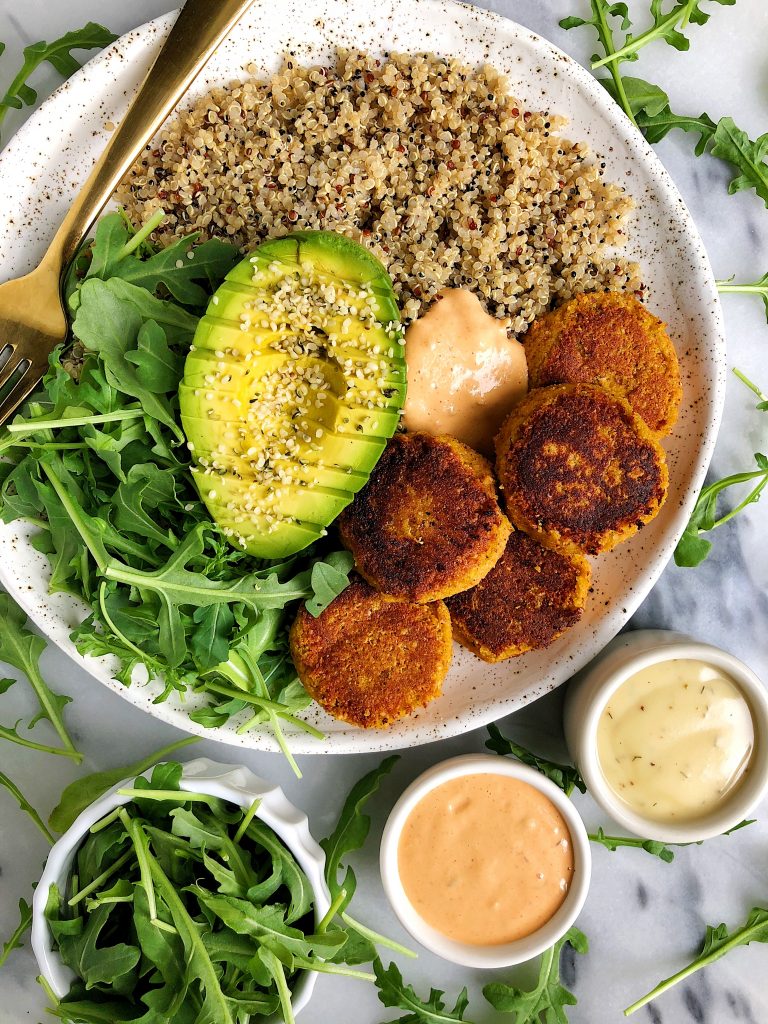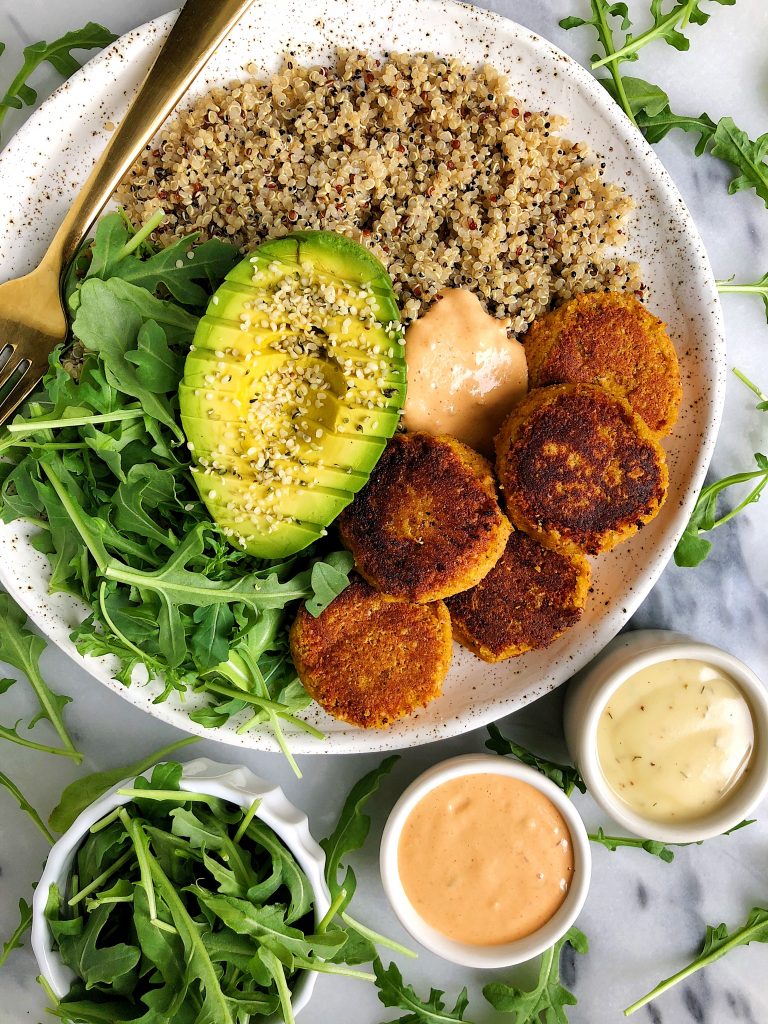 The Easiest 15-minute Vegan Pad Thai that tastes even better cold than warm in my opinion. Add anything you want on top protein wise!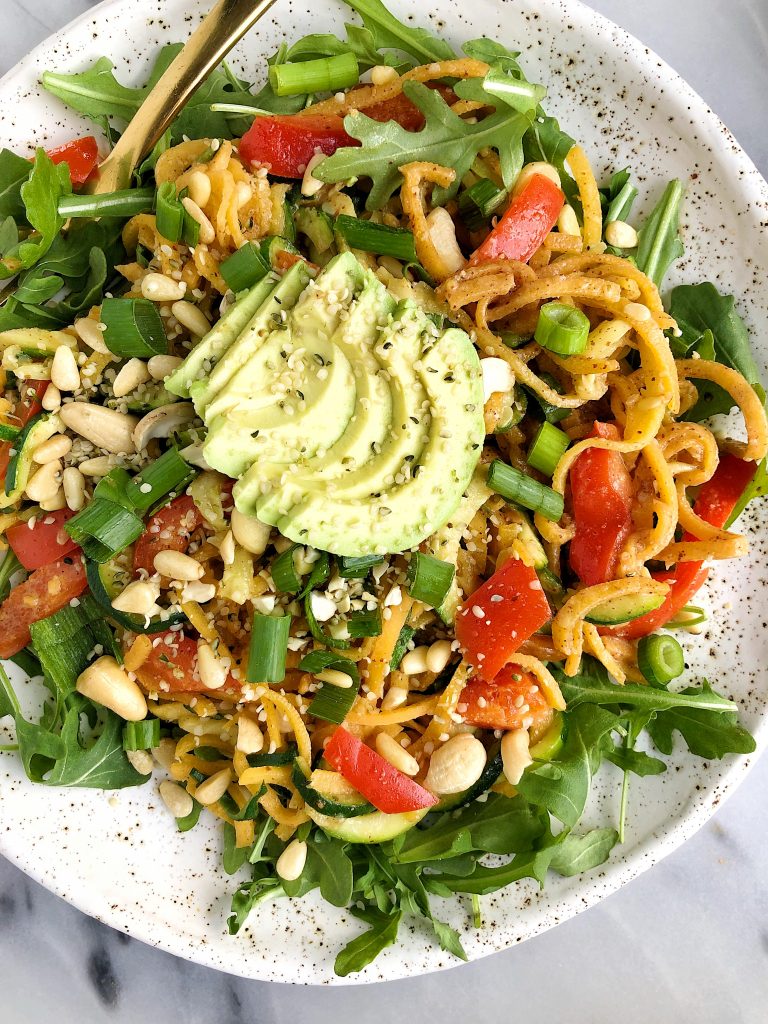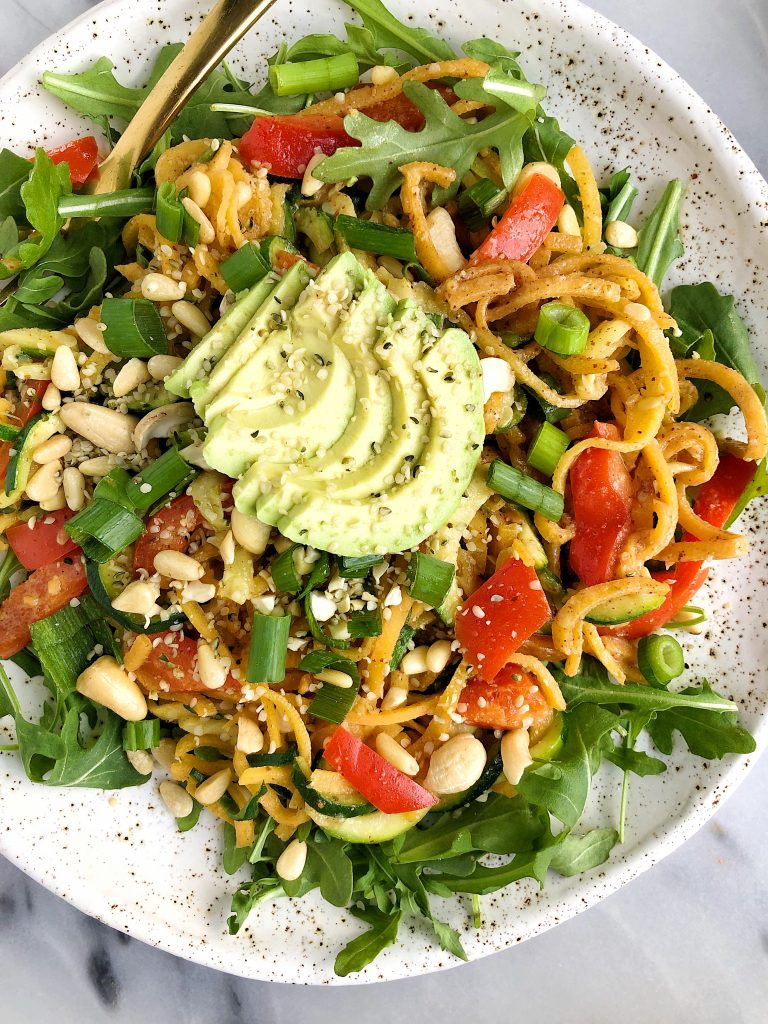 Garlicky Squash Bowls (vegan)are simple and easy to make for a plant-based meal.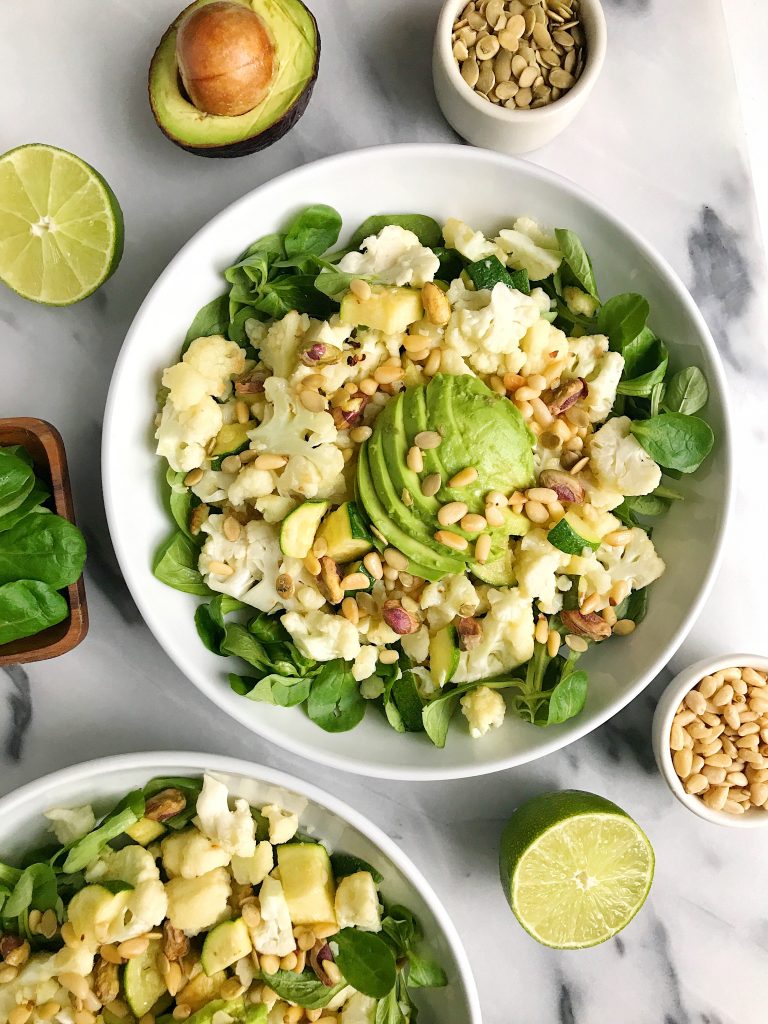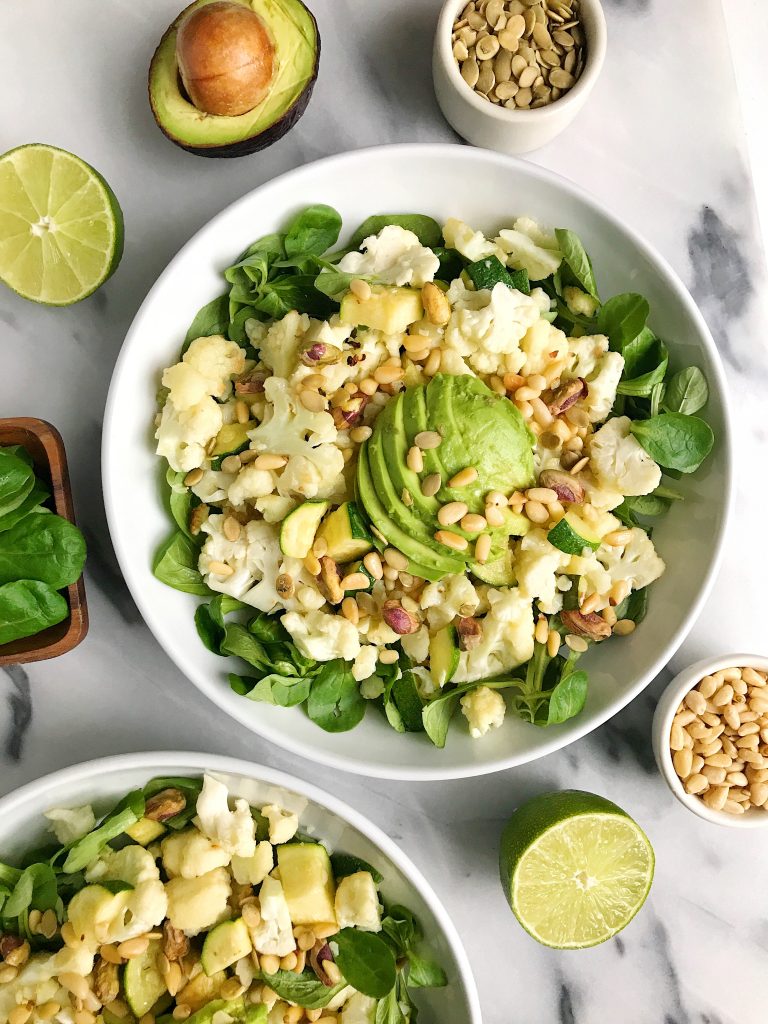 The BEST Vegan Creamy Tahini Caesar Salad is by far my favorite salad in the world. Ditch the breadcrumbs and are all set for Whole30 approved.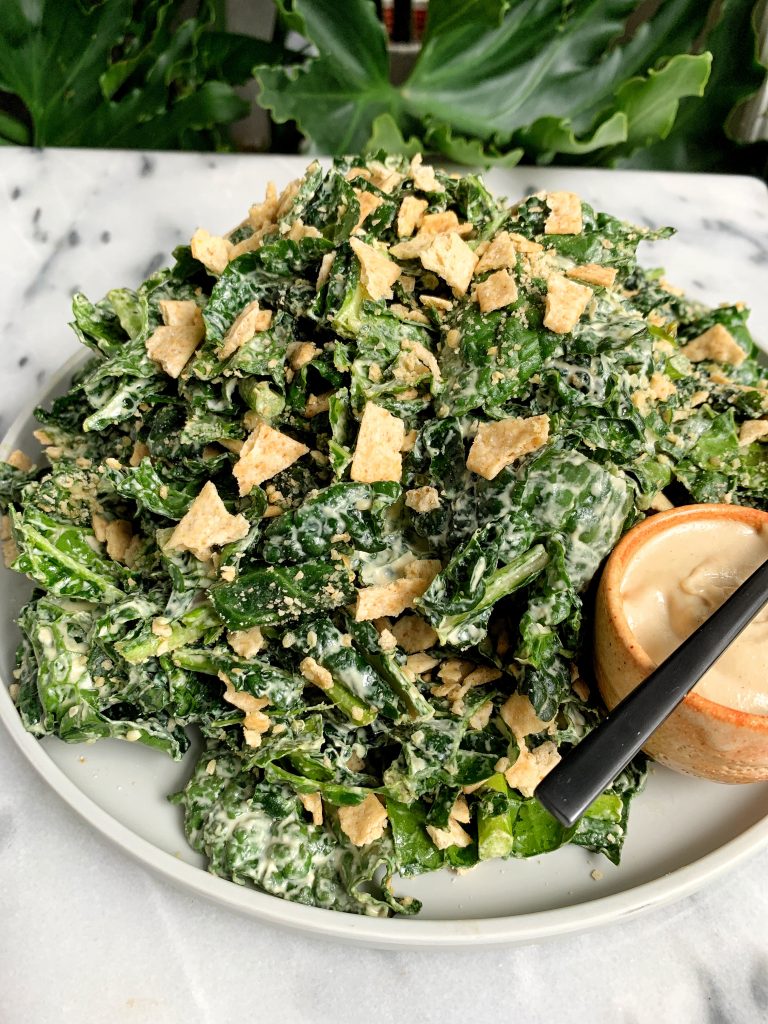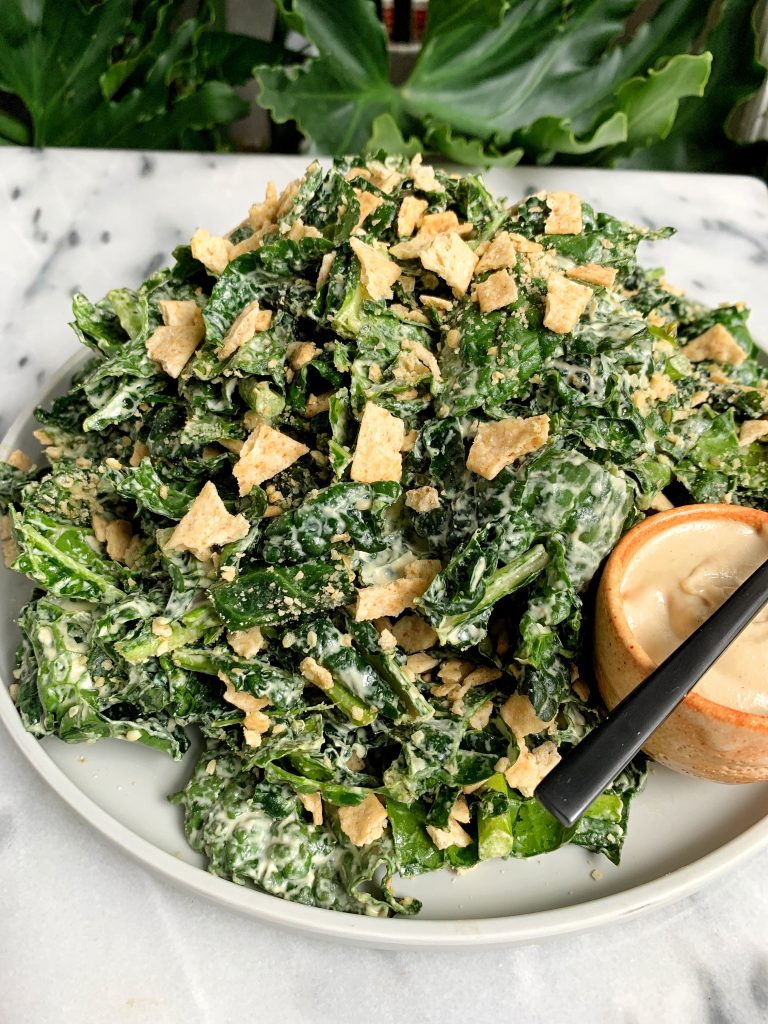 Whole30 Lunch/Dinner Ideas:
The Best Whole30 Tuna Salad was on repeat when Jord was doing Whole30. Takes 3 minutes to make and is so delicious stuffed in avocados.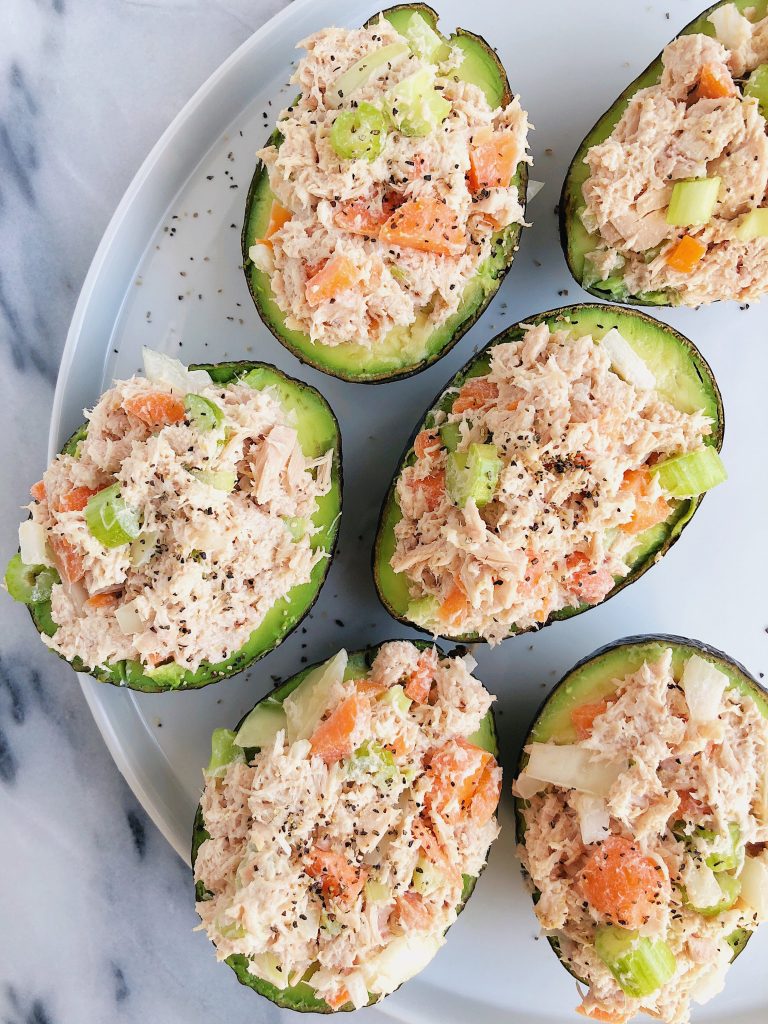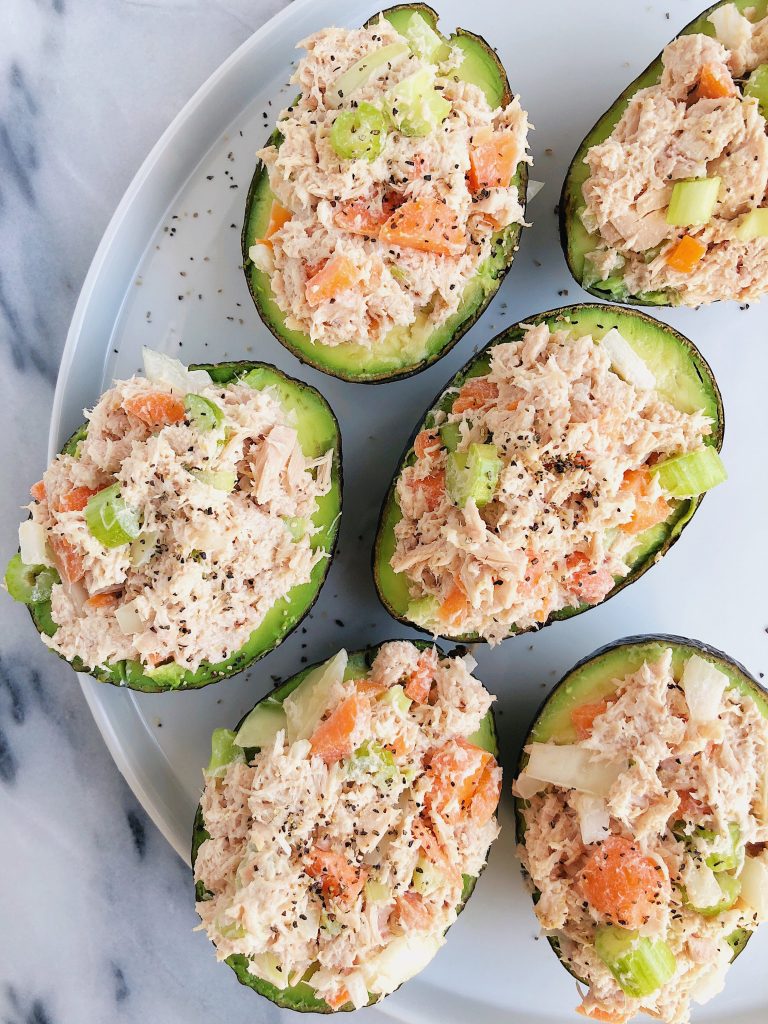 The Most Delicious Whole30 Egg Roll in a Bowl for when you are craving some take out. This asian inspired dish is delicious.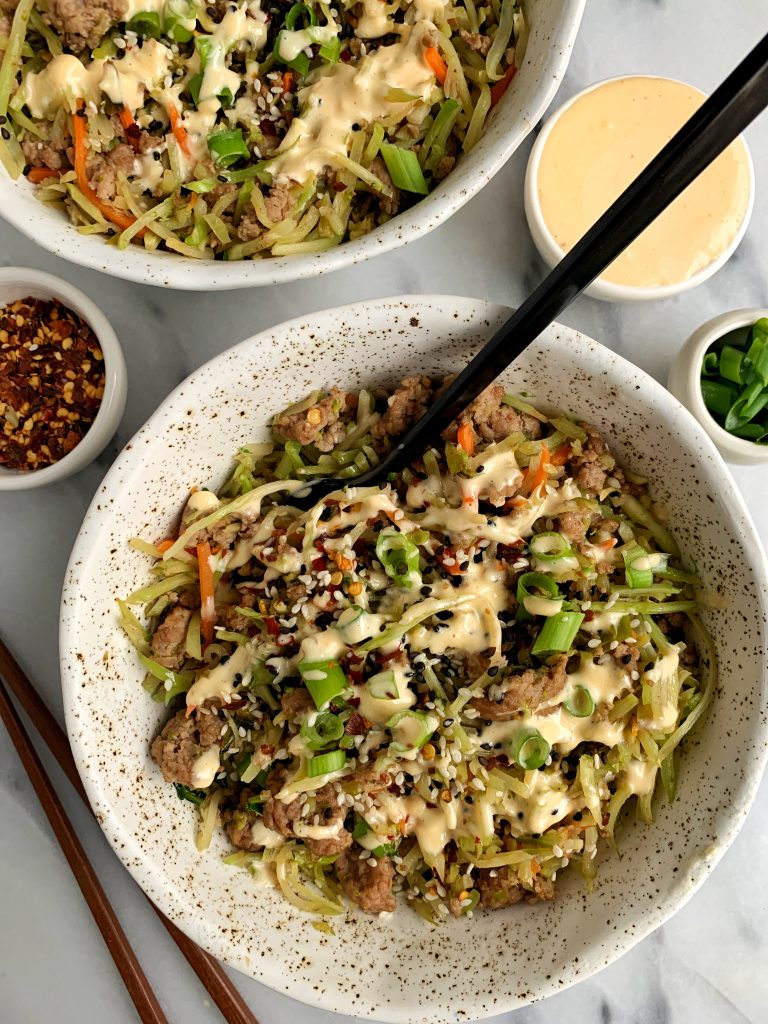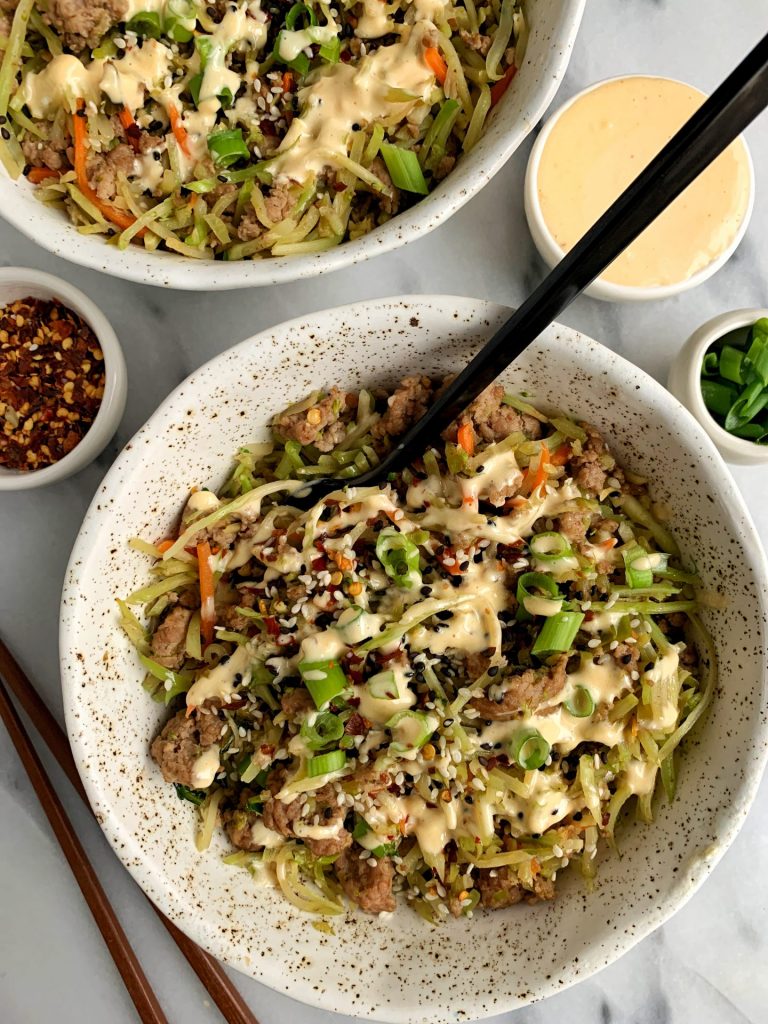 Buffalo Chicken Cauliflower Fried Rice is one of the most popular recipes on the blog and it is super simple to make!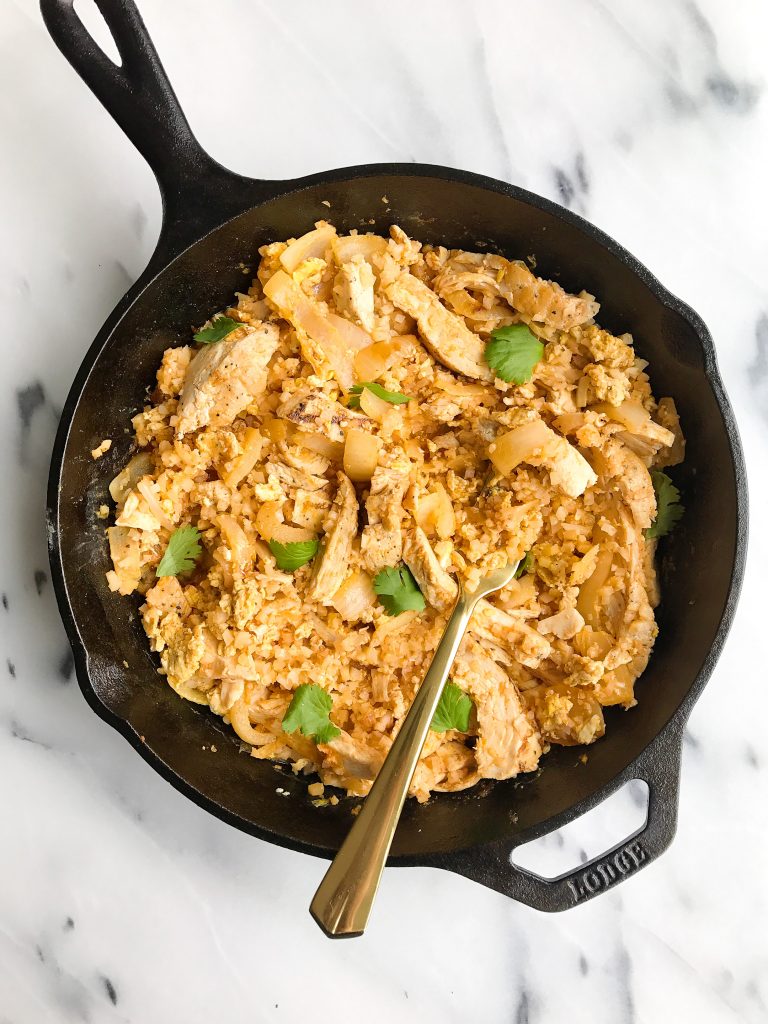 10-minute Bone Broth Cauliflower Fried Rice is great when you need an easy meal and don't want to make a huge mess in the kitchen and want to eat in less than 10 minutes!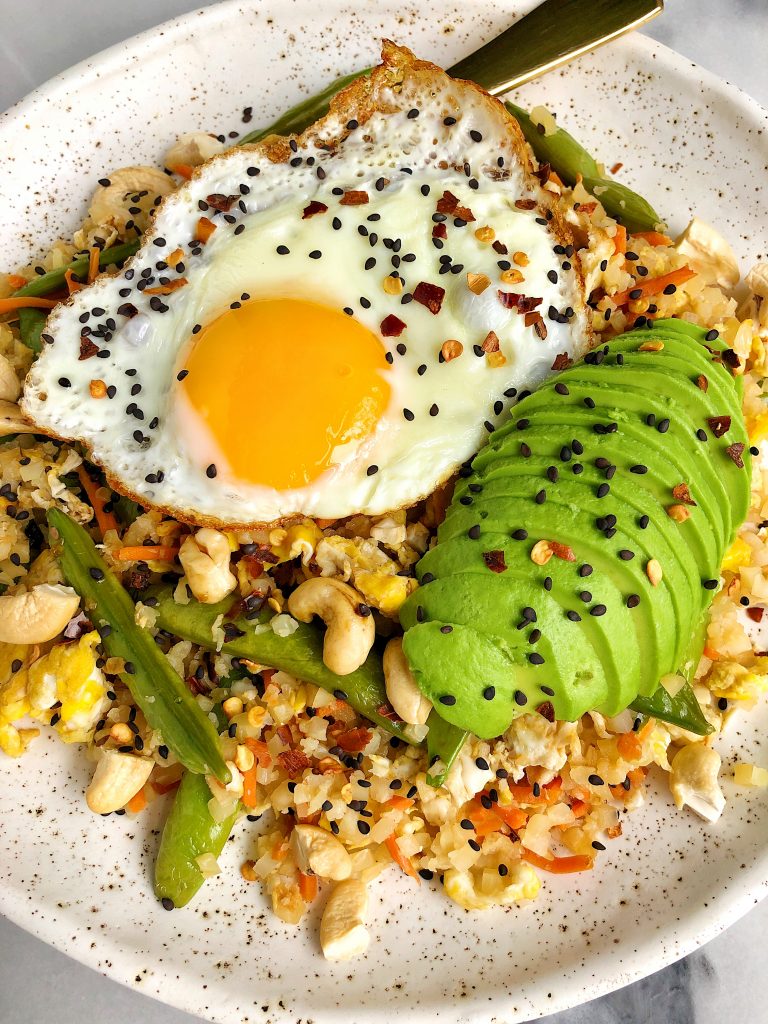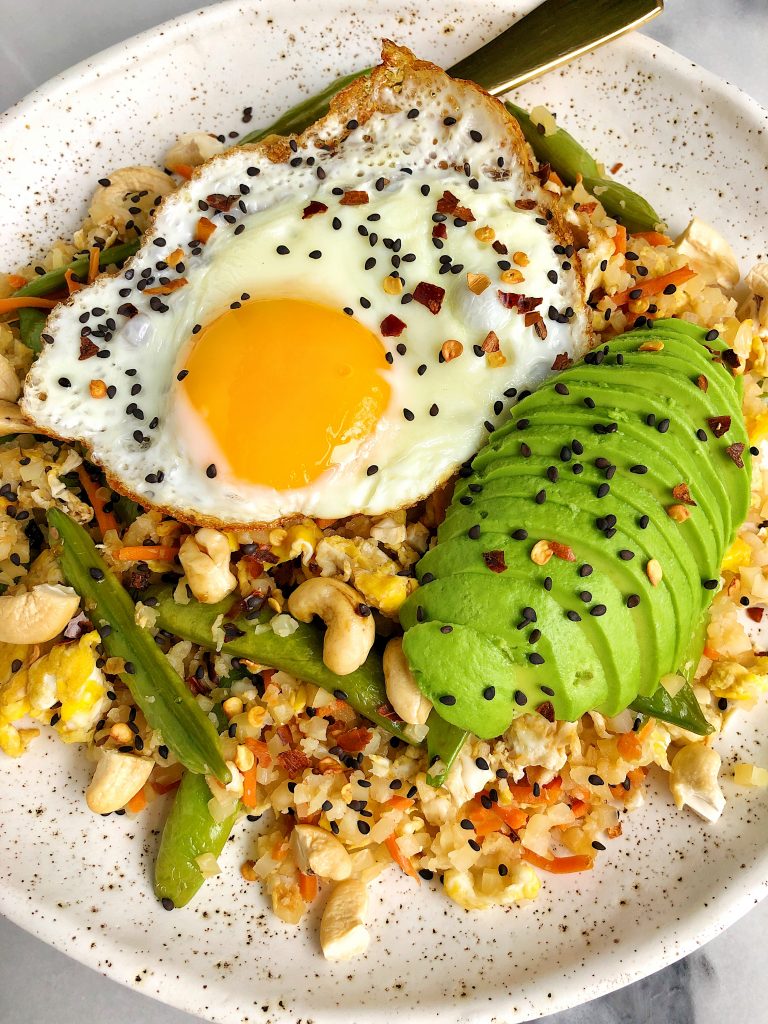 Paleo Sweet Potato Bun Lamb Burgers are served over here every couple of weeks. Usually on an actual bun but the sweet potato one does the trick too!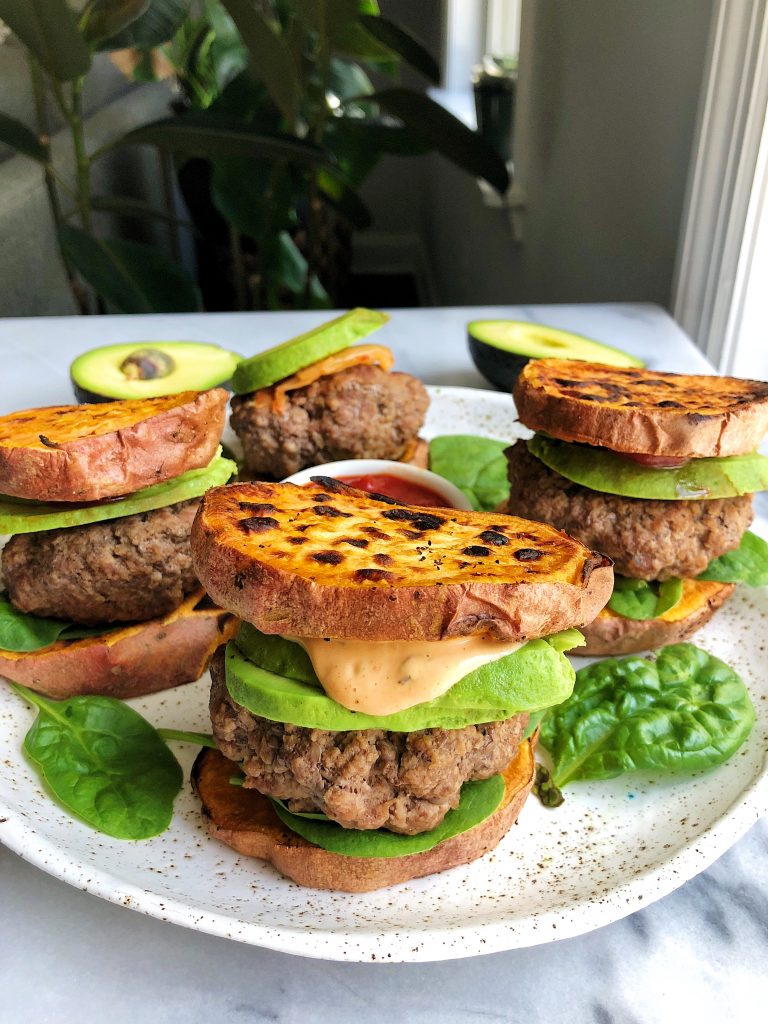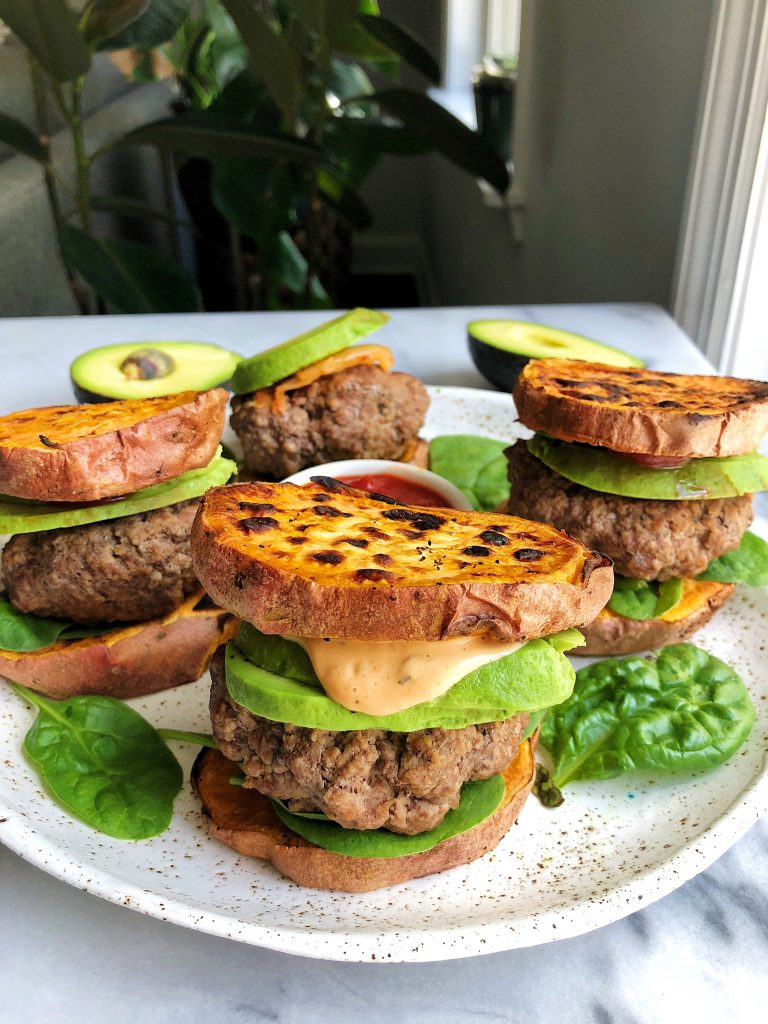 The Best Crispy Avocado Oil Chicken Tenders will be one of my go-to's for Ezra soon! They are delicious and so crispy and flavorful.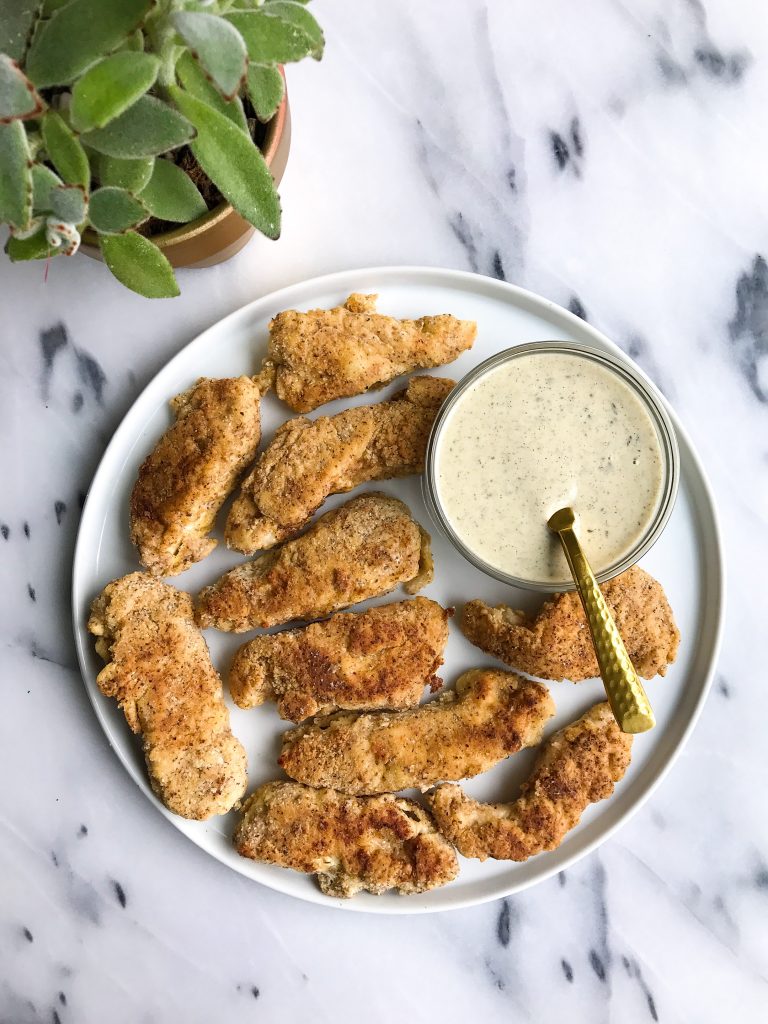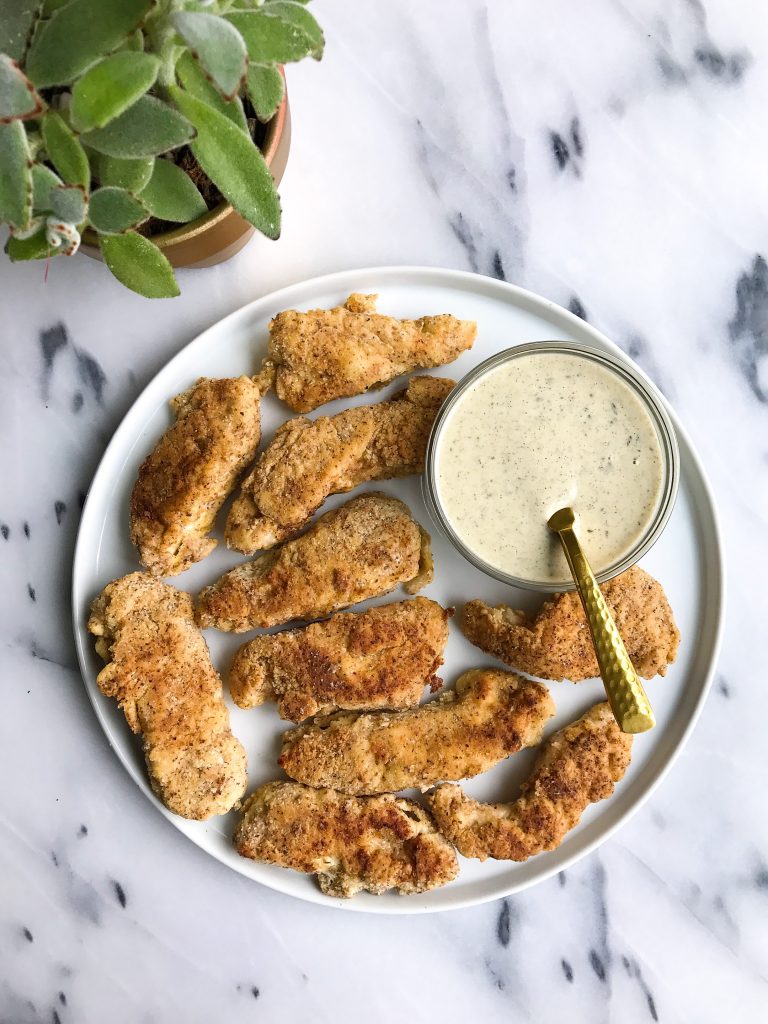 Paleo Crispy Chicken Nuggets needed to be around 15 years ago when I was stuffing my face with McDonald's. These are also nut-free and so delicious and crispy!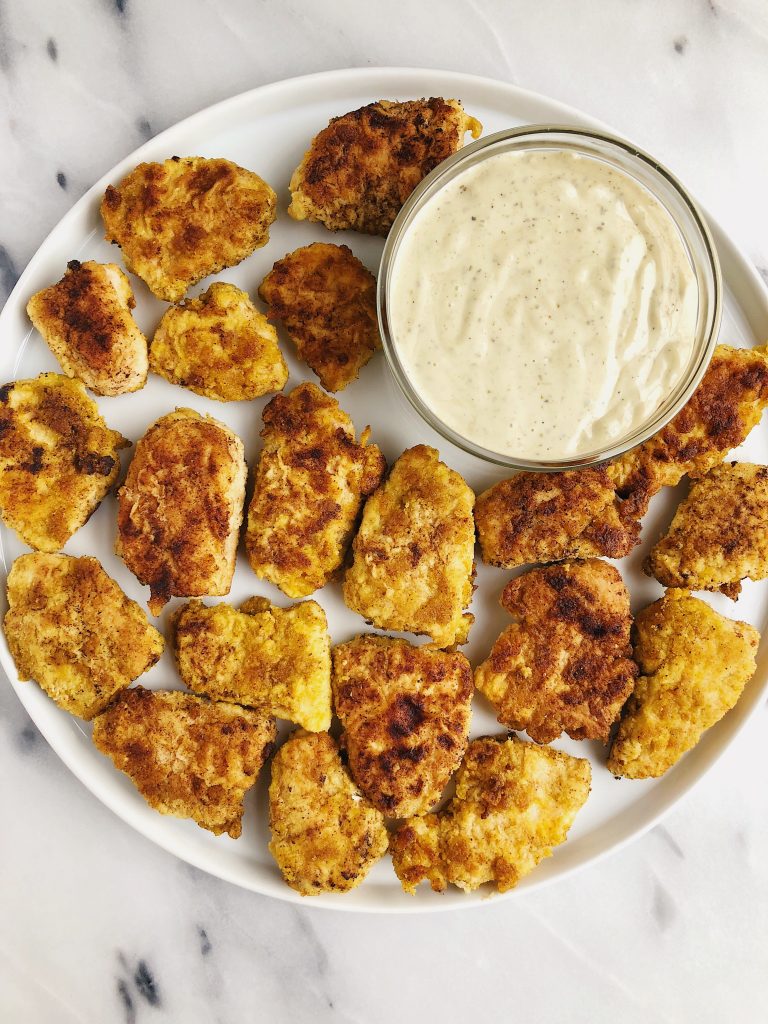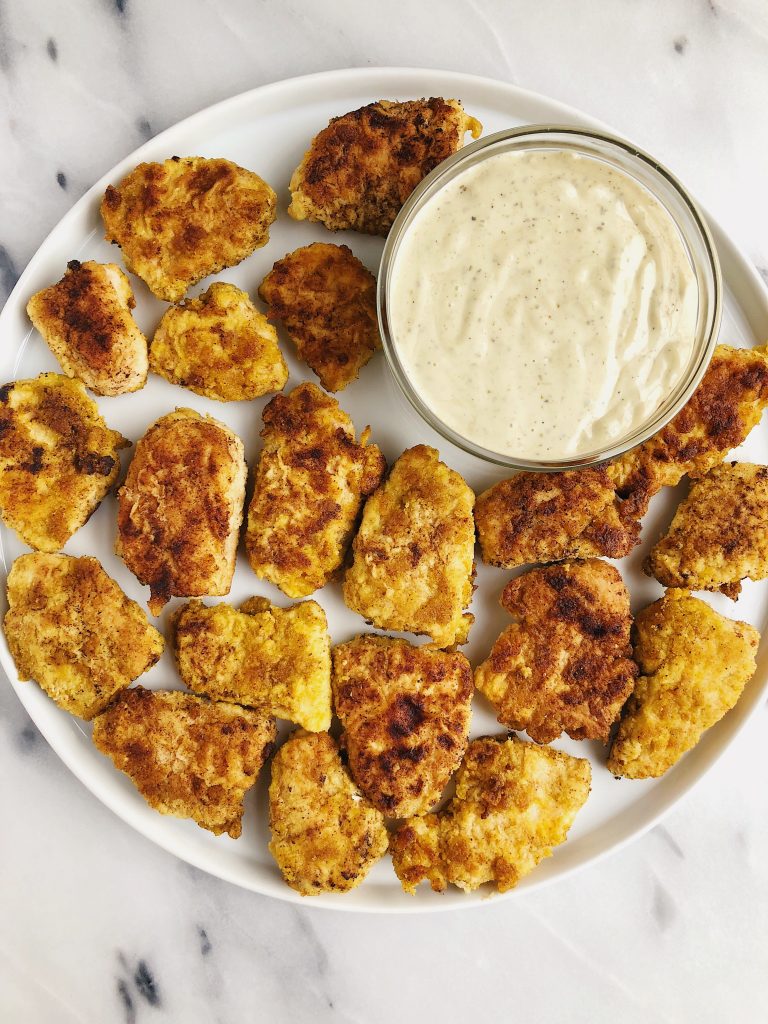 Whole30 Almond Butter Thai Noodles have an added bonus from bone broth. Love the extra crunch from nuts (just don't use peanuts if on Whole30)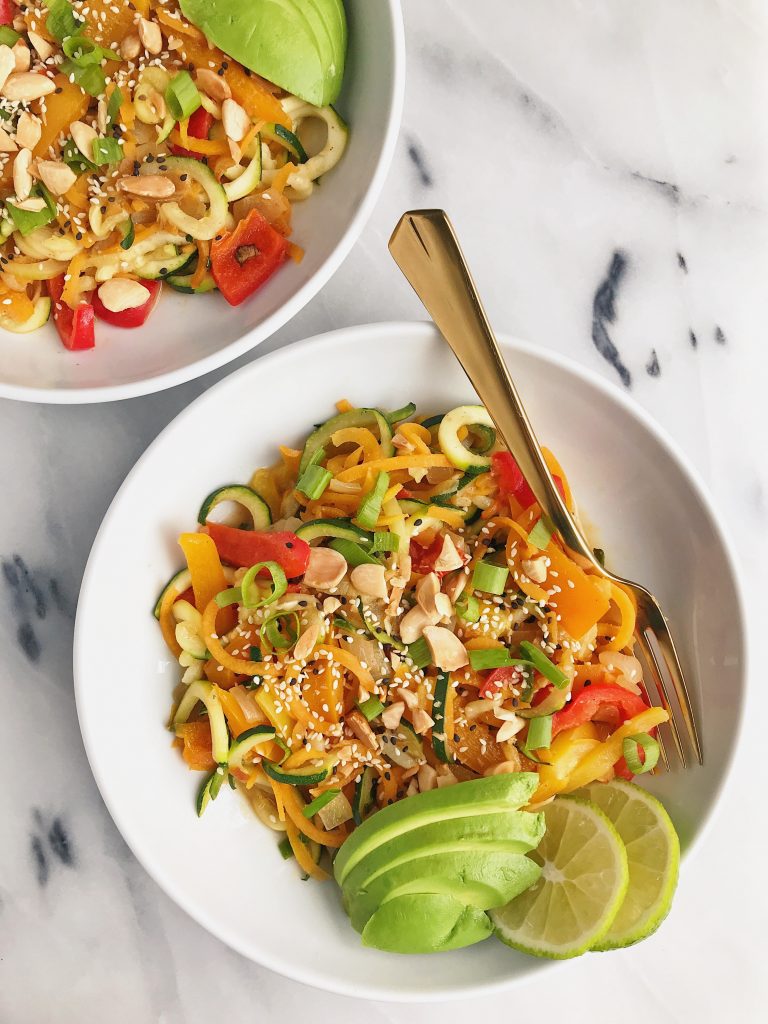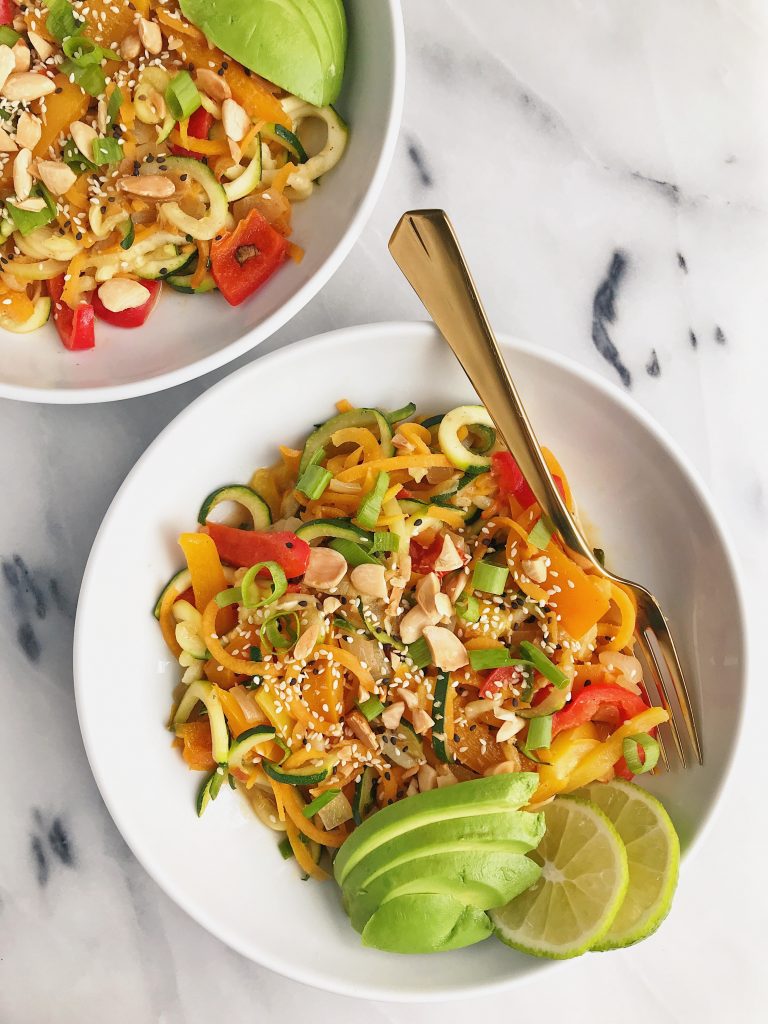 Buffalo Chicken Stuffed Sweet Potatoes are one of Jordan's favorites and a recipe we make often in the winter! Also easy to prep ahead of time and bring to work or school .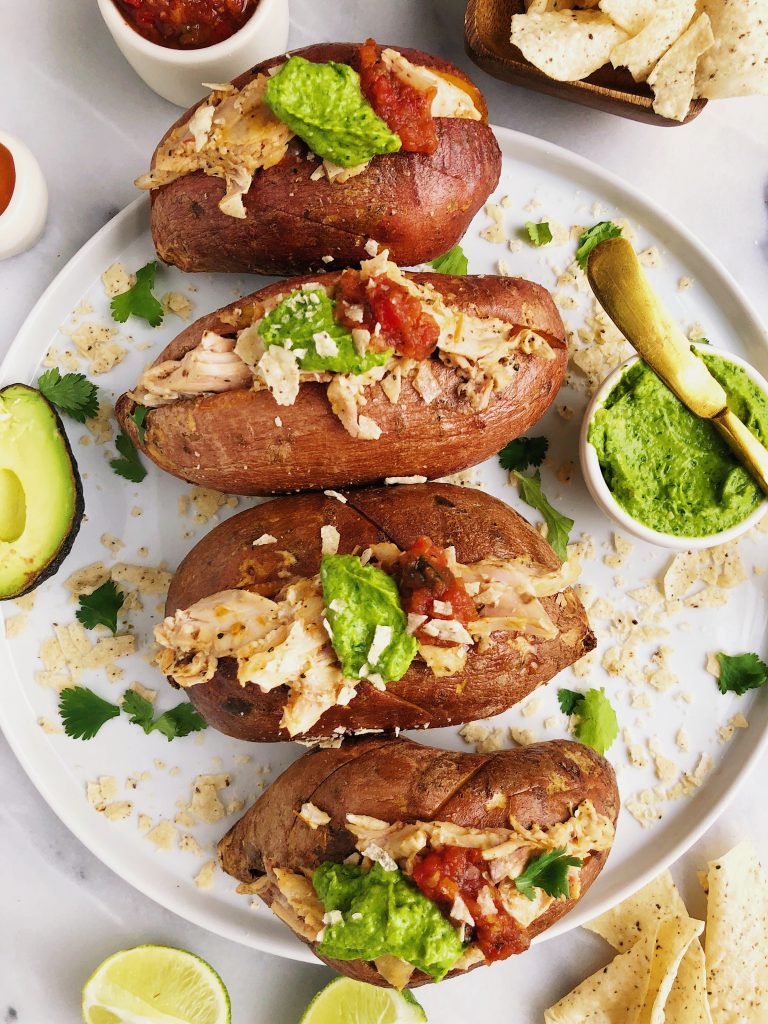 4-ingredient Mini Tuna Cakes are adorable but also delicious finger food and a great appetizer idea to serve!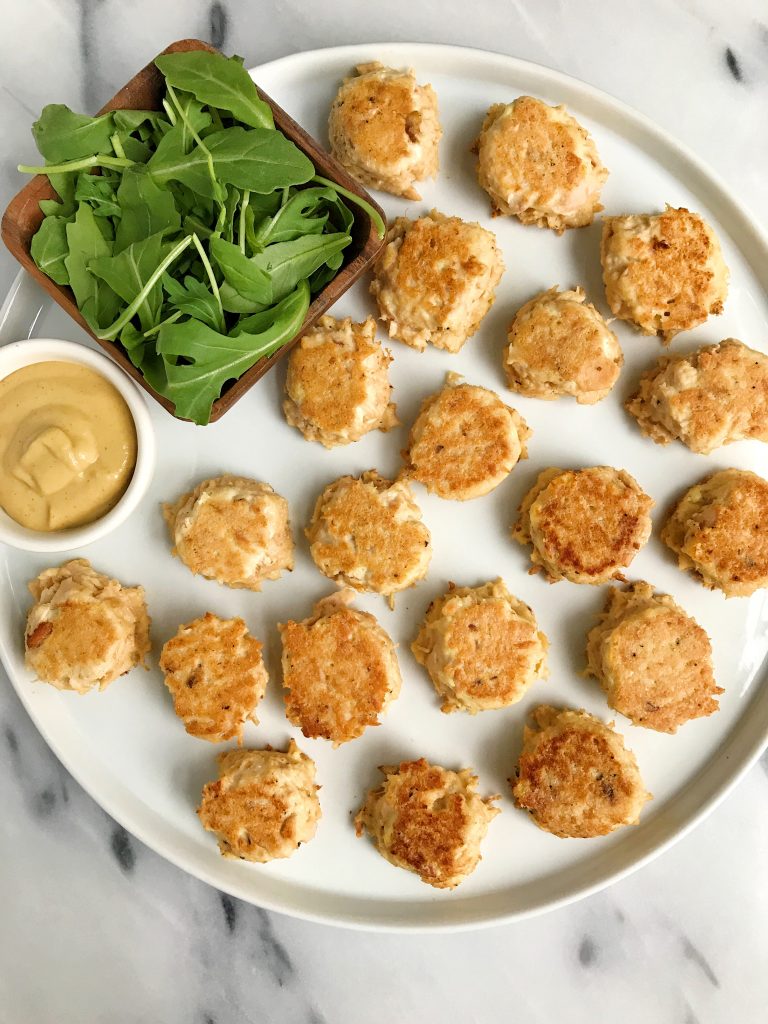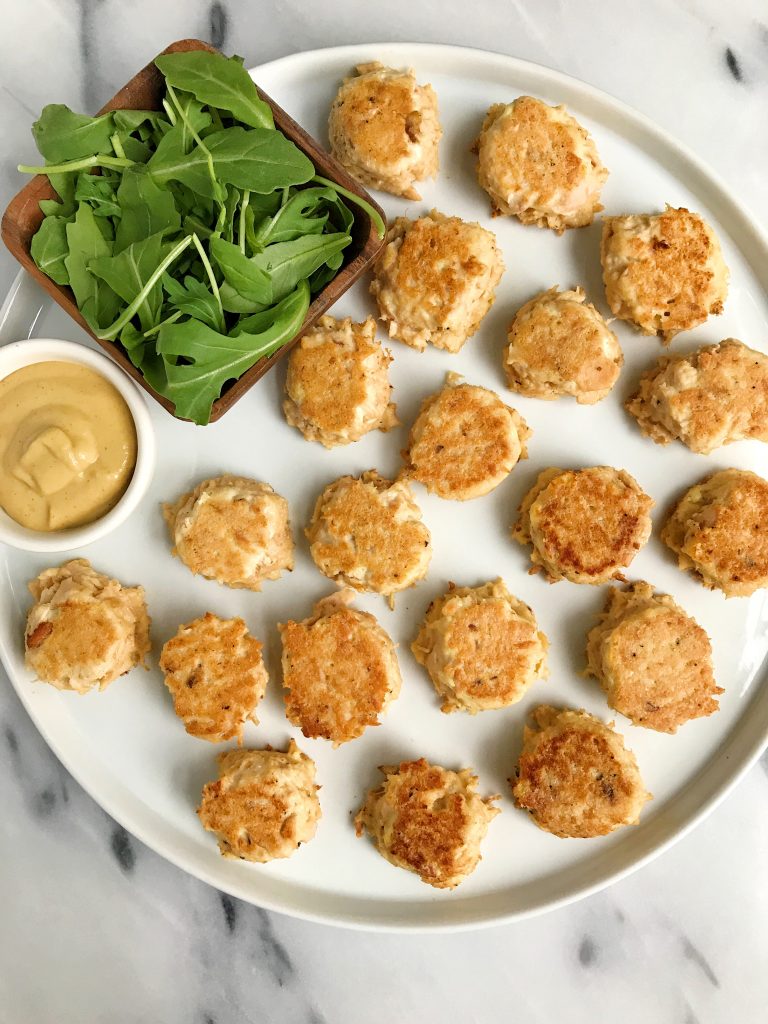 4-ingredient Tuna Avocado Cakesmade me realize there is so much more you can do with tuna besides tuna salad. I love these crispy cakes!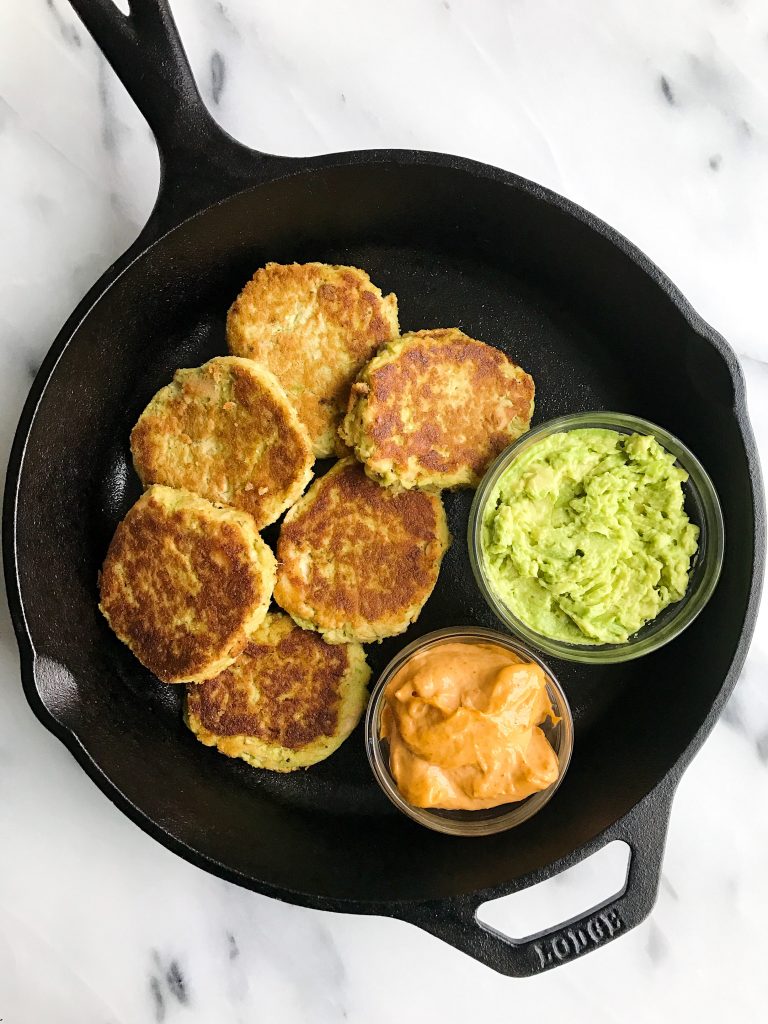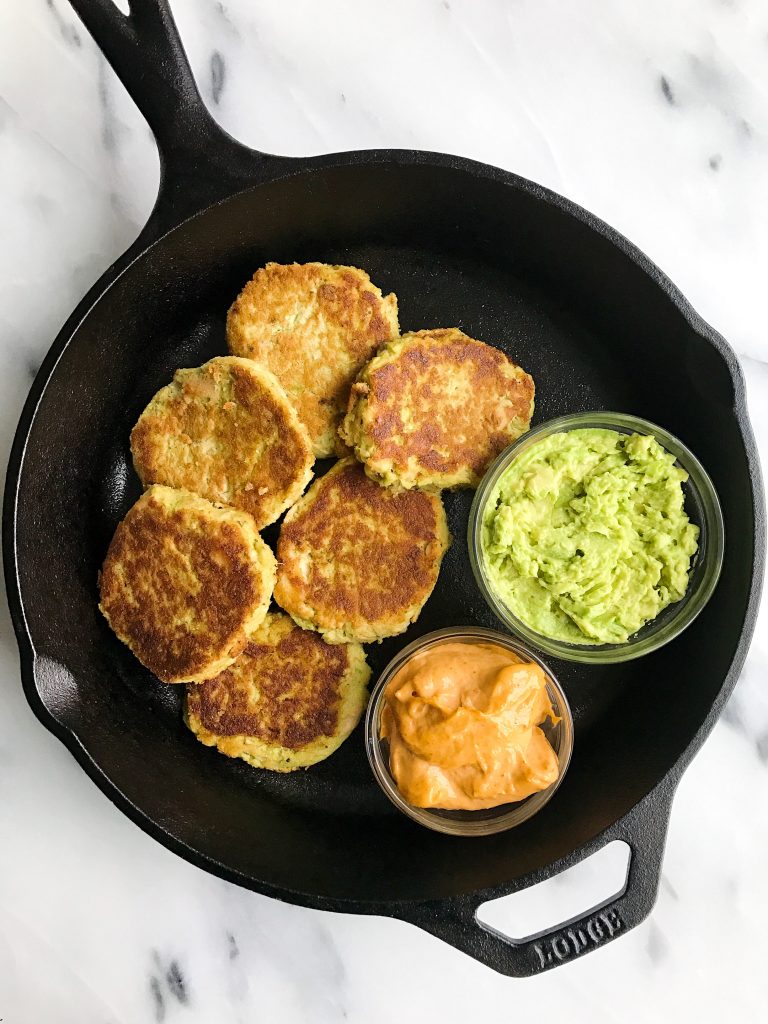 Skillet Turkey Burgers made with Bone Broth happen over here at least once a week. With sweet potato fries, you are golden!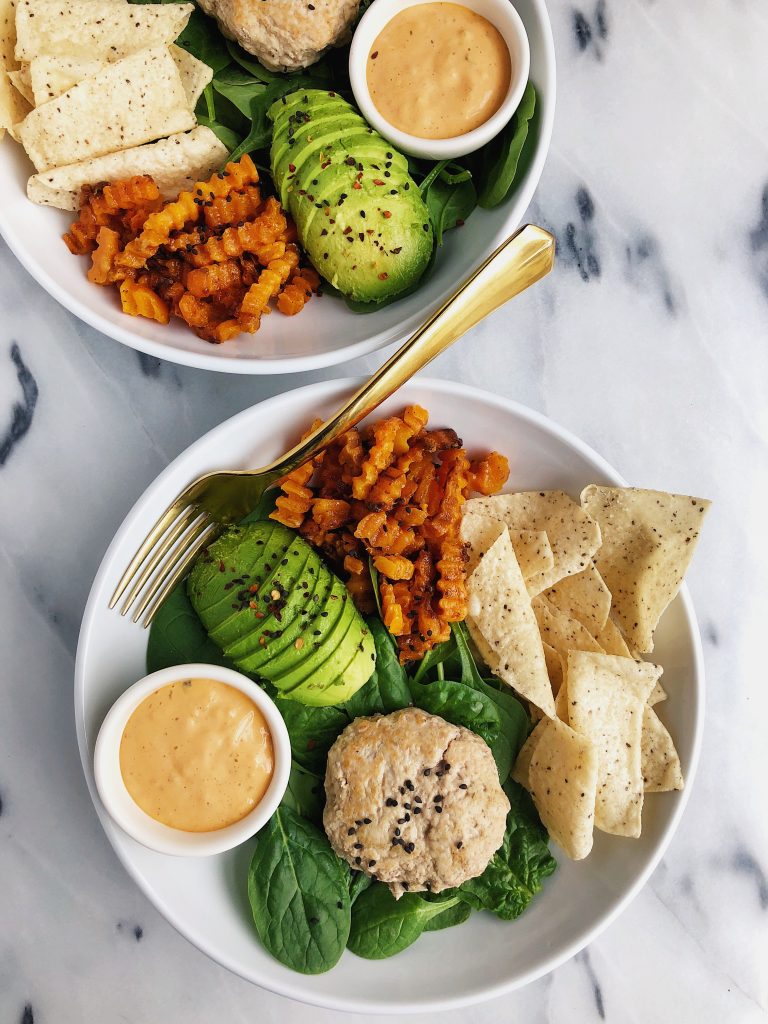 Healthy Homemade Salmon Burgers are great to make. Just ditch the bun and serve over a bed of veggies or greens.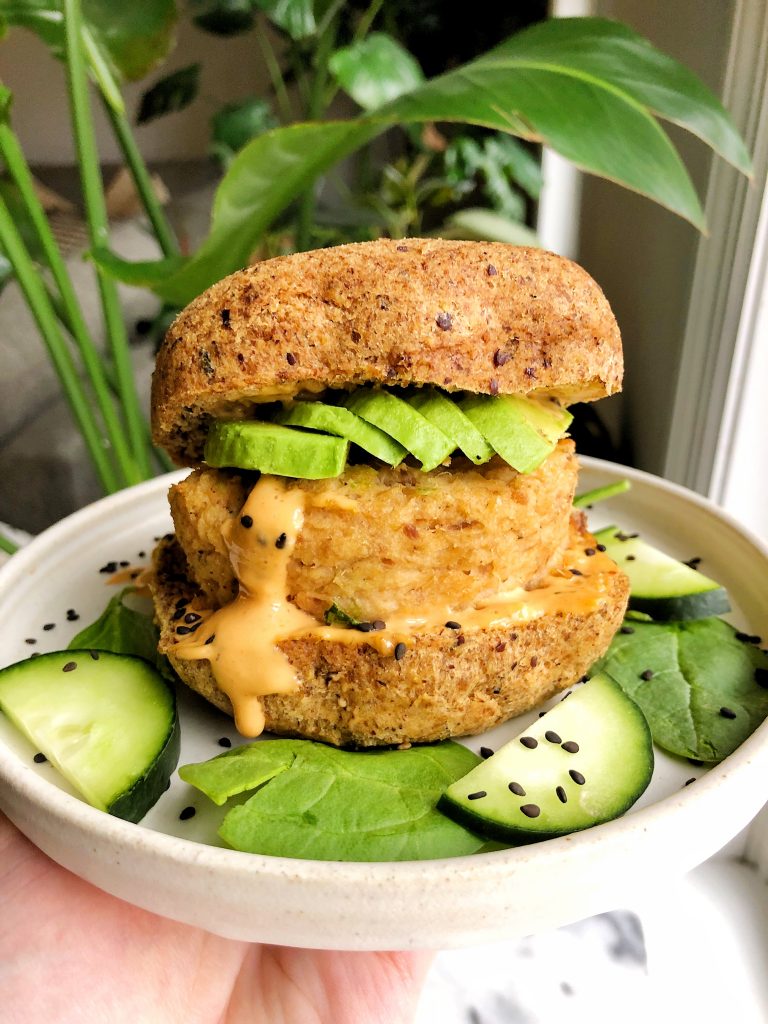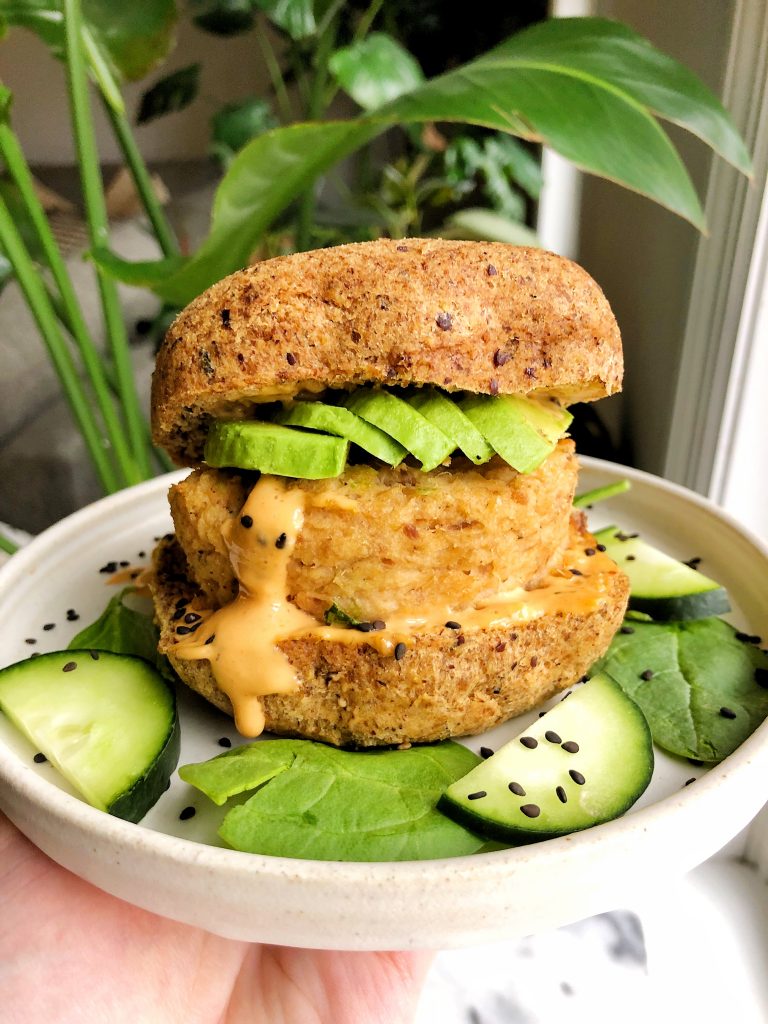 The Best Grain-free Chicken No-Parmesanis quick and easy and something the whole family can eat (just ditch the cheese)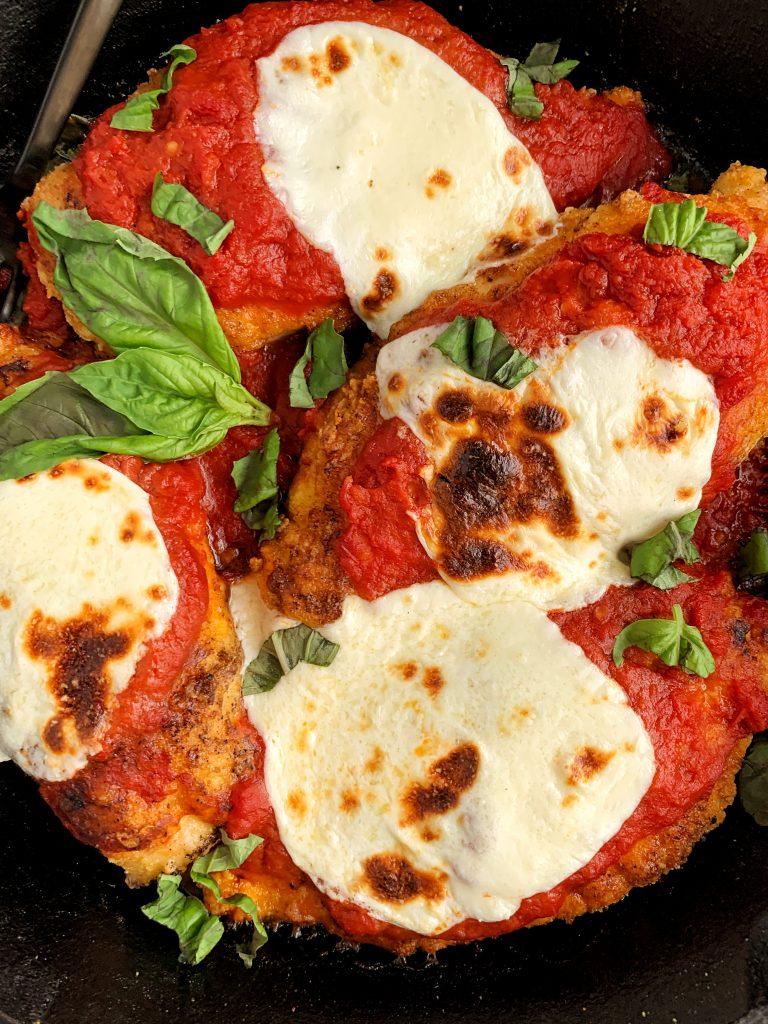 Whole 30 Side Dishes/"Snacks":
My Favorite Air Fryer Japanese Sweet Potato Fries are truly the best homemade fry in the whole world. My favorite ever!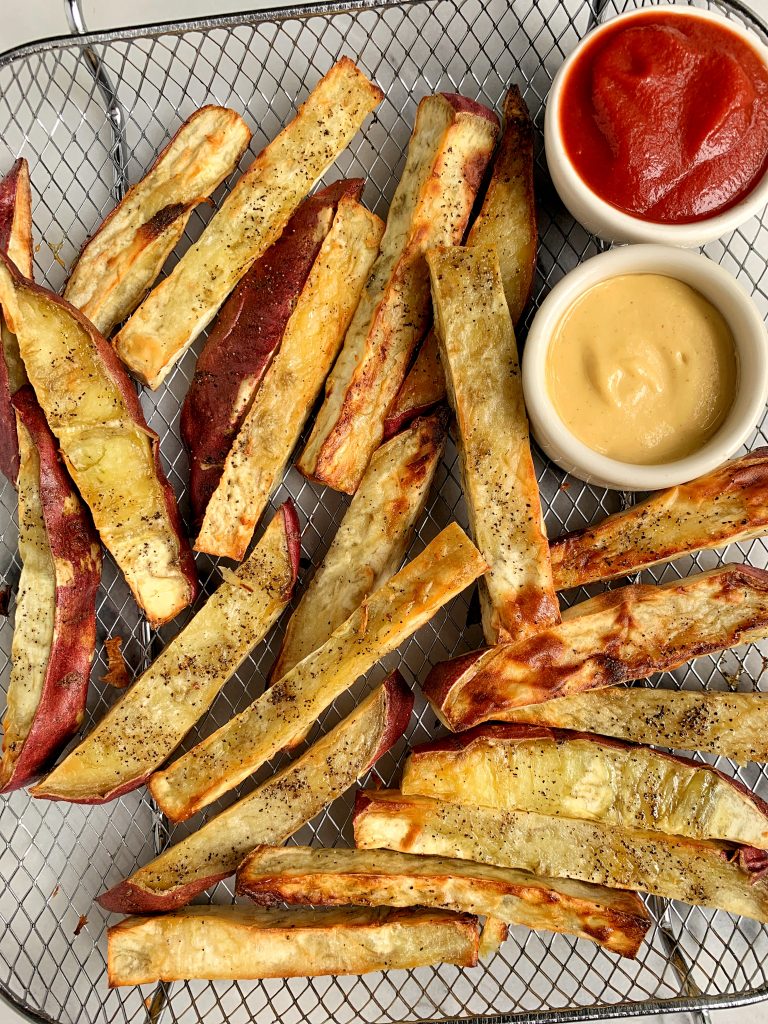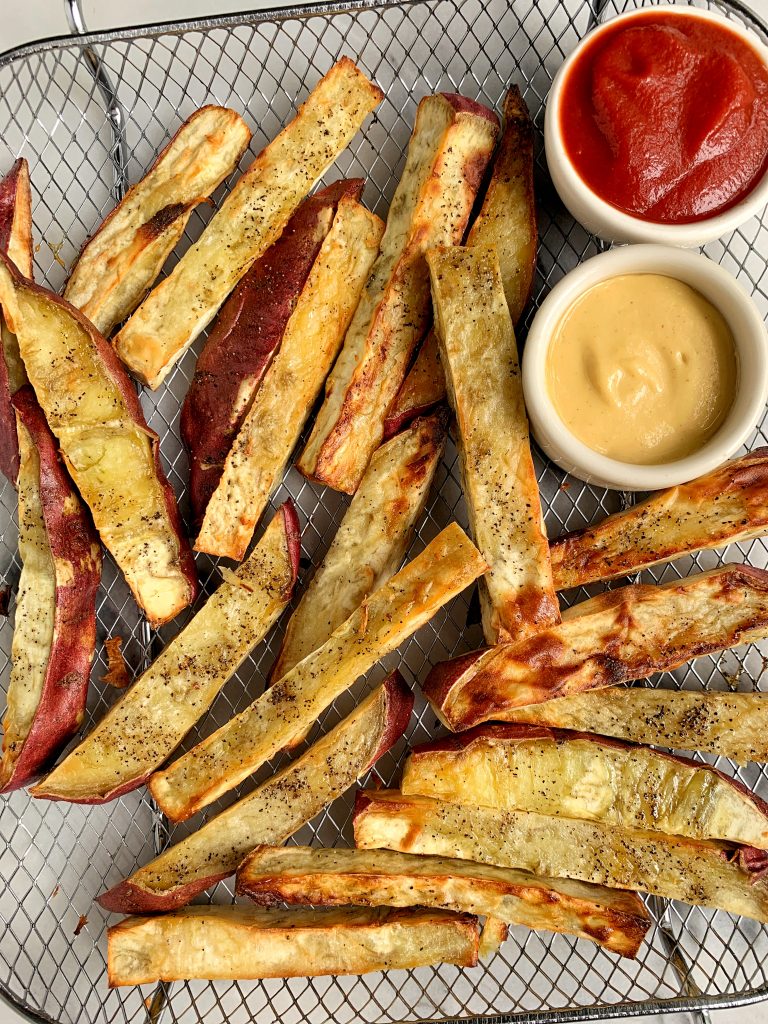 Crispy Garlic Sweet Potato Fries (vegan) take your traditional sweet potato and give it a garlicky crispy twist.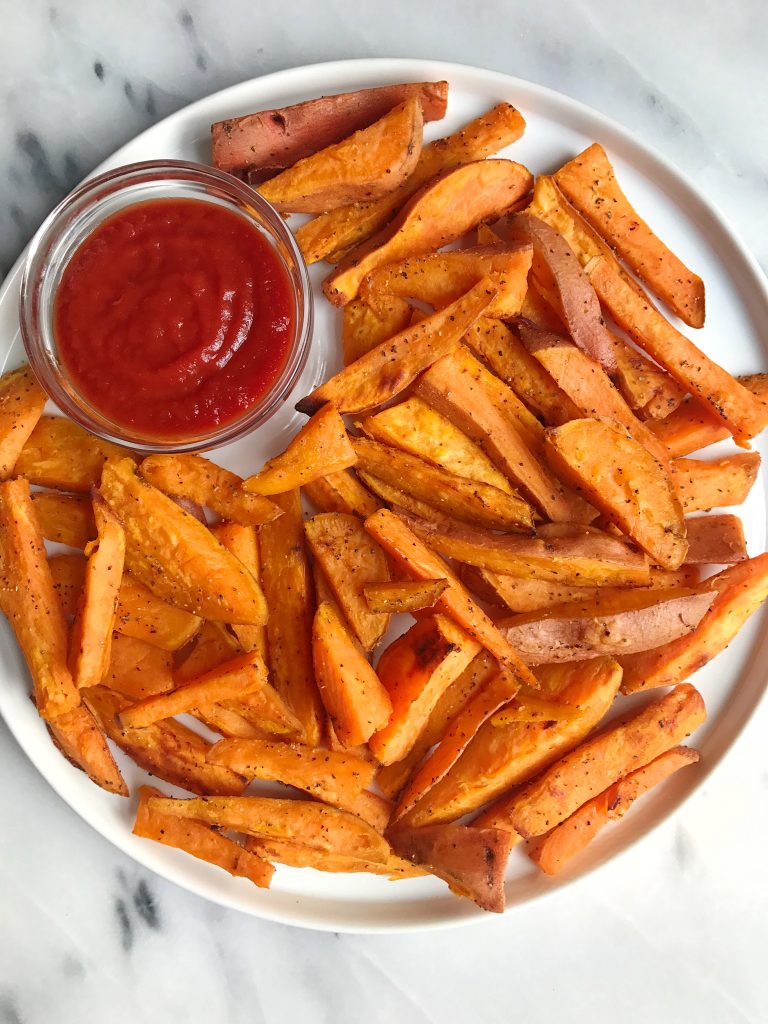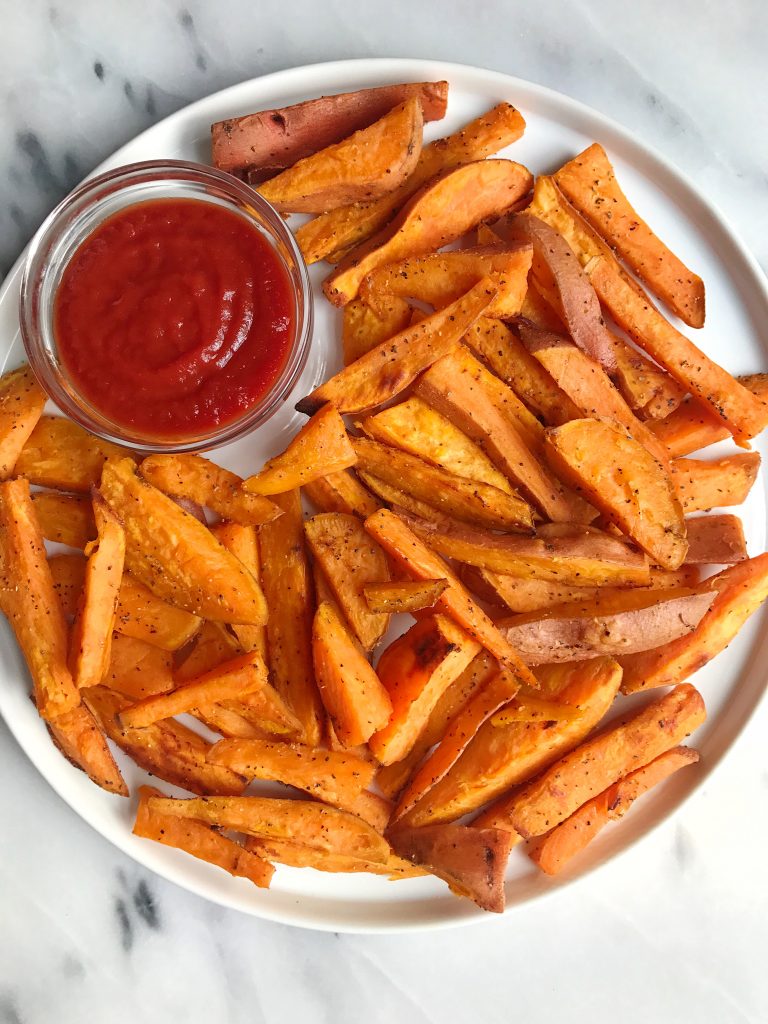 Crispy Whole30 Carrot Fries (vegan) made me realize I actually will eat a carrot if it is in fry form. They are so yummy!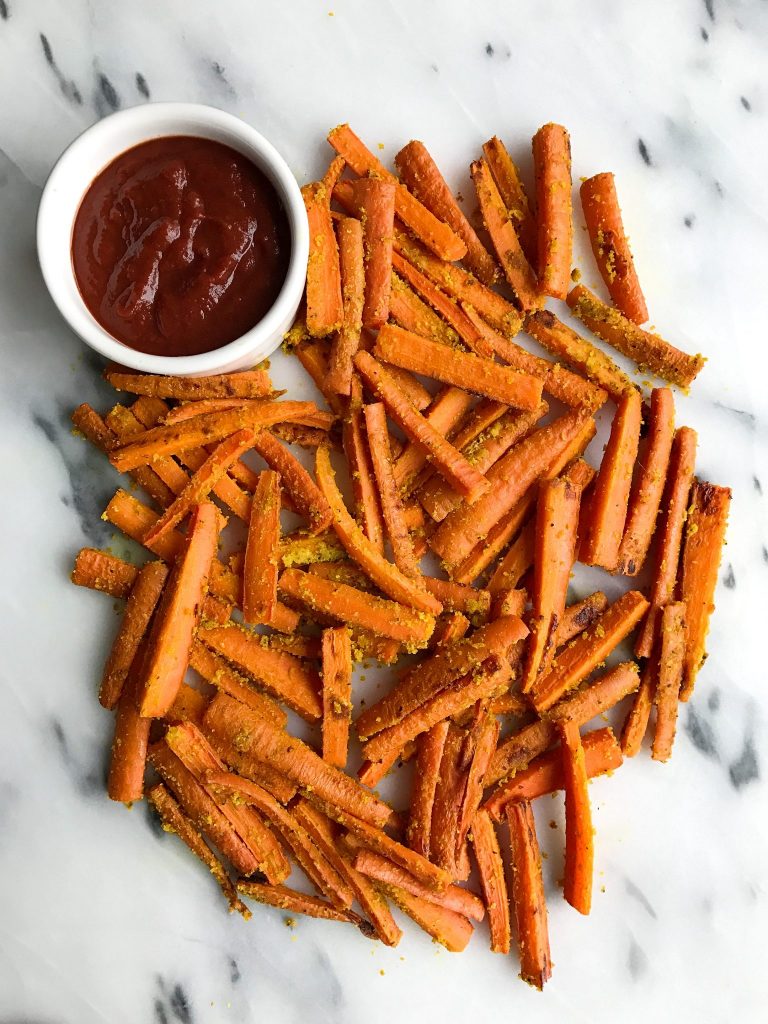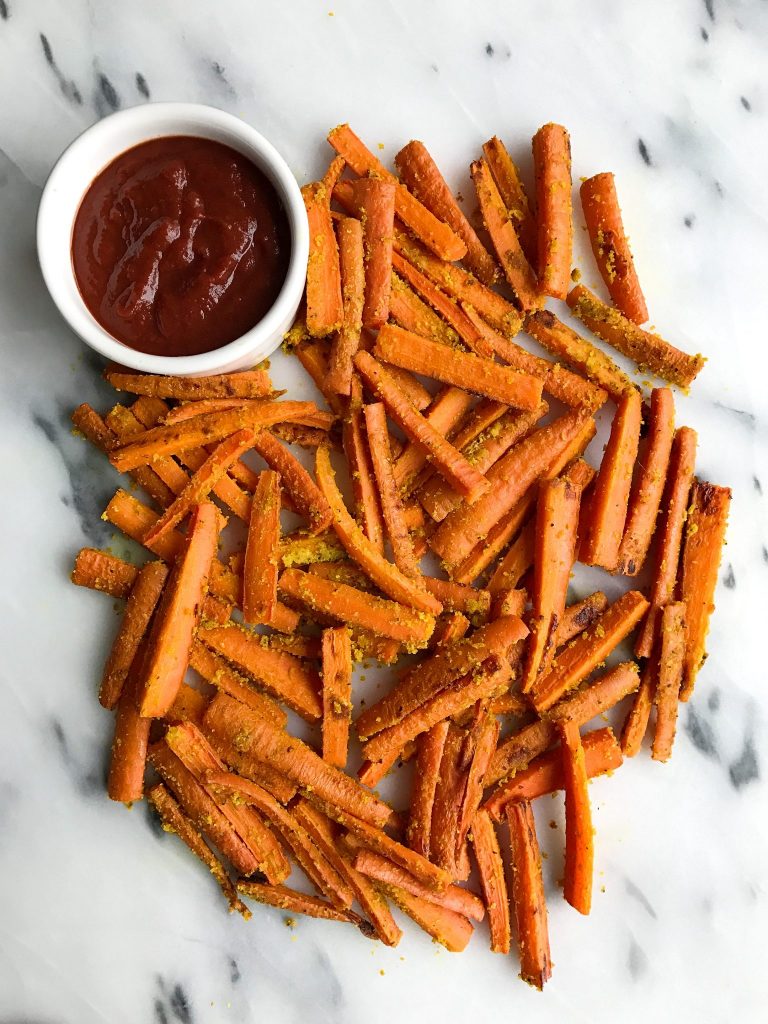 Crispy Baked Thick-Cut Fries with Supergreen Guacamole (vegan) are EPIC. Thick cut fries are life. Dipping in guacamole and OMG.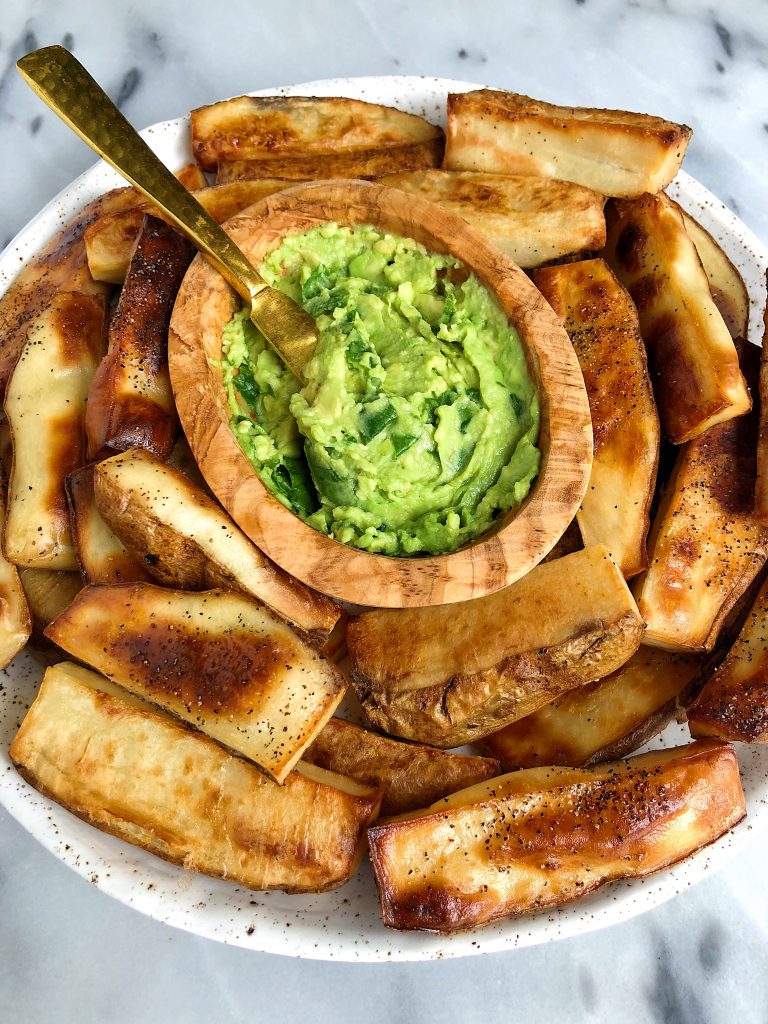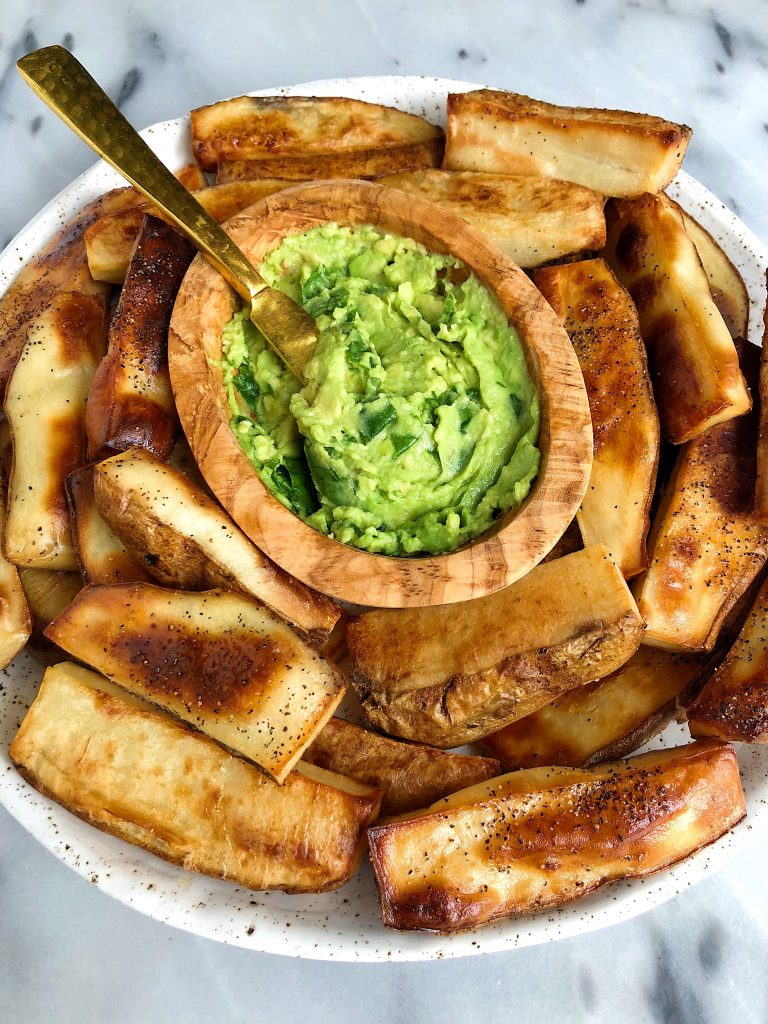 Oven-Baked Everything Bagel Fries (vegan) basically are the closest thing you'll gettoo a bagel on Whole30 but they still taste SO good!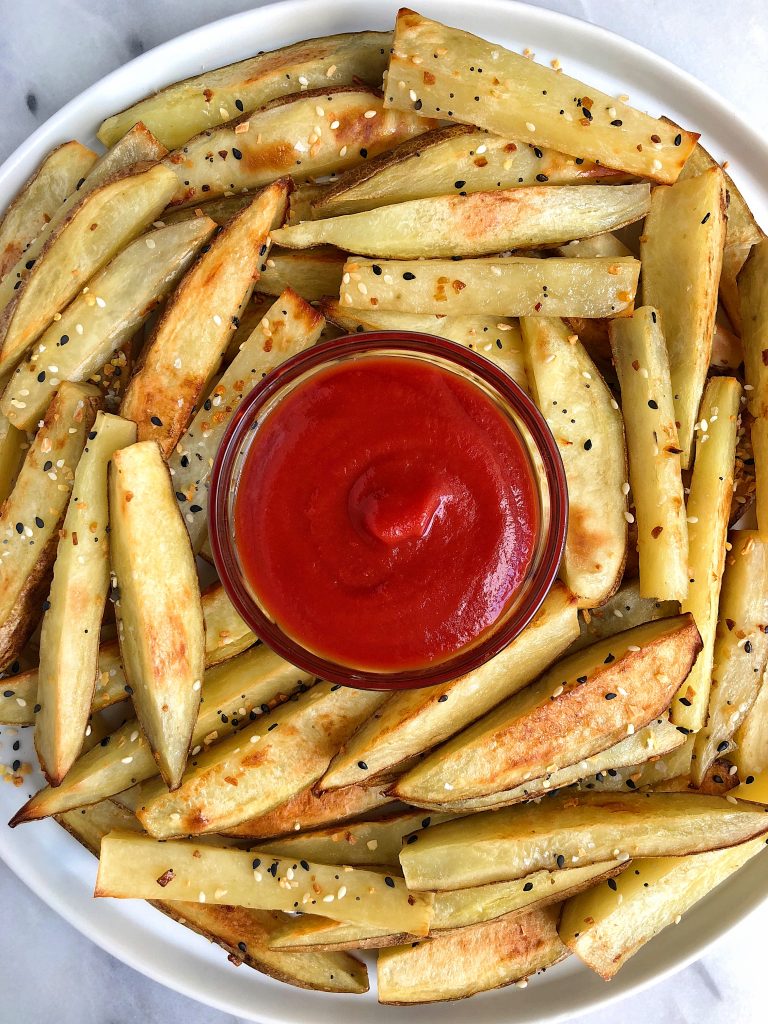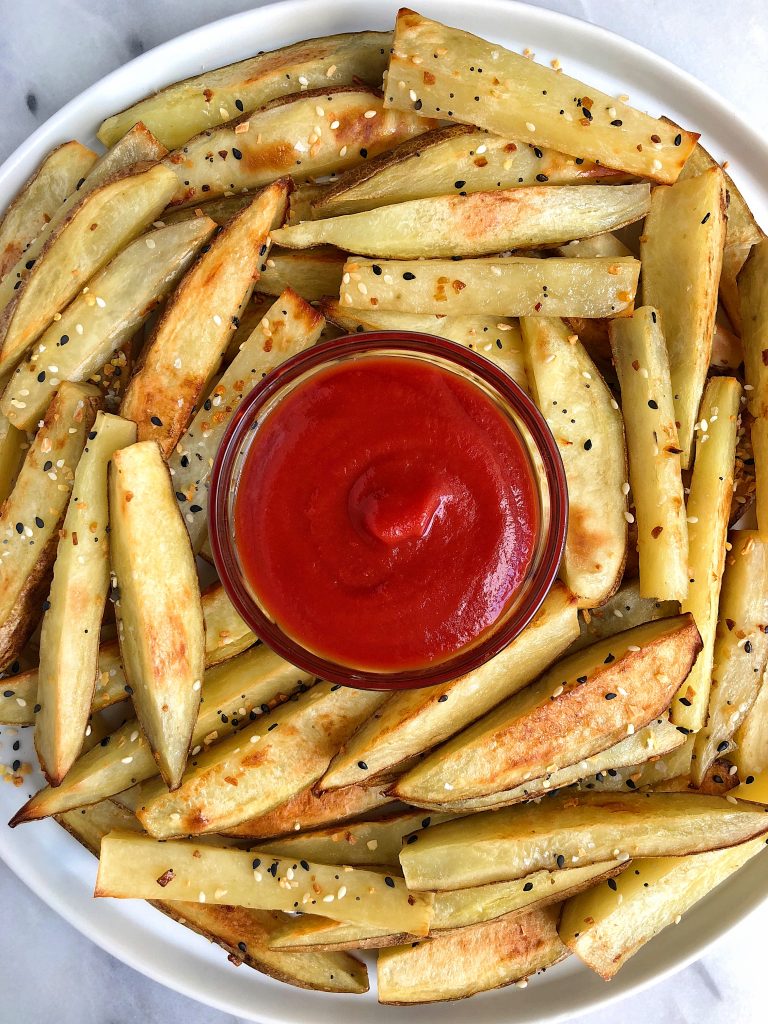 Nutty Coconut Raw Bliss Balls are made with Whole30 ingredients and replace a snack bar of sorts!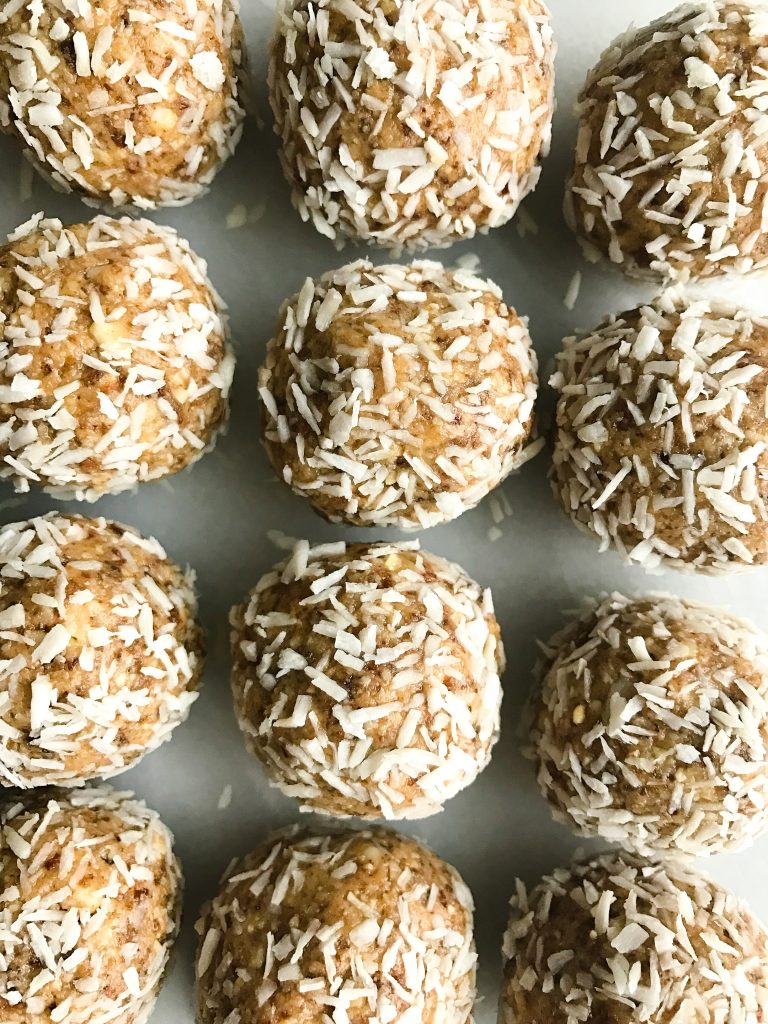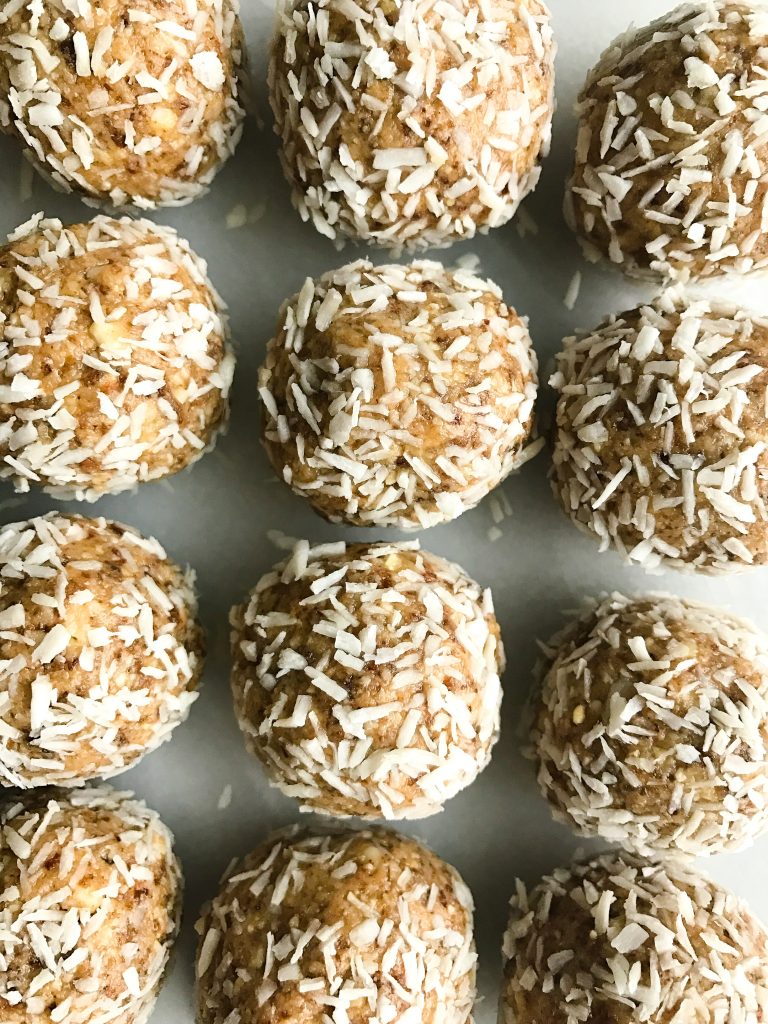 4-ingredient Sweet Potato Hash Brown Cakes are perfect to make for a weekend Whole30 brunch situation or a side dish.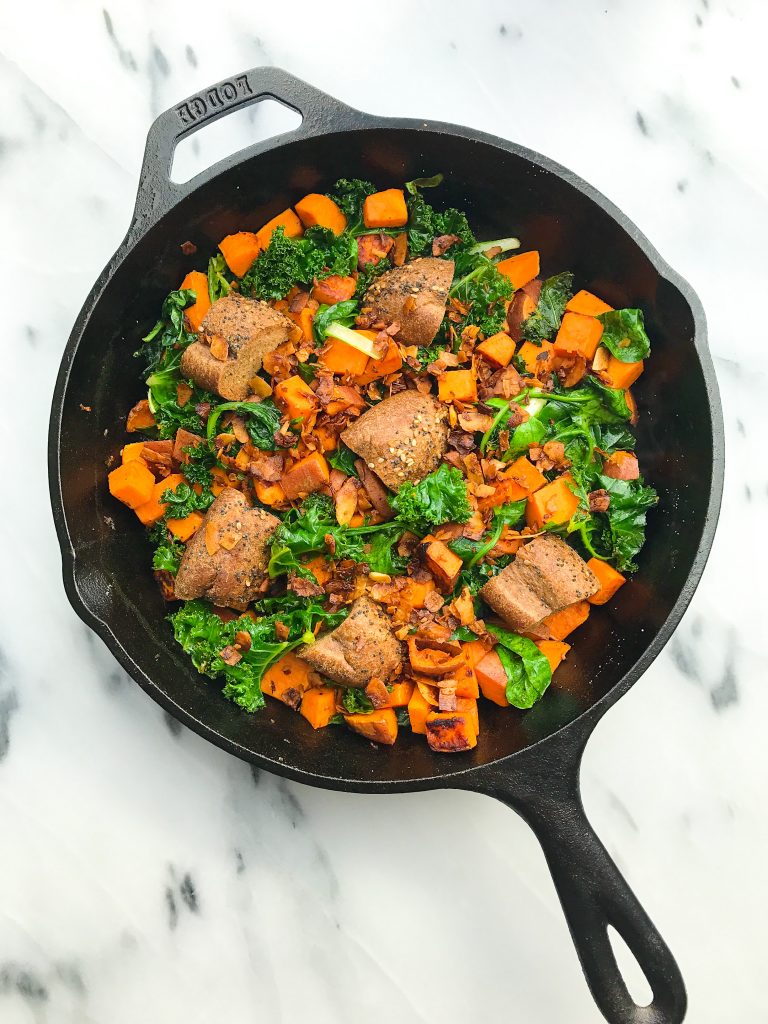 Healthy Baked Sweet Potato Tater Tots dipped in some unsweetened ketchup – HELLO. So good!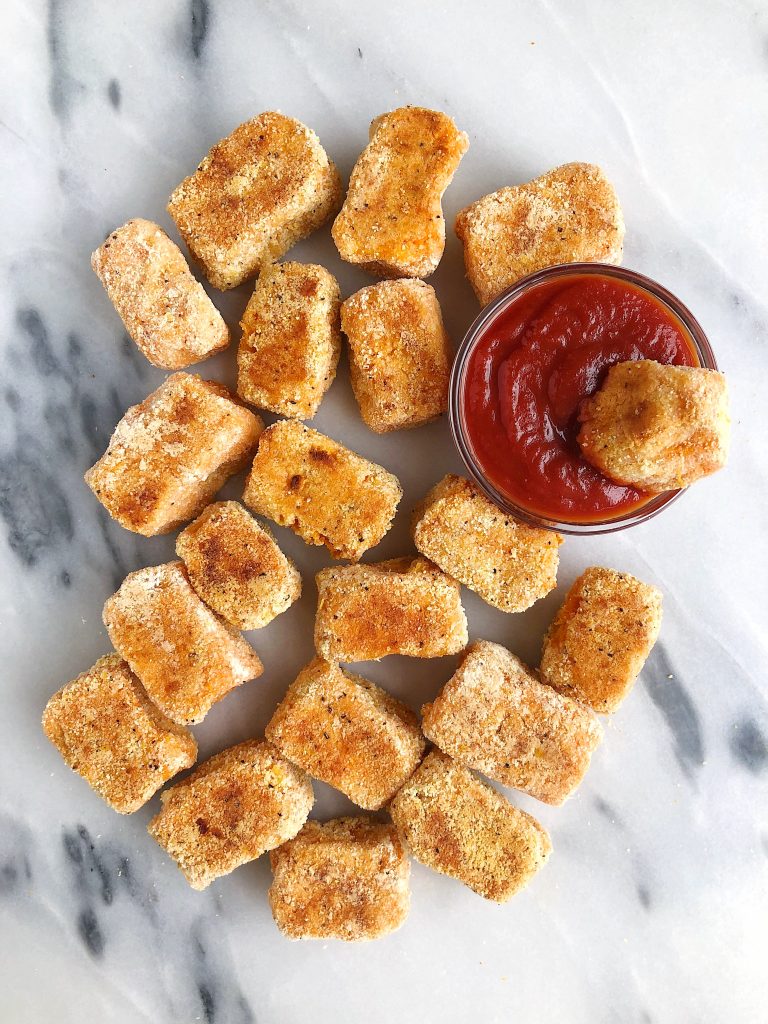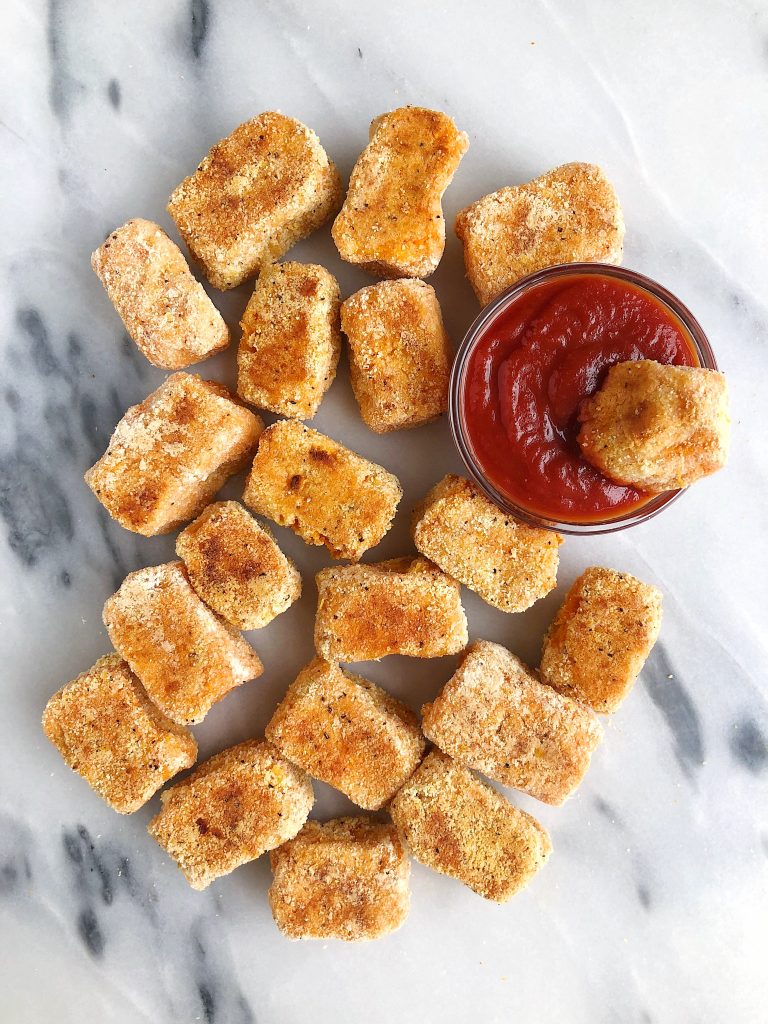 Loaded Crispy Potato Skins (vegan-friendly) are what you'll want to bring to game day festivities. Delicious and simple to whip up.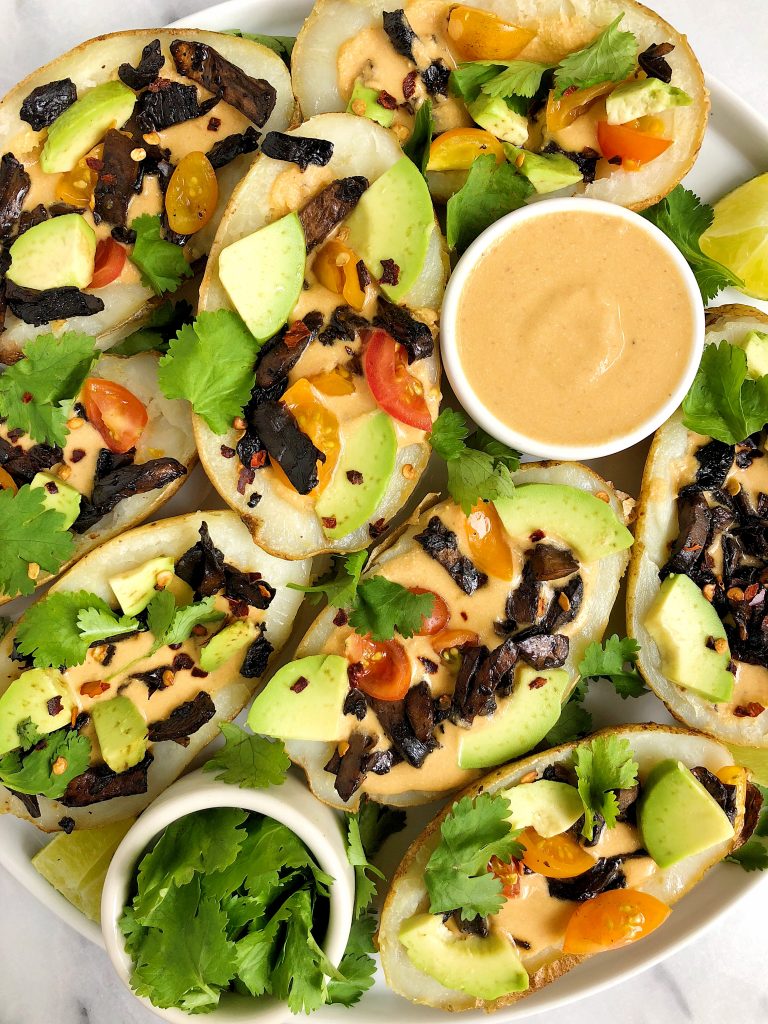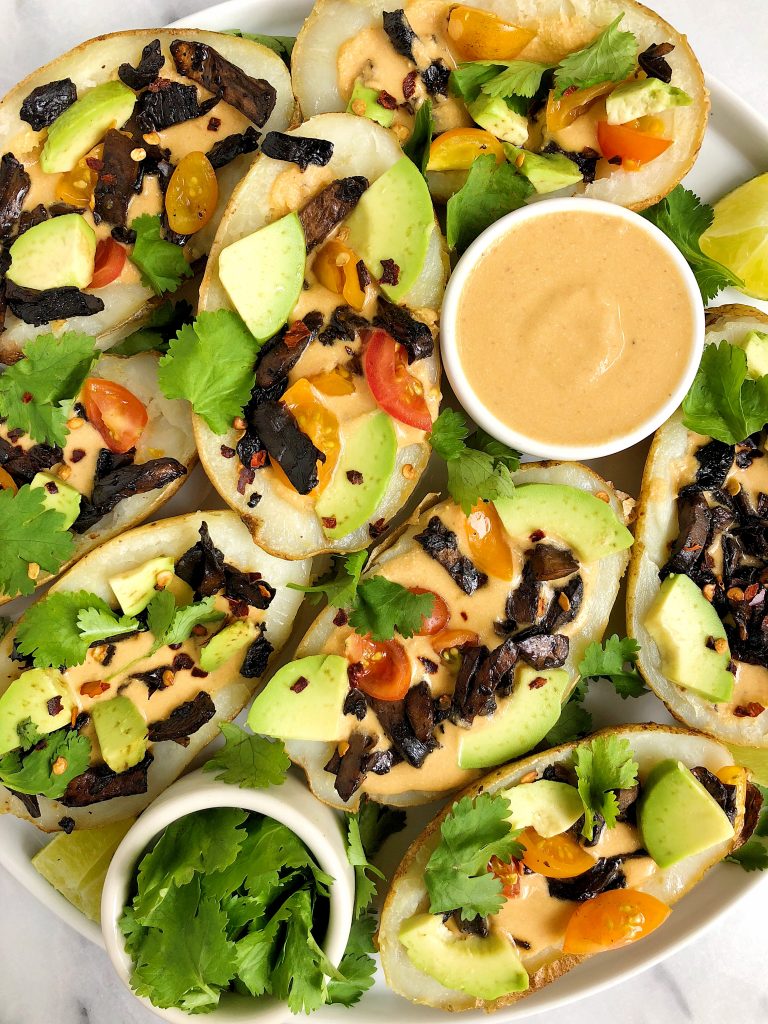 Hasselback Potatoes with Garlic Basil Pesto (vegan)not only look amazing but taste epic. I love how crispy these get and they great dipped in the pesto.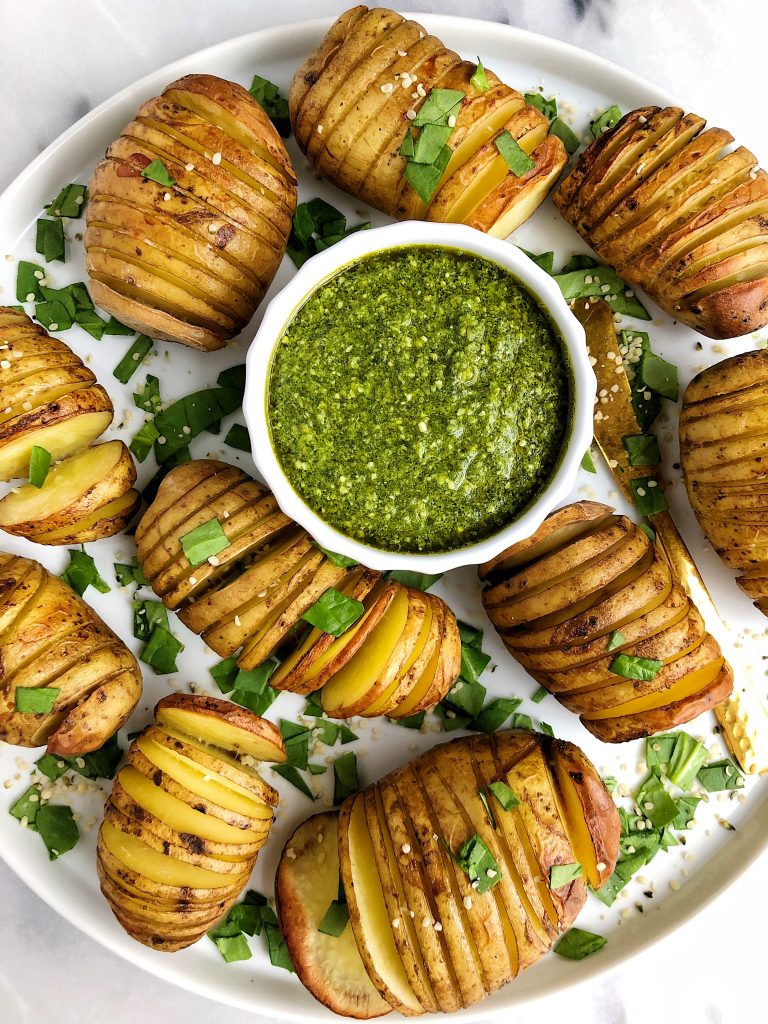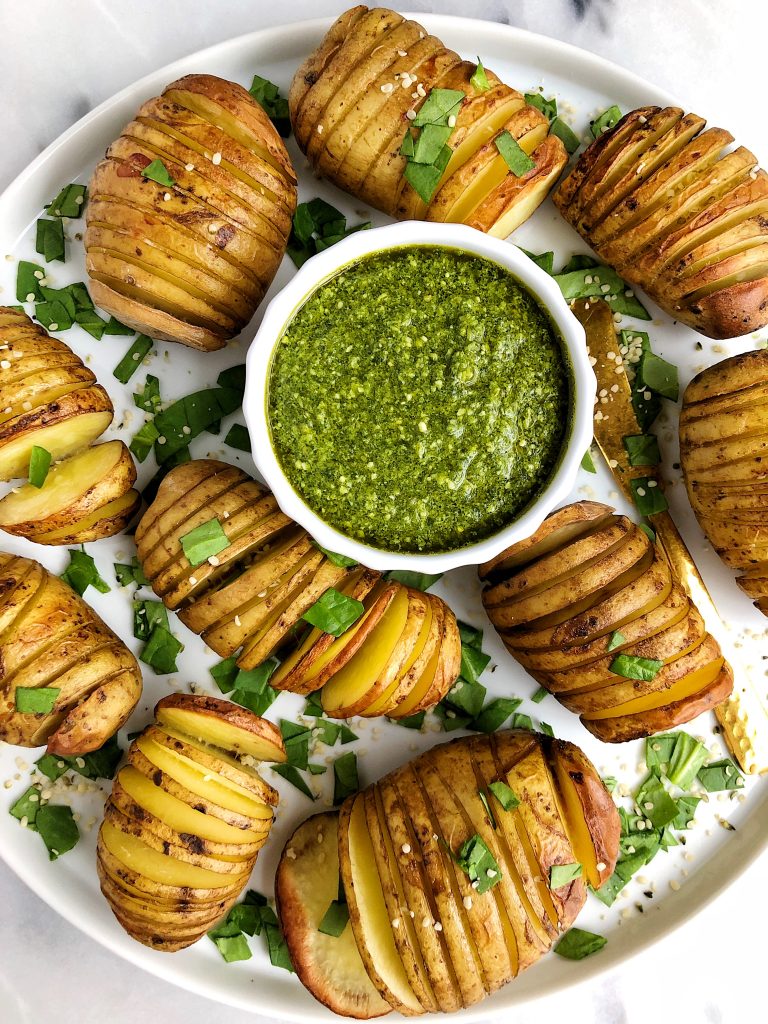 Crispy Spicy Cauliflower Bites (gluten-free + dairy-free) on repeat please. So crispy, so tasty and so good!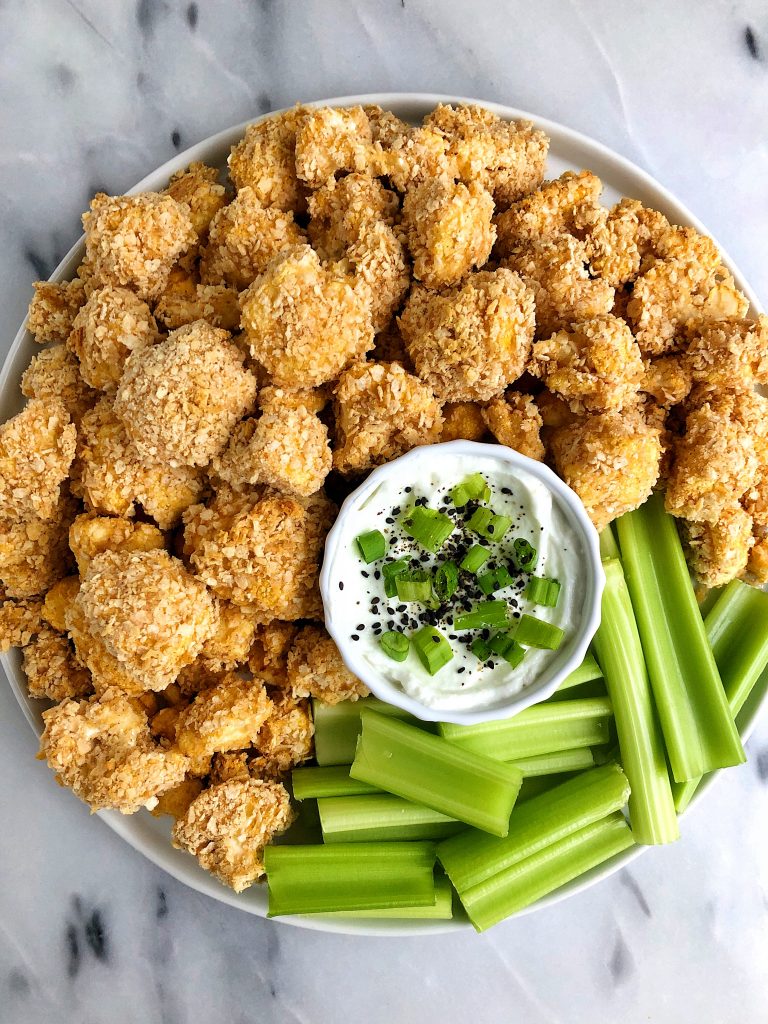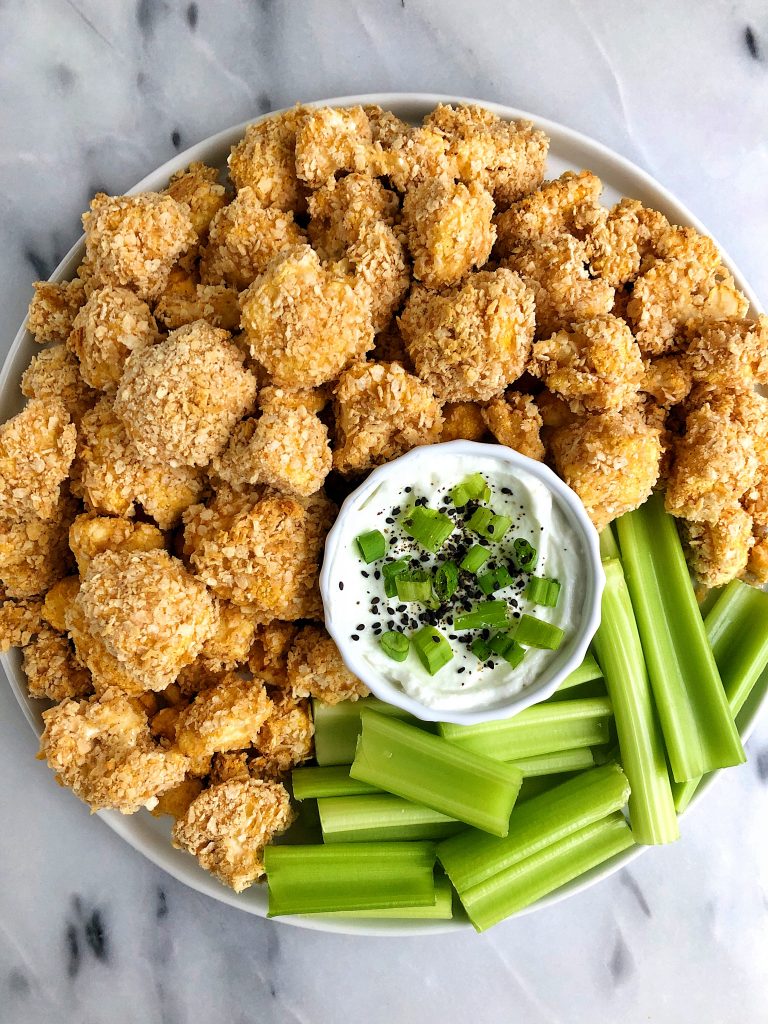 xx, Rach
SaveSave
SaveSave
SaveSave
SaveSave
SaveSave
SaveSave
SaveSave