Whole30 Almond Butter Thai Noodles made with bone broth plus bone broth 101!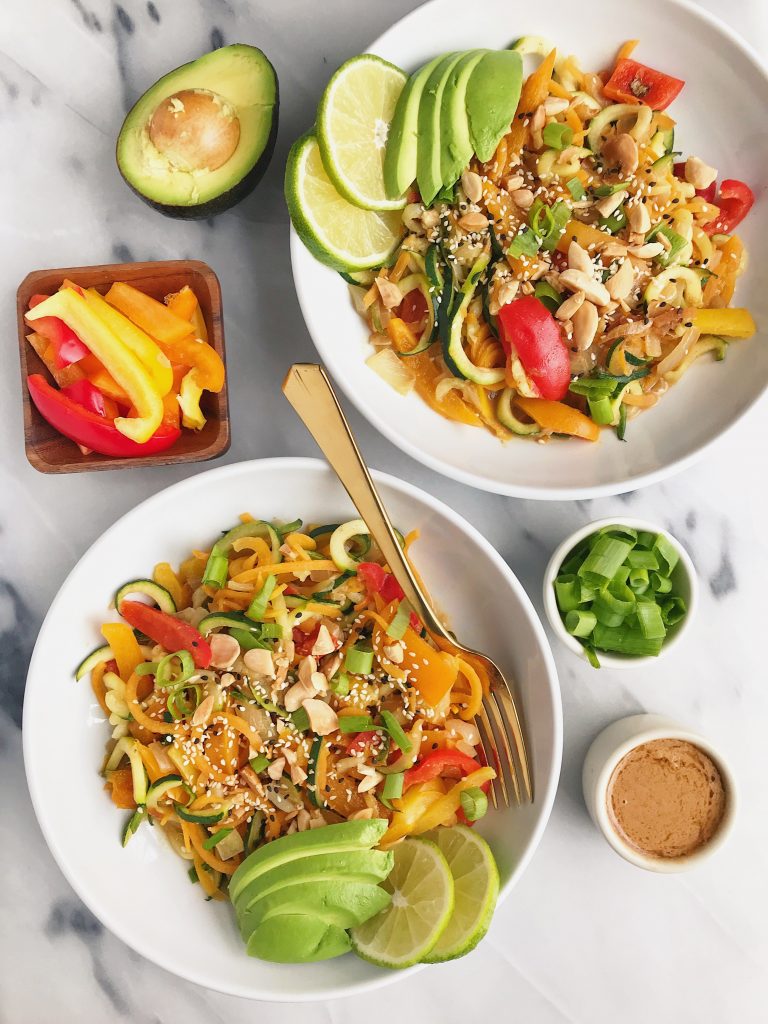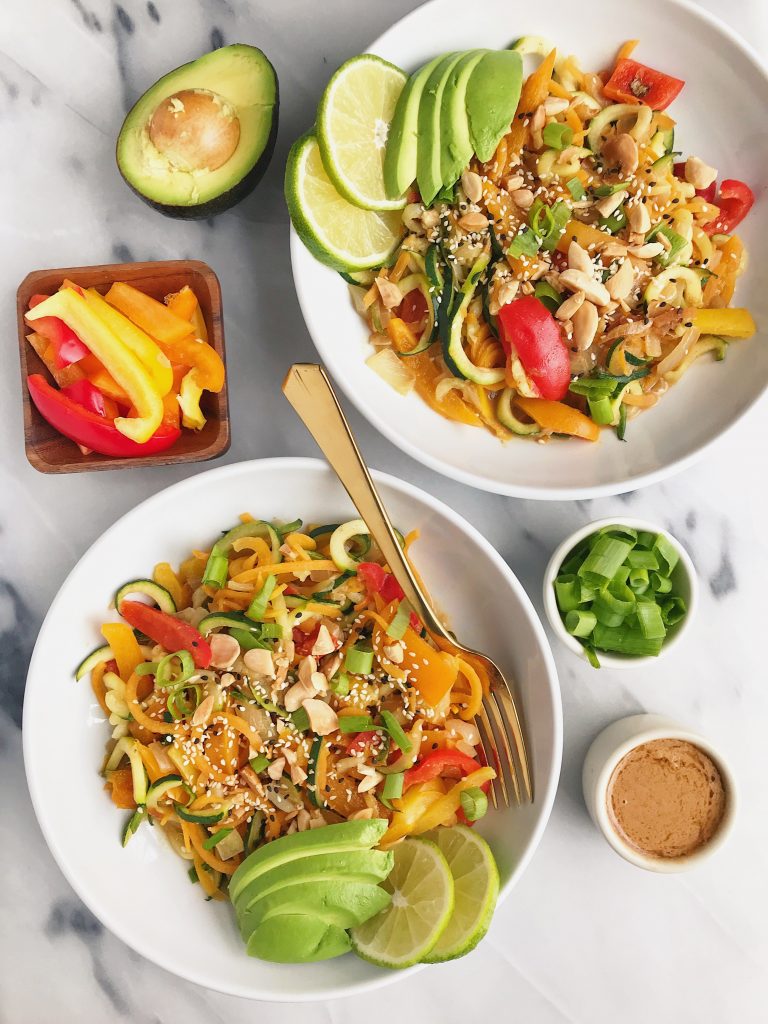 When I made these Almond Butter Thai Noodles, I ate them everyday for a week. I was that obsessed with this bowl.
A zucchini and butternut squash noodle-base, filled with sliced peppers and onions and topped with a creamy almond butter sauce. It was like take-out except 100x healthier and was so easy to make.
This is the kind of recipe that you can prep early on in the week and munch on leftovers for lunch and dinner (aka my favorite). It does require a little prep work with cutting and spiralizing the zucchini and butternut squash, but you can also cheat and buy these veggies already in noodle-form at your local store. I know my Whole Foods sells these and I love getting them when I am in a pinch!
These Almond Butter Thai Noodles could not be more different than the traditional pad thai noodle dish. This meal is Whole30-approved and uses no soy sauce or any extra sugar like many sauces do! In my opinion, adding sugar to things like this isn't necessary. I want sugar in my dessert but not my dinner!
The main star of these noodles is what is in the sauce. And no, I'm not talking the almond butter. I use BONE BROTH!!
I owe a lot to bone broth and particularly Bonafide Provisions for making such an amazing product. You may recall that around this time last year, I started eating meat again. That was because of Bonafide Provisions (more on that here). Bone broth helped me transition into eating meat again and made my body realize how much it was craving that animal protein. After one sip of chicken broth, I was addicted and can confidently say that very little days go by that I don't drink bone broth and eat chocolate in the bath tub (my hour of self care before dinner).
Bone broth can sound pretty intimidating to most and to be honest, I had no idea what it was until I started drinking it and reading more about bone broth. Now I am hooked!
Below I highlight the facts for you babes. I explain the basics of been broth and I hope you find this helpful if you are scratching your head asking why on earth I drink and cook with this. More to come featuring Bonafide Provisions this year and I am so excited!
BONE BROTH 101
What exactly is bone broth?
Bone broth is a nutrient-dense broth that is made from the bones of animals using vegetables, water, apple cider vinegar and of course, bones. It is slow simmered for 24 hours to maximize the nutrients by producing gelatin from collagen-rich joints and the minerals from the bones are found in the broth.
What do I drink and use bone broth instead of regular veggie or chicken broth?
Since bone broth has more vitamins and minerals compared to regular broth, I use this more often than regular broth. It has helped with my gut and helps settle any weird stomaches for me. Also since it has collagen in it (and you know I love collagen), it helps improve joint health and digestion and reduce inflammation, healthy skin, etc. (these aren't claims I am making, just benefits I have personally seen for myself and others).
How do you use and heat up bone broth?
I heat a cup of broth up daily to drink from a mug. I also use it in recipes, which I will be sharing here on the blog! You can make soups with it or really anything you'd use regular broth for. What I love about Bonafide's broths is they actually taste amazing just straight up! I heat it up in a small sauce pan and bring to a low boil then simmer for a few moments. I have heard overheating or boiling can strip the nutrients from the broth.
Is bone broth a meal replacement?
ABSOLUTELY NOT. Just like how I don't juice cleanse, I do not drink broth all day instead of meals. While it does have a great amount of nutrients, I would be hungry and cranky. It is an addition to my daily beverage consumption, not a replacement for food.
Do you make your own bone broth?
Nope! There are certain things I love to make but I like to leave some things up to the experts like Bonafide Provisions. I know some people have tried making it at home but I personally buy it to save time (24 hours of simmering is no joke!)
What is the best way to store bone broth?
I purchase Bonafide Provisions bone broth from the store and leave it in the fridge or freezer in their packaging. They say it is OK in the fridge for a week so when I stock up, I leave it in the freezer. They have instructions on how to defrost as well over on their site.
Where can I find bone broth in the store?
Bonafide Provisions is sold in the freezer section! I was walking the aisles with other broths looking for it at first but it is sold in the freezer section! You can also ask your local store as well to carry it if it isn't there.
Why do you drink Bonafide Provisions?
Just like anything else I consume, I want to make sure I am using quality ingredients. I trust Bonafide Provisions and absolutely love the taste of their product. The meat and ingredients for their products are sourced from pasture raised animals and independently owned small family farms. The animals are never given antibiotics or hormones. All of their products are organic as well except for the Frontier Blend since sourcing certified organic lamb and bison bones can be challenging (more on that here).
Which flavor bone broth is your favorite?
My personal favorites to drink straight out of the mug are chicken and turkey! As well as the drinkable veggie blends from Bonafide Provisions. I love cooking with the beef and Frontier Blend one. They are all truly delicious but if you are new to bone broth, I recommend the chicken, turkey or drinkable veggies to start.
Are there benefits to drinking beef bone broth versus chicken bone broth?
As I mentioned earlier, I personally favor the taste of chicken or turkey bone broth over beef when it comes to drinking it. Beef bone broth has a hearty flavor, while chicken is more mild. You can't go wrong with either type for health benefits but there are a few differences I have learned. Chicken bone broth has high omega-6 ratio, high protein and beef bone broth is higher in minerals. Just like getting different benefits from eating different types of meat, there will be different benefits to drinking different bone broths!
Now for these Whole30 Almond Butter Thai Noodles, let's go to town friends!
WHAT YOU NEED
Zucchini
Butternut squash
Peppers
Onion
Scallions
Almonds
Sesame seeds
Almond butter
Bonafide Provisions Chicken Bone Broth
Sesame oil
Coconut flour
Coconut aminos
Apple cider vinegar
Garlic cloves
Lime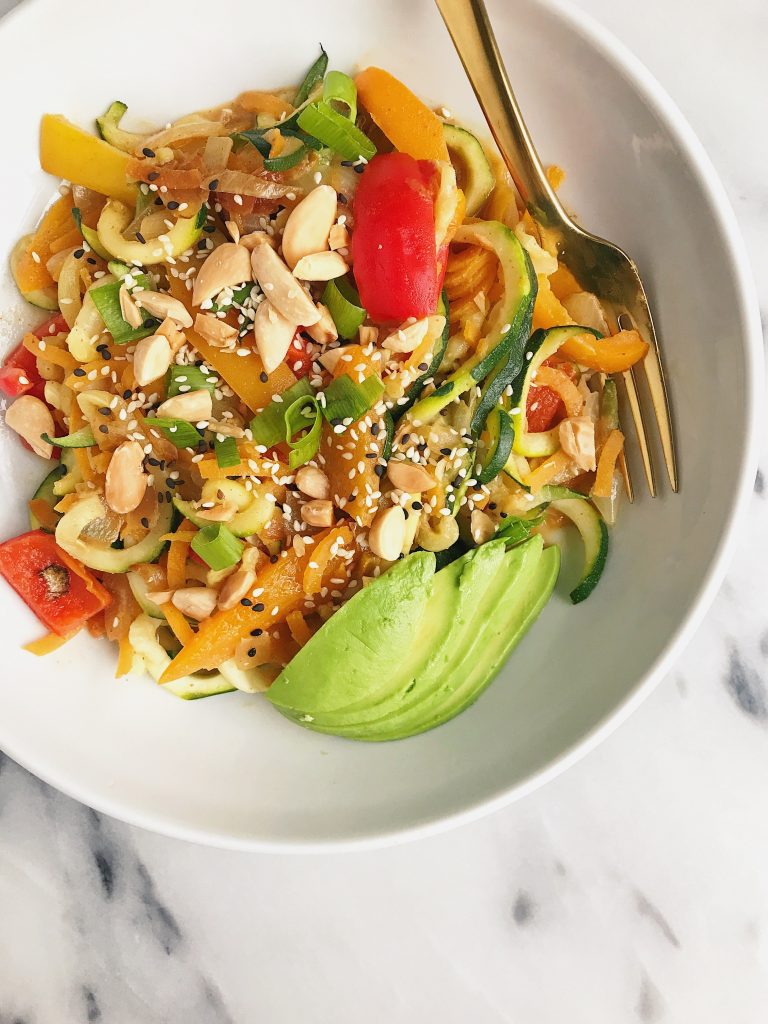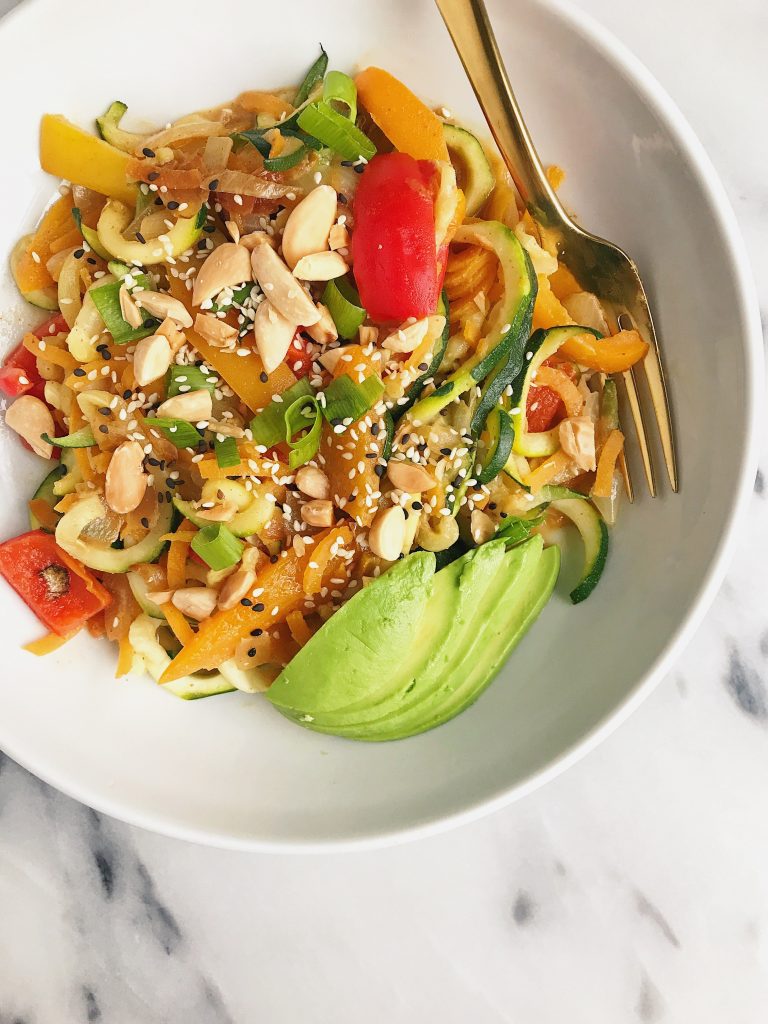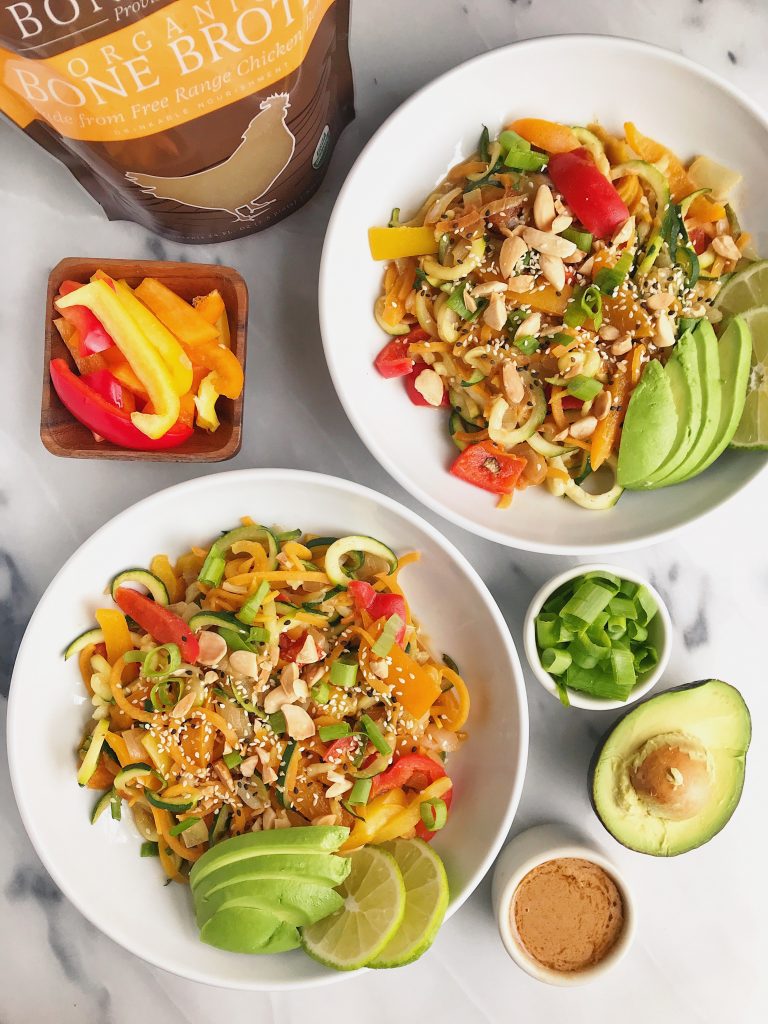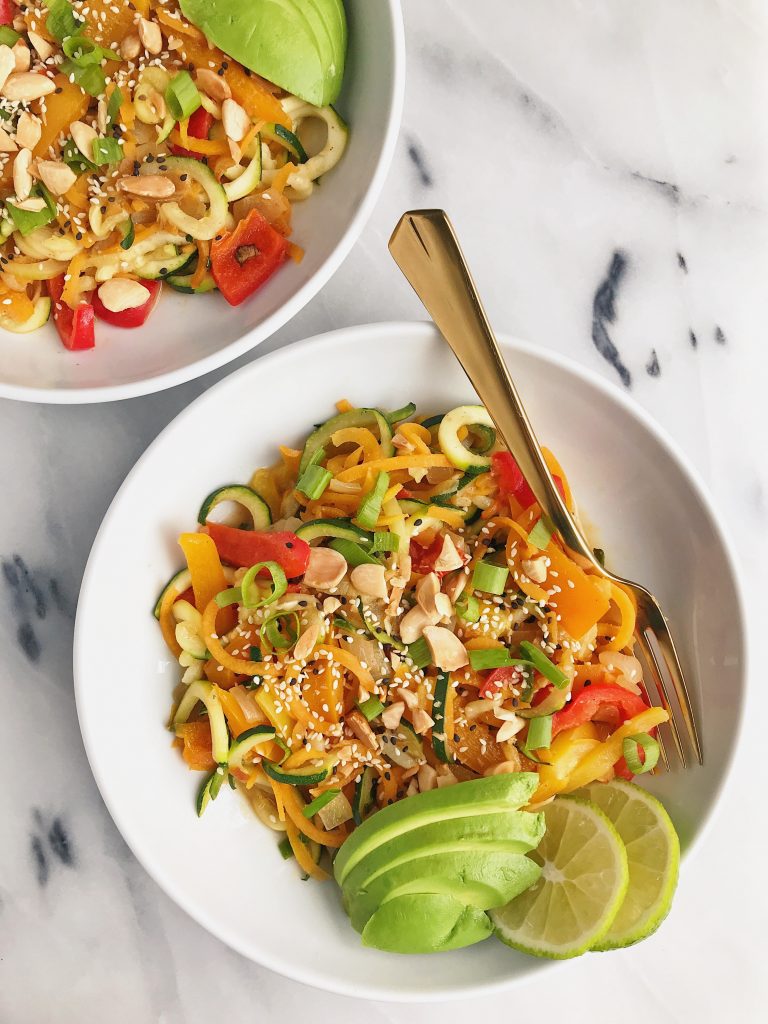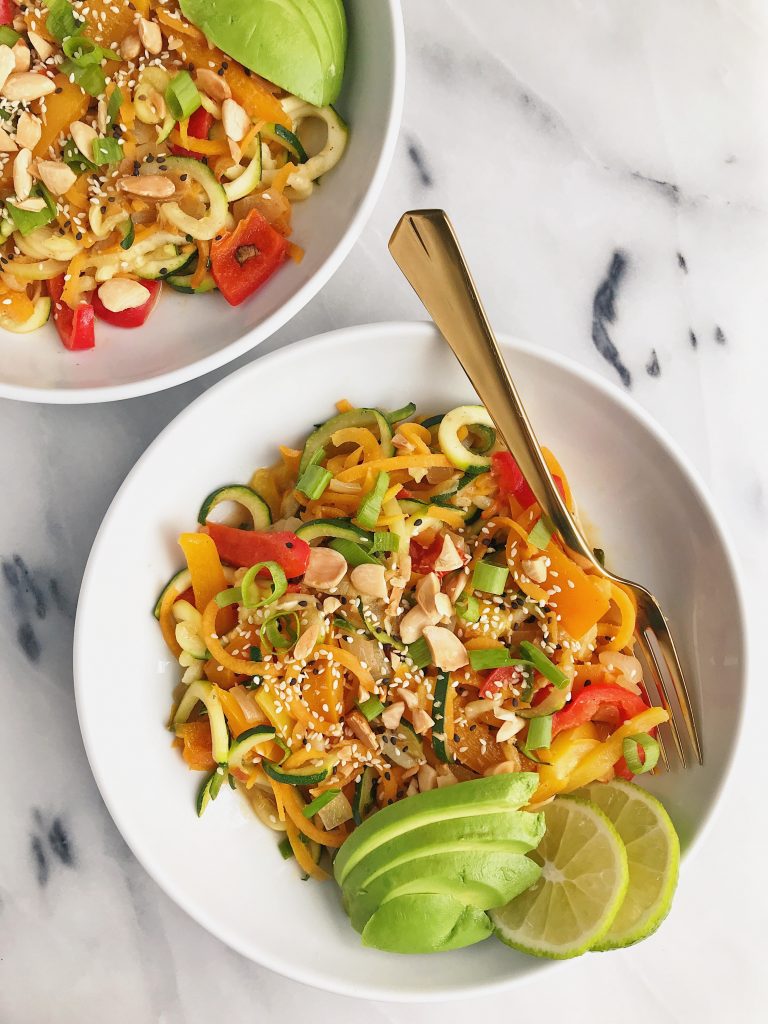 Print
Whole30 Almond Butter Thai Noodles (with bone broth!)
1

orange pepper, chopped

1

red pepper, chopped

1

yellow pepper, chopped

1

onion, chopped

4

zucchini, spiralized

1

small butternut squash, spiralized

Almond butter sauce:

1/4 cup

creamy almond butter

1/2 cup

Bonafide Provisions Chicken Bone Broth (or your preferred broth)

1/4 cup

sesame oil

1 tablespoon

coconut flour

1/4 cup

coconut aminos (soy sauce sub)

2 tablespoons

apple cider vinegar

2

garlic cloves, chopped

Squeeze of fresh lime

Toppings:

1/4 cup

chopped scallions

1/4 cup

slivered almonds

4 tablespoons

sesame seeds

Protein of choice
Instructions
In a large skillet or pan, add a tablespoon of avocado oil (or oil of your choice) and turn onto medium/high heat
Add peppers and onion and cover with lid to cook for a few minutes, the peppers and onions will be fragrant
After they cook for about 6-8 minutes add butternut squash noodles and keep cooking on medium heat
After 3-5 minutes, add in zucchini (I add these last because they take the least amount of time!)
Remove skillet from heat and add to a large bowl (this isn't mandatory but it helps to prevent the zoodles from becoming too watery!)
While the veggies are cooking, add the almond butter sauce ingredients to a small saucepan and mix with a spoon to evenly combine
Cook over medium/low heat until warm and creamy
Once sauce is finished, pour on top of veggies and mix well
Sprinkle sesame seeds, almonds and scallions on top!
*This recipe will stay good for about 5 days but tastes best same day. If you want to meal prep it, prepare the veggies and cook everything including the sauce except the zoodles then cook those closer to eating!
**You can also add some chicken, beef, tofu, shrimp, anything! For extra protein
Author:
Category:

whole30, paleo, gluten free

Cuisine:

dinner, lunch
xx, Rach
Thank you Bonafide Provisions for sponsoring this blog post. It means so much to me to work with brands I truly love and believe in to support my blog and introduce their amazing products to you!
SaveSave
SaveSave
SaveSave
SaveSave