Dureya's Lobster Cobb Salad is one of the most popular and expensive salads in the world. Save the money and try this amazing delicious homemade version.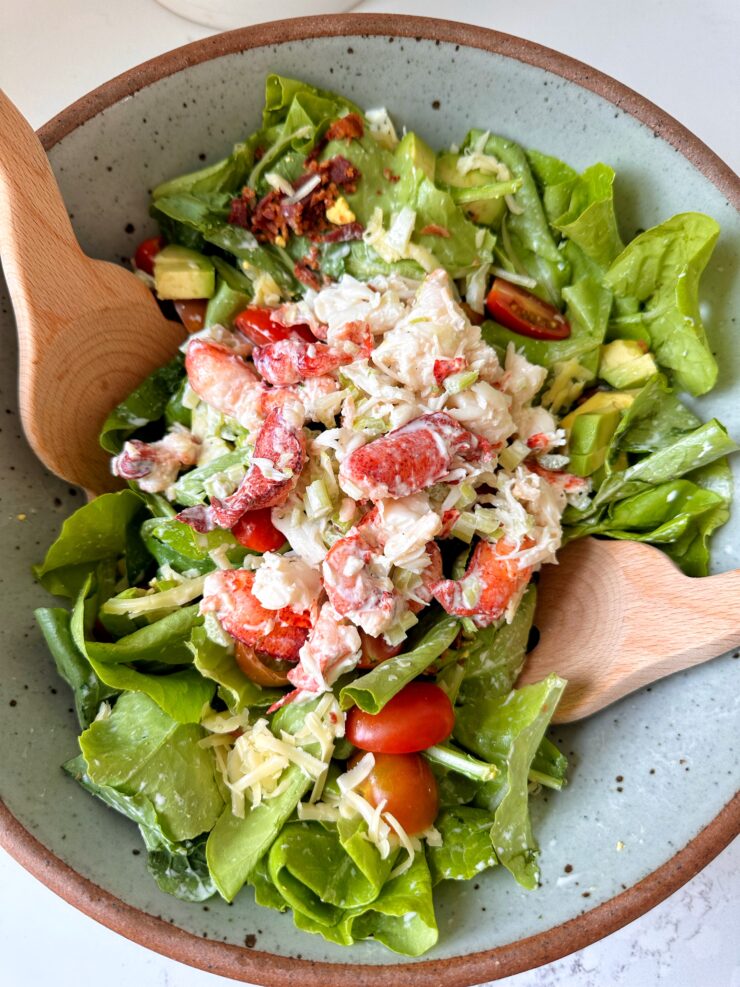 For anyone who has been out east, you know what the infamous Lobster Cobb Salad is from Duryea's. And for those who do not, not to worry! You are saving a lot of money by not knowing what is. But I'd be lying if I said it wasn't worth the hype.
I personally love the Lobster Cobb Salad at Duryea's. The vibe of the restaurant itself is amazing overlooking the water (especially at sunset) and the menu they have is absolutely delicious. But it is also really overpriced in my opinion and we still joke about the unfriendly employees that work there. I remember walking up to the hostess table and they didn't even say hello or welcome. Just stared at me waiting for me to speak first. Probably because it's a celeb hot spot in Montauk and they know they're a popular spot.
But Duryea's did perfect their cobb salad. It is filled with fresh bibb lettuce, hard-boiled eggs, cheese, bacon bits, avocado, tomatoes and of course lobster salad. And this dreamy Tarragon dressing that is insanely flavorful and delicious. It's creamy but not too overpowering and I love the flavor it adds to the salad itself.
I think you will *swoon* over this lobster cobb as much as we do. It's a summer salad staple and one that all lobster lovers will crave.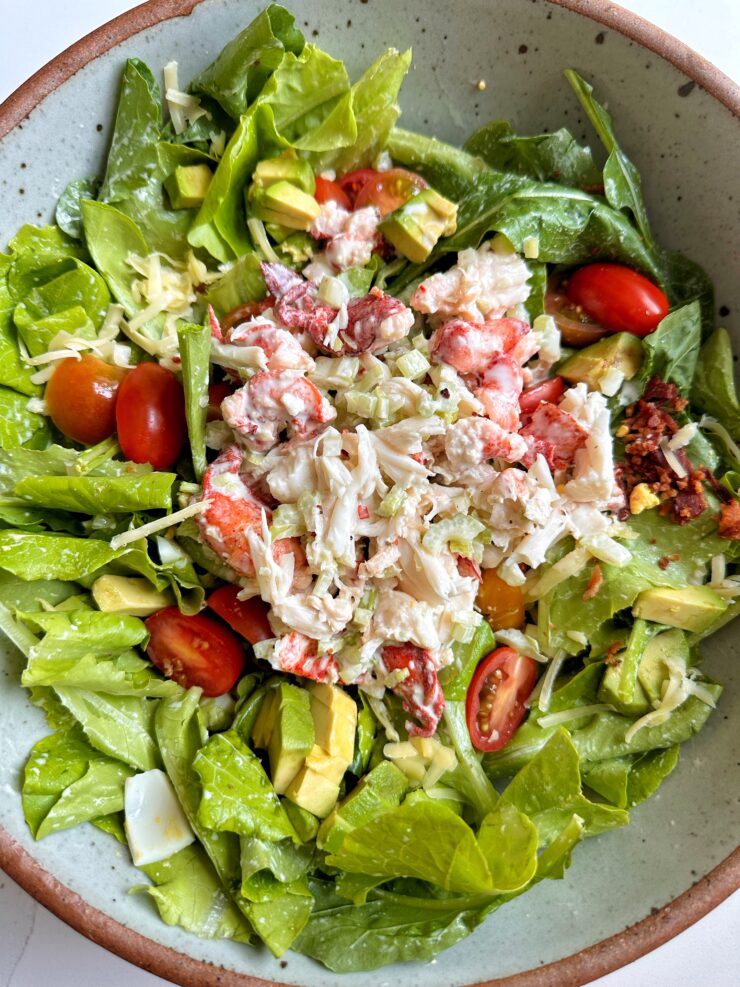 What ingredients you need to make the Lobster Cobb Salad:
Steamed lobster meat – I use claw knuckle and tail meat. If you can't find lobster meat, use some shrimp instead
Celery – finely chopped. And if you hate celery you can omit but it's a classic in lobster salad
Lemon juice – I always like to use fresh lemon when possible
Mayonnaise – any mayo you want works for this
Bacon bits – I chopped up cooked bacon for this. Forever cooking my bacon in the oven
Cheddar cheese – sharp cheddar is my preference for this recipe but if you're not a cheddar fan, I personally love feta cheese for this
Hard-boiled eggs – or soft-boiled can also work really well
Cherry tomatoes – seasonal tomatoes work best
Avocado – ripe avocado diced works for this
Gem lettuce – any type of butter/gem lettuce is the best in this
What ingredients you need to make Tarragon dressing for the salad:
Milk of choice – I used full-fat coconut milk
Mayonnaise – your go-to mayonnaise works
Tarragon vinegar – it's okay if you don't have and omit this. Just adds more flavor if you do have
Fresh tarragon – chopped. If you can't find it use basil instead
Garlic clove – minced. Or use garlic powder if you don't have
Shallot – minced to add flavor
Whole grain mustard – or use mustard powder or dijon if you prefer
Hot sauce – any hot sauce you want works
Scallion – chopped green scallion for this
Dried oregano – or use fresh chives as another option
FAQs on making Lobster Cobb Salad:
Where can I find cooked lobster meat? I usually order this from this site so it's in my freezer. Or you can go to local fish market too or grocery store.
Is this lobster cobb salad gluten-free? Yes! It is naturally gluten-free salad and the dressing is as well. I don't add croutons but you can if you want.
Is this cobb salad an entree? Yes! It is an entree if you have with 2 people. It isn't a mega large salad but you can always increase the toppings to make it more filling.
Can I make this lobster cobb salad ahead of time? I recommend assembling the salad itself right before serving. But feel free to get the toppings and dressing ready ahead of time.
What if I can't find tarragon? I never heard of tarragon before I wanted to replicate this salad. If you can't find it, use basil instead! It's a great substitute.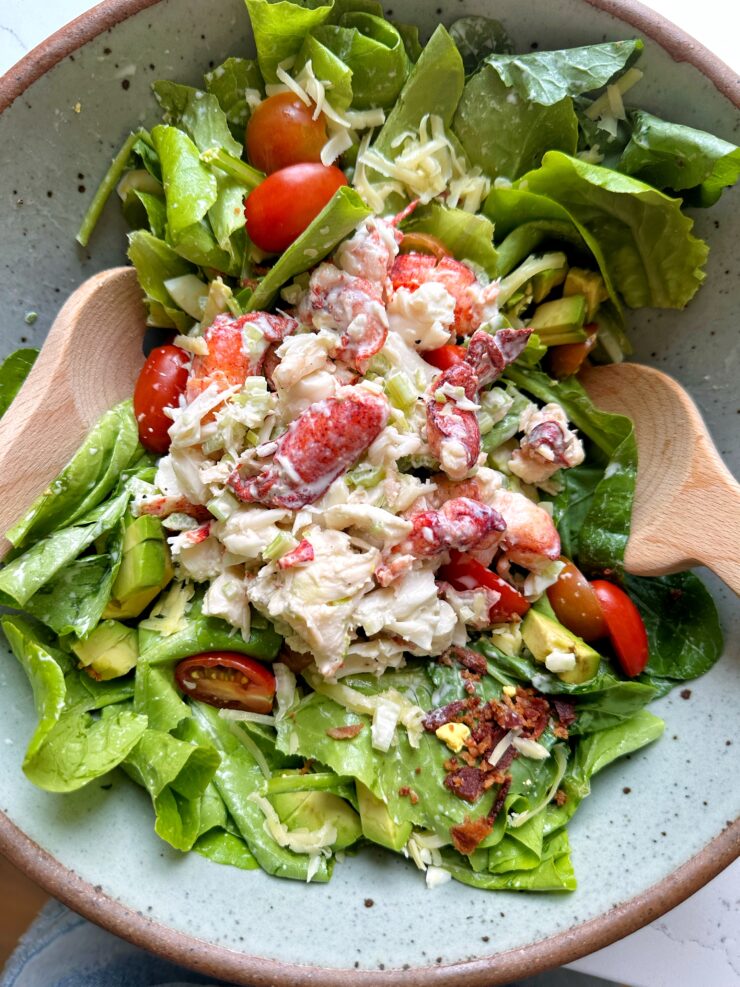 A few other delicious salad recipes to try:
Make the Barbuto Kale Salad at Home
The Best Salmon Kale Salad Ever
Strawberry Feta Cucumber Salad
Print
Duryea's Lobster Cobb Salad
Dureya's Lobster Cobb Salad is one of the most popular and expensive salads in the world. Save the money and try this homemade version.
Prep Time:

10 mins

Total Time:

10 mins
Salad:
10 ounces

steamed lobster meat (I use claw knuckle and tail meat)

4 tablespoons

celery, finely chopped

Squeeze of lemon juice

1 tablespoon

mayonnaise

Sea salt to taste

1/4 cup

bacon bits (I chopped up cooked bacon)

1/4 cup

cheddar cheese, shredded

2

hard-boiled eggs, chopped

1/4 cup

cherry tomatoes, halved

1

avocado, diced

6 cups

gem lettuce
Tarragon dressing:
1/4 cup

milk of choice (I used full-fat coconut milk)

1/4 cup

mayonnaise

1 tablespoons

tarragon vinegar (it's okay if you don't have)

1 tablespoon

fresh tarragon, chopped

1

garlic clove, minced

1/4

shallot, minced

1/4 teaspoon

whole grain mustard

1

dash hot sauce

1/2 tablespoon

scallion, chopped

1/2 tablespoon

dried oregano

Sea salt and black pepper to taste
Instructions
For the dressing, whisk together ingredients at set aside
Begin making lobster salad by tossing together lobster meat, celery, mayonnaise, lemon juice and sea salt
In a large bowl, toss the lettuce with desired amount of dressing then add the toppings followed by lobster salad and serve
Notes
*Store in fridge for 3 days
**Feel free to double or triple recipe to serve more