Crispy Oven Bacon is the best way to make bacon without making a huge mess on the stove (and it tastes so much better!)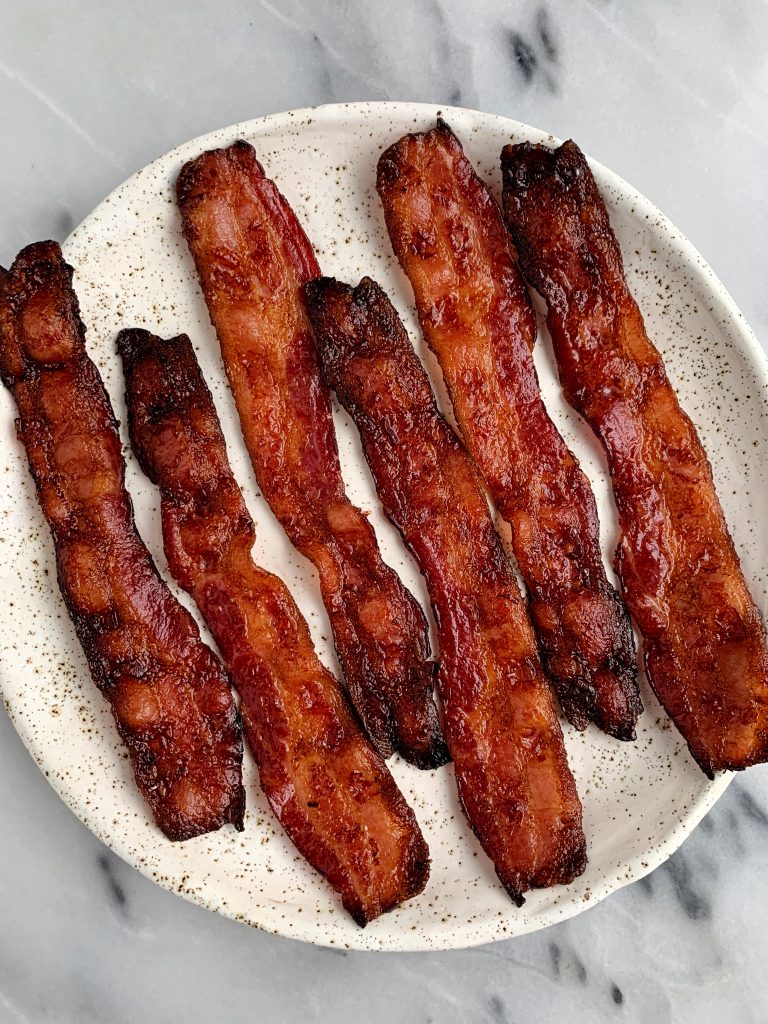 Raise your hand if you love some crispy bacon but hate when they stove is a greasy a$$ mess?!
..I am raising both hands right now.
Not making bacon isn't an option in our home since J and I both love it, but nothing bothers me more than when the stove is so perfectly clean and bacon grease (or any grease) explodes on it. That is why I am sharing this revolutionary way to make bacon with you guys.
Oven-baked Bacon that is actually CRISPY and even more delicious.
To be honest, ever since I started making bacon this way, it is all I ever crave. It gets so perfectly crispy as you can see in the pictures here. It also only takes 15 minutes to make. We usually make a big batch and save any leftovers for the week.
I also love adding in some bacon (cooked or uncooked) into recipes like my Bacon and Beef Meatballs in Just the Good Stuff.
When it comes to buying bacon, I usually order from Butcher Box. They delivery humanely raised and quality meat to your home and it is some of the best bacon I have ever had. They have all grass-fed, grass-finished meats and organic chickens (no hormones ever). And I have found their pricing to be great compared to the grocery store. Not to mention it saves you a trip to the store itself, which is golden for all of my working friends and mama friends out there.
What you need to make Crispy Oven Bacon:
Large baking sheet of choice
1 package of nitrate-free bacon
Parchment paper (or tin foil)
You will have a bit of grease on the sheet when you are done. I don't recommend putting this down the garbage disposal. We usually add to our garbage bag. The fat can clog the drain in the sink!
This bacon would be so good paired with my Savory Veggie Grain-free Biscuits, Homemade Paleo Everything Bagels and on top of my Creamy Tahini Caesar Salad (gluten-free) – YUM!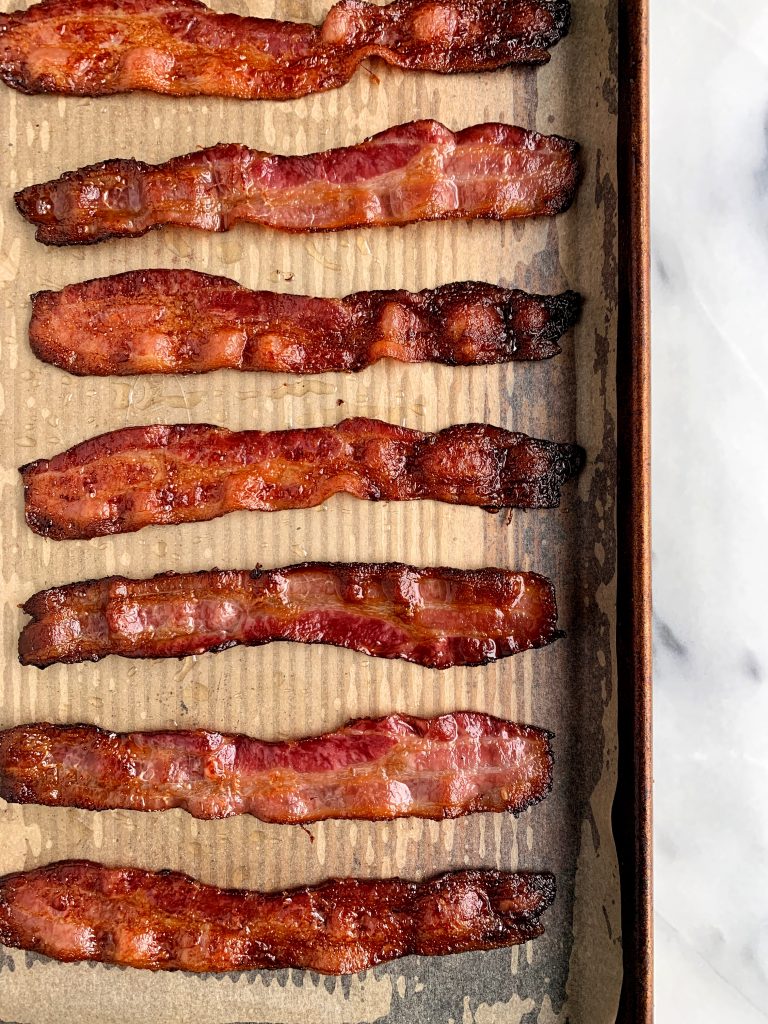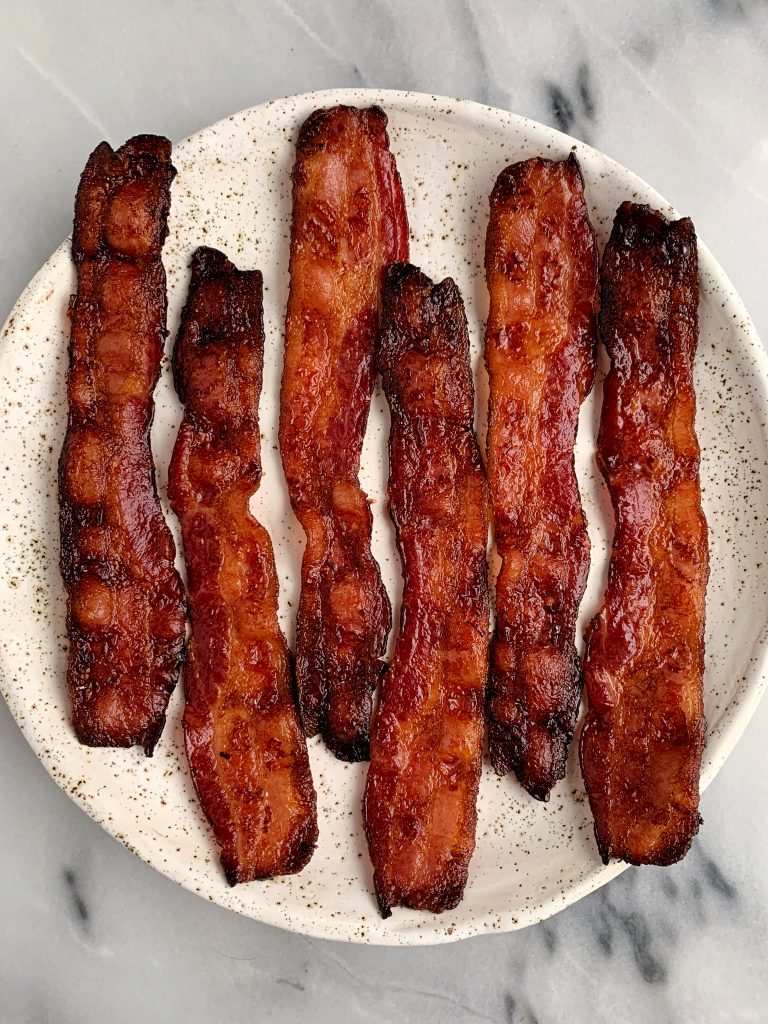 Print
The Best Crispy Oven BACON! (no greasy stove included!)
Crispy Oven Bacon is the best way to make bacon without making a huge mess on the stove (and it tastes so much better!)
1

package nitrate-free bacon (I love this brand's bacon)

1

large baking sheet

Large sheet of parchment paper (you can use tin foil too)
Instructions
Preheat oven to 425 degrees and line a baking sheet with parchment paper
Remove bacon from package and evenly spread across sheet
Bake in oven for about 15-18 minutes (or until crispy to your liking)
Remove baking sheet from oven and line a plate with paper towel
Add the bacon on top of the plate with paper towel (it'll absorb any excess grease)
Gently remove grease from baking sheet by pouring into garbage bag (don't put into garbage disposal!) or you can put aside for cooking fat if you'd like!
Enjoy your crispy bacon!!
xx, Rach