The Easiest Homemade Paleo Everything Bagels made with 8 ingredients for a healthy bagel recipe!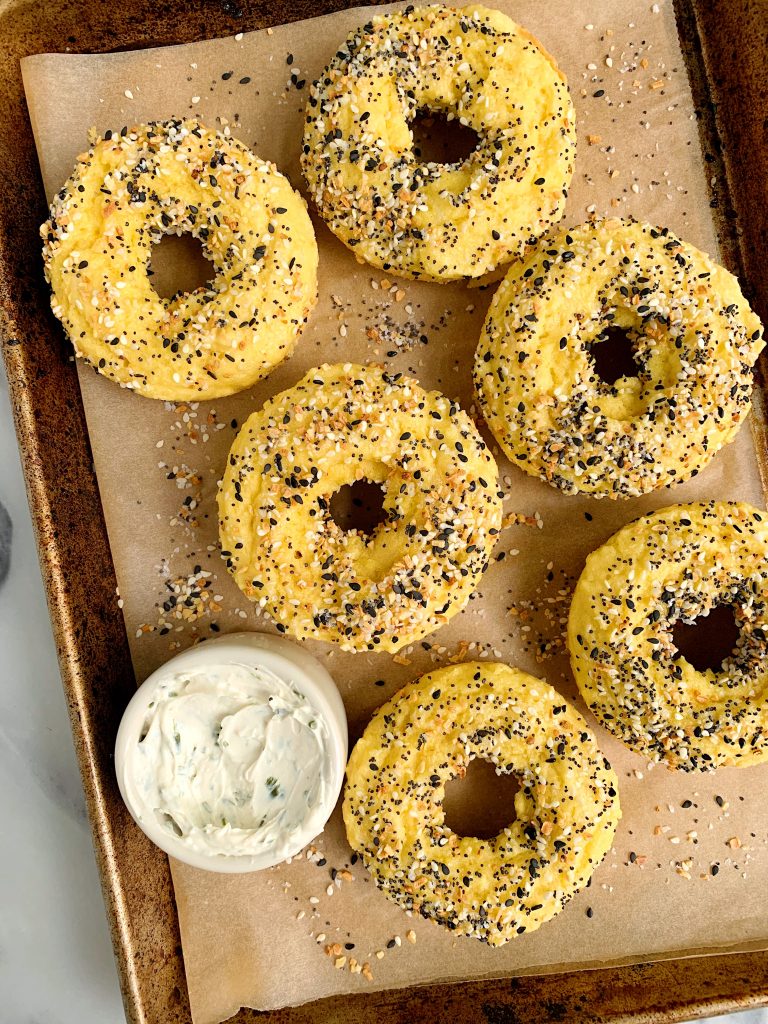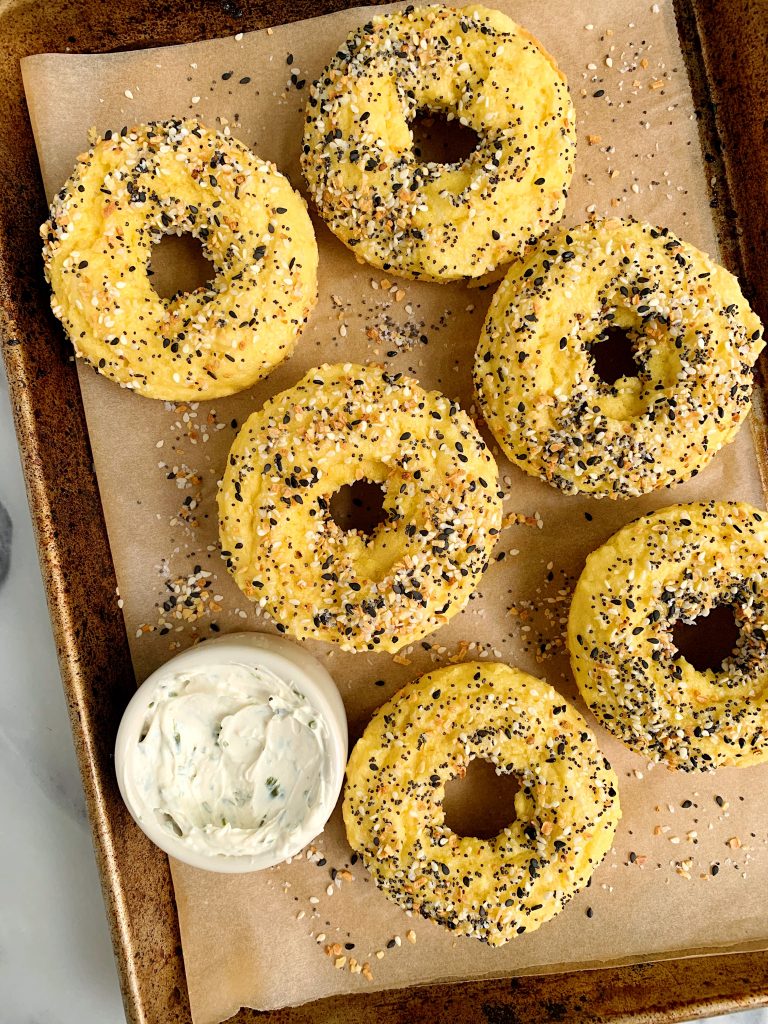 When I first shared these 15-minute Homemade Bagels a couple years ago, they nearly broke my blog. And they also continue to be one of the most popular recipes made by you, which makes me the happiest. It also tells me that you love bagels as much as I do.
Now don't get me wrong, I am an equal opportunist when it comes to bagels. I eat the gluten ones, I eat the gluten-free ones and I make the paleo ones. If it's a bagel sprinkled with everything bagel seasoning on it, you don't have to twist my arm.
These grain-free bagels are made with just 8 ingredients..
These bagels are so fluffy and easy, I have a feeling you will obsess over them as much as I am. No, they don't taste like "real" bagels. I'm not going to lie and say that to you. No mock bagel will ever taste like the real thing but these sure do taste delicious if you ask me. They're made with just 8 ingredients and you'll be eating your bacon, egg and avocado sammie in 15 minutes when you make them.
I use a few of my staple ingredients in these paleo bagels like almond flour, coconut flour and even Bonafide Provision's Organic Bone Broth. Yup, that's right – I put bone broth in my bagels.
Why you may ask? I love sneaking in bone broth into my food for a few recipes. Number one, it adds extra collagen and protein to the recipe and number two, it also adds a boat load of extra flavor. Anytime a recipe calls for water or broth, I use bone broth instead. Bonafide Provisions has been my go-to now for a couple years and I find it over in the freezer section in the grocery store. You'll only need a few spoonfuls for this recipe so warm up the rest and sip on it when the bagels are baking. Or you can bake a few of my other recipes from the blog that have bone broth in them. I love Healthier Dairy-free Vodka Sauce, Bone Broth Ramen Bowls and Easy Sesame Peanut Tahini Noodles. You can also head over to this post for bone broth 101!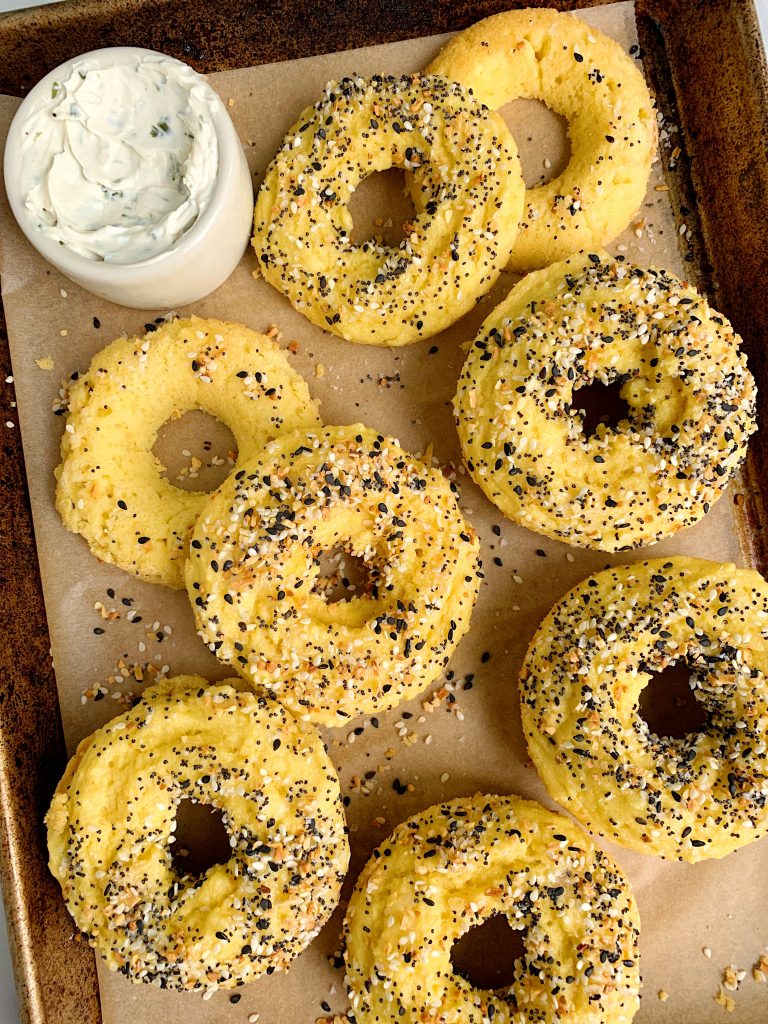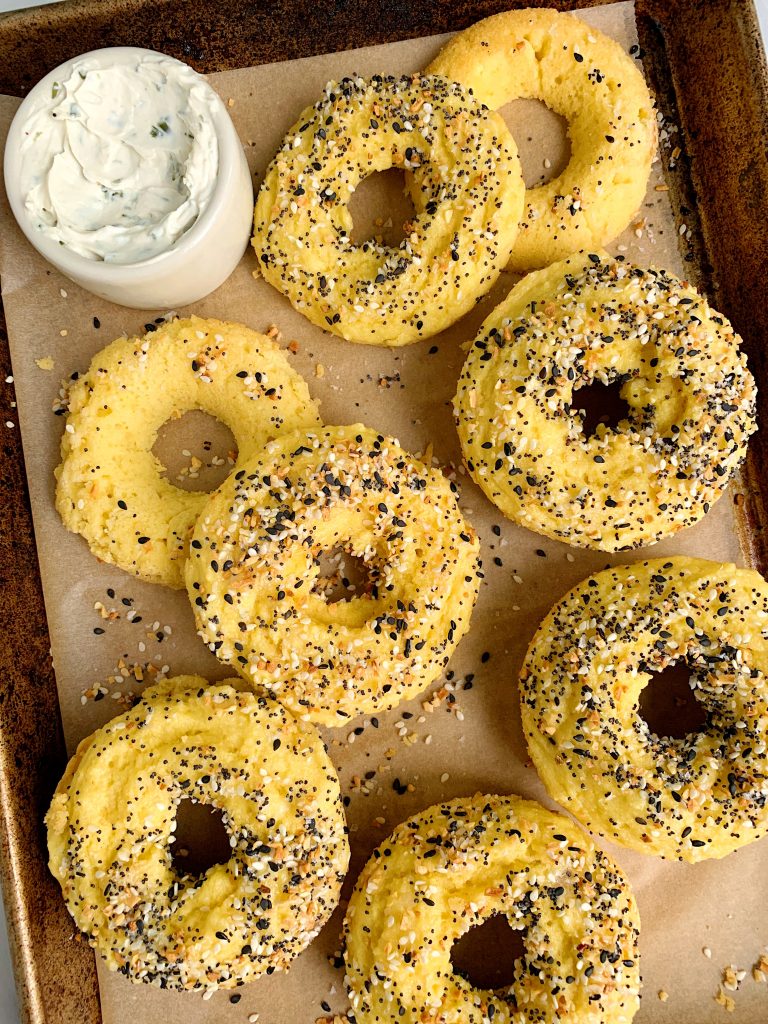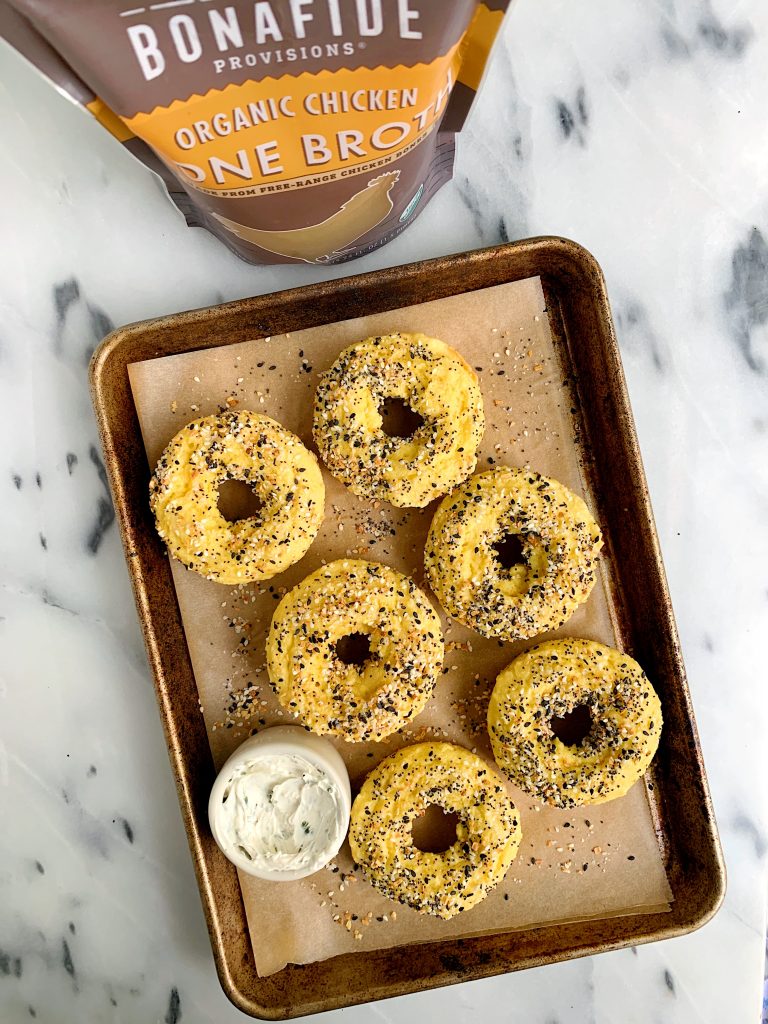 Print
The Easiest Homemade Paleo Everything Bagels
The Easiest Homemade Paleo Everything Bagels made with 8 ingredients for an easy healthy grain-free bagel recipe! Plus an extra boost from organic bone broth.
Prep Time:

5 mins

Cook Time:

10 mins

Total Time:

15 minutes
Instructions
Preheat oven to 350 degrees and grease a donut pan with avocado oil
Whisk together eggs, oil, ACV and bone broth together until fully combined
Mix in the almond flour, coconut flour, tapioca flour and baking powder and mix until smooth and there are no clumps in the batter
Fill each donut mold with batter then sprinkle seasoning on top
Bake in oven for 10-12 minutes (or until ready – I stick a toothpick in)
Allow the bagels to cool for a few minutes then remove from pan and enjoy!
Notes
*I haven't tested other flour or egg subs
**You can also make these into buns/rolls by adding batter (about 3 tablespoons per roll) to a baking sheet like you would cookies and baking for 12-15 minutes
***Store leftovers in fridge for 5 days or slice and freeze these bagels for a couple of months
xx, Rach
Thank you Bonafide Provisions for sponsoring this post! It means so much to me to partner with brands I love and believe in.