15-minute Homemade Paleo Bagels made with my favorite paleo pizza mix, so easy and delicious!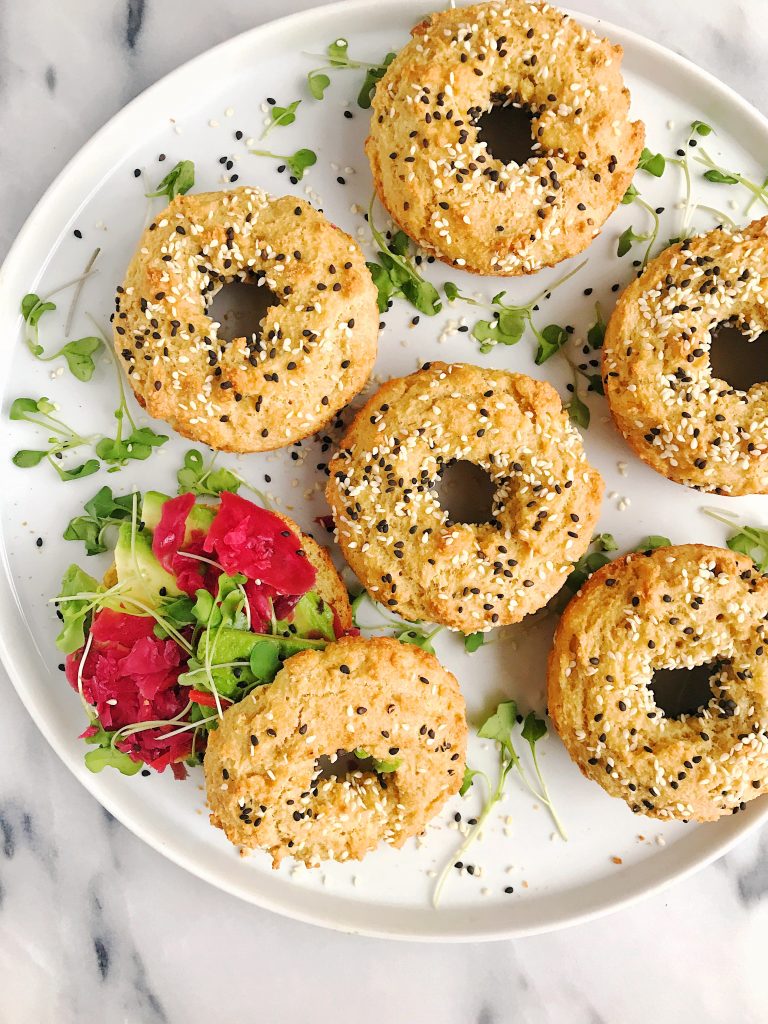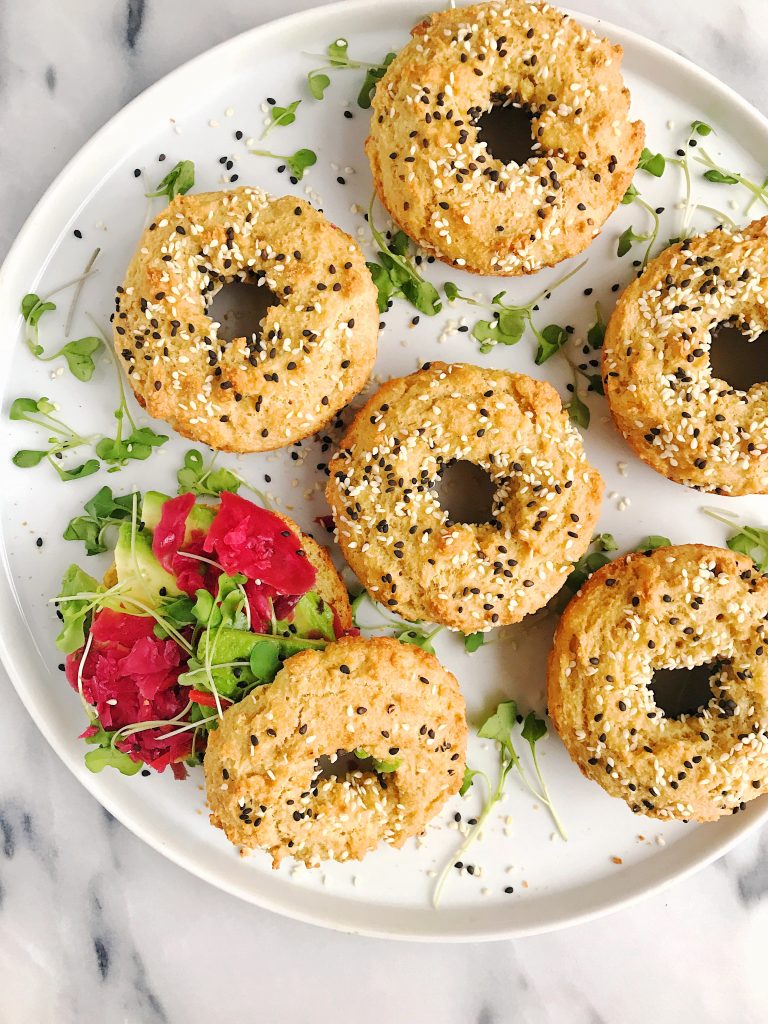 PALEO BAGELS ARE HERE!
The easiest homemade paleo bagel recipe ever is officially on the blog. Full disclosure: they are the easiest because they are made using my favorite pizza dough mix (found here).
But who would think you can use pizza dough for BAGELS? I certainly did not.
I found a few extra boxes of the pizza mix in my pantry and wanted to use it for something other than pizza (although it is one of my favorite go-to dinners).
I saw the donut pan in the cabinet next to it and literally said to myself "I'm going to make bagels in my donut pan". Jord looked at me like I was an alien (which is usually when I saw random stuff like this).
He also thought I was nuts thinking I was making bagels using a paleo pizza mix. Jord is also the king of real bagels and there was a time when we would eat them Satuday's and Sunday's. Now the times have changed aka we aren't hung over in college every weekend, so we don't find ourselves at the bagel store praying that the egg and cheese on an everything bagel soaks up the night before.
And while paleo bagels are cool…
These bagels do not taste anything like real bagels. Especially being in NJ and NY where bagels are all the rage. But they are so delicious, easy to make and they tasted amazing with some avocado, eggs and bacon when I made a mini sandwich using one. You can also use them for pizza bagels, tuna sandwiches, anything!
Please note you will need both of these items in order to make this recipe: donut pan + pizza mix
The donut pan is relatively cheap and afterwards you can use it to make some donuts 🙂
If you don't have the pizza mix – make The Easiest Homemade Paleo Everything Bagels instead!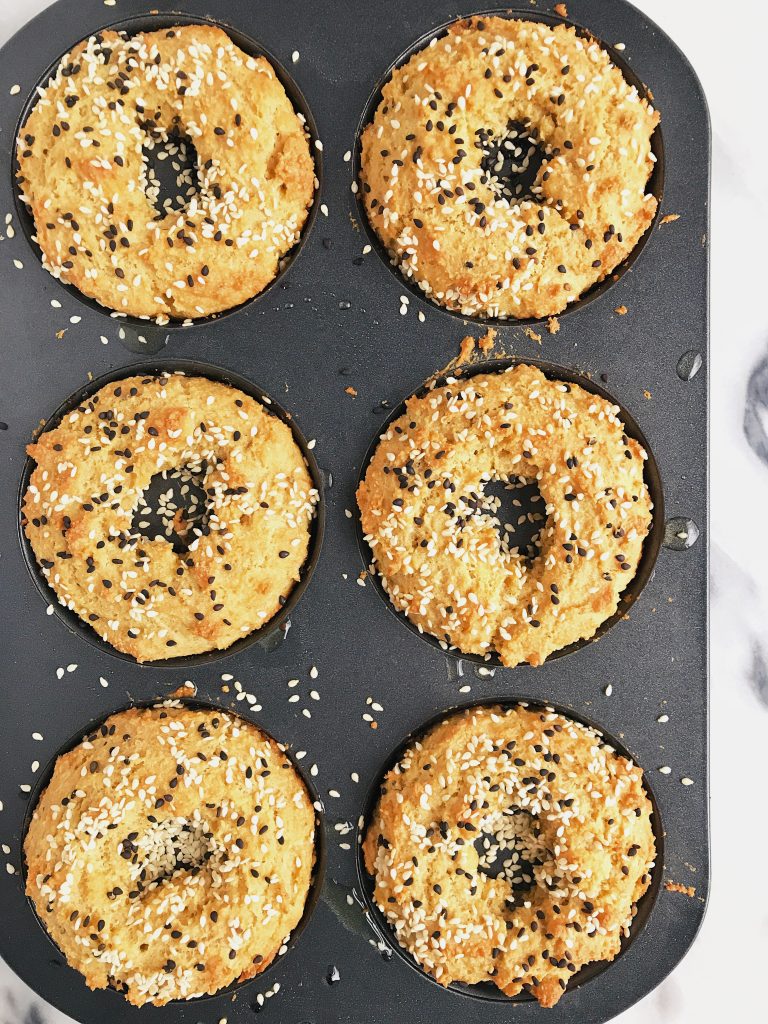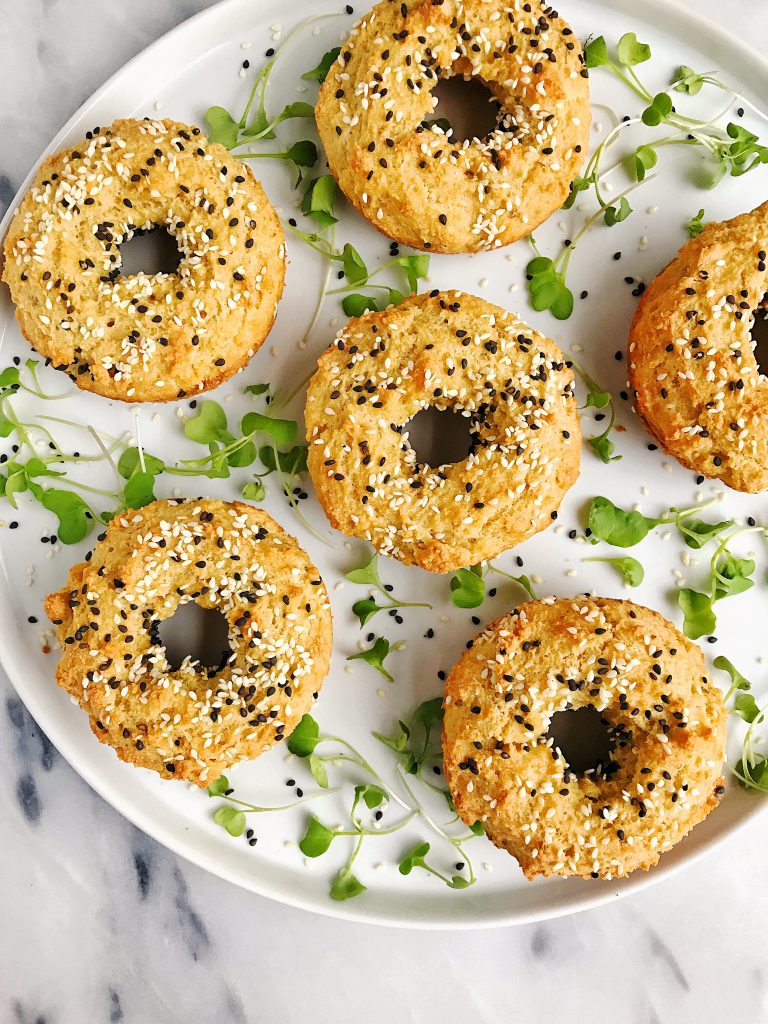 Print
15-minute Homemade Paleo Bagels (gluten-free)
1

box of Simple Mill Pizza Mix (have not tested anything else!)

3 tablespoons

apple cider vinegar

1/3 cup

room temperature water

2

eggs at room temperature

2 tablespoons

avocado oil (or your preferred oil)

2 tablespoons

coconut flour
Instructions
Preheat oven to 400 degrees and grease a donut pan well
In a large bowl add the eggs, ACV, water and oil and whisk well
Add in the pizza mix and mix again followed by the coconut flour
Once mixed, add dough to each donut mold and add an desired seasonings (I used sesame seeds and garlic!)
Bake in oven for 15 minutes then enjoy!
*Will stay good for about a week or you can freeze for longer
Author:
Category:

paleo, gluten-free, dairy-free

Cuisine:

breakfast, bagels
xx, Rach
SaveSave