These Inside-Out Cheeseburgers are the ultimate classic burger with a twist. Filled with melted cheese and the patties have caramelized onions and pickles. These burgers are great for any BBQ occasion.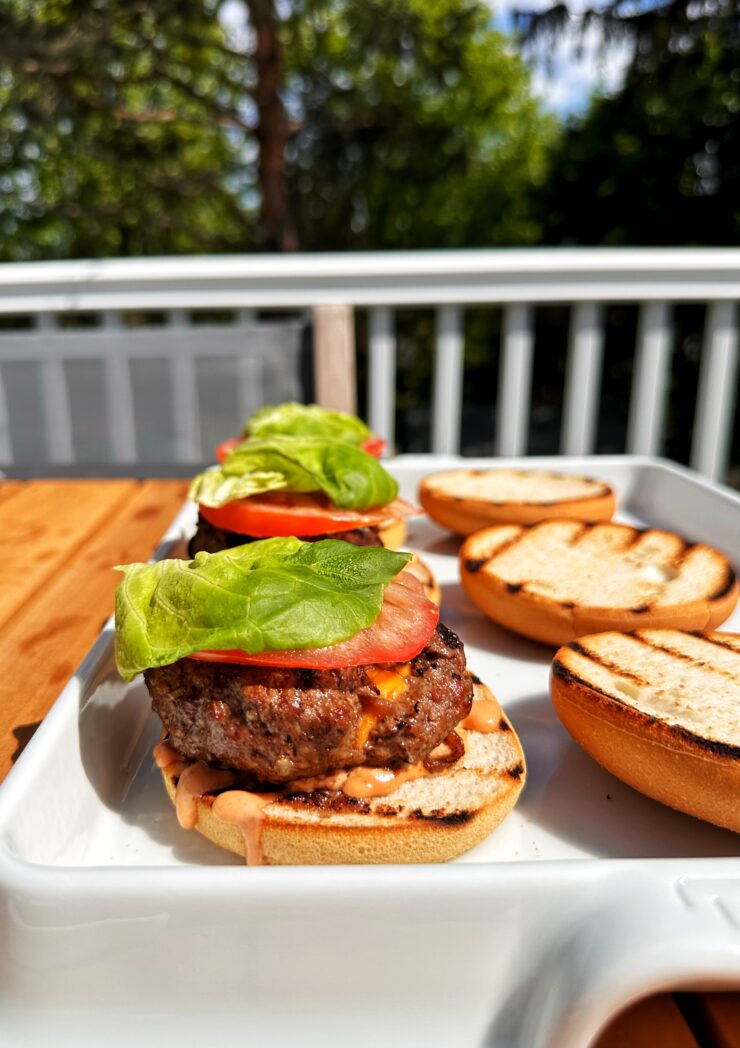 These are the BEST ever cheeseburgers if you ask me. Inside-out cheeseburgers are my go-to and they are a guaranteed crowd pleaser over here. They turn out perfect every single time and they are a summertime staple.
I love that these don't require anything fancy. Just some ground beef, salt and pepper, cheese and some onions and pickles. Think: everything you want on a cheeseburger. This is the zero frills cheeseburger that tastes like it is superior to any other burger out there.
You can serve these cheeseburgers with any desired toppings you want. And don't forget your favorite bun. With some special sauce which I just mix together with mayo, ketchup and dijon (so simple!).
I cannot wait to hear what you guys think of these burgers. Enjoy them for your BBQs all season long and don't forget to rate and review the recipe below when you try them!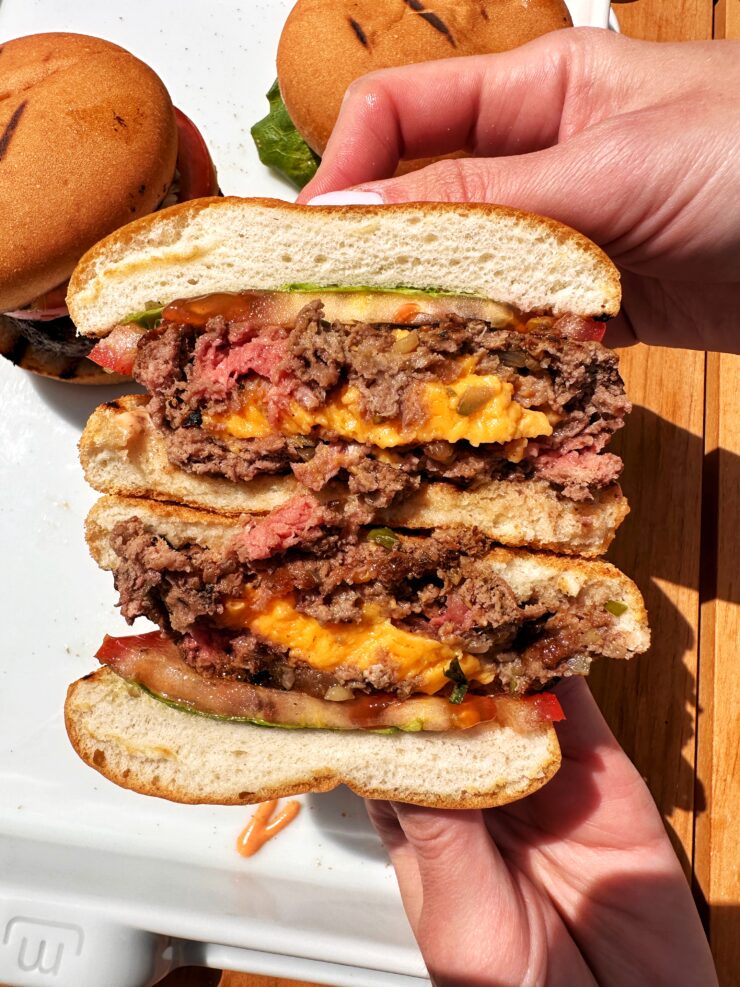 What ingredients are in these inside-out cheeseburgers:
Grass-fed ground beef – I usually use 85% lean
Caramelized onions – chopped up. Or you can use raw onion if you prefer but the caramelized really add a nice touch
Dill pickles – chopped into small pieces for the patties
Sea salt and black pepper to taste
Cheese of choice – sliced into 4's. I usually do cheddar or American
Hamburger buns – gluten-free if needed. Trader Joe's also sells a good one !
Toppings ideas: lettuce, tomato, special sauce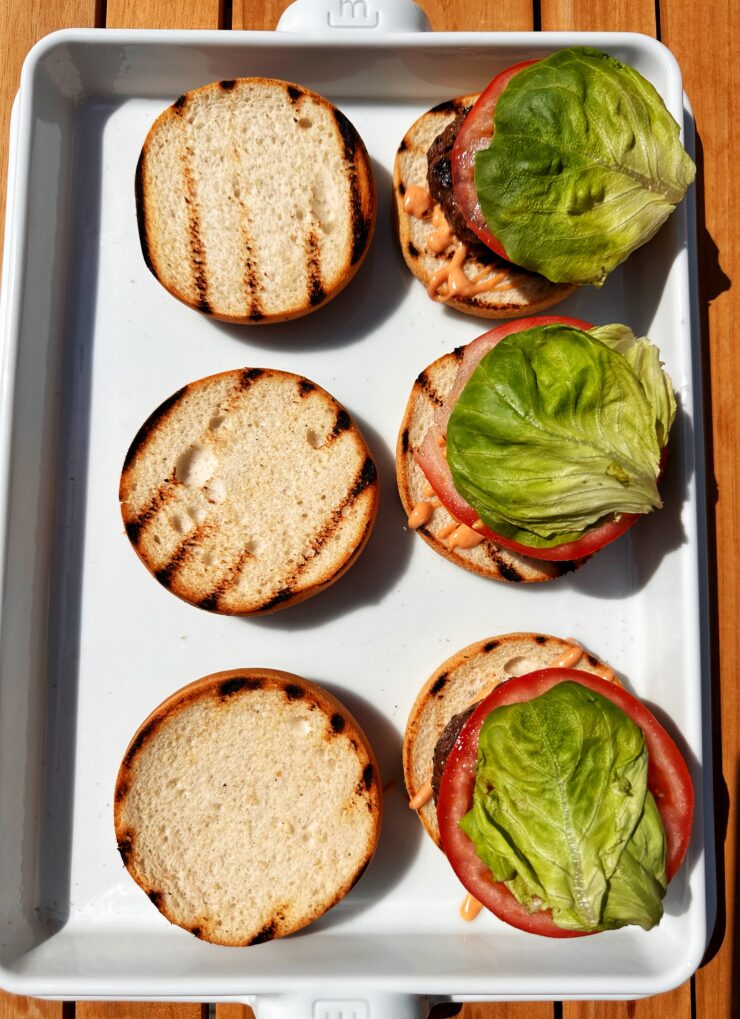 How to make grilled burgers stuffed with cheese:
Add beef to a large bowl and mix in onions, pickles and salt and pepper with hands
Form into 8 patties and top 4 of them with stack of 4 slices of the cut cheese
Cover patties with remaining patties and pinch edges together to seal
Heat grill to medium-high heat
Grill burgers about 6 to 7 minutes on each side (until burgers are grilled to your liking)
Enjoy with bun and desired toppings
FAQs on making inside-out cheeseburgers:
What is an inside-out cheeseburger? Besides the best burger ever?! It is a burger patty that is filled with melted cheese when you bite into it. Think everything you love on cheeseburgers but IN the burger. We add some caramelized onions and pickles too, which is a game changer.
Can I prep these ahead of time? The patties, yes! But I don't recommend cooking them before for optimal results. Just prep patties and store in fridge. Make sure to grill within 24 hours.
What buns do you use for these? Usually we get the gluten-free Trader Joe's ones. Ingredients are blah but they're the closest to a classic burger bun we can find sans gluten!
What kind of cheese works best for these burgers? American or cheddar for that ooey gooey cheesy effect. But you can use your favorite cheese!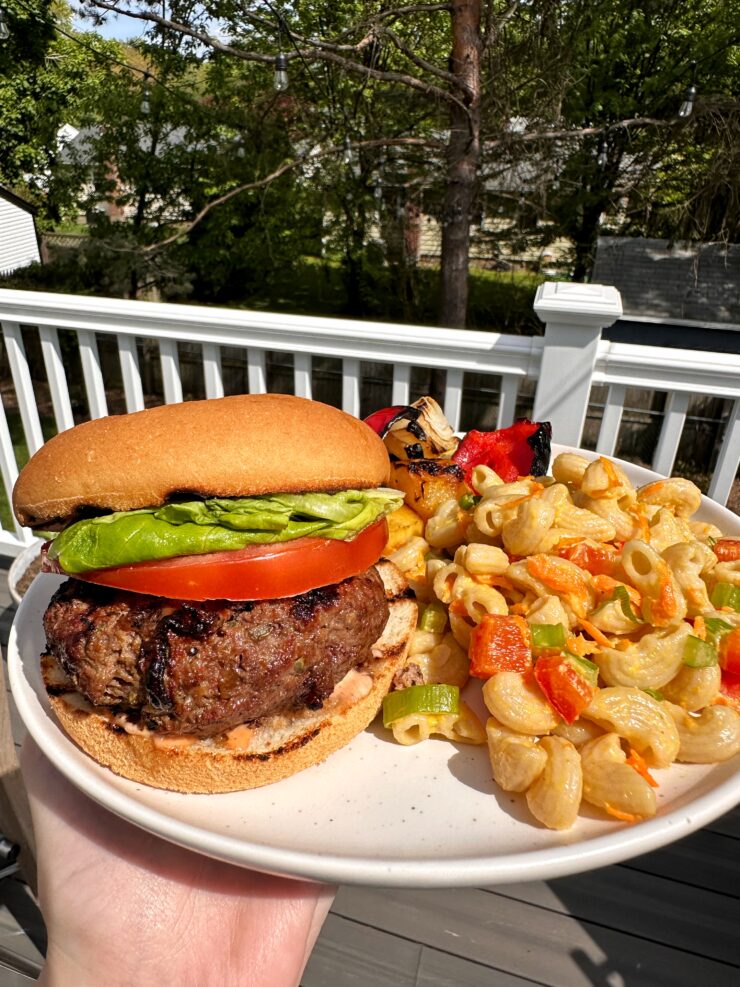 A few other delicious recipes to grill:
Grilled Yogurt Marinated Chicken
Grilled Peach Crumble (gluten-free)
How to Make Grilled Salmon Kebabs!
Print
Inside-Out Cheeseburgers
Prep Time:

5 mins

Cook Time:

12 mins

Total Time:

20 mins
1

lb

grass-fed ground beef

1/3 cup

caramelized onions, chopped

1/4 cup

dill pickles, chopped

Sea salt and black pepper to taste

4

slices cheese of choice, sliced into 4's (I do cheddar or American usually)

4

hamburger buns (gluten-free if needed)

Toppings ideas: lettuce, tomato, special sauce
Instructions
Add beef to a large bowl and mix in onions, pickles and salt and pepper with hands
Form into 8 patties and top 4 of them with stack of 4 slices of the cut cheese
Cover patties with remaining patties and pinch edges together to seal
Heat grill to medium-high heat
Grill burgers about 6 to 7 minutes on each side (until burgers are grilled to your liking)
Enjoy with bun and desired toppings
Notes
*Store leftovers in fridge for 3-5 days and reheat on grill for best results