Sharing how to make Grilled Salmon Kebabs! One of my favorite dishes to grill using fresh salmon and this recipe is super easy to grill.
Grilled salmon is 100% one of my most favorite foods ever. And it isn't something we only eat in the summer time or warmer months. We are grilling all year around over here. Mostly because I hate the smell of cooking fish inside, but also because there is nothing like some foods on the grill. And salmon is so one of them.
You can make these salmon kebabs and add them to your favorite salad, on top of rice or pair it with your favorite sides. My kids love eating salmon too (especially Ezra) so we are grilling it a lot. It gets crispy on the outside but is a little buttery int he center, which is just how I like it. There is nothing worse than overcooked salmon so be sure not to overcook it!
When it come to eating cooked salmon leftover, I recommend having it cold or reheating on the grill in a pan so it doesn't dry out.
I cannot wait to hear what you think of this!! Don't forget to tag me on Instagram and Tiktok if you try it.
What ingredients you need to grill salmon kebabs:
Salmon – cut in 1-inch pieces. I use organic scottish salmon or wild alaskan usually
Olive oil – good quality extra virgin olive oil is key!
Sea salt and black pepper
Lemon – fresh lemon juice on salmon is the best
Bamboo skewers – don't forget to soak them before using in some water to prevent burning
How to grill simple salmon skewers:
Heat the grill on medium heat and soak the bamboo skewers for a few minutes to soften (this prevents them from burning on grill)
Add salmon to bowl and drizzle oil on top and salt and pepper and fresh lemon juice (you can add more spices if you want too!)
Allow the salmon to marinate for a few then gently add salmon to skewers then spray well with oil to grease
Cook on grill for about 8-10 minutes total, turning halfway through
Enjoy while warm with desired sides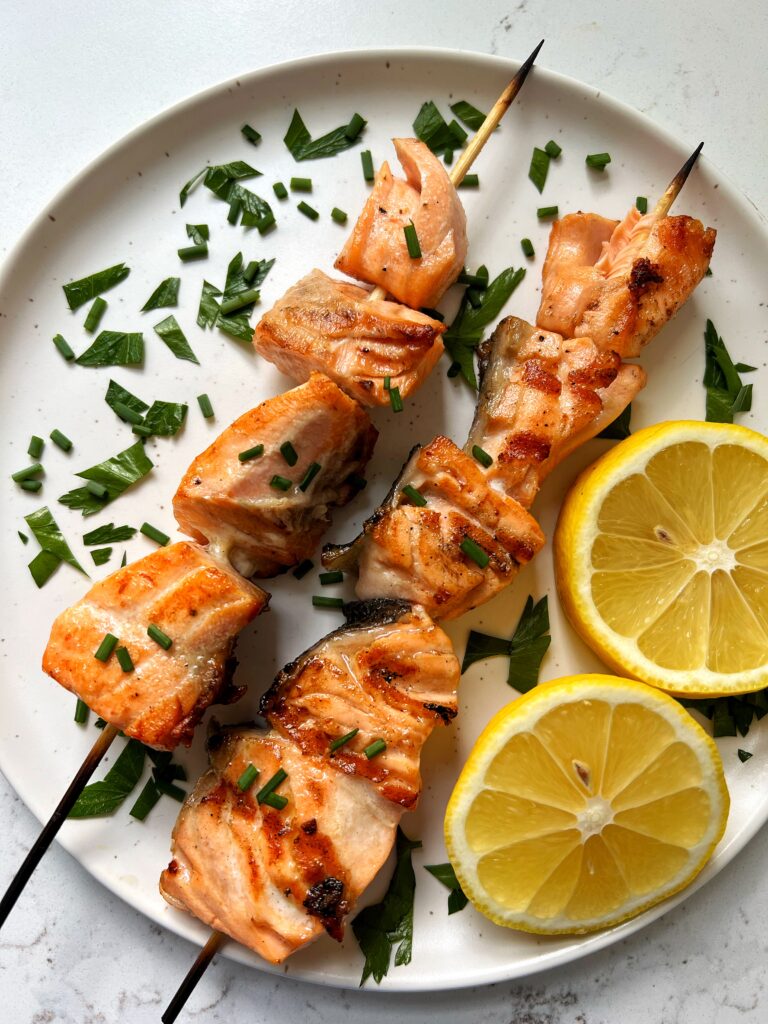 FAQs on grilling salmon:
How long do you grill salmon for? It varies based off the size of the fish but I tend to do max 8 minutes for a 6 ounce piece and for these skewers 8 to 10 minutes max. I like my salmon with a little crisp on the side but the inside should be buttery! I don't like it too overcooked
How do you cook salmon so it won't get stuck on the grill? Make sure to grease it well so it won't stick – especially the skin side so it is easy to flip
Can you eat the skin of salmon? Yes absolutely! It is a personal preference but I love crispy salmon skin from the grill!
A few other recipes to grill this season:
Grilled Peach Crumble (gluten-free)
The Best Juicy Grilled Chicken Recipe
How to Grill Sweet Potato Fries!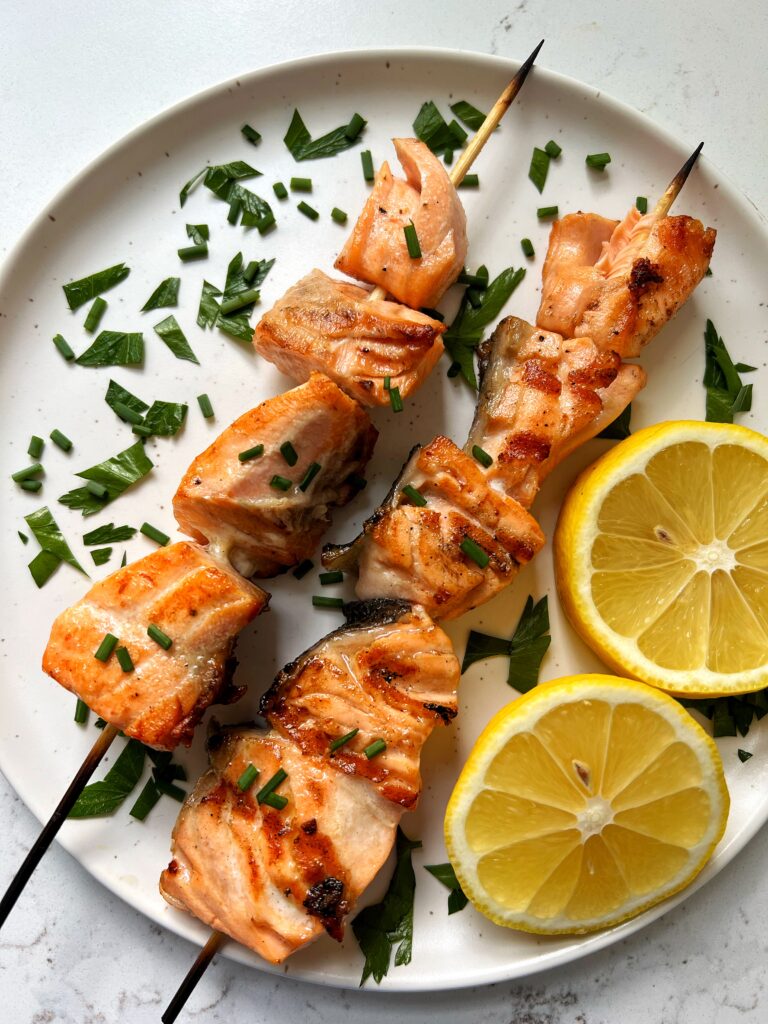 Print
How to Make Grilled Salmon Kebabs!
Sharing how to make Grilled Salmon Kebabs! One of my favorite dishes to grill using fresh salmon and this recipe is super easy to grill.
Prep Time:

5 mins

Cook Time:

10 mins

Total Time:

15 mins
12 ounces

salmon, cut in 1-inch pieces (I use organic scottish salmon or wild alaskan)

2 tablespoons

olive oil

Sea salt and black pepper to taste

Juice of

1

lemon

2

bamboo skewers
Instructions
Heat the grill on medium heat and soak the bamboo skewers for a few minutes to soften (this prevents them from burning on grill)
Add salmon to bowl and drizzle oil on top and salt and pepper and fresh lemon juice (you can add more spices if you want too!)
Allow the salmon to marinate for a few then gently add salmon to skewers then spray well with oil to grease
Cook on grill for about 8-10 minutes total, turning halfway through
Enjoy while warm with desired sides
Notes
*Store leftovers in fridge for 3 days
**Feel free to double or triple recipe if you'd like to make more