How to make the best juicy grilled chicken ever! We are sharing our tips and method on making chicken juicy, flavorful and not try.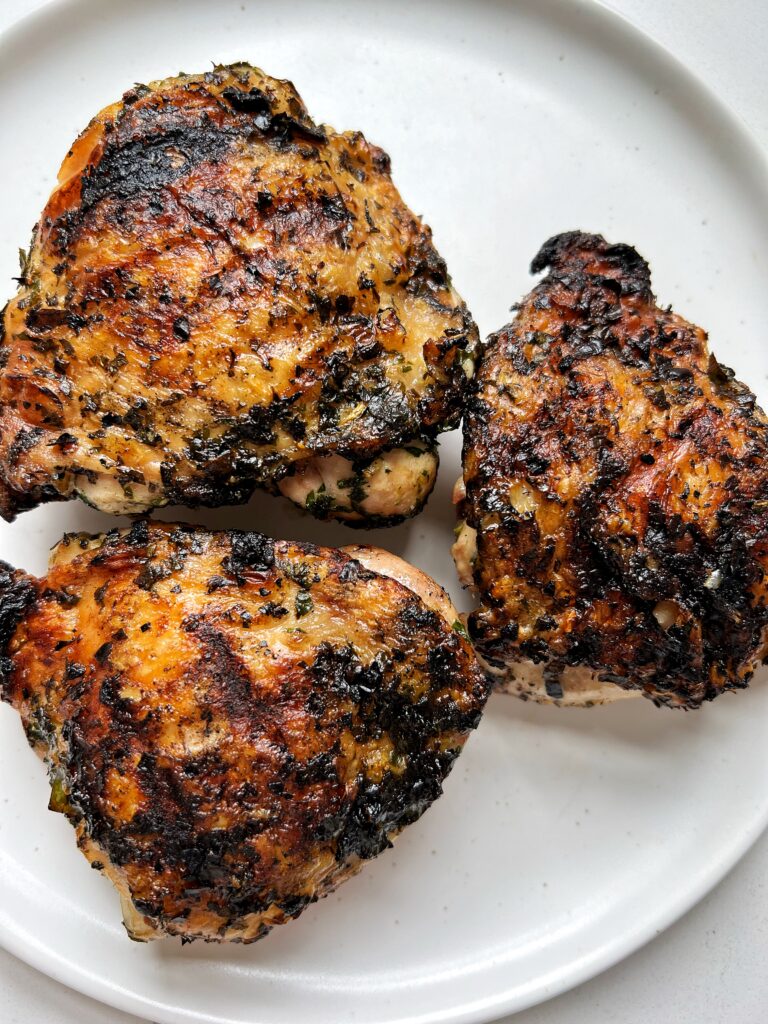 Why is it so easy to mess up chicken? Something so basic and simple yet it can be so tough to actually cook it correctly!
Well you are in luck guys because today we are sharing our tips on how to make the best chicken on the grill that is juicy, flavorful and easy to make. Plus we are even using our own simple marinade. You could of course use another dressing you love but we enjoy the simple one we share below.
I cannot wait to hear what you think of this!! Don't forget to tag me on Instagram and Tiktok if you try it.
What ingredients you need to make JUICY grilled chicken:
Fresh parsley, oregano and basil, chopped (about a handful of each)
Salt and pepper to taste
Fresh lemon juice
Bone-in chicken thighs with skin on (I love getting frozen chicken from Thrive and with this link you can get 40% off!!)
How to grill chicken like a professional:
Add chicken to a large bowl and add marinade ingredients on top and mix well
Cover bowl and marinate in the fridge for at least an hour
Remove from fridge and let the chicken come to room temp before cooking (this helps it not dry out!)
Preheat grill to 550 degrees F
Place chicken thighs skin down on grill and cook on medium high heat for 5 minutes
Flip and cook for another 4 minutes
Turn heat up to high and cook on skin side down for 1 more minute to crisp
Remove from grill and enjoy! (Internal temp of chicken should be at least 165F)
Tips on how to get chicken extra juicy on the grill:
Let the chicken come to room temperature before grilling. Thaw it out before hand because putting cold chicken on grill can cause it to cook unevenly.
Grill good quality chicken! Organic, antibiotic and hormone free. Poor quality chicken tastes different to me. It is more dried out because of the food it is fed and how it is taken care of. This impacts the meat.
If your chicken is too thick, pound the meat a bit. I like to do this with larger chicken breasts especially because the height can be a bit irregular. You want the chicken to be uniform in size.
Season and marinate the chicken before grilling. This helps seal in moisture for the meat and most of it burns off so don't be afraid to over season/salt/marinate.
Skinless and boneless chicken will need different cook times than skin-on and bone-in. I personally like to make skin-on and bone-in for optimal flavor.
Time the cooking! Don't overcook. We take off too early sometimes and check temperature and I'd rather that than eat chewy chicken.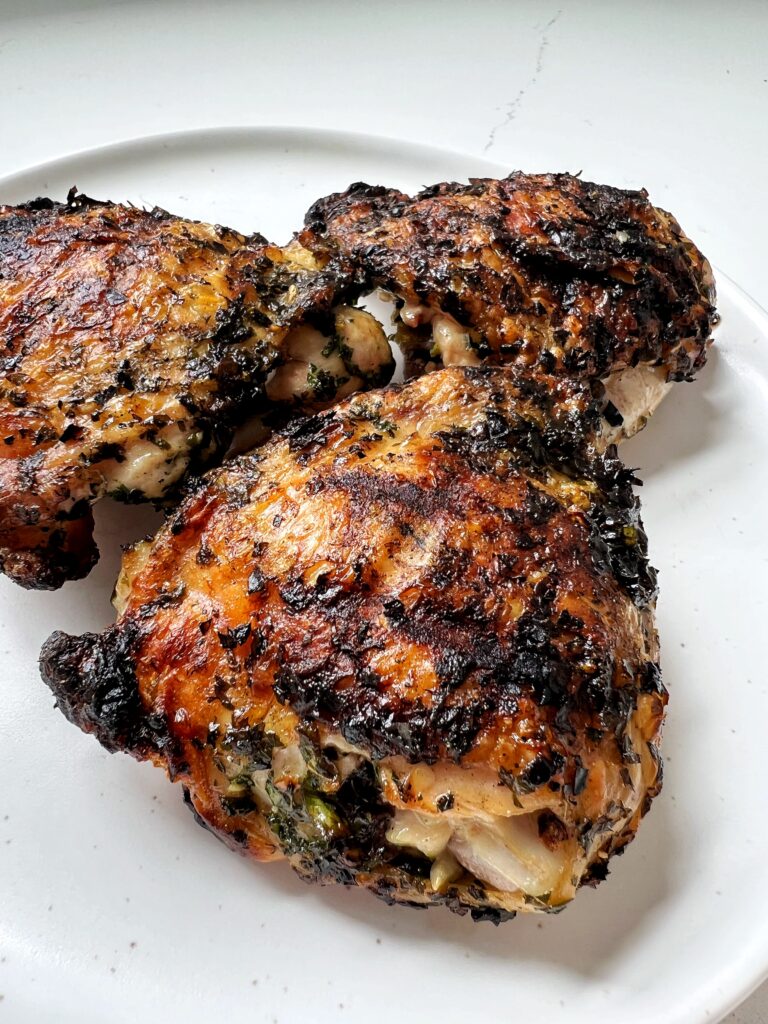 A few recipes to serve this grilled chicken with:
Healthy Thai Pineapple Rice Salad
Vegan Thai Noodle Salad with Peanut Dressing
Delicious Crispy Rice Salad (gluten-free)
The Best Vegan Avocado Pesto Pasta
Print
The Best Juicy Grilled Chicken Recipe
How to make the best juicy grilled chicken ever! We are sharing our tips and method on making chicken juicy, flavorful and not try.
Prep Time:

1 hour

Cook Time:

10 minutes

Total Time:

1 hour 10 minutes
Yield: Makes about 3 pieces of chicken 1x
Marinade:
1/4 cup

extra virgin olive oil

Fresh parsley, oregano and basil, chopped (about a handful of each)

Salt and pepper to taste

Fresh lemon juice
Chicken:
1

lb bone-in chicken thighs with skin on (I love getting frozen chicken from Thrive and with this link you can get 40% off!)
Instructions
Add chicken to a large bowl and add marinade ingredients on top and mix well
Cover bowl and marinate in the fridge for at least an hour
Remove from fridge and let the chicken come to room temp before cooking (this helps it not dry out!)
Preheat grill to 550 degrees F
Place chicken thighs skin down on grill and cook on medium high heat for 5 minutes
Flip and cook for another 4 minutes
Turn heat up to high and cook on skin side down for 1 more minute to crisp
Remove from grill and enjoy! (Internal temp of chicken should be at least 165F)
Notes
*Store leftovers in fridge for 5 days
**Feel free to double/triple recipe to make more chicken