This Crispy Rice Salad is such an easy and flavorful recipe to make for lunch or dinner. Filled with tuscan kale, edamame, crisped rice and you can dress it with any protein you'd like or enjoy as a plant-based meal.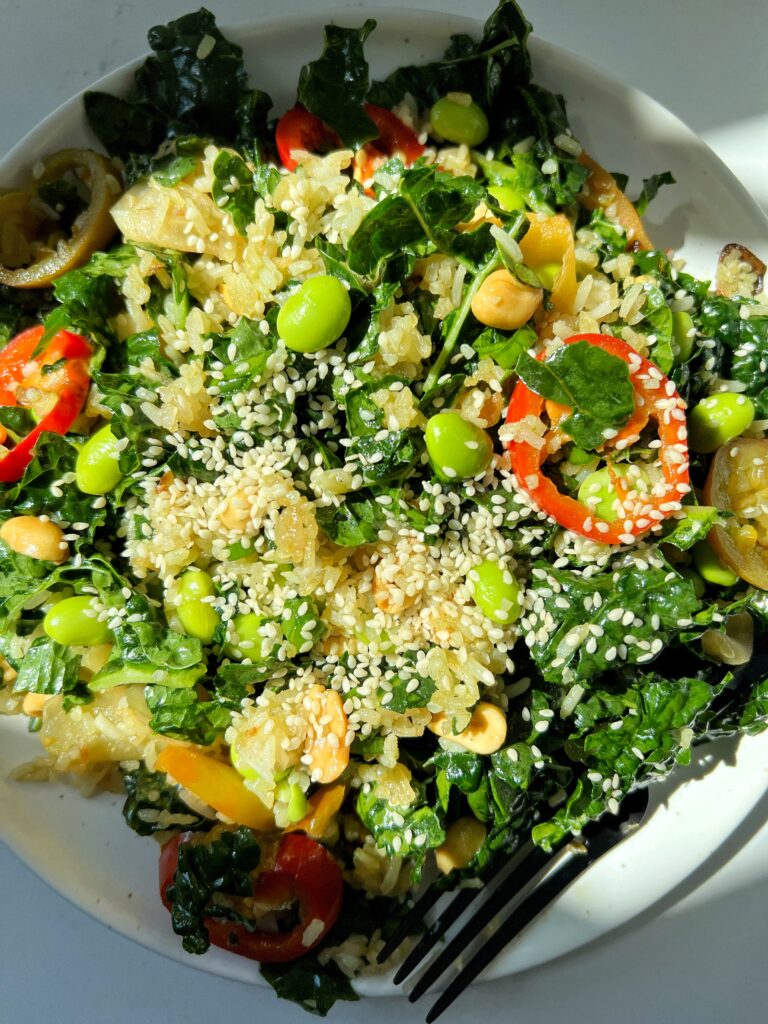 Crispy rice is superior to standard cooked rice. It is just a known fact at this point. And when you add it into your salad – OH MY GOSH you will fall in love guys.
Crispy rice in my salad is one of my most favorite things right now. It adds flavor, texture and it just makes this salad a lot more filling than your usual salad. Plus if you know me well – you know I always need crackers chips or something bready with my salads. But when you add the crispy rice – it really just hits the spot.
This recipe is one of those dishes you will keep coming back to. It is great to prep for work lunches, school, anything. Just add the dressing day of and enjoy it friends.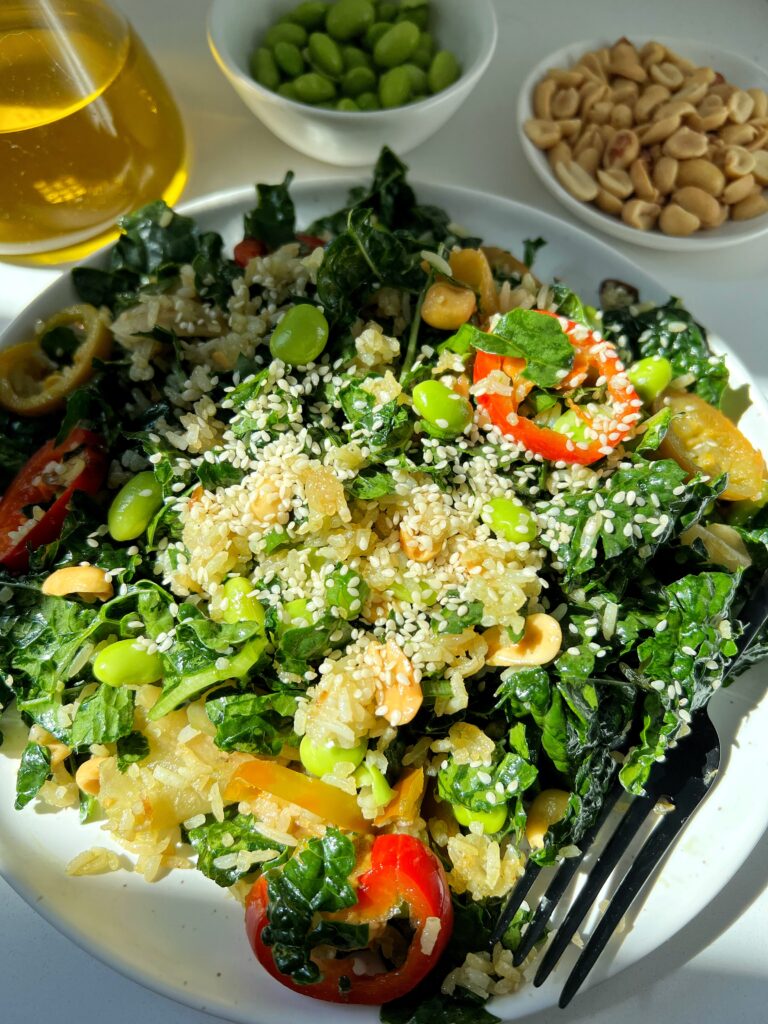 What ingredients you need to make this crispy salad bowl:
Basmati rice – or any rice you prefer to use. I love using basmati or a brown rice.
Filtered water + Broth – a mix of water and broth to cook the rice. I love using this to make things extra flavorful. Use code RACHL for 15% off.
Tuscan kale – I usually buy a large head of this at the store or you can buy a large bag already cut too.
Olive oil – for massaging the kale a bit
Garlic cloves – I love adding these to the rice when you crisp it to make it flavorful.
Sweet onion – same here with the onion. It makes such a difference in taste for the rice.
Edamame beans – not in the shells! I buy frozen from the store usually. Also just an easy thing to keep on hand to snack on.
Scallions – chopped to garnish on top. I like using the green part of the scallion.
Cherry peppers – we buy these jarred. Jordan is obsessed with them.
Kimchi – I snack on kimchi while we cook dinner a lot and it usually never makes it into my bowl. You can thank Jordan for this idea and I am so happy we added it in!
Roasted unsalted peanuts – if you know me – you know I look for any excuse to eat peanuts. These are so good and add such a delicious crunch and texture and flavor too to the salad. You also use cashews too but I am biased with peanuts.
Coconut aminos – my go-to instead of soy sauce since we both try not to eat it. Coconut aminos are my secret weapon.
Sesame oil – I love using sesame oil!! Adds so much more flavor to recipes.
FAQs on making crispy rice salad:
How do you make crispy rice at home? Don't quote me on if this is the *it* way but this is how we make it (and more details below). But we take cooked rice and put it into skillet with oil, garlic and onion and cook it over medium heat for a few minutes until crispy. Don't add a lid on top so it gets crispy.
What kind of rice works best for this? I prefer a white basmati rice. It is our go-to kind of rice to use but you can use any you prefer. I think the white basmati works best. Or even brown basmati rice.
Can I add protein to this? OF COURSE! We wanted to keep this plant-based but I love adding salmon and chicken in this salad.
A few other salad recipes to try that actually taste good:
Copycat Sweetgreen Kale Caesar Salad
Copycat Sweetgreen Harvest Bowl
The Best Winter Kale Salad to Make
Crowd Pleaser Brussels Sprout Slaw!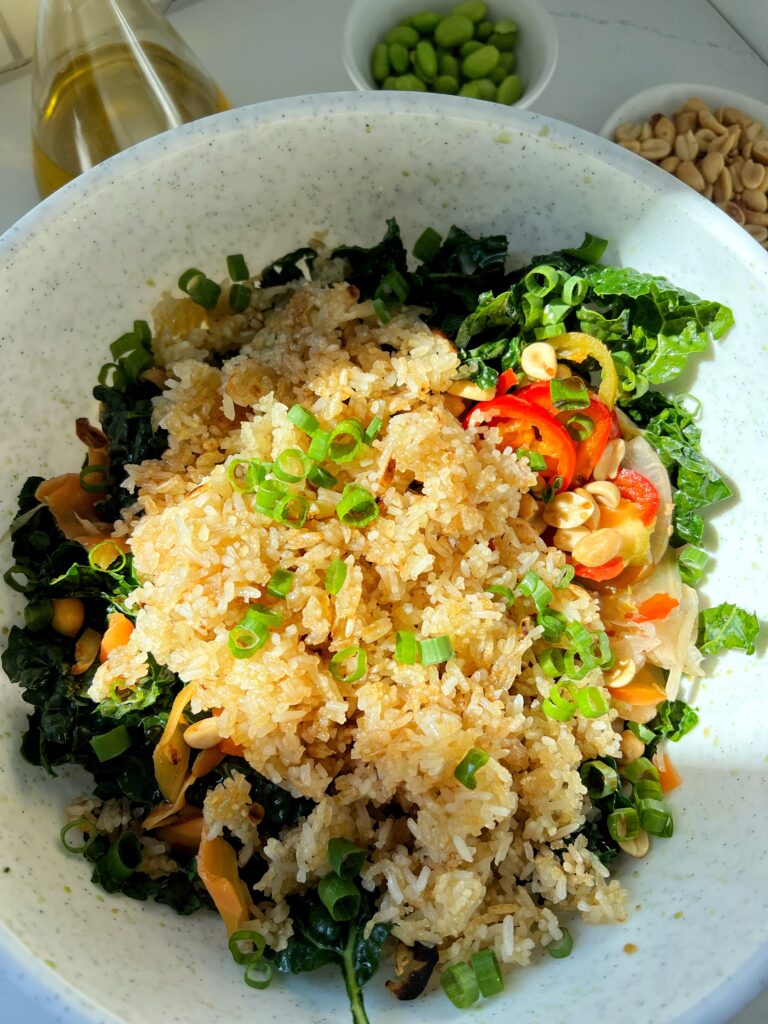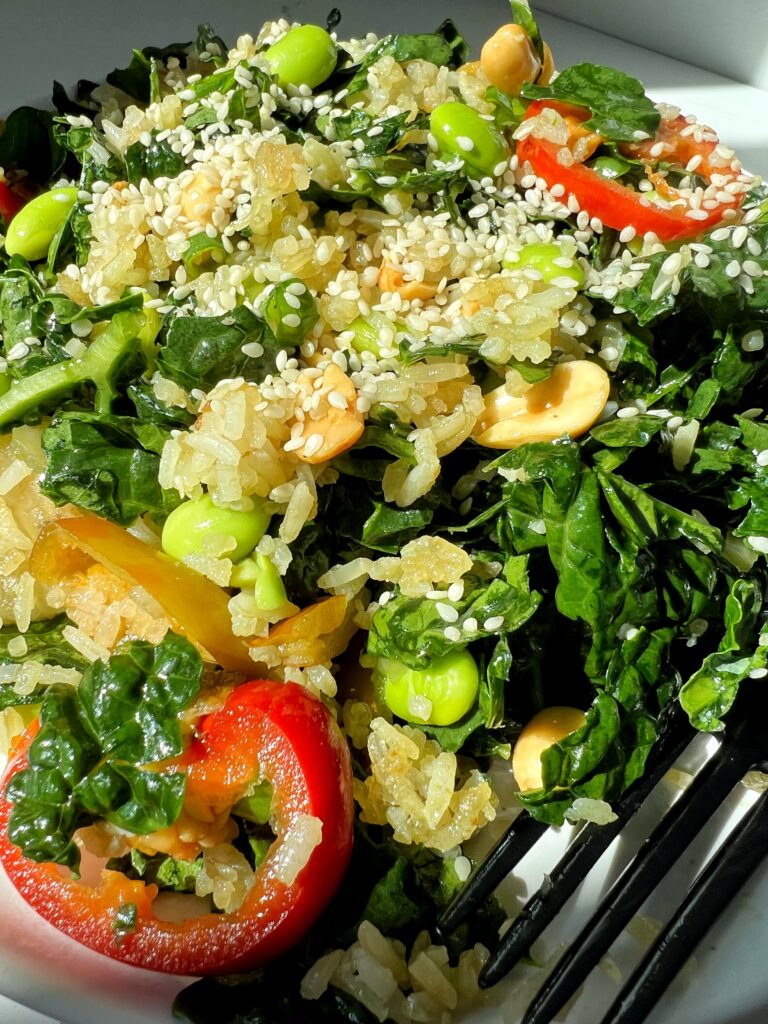 Print
Delicious Crispy Rice Salad (gluten-free)
This Crispy Rice Salad is such an easy and flavorful recipe to make for lunch or dinner. This salad is vegan, gluten-free and craveable.
Prep Time:

5 mins

Cook Time:

15 mins

Total Time:

20 mins
1/2 cup

basmati rice, uncooked

1/2 cup

broth (code RACHL)

1/4 cup

filtered water

1

large head of tuscan kale

Olive oil to massage kale

2

garlic cloves, chopped

1/4 cup

chopped sweet onion

1

edamame beans (not in the shells)

1/4 cup

scallions, chopped

1/3 cup

cherry peppers, sliced

1/2 cup

kimchi, chopped

1/3 cup

roasted unsalted peanuts

1.5 tablespoons

coconut aminos

1 tablespoon

sesame oil

Salt and pepper to taste
Instructions
Prepare the rice per package but do a mix of the broth and water (optimal flavor!)
While the rice cooks, remove stems from the kale and chop the kale
Add kale to a large mixing bowl and massage with your hands with olive oil to cut the bitterness
Warm a large skillet with oil, garlic and onion and cook for 3-5 minutes or until fragrant
Add in the rice and press down to form a large "rice pancake" of sorts
Cook on medium heat for about 8 minutes then start to stir it to crisp the other side of the rice (do not cover the rice or it won't crisp!)
Remove rice from pan once crisped and add to mixing bowl with the kale and add in the edamame, scallions, peppers, kimchi, peanuts and mix
Dress with coconut aminos and sesame oil and salt and pepper and enjoy!
You can also add some cooked salmon, chicken or any additional protein if you'd like
Notes
*This tastes best 1-2 days after making. if you want to extend it for 5 days, I recommend adding the dressing in just before eating so it doesn't get soggy. And don't massage too much oil in the kale when you prep.