How to Grill Sweet Potato Fries and make a delicious and easy homemade garlic aioli on the side for dipping.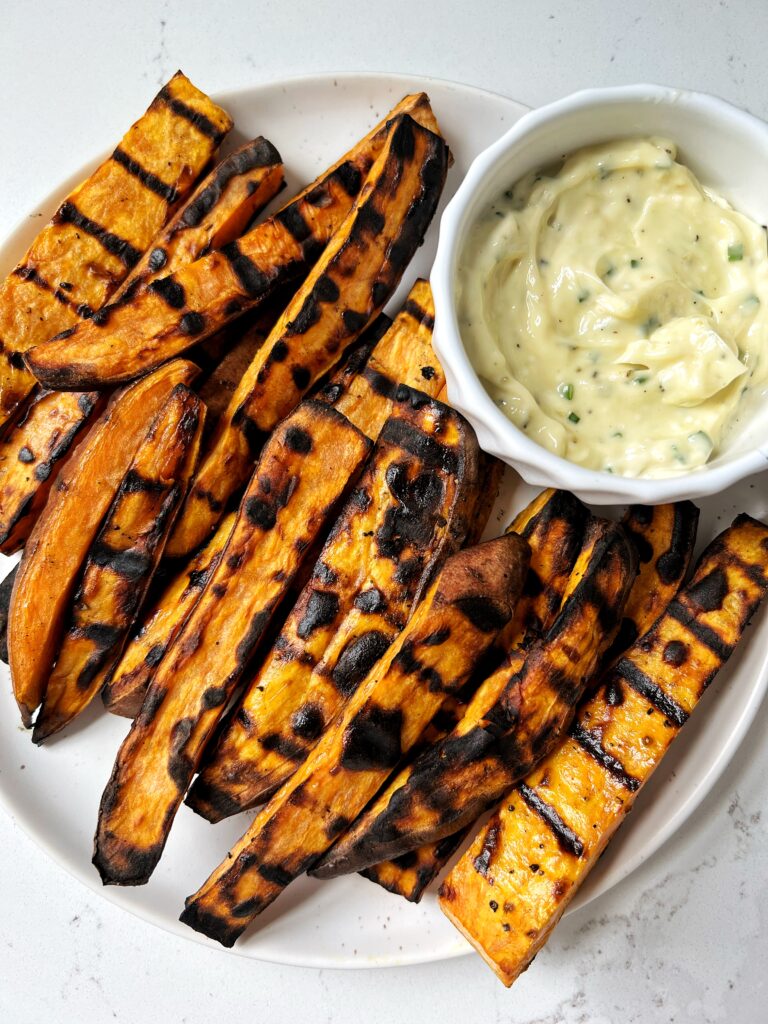 We are a sweet potato loving family over here.
Anytime you come over, there is a 95% chance that when you open the door, you will find sweet potato fries in there. And making them on the grill is my new favorite method. They are so delicious, so crazy addicting and our kids love them too! Plus you can use any sweet potatoes you want to make this recipe!
We love dipping them in an aioli dip of sorts that is super simple to make. It takes 2 minutes to put together and when you make these grilled sweet potato fries, you will be full on hooked on making this aioli every time.
I cannot wait to hear what you think of this!! Don't forget to tag me on Instagram and Tiktok if you try it.
What you need to make garlic aioli and sweet potato fries:
Large sweet potatoes – any kind you want works!
Olive oil – or use an avocado oil if you prefer
Sea salt and black pepper
Mayo of choice – any mayonnaise works here
Garlic clove – works better than garlic powder here
Lemon – fresh lemon juice works best
Fresh chive – obsessed with having these in our herb garden!!
How to make sweet potato fries on the grill:
Slice the sweet potatoes into fry form (I trim the ends and cut long ways)
Soak fries in a bowl of cold water for 30 minutes the strain
Meanwhile, prepare the aioli by combining ingredients in a small bowl until fully combined
Season fries with oil, salt and pepper in large bowl
Heat grill to 400 degrees F
Add fries to grill and cook on medium heat for 5 minutes
Flip and cautiously drizzle more oil on top and cook for another 3 minutes
Remove fries from heat once they are soft with a fork touch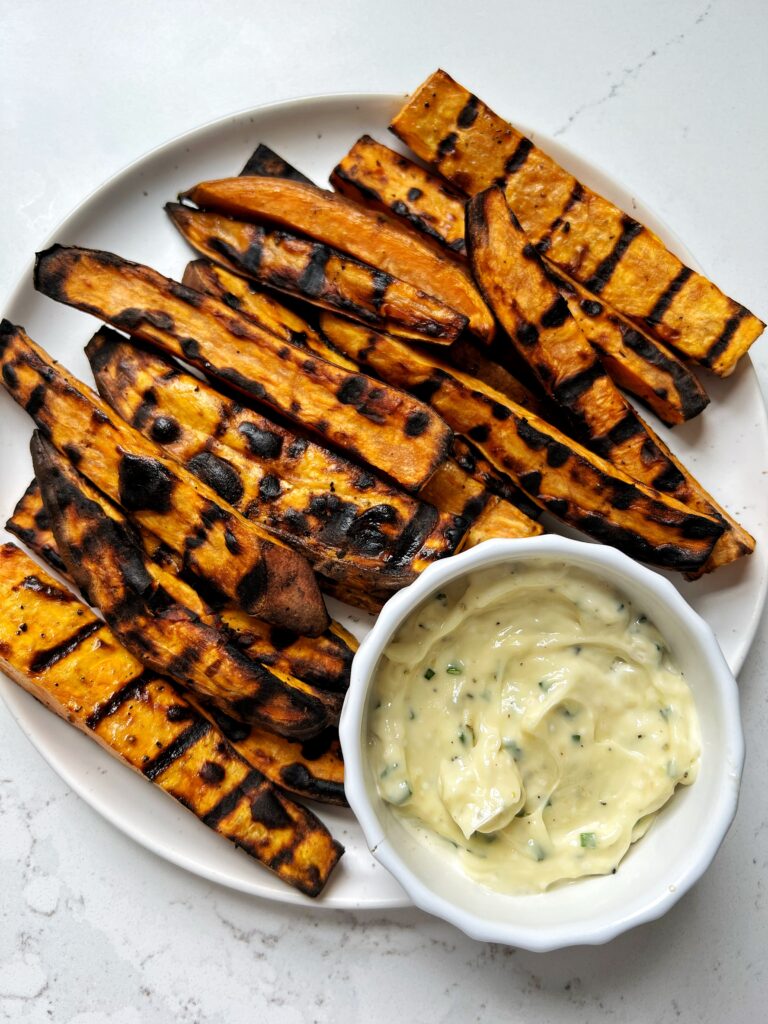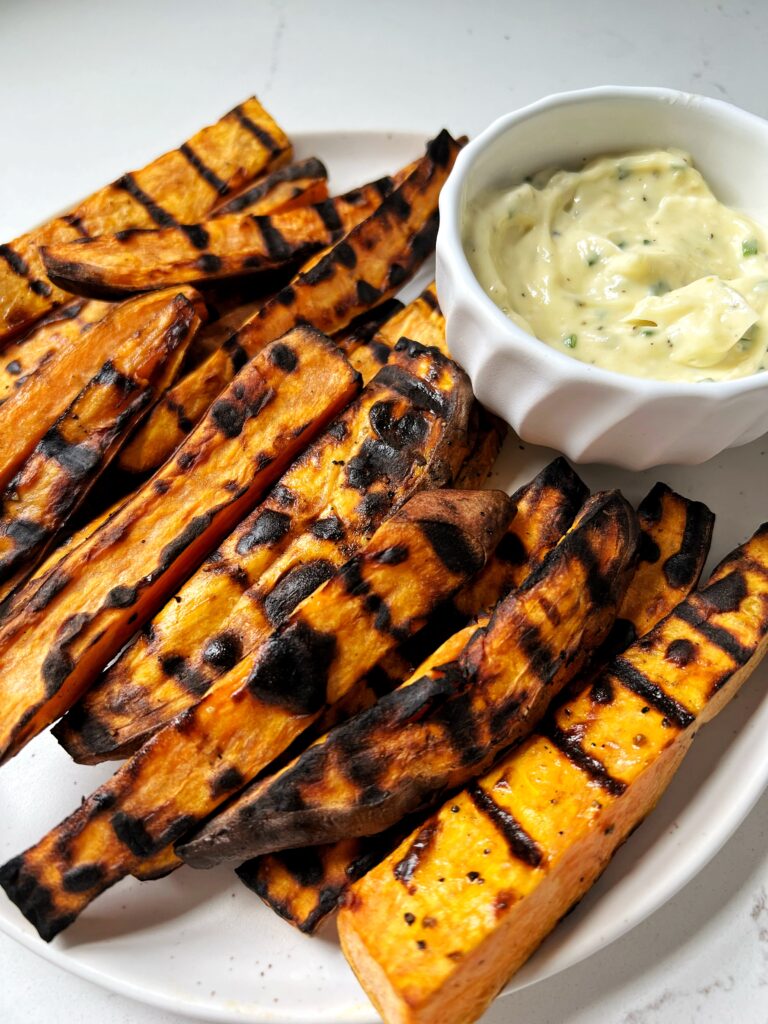 FAQs on grilling sweet potato fries:
How do you get the sweet potato fries crispy? Toss them in oil and cook them with space in between on the grill. You don't want to overcrowd them on there or they won't cook properly.
Can I use any sweet potatoes in the grill? Yes! We usually use the orange sweet potatoes, Japanese sweet potatoes and white sweet potatoes most often.
What does soaking sweet potatoes in water do? Soaking them is key!! It helps release starches which makes them get crispy when you cook them.
A few recipes to serve with these grilled sweet potato fries:
How to Grill Chicken on the Stovetop (no grill needed)
Paleo Chicken Nuggets (nut-free!)
Delicious Cheese Stuffed Meatballs! (keto)
Epic Gluten-free Buffalo Chicken Burgers
Print
How to Grill Sweet Potato Fries!
How to Grill Sweet Potato Fries and make a delicious and easy homemade garlic aioli on the side for dipping.
Prep Time:

30 mins

Cook Time:

10 mins

Total Time:

40 mins
Instructions
Slice the sweet potatoes into fry form (I trim the ends and cut long ways)
Soak fries in a bowl of cold water for 30 minutes the strain
Meanwhile, prepare the aioli by combining ingredients in a small bowl until fully combined
Season fries with oil, salt and pepper in large bowl
Heat grill to 400 degrees F
Add fries to grill and cook on medium heat for 5 minutes
Flip and cautiously drizzle more oil on top and cook for another 3 minutes
Remove fries from heat once they are soft with a fork touch
Notes
*Store leftovers in fridge for 5 days