Healthy Dairy-free Vodka Sauce made with simple and easy ingredients for an easy homemade and healthy penne vodka sauce!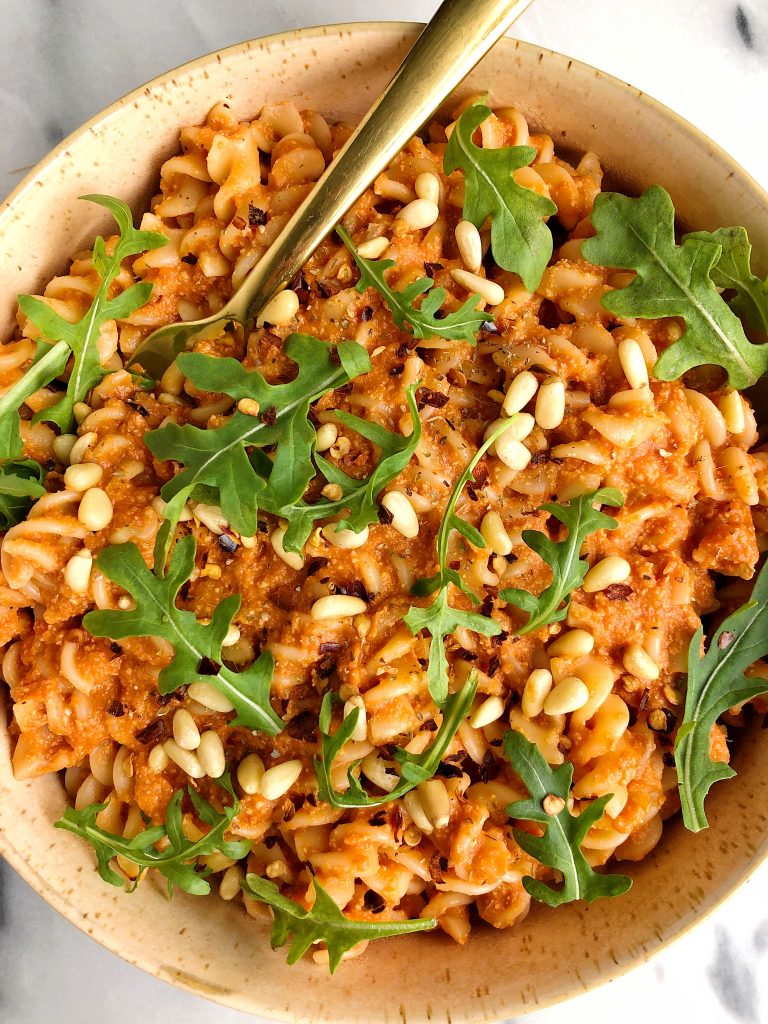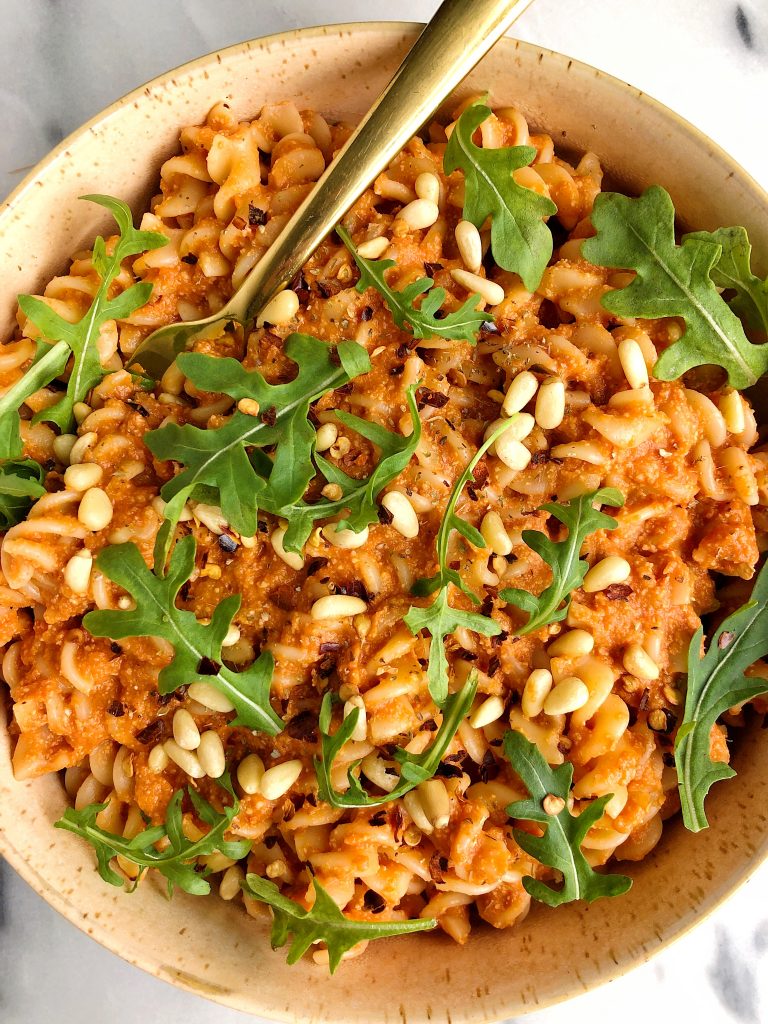 When I was younger and we went to an Italian restaurant, there were one of two things I ordered: pizza of sorts or penne vodka.
The creamier the vodka sauce, the better it was. Except I never was a fan of the peas that restaurants added. Anyone else? You also couldn't pay me to eat a veggie those days, ha!
Today we are making a much healthier vodka sauce to toss with your favorite pasta than what we are used to in the restaurants. No heavy cream involved, just a few simple ingredients and you are going to be in complete pasta heaven.
What do we need for this dairy-free penne vodka?!
First up we are using roasted and salted cashews to make a cream of sorts instead of heavy cream. I prefer using roasted and salted cashews for this instead of raw unsalted because it makes them much more flavorful to add in the sauce. I also add in one of my go-to cooking companions, Bonafide Provision's Organic Chicken Bone Broth. You guys know my love for that bone broth is real. I have been using it now for over two years and it is a complete staple in my fridge and cooking at all times.
I love adding bone broth to this sauce for added flavor, protein and nutrients. I chat more on my obsession with bone broth here for you guys!
Enjoy this sauce with your favorite noodles and enjoy friends.
Once you have some of Bonafide's broth opened, here are a few of my other favorite recipes using it: Homemade Bone Broth Ramen Bowls, Easy Sesame Peanut Tahini Noodles and Sweet Potato Quinoa Enchiladas.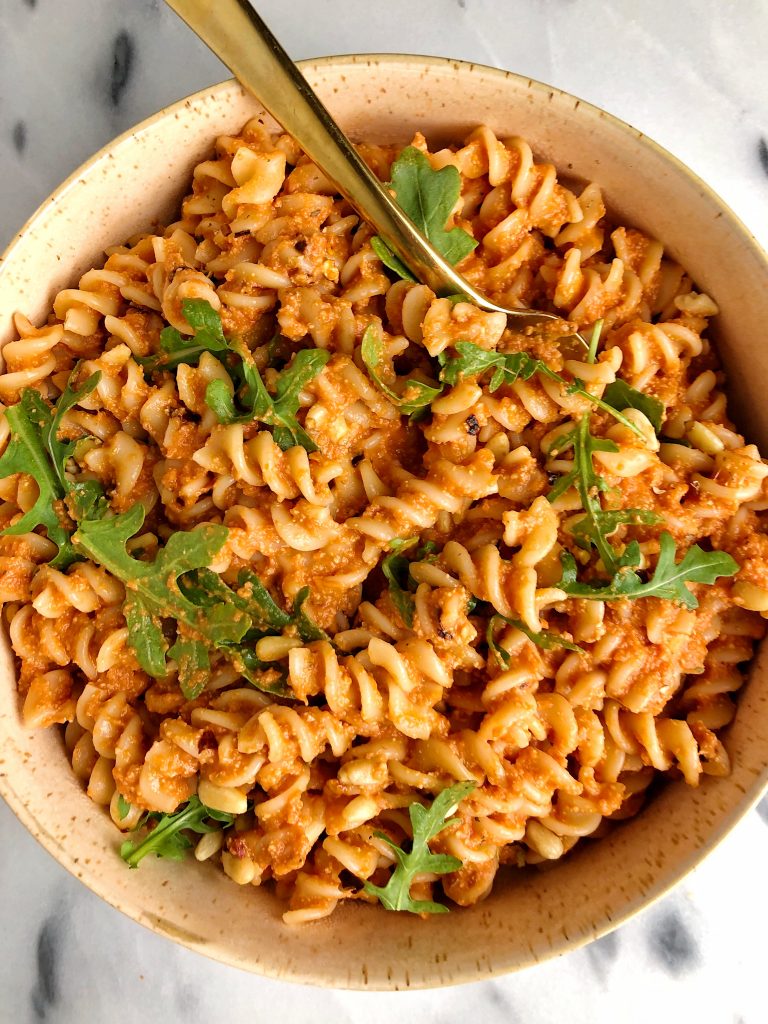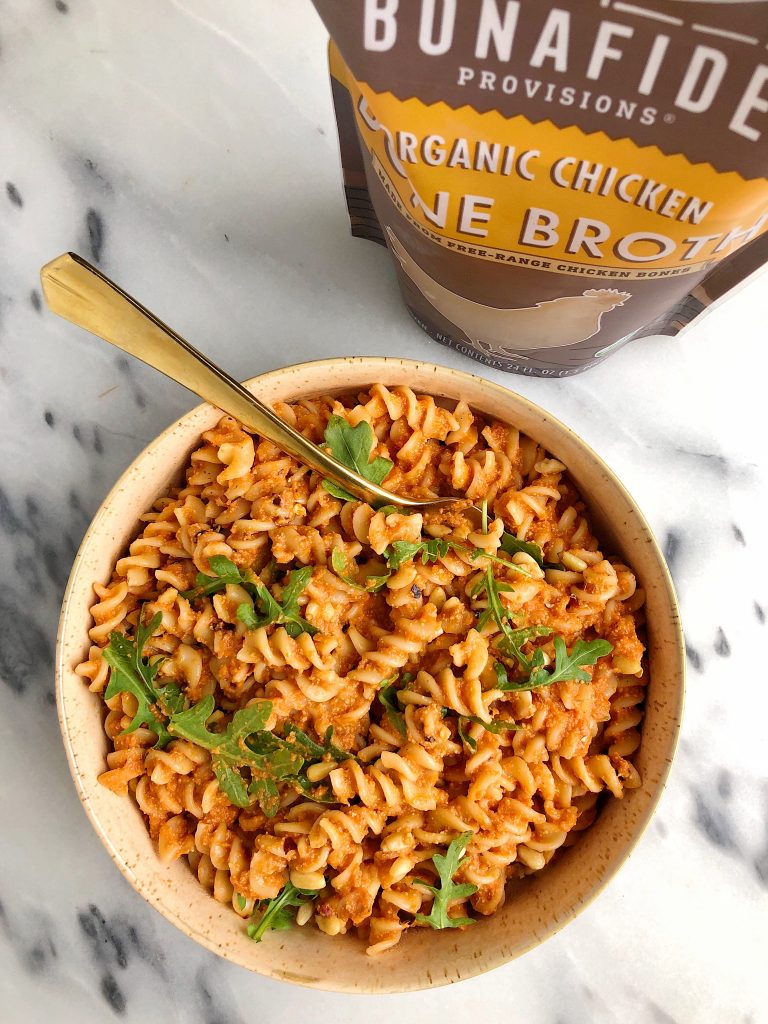 Print
Healthier Dairy-free Vodka Sauce
Healthier Dairy-free Vodka Sauce made with simple and easy ingredients for an easy homemade and healthy penne vodka sauce!
Prep Time:

5 mins

Cook Time:

30-40 mins

Total Time:

35-45 minutes
Instructions
Add cashews to a bowl and pour boiling hot water to soak for 30 minutes
As cashews soak, slice the onion and chop the garlic
Heat the avocado oil in a large pan and cook the garlic and onion over medium heat for about 5-7 minutes
Add in the oregano, tomato paste, diced tomatoes, vodka and boy broth and mix well
Bring to a boil for a minute then simmer for about 10 minutes
While the sauce simmers, begin making the pasta per instructions
As the pasta cooks, drain the cashews and add to a food processor or blender and pulse for a few minutes until creamy
Next add in the sauce to puree
Blend until smooth and creamy
Once pasta is ready, mix with sauce and enjoy!
Notes
*You can freeze leftover sauce for a couple of months and store any leftover pasta and sauce in the fridge for 5 days
xx, Rach
Thank you Bonafide Provisions for sponsoring this post. It means so much to me to partner with brands I love and believe in!