Sharing how to make the best Salmon Kale Salad ever! This recipe is my-got kale salad filled with avocado, bacon, sunflower seeds and a soft-boiled egg – so delicious!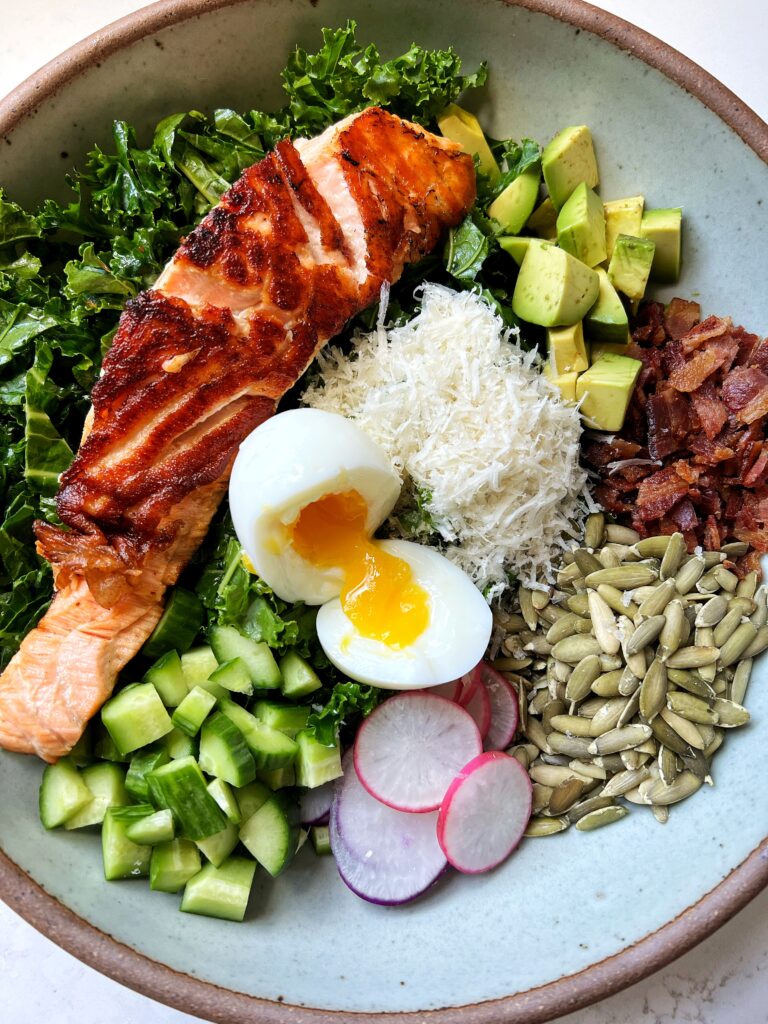 This is the best salad I have ever eaten in my life.
That is a really bold statement – I know. But this salmon combination is truly delicious. It is inspired by a restaurant we ate at in Vail. And I haven't stopped thinking about it since. So we made it as soon as we got home. Literally the next day, I went and got salmon. Jordan went to the grocery store for the other ingredients and we made it happen. It hit the spot and it turned out so good!
The soft-boiled egg with the bacon, salmon, avocado, cheese and sunflower seeds is amazing. And the cucumbers and radishes add the best crunch to it (and veggies I guess ha!).
You can use whatever dressing you'd like here too. A caesar, my green goddess dressing or even an olive oil works well!
I cannot wait to hear what you guys think of this recipe!! Don't forget to tag me on Instagram and Tiktok if you try it.
What ingredients are in the best Salmon Kale Salad:
Eggs – softboiled is my favorite way here. But you can also do hardboiled if you prefer.
Bunch of tuscan or dino kale – either works, you will shred it really well either way and massage it.
Olive oil, sea salt and black pepper to taste
Avocado – cut into chunks and make sure its ripe enough
Radish – I wanted to use a watermelon radish but couldn't find it anywhere.
Sunflower seeds – you could also use pumpkin seeds if you prefer but some type of seed here adds a great crunch.
Parmesan cheese – shredded to perfection
Bacon – I cook my bacon in the oven and chop it up.
Cucumber – adds a great crunch in here. I love cucumbers in my salads.
Salmon – I look for fatty salmon so something like Wild King or Ora King. I also used an Organic Scottish Salmon and it was great.
How to make the best kale salad for two:
Fill a small pot of water and add the 2 eggs
Bring to a boil then cook for 6 minutes
Gently remove eggs from bowl and add to an iced bowl of water to cool
While the egg cools, begin prepping the salad by washing the kale, removing its stems and chopping so it is "shredded"
Add the kale to a large bowl and drizzle with a little olive oil and sprinkle salt on top then massage to cut the bitterness from the kale
Add the avocado, radish, sunflower seeds, bacon, cucumber and salmon to the bowl
Peel the egg shells and add to salads and enjoy with desired dressing (this one is my favorite and Jord loves to just use olive oil)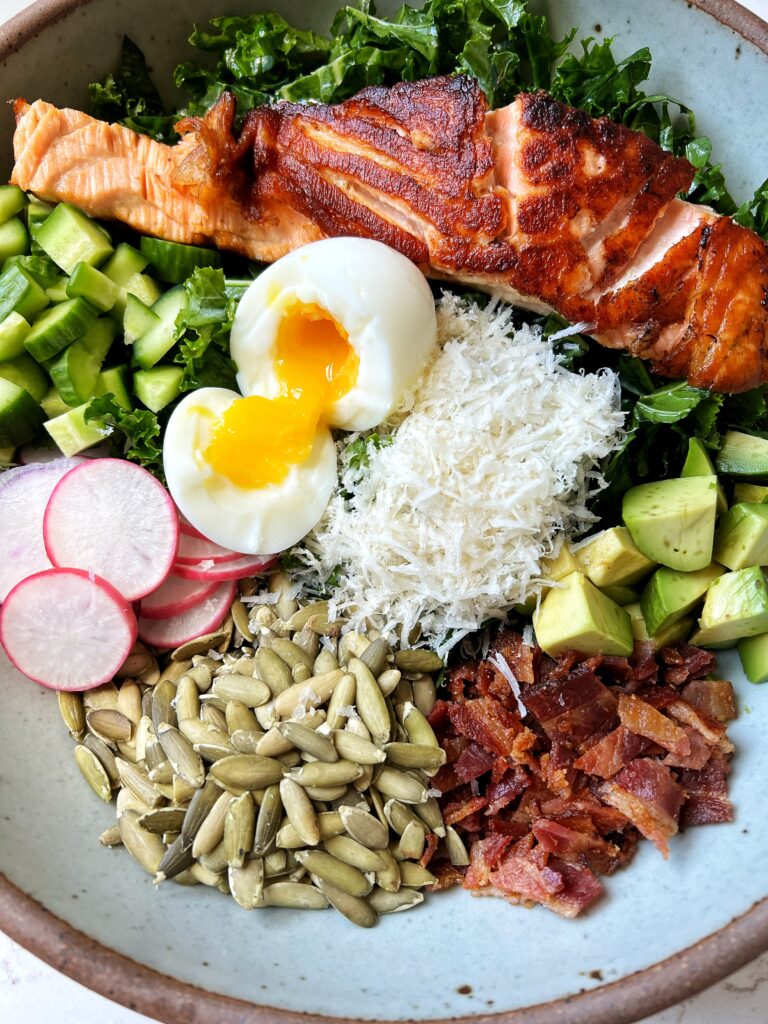 FAQs on making the best kale salad:
Does the kale taste really bitter? Not if you massage it in oil and sea salt. Massage it well with your hands to get all the bitterness out. I also find that by doing this advanced too it helps so the kale really absorbs the oil too.
Does this salad taste okay leftover? Yes! I personally love cold salmon so for me it's great. If you want to make this in advance, I recommend using a hardboiled egg instead of soft-boiled. That can get a little creepy leftover in my onion!
Does this salad need a dressing? Jordan loves using olive oil. I love using my caesar and my green goddess dressing on here, but your call.
A few of my other favorite healthy and delicious salads to make:
The Viral Jennifer Aniston Salad Made Gluten-free
Creamy Whipped Feta Pasta Salad
Delicious Crispy Rice Salad (gluten-free)
Print
The Best Salmon Kale Salad Ever
Sharing how to make the best Salmon Kale Salad ever! This recipe is my-got kale salad filled with avocado, bacon, sunflower seeds and a soft-boiled egg – so delicious!
Prep Time:

5 mins

Cook Time:

6 mins

Total Time:

10 mins
2

eggs

1

large bunch of tuscan or dino kale

Olive oil to taste

Sea salt and black pepper to taste

1

avocado, sliced

1

small radish, washed and sliced

1/4 cup

sunflower seeds

3

pieces of bacon, cooked and chopped

1

small cucumber, chopped

1/3 cup

shredded parmesan cheese

2

pieces of salmon, cooked to your liking (we usually grill it medium rare)
Instructions
Fill a small pot of water and add the 2 eggs
Bring to a boil then cook for 6 minutes
Gently remove eggs from bowl and add to an iced bowl of water to cool
While the egg cools, begin prepping the salad by washing the kale, removing its stems and chopping so it is "shredded"
Add the kale to a large bowl and drizzle with a little olive oil and sprinkle salt on top then massage to cut the bitterness from the kale
Add the avocado, radish, sunflower seeds, bacon, cucumber and salmon to the bowl
Peel the egg shells and add to salads and enjoy with desired dressing (this one is my favorite and Jord loves to just use olive oil)
Notes
*If you don't like soft-boiled eggs you can also do hard-boiled
**Store leftovers in fridge for 3 days or so but I like to eat the egg the day we cook it