Oven-Baked Everything Bagel Spice Fries made with organic potatoes, everything but the bagel spice and paired with a whole30 ketchup for an easy and delicious vegan side dish!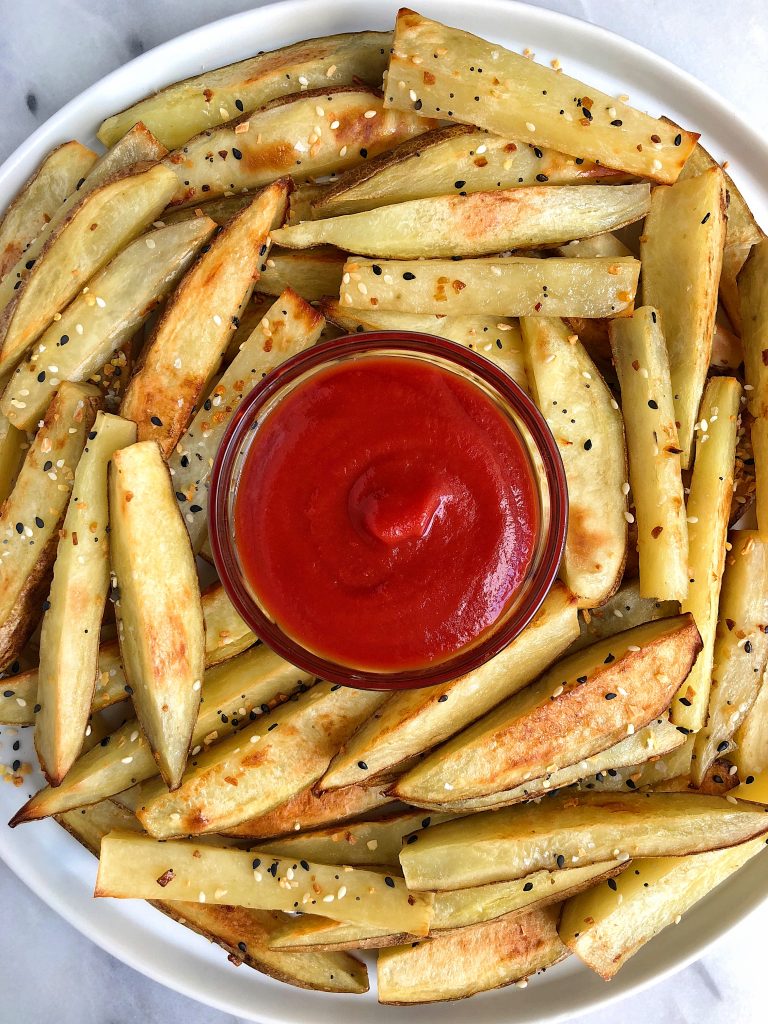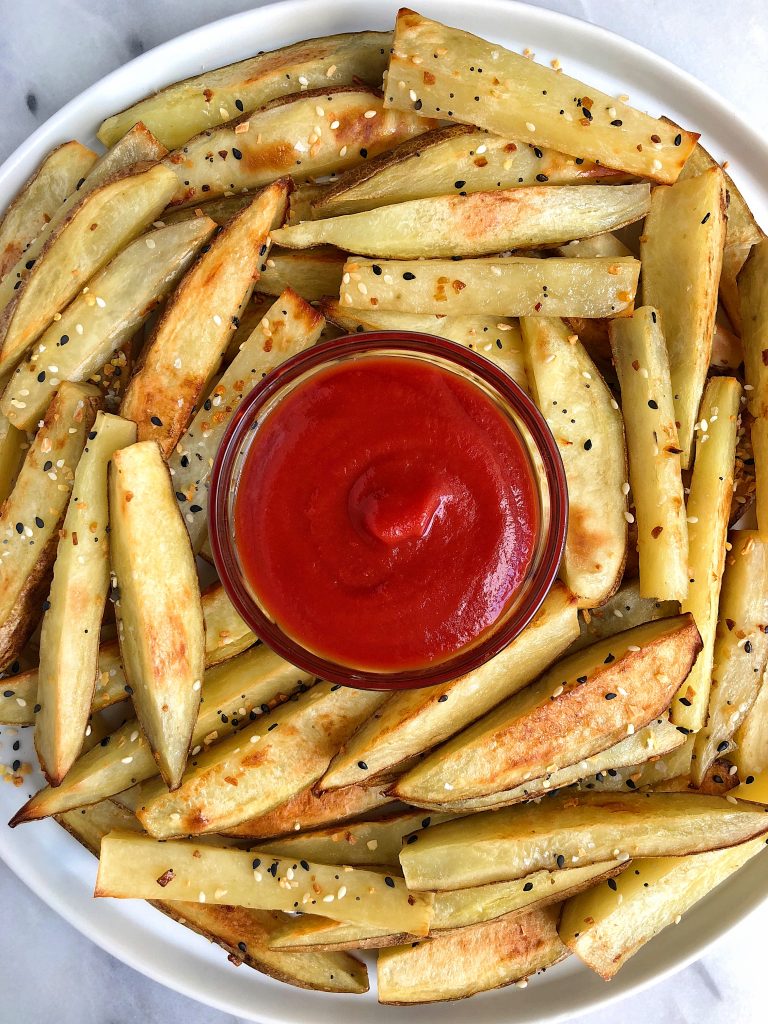 Making my own fries at home has become a weekly staple over here.
As you have seen over the based few months, there are many homemade french fries recipes on the blog. We have the original Crispy Garlic Sweet Potato Fries, Shoestring Sweet Potato Fries, Loaded Guacamole Baked Sweet Potato Fries and those Baked Thick-Cut Fries.
.. yeah you guys see my obsession now, yes?
Recently I have been on a serious bagel kick (thank you pregnancy hormones) and finally picked up that Everything But the Bagel Seasoning from Trader Joe's. I don't know what took me so long to stock up on this spice blend because it is absolutely amazing in the most perfect savory way.
I have been adding it to my eggs, toast, veggies and particularly these Oven-Baked French Fries because the flavor is just unreal. A little garlic, sea salt and onion and my tastebuds are in heaven. Plus these fries get extra crispy (full recipe below) and they pair well with pretty much anything. You can make burgers like my Bone Broth Skillet Turkey Burgers and serve these on the side. Best dang dinner idea ever.
But let's get to the important part of these Oven-Baked Everything Bagel Spice Fries, the DIP! The sauce, the condiment that goes with it perfectly. And that is Primal Kitchen's NEW Organic Unsweetened Ketchup. Yup, they have created a ketchup for us with no sugar and it is Whole30, paleo, vegan, basically anyone who wants ketchup can be eating this new product of theirs. It is made with ingredients like organic tomatoes, balsamic vinegar and spices and there is absolutely no sugar. Ketchup is one of those products that has hidden sweeteners in it. Traditional ketchup even has high fructose corn syrup, which is just nasty! Why add something like that to ketchup (or anything really)?!
You can find Primal Kitchen's Organic Unsweetened Ketchup plus their dressings and marinades and collagen fuel in Whole Foods now too! And we will be doing a little giveaway on my IG stories this week to giveaway $150 worth of Primal Kitchen product + $100 gift card to Whole Foods!
Leave it up to Primal Kitchen to make magic happen for us in the sugarless land. Anyone doing Whole30, this brand is going to be your best friend.
If you make these Oven-Baked Everything Bagel Spice Fries, don't forget to share with me on Instagram! I cannot wait to hear what you think.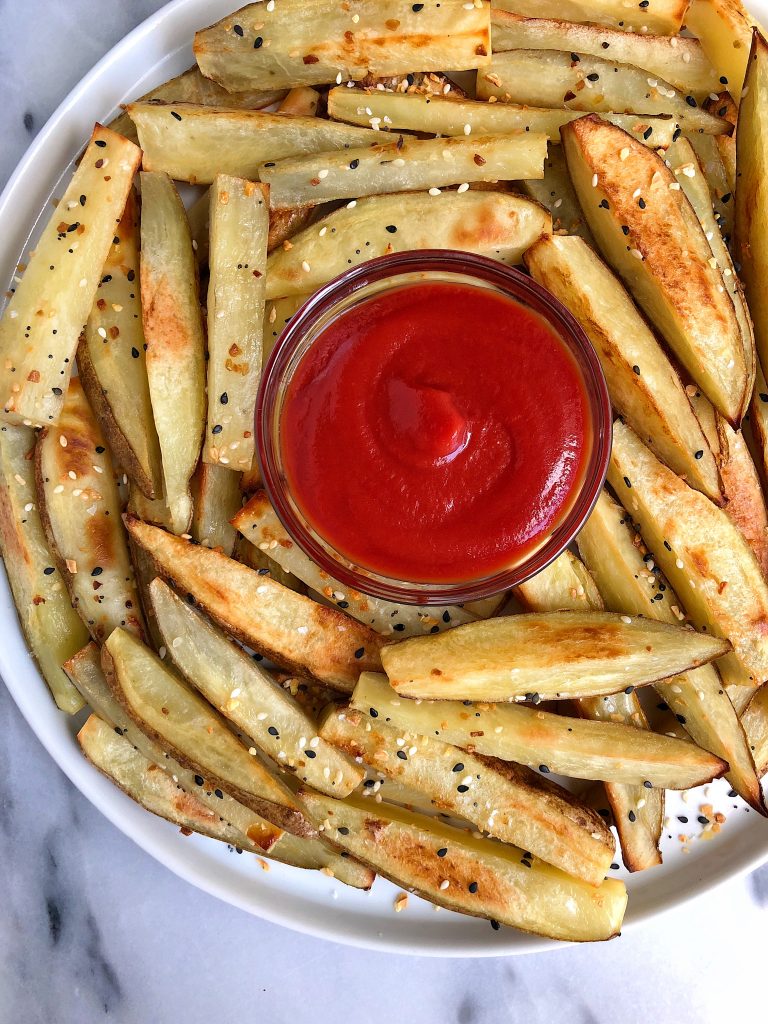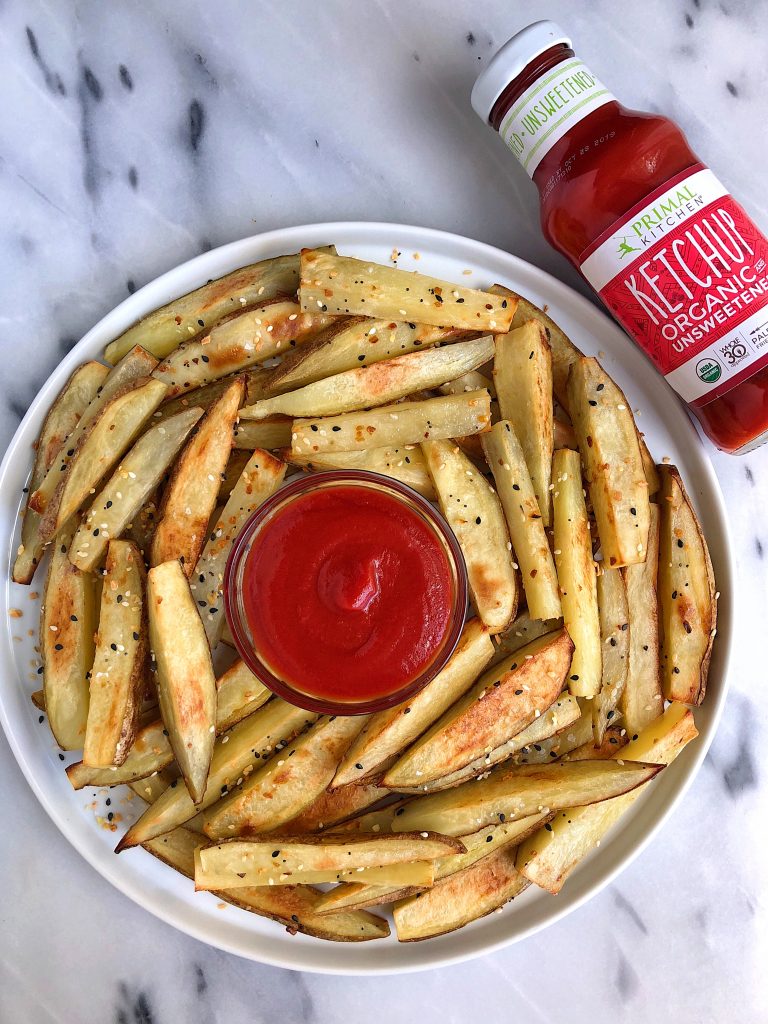 Print
Oven-Baked Everything Bagel Spice Fries
Oven-Baked Everything Bagel Spice Fries made with organic potatoes, everything but the bagel seasoning and paired with a Whole30 ketchup for an easy vegan side dish!
Prep Time:

5 mins

Cook Time:

45 mins

Total Time:

50 minutes
Instructions
Preheat oven to 425 degrees and line a large baking sheet with parchment paper
Thoroughly wash your potatoes with a brush and veggie cleaner (this is a must! potatoes are very dirty)
Slice the ends of each potato and discard then slice in half length wise then again into 3-4 slices long ways (will depend on size of potato)
Slice to desired size for your fries then toss in a large bowl with avocado oil and seasoning and coat well
Add fries to baking tray and bake in oven for 30 minutes then flip the fries over and bake for another 15-20 or until they are crispy to your liking
Enjoy with ketchup!
Notes
Store leftovers in the fridge for up to 5 days!
xx, Rach
Thank you Primal Kitchen for sponsoring this post! It means so much to me to collaborate with brands I love and believe in on the blog!
SaveSave
SaveSave