Loaded Guacamole Baked Sweet Potato Fries for a delicious and flavorful french fry recipe that is gluten-free and dairy-free!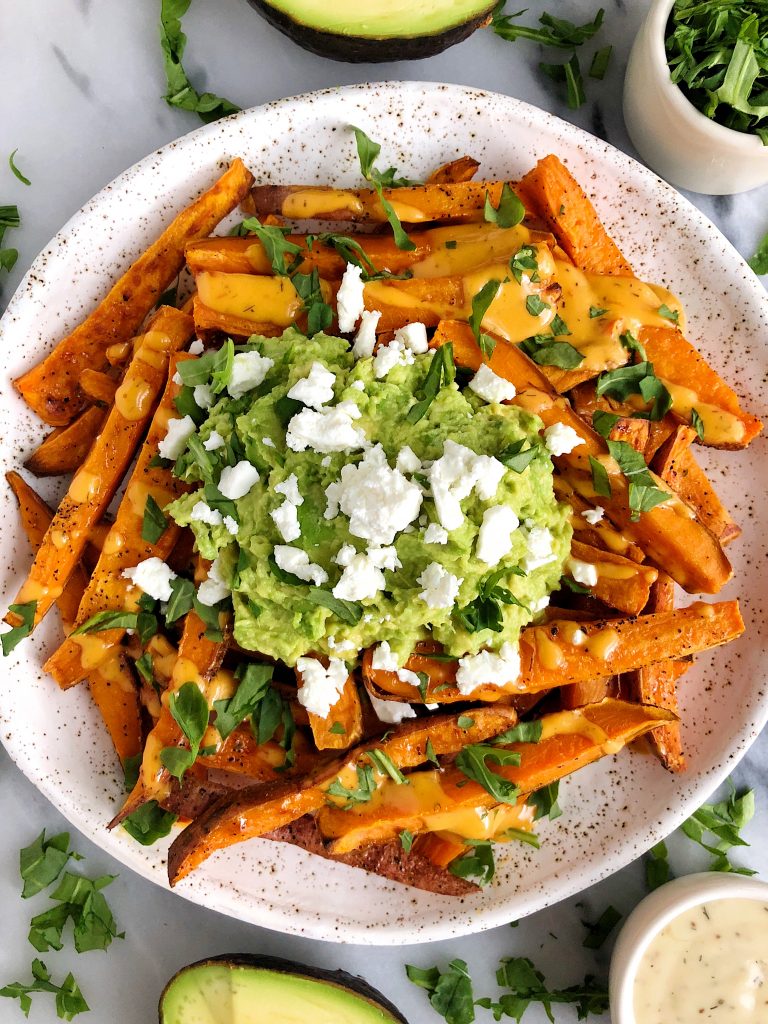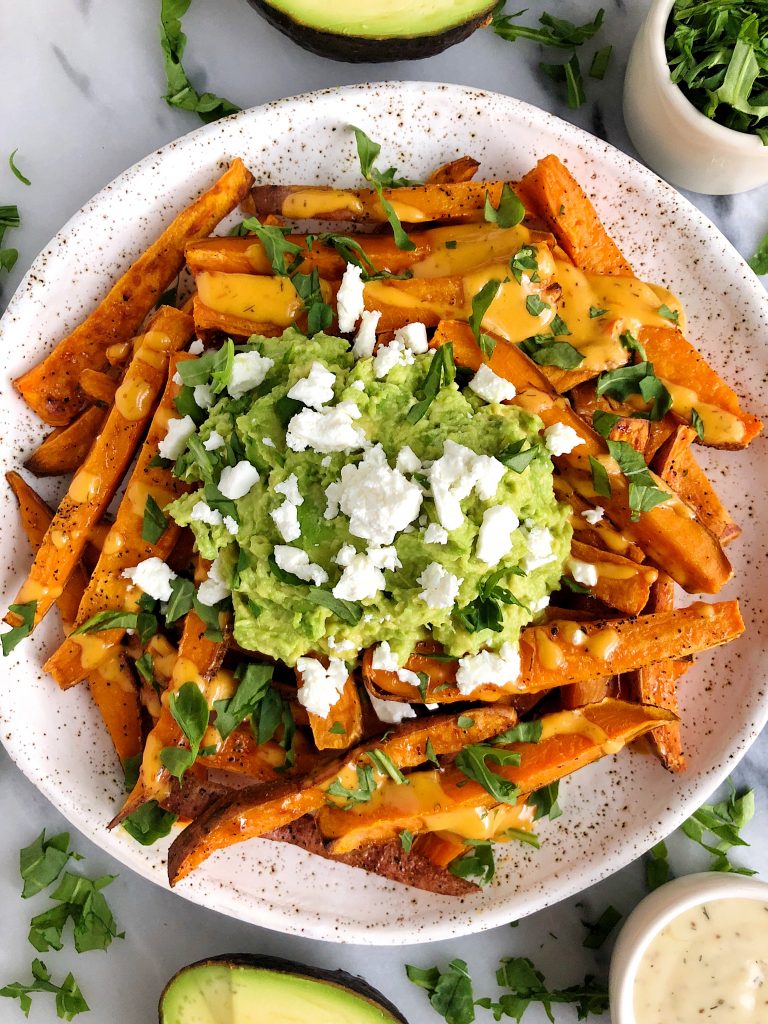 Are you ready for your new favorite sweet potato fries recipe?
Because I sure am ready to whip up another batch ASAP. These Loaded Guacamole Baked Sweet Potato Fries have been my latest craze to whip up as a fun appetizer, side dish or really any time of the day.
They combine my two favorite savory eats into one easy and delicious recipe: guacamole and sweet potato fries. It is deadly how good these taste and with a sprinkle of almond milk or feta cheese on top – oh my gosh – you will love.
The fries are oven-baked then dressed with a dreamy creamy + spicy Buffalo Ranch dressing a la Sir Kensington's and topped with an easy guacamole (aka mashed avocado because I keep my guac simple). But the dressing really takes these loaded fries to the next level. I use the new Ranch dressing from Sir Kensington's that you guys saw me post about a few times now. That Vegetarian Buffalo Mac & Cheese uses their buffalo flavor and I am always dipping my veggies and chips and potato wedges into all the flavors.
With these Loaded Guacamole Baked Sweet Potato Fries, you can use really any flavor ranch you'd like. They have Classic Ranch, Avocado Ranch, Pizza Ranch and Buffalo Ranch. I used the avocado ranch and buffalo ranch here and it was the best flavor burst ever. Plus their ranch is made with ingredients I can actually trust. All non-GMO ingredients like humane-certified eggs, 100% sunflower oil and a few other spices and things for flavor (more info here).
You guys know I use and am obsessed with pretty much every single Sir Kensington's product (hello special sauce and dijon) but these ranches are amazing. No added sugar and they have fooled my brother, Jordan and a few others who didn't even realize it's a healthier salad dressing.
If you make these Loaded Guacamole Baked Sweet Potato Fries don't forget to share on social with me. I cannot wait to see! Here are a few of my other favorite recipes I make with Sir Kensington's too: Crispy Baked Avocado Fries, Healthy Baked Sweet Potato Tater Tots and Sweet Potato Chickpea Cake Buddha Bowls.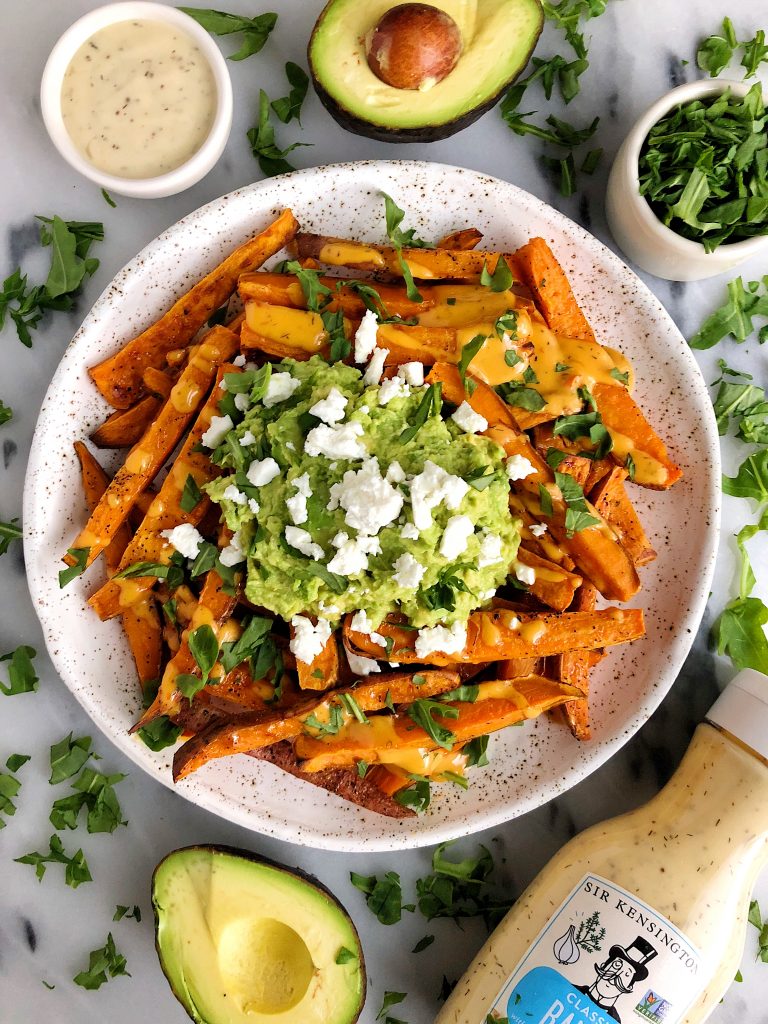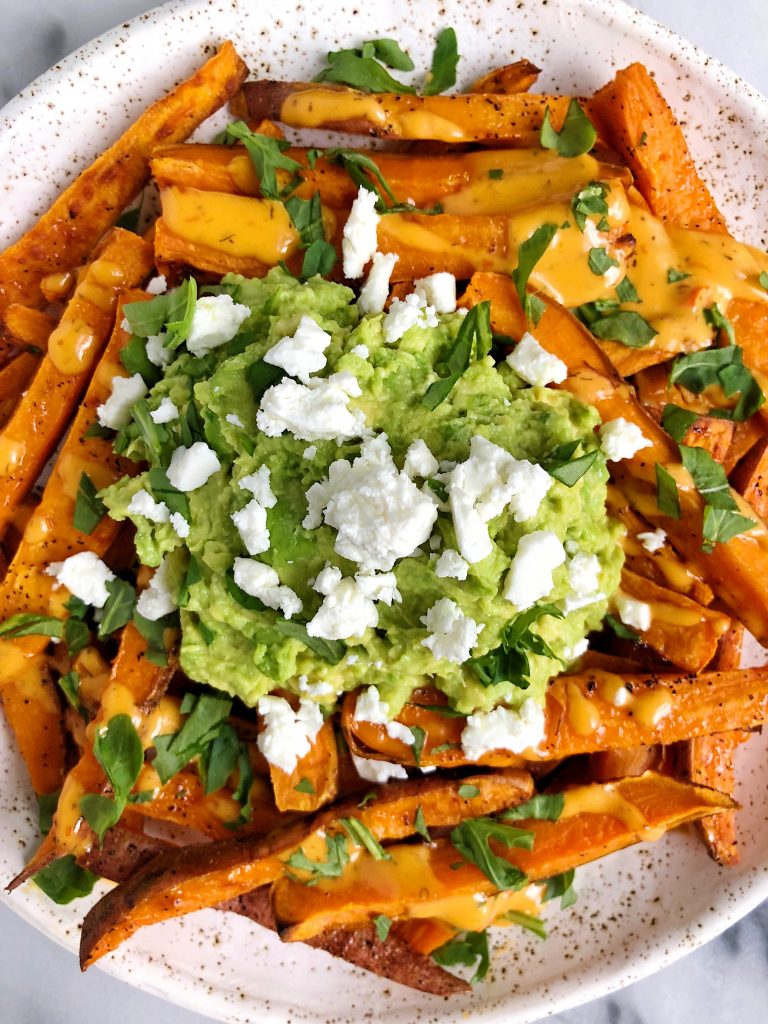 Print
Loaded Guacamole Baked Sweet Potato Fries
Loaded Guacamole Baked Sweet Potato Fries for a delicious and flavorful french fry recipe that is gluten-free and dairy-free!
Prep Time:

5 mins

Cook Time:

45 mins

Total Time:

50 mins
4

organic sweet potatoes

1 tablespoon

avocado oil

1/2 teaspoon

black pepper

1/2 teaspoon

garlic powder

1/2 teaspoon

chili powder

4 tablespoons

Sir Kensington's Ranch Dressing

1

avocado

Additional toppings: feta cheese (or non-dairy cheese), cilantro, salsa
Instructions
Preheat oven to 425 degrees and line a baking tray with parchment paper
Slice each potato's ends off then the rounded edges on each side
Slice into thin fry-like pieces and coat in avocado oil and spices (I tossed mine in a bowl)
Add to baking tray then bake in oven for 25 minutes, flip fries over and bake for another 20 minutes or so (you can also broil them at the end for crispness)
Add the fries to a large platter and begin mashing the avocado in a bowl to make the guacamole (feel free to add seasonings if you'd like)
Drizzle the Sir Kensington's dressing on top then add mashed avocado and any additional toppings
Serve while warm
xx, Rach
Thank you Sir Kensington's for spooning this post! It means so much to me to work with brands I love and believe in!