Crispy Baked Avocado Fries made with gluten-free and vegan-friendly ingredients for crispy baked avocado goodness!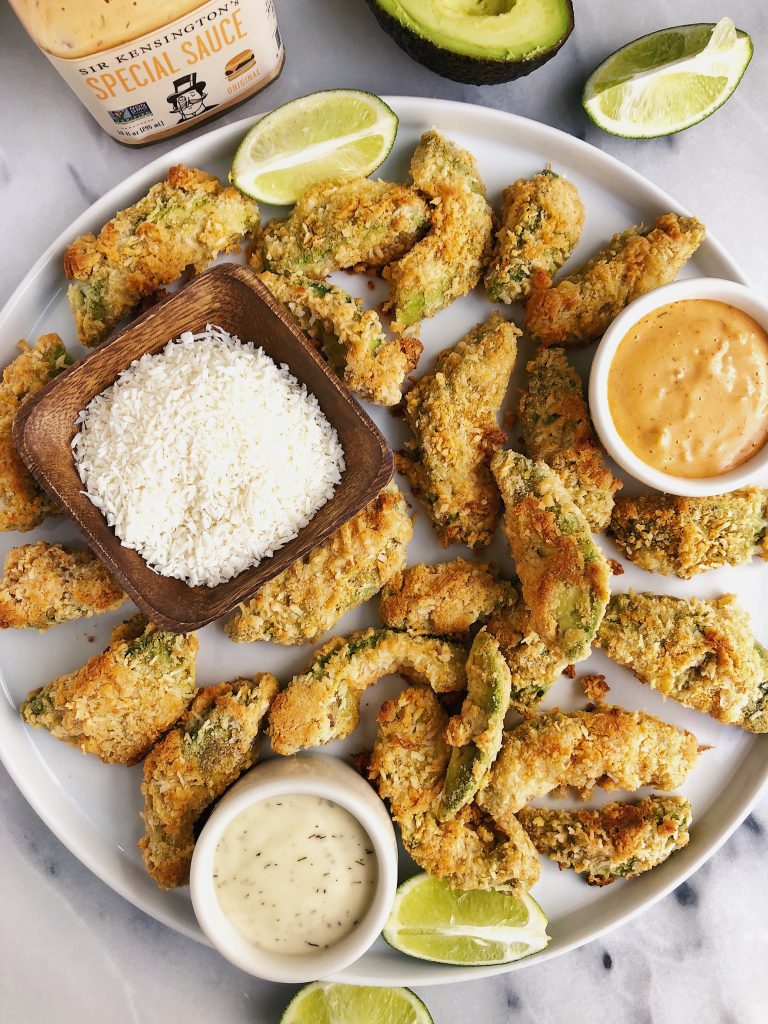 This is the recipe you want to make when you are craving something fried, flavorful and savory af — EXCEPT this recipe is a healthier version of any fried food you will find.
I made these Crispy Baked Avocado Fries and I now cannot stop making them. I am buying the bags of avocados at the grocery store every week and making them over and over again. They are so tasty you guys! Oven baked instead of fired over the skillet (although you can totally do that too), they are an easy recipe that won't mess up your perfectly clean stove. Or am I the only anal person who hates when the oil splatters?!
Plus these Crispy Oven Baked Avocado Fries use THREE of my favorite Sir Kensington's products: their new RANCH DRESSING, Special Sauce and you can either use their traditional mayo or Fabanaise!
Usually to make chicken tenders or anything that is "fried" or breaded, you dip the items in an egg mixture followed by the dry ingredients. For these, we dip the avocado slices into Sir Kensington's Mayo or Fabanaise then into the crunchy mixture. Once the avocado fries are done baking, you can dip them in Sir Kensington's new ranch dressing (made with no dairy and uses certified humane cage-free eggs!) or their special sauce. Really anything goes well with these avocado fries.
I shared these with my brother and made them with some breakfast egg tacos action and he was so into them. Coming from the guy who loves real fried food, I was beyond happy to hear him keep complimenting them!
This recipe tastes best when you make and eat them in the same day, but you can absolutely make them ahead of time and eat the next day if needed. The avocado may brown a little but not too much since it is cooked.
Once you make these Crispy Oven Baked Avocado Fries, share them with me on Instagram and tag me and #rachLeats. Then we can make some of my other favorite recipes using Sir Kensington's: Vegetarian Buffalo Mac & Cheese, Baked Sweet Potato Tater Tots and Crispy Garlic Sweet Potato Fries.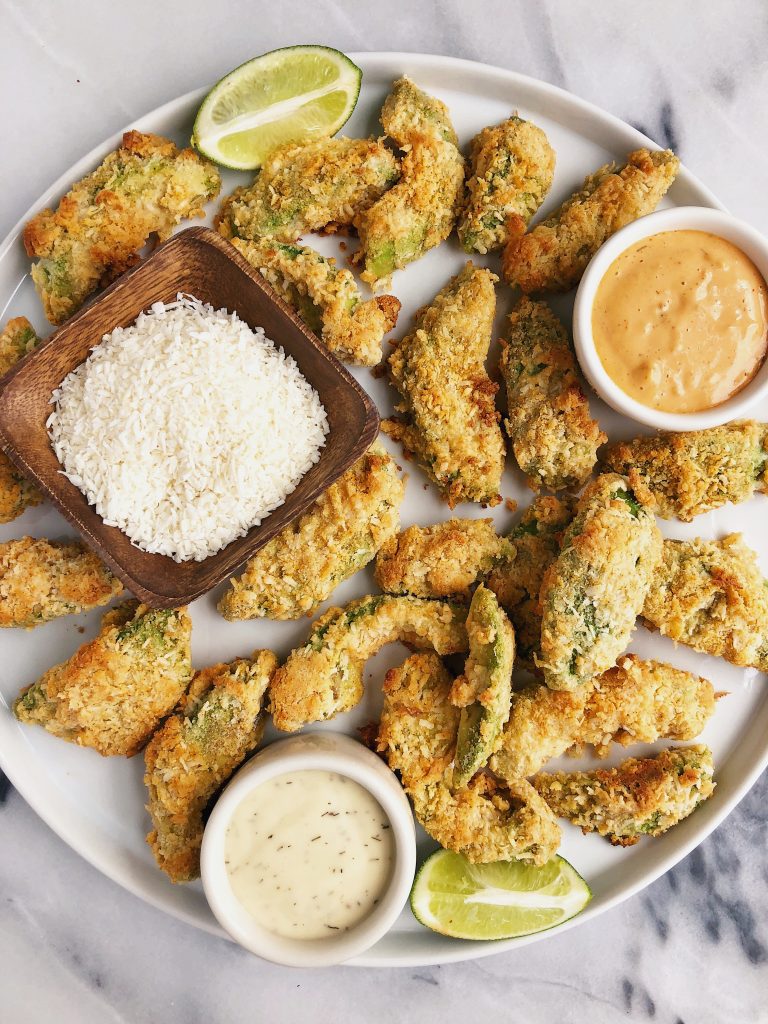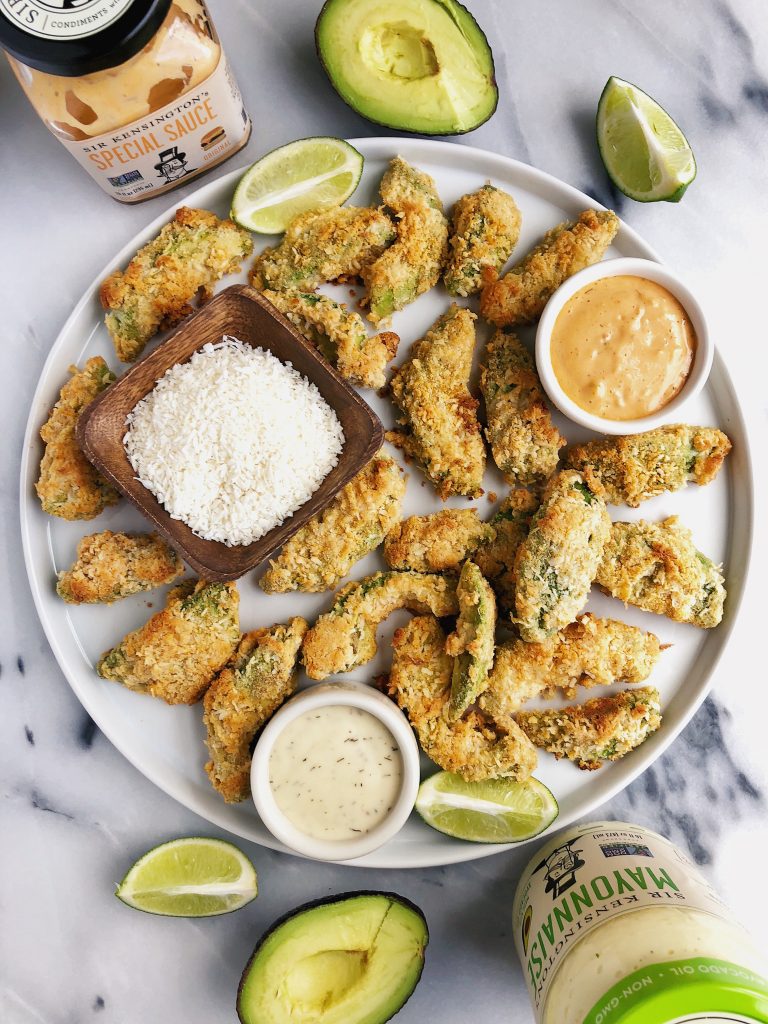 Print
Crispy Baked Avocado Fries (vegan-friendly and gluten-free)
Prep Time:

10 mins

Cook Time:

10 mins

Total Time:

20 mins
Instructions
Preheat the oven to 425 degrees
Slice the avocados into thick slices (about 6 per avocado)
Mix together the coconut flour, shreds, tapioca, garlic powder and paprika
Whisk together the avocado oil and mayo of choice
Gently dip each avocado slice in the mayo mixture then coconut mixture and place onto a lined baking sheet
Repeat for each avocado slice then bake in oven for 10-15 minutes or until crispy
Serve with dressing of choice
xx, Rach
Thank you Sir Kensington's for sponsoring this post. It means so much to me to work with brands I love and believe in!
SaveSave