The Best Whole30 Tuna Salad that takes 5 minutes to prepare and is made with just a few ingredients!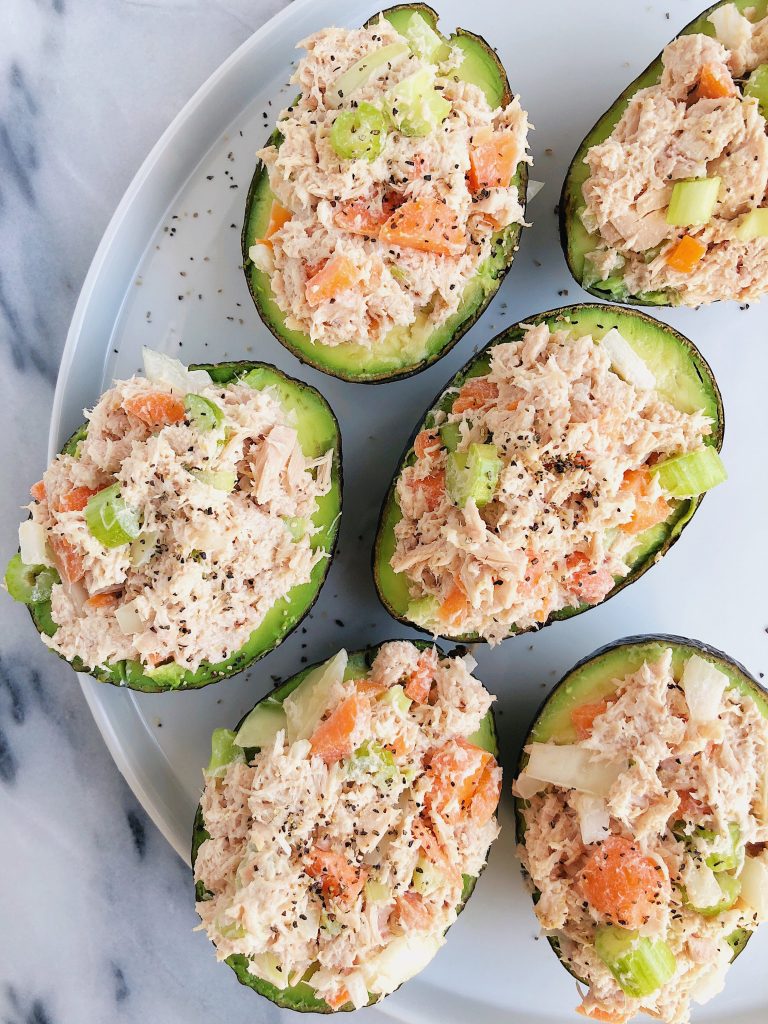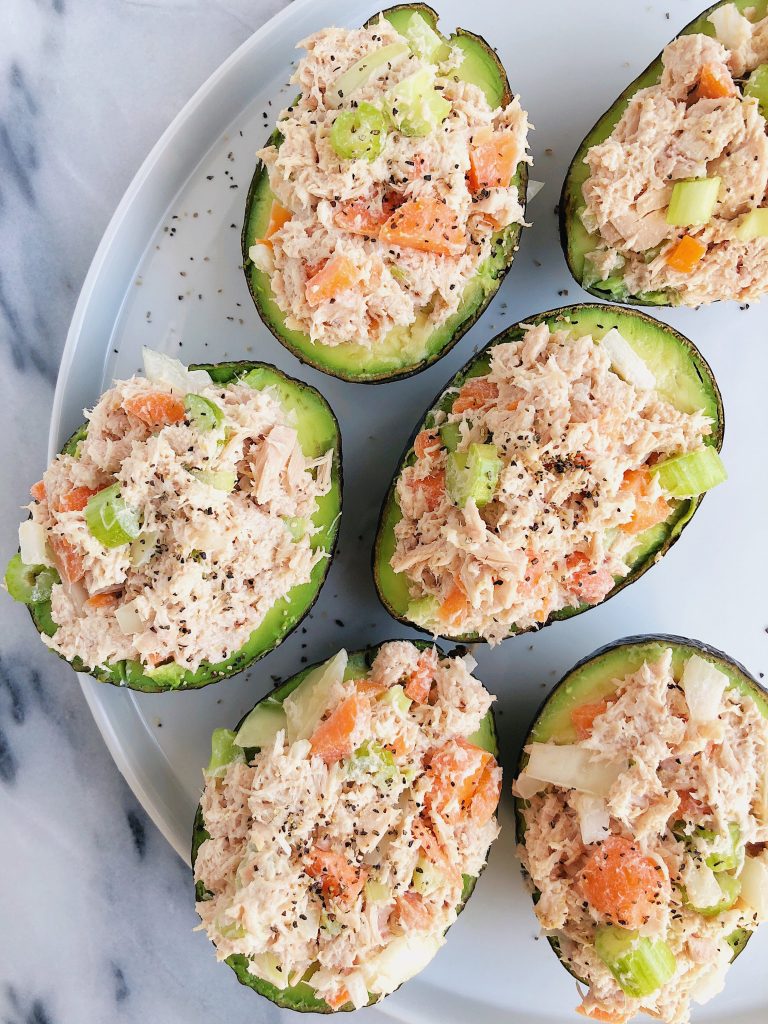 We are mid-way through January friends, which means any of you who started Whole30 on January 1 are already more than halfway done! Amazing!
As you know, I am personally not doing Whole30 but I absolutely love creating the most delicious and simple Whole30 approved recipes for really anyone to enjoy. The thing about Whole30 is that it sounds so much more intimidating and crazier than it is. We should be fueling our bodies with whole and real ingredients for more than 30 days. Of course there is no reason to be strict and eliminate foods like pancakes, pizza, etc. for forever, but it is great to get many of our meals in with all nutritious and wholesome foods.
This tuna salad is prepared with just a few ingredients and is served in AVOCADOS! Since bread is a no go on Whole30, we look to our good old friend, avocados, to hold the best dang tuna salad.
You can add scoops of the tuna into the avocado and eat it right out of the avocado! Or you can add it to a bed of greens and if you're not on Whole30, add it to your favorite toast or tortillas!
To make the tuna salad you'll need just a few ingredients and it will be ready in less than 5 minutes. Talk about an easy meal to prep. Jord and I make tuna salad for lunch a couple days a week. Especially when we are in a bind and need something fast.
We absolutely love Safe Catch's tuna. If you are a reader of the blog, you have seen Safe Catch on here a lot throughout the last year. It is the lowest in mercury, wild tuna and honestly it the only tuna I will eat! We have made tuna cakes, noodle bowls, tuna tacos, tuna burgers, tuna toast and more. It is crazy to me that I have shared so many tuna recipes with you guys but have yet to share the classic tuna salad with you!
What better way to eat tuna salad than making it Whole30 approved and made with just a handful of ingredients.
WHAT YOU NEED
Onion
Carrot
Celery
Mayo (I used this Whole30 approved one)
Avocados
Black pepper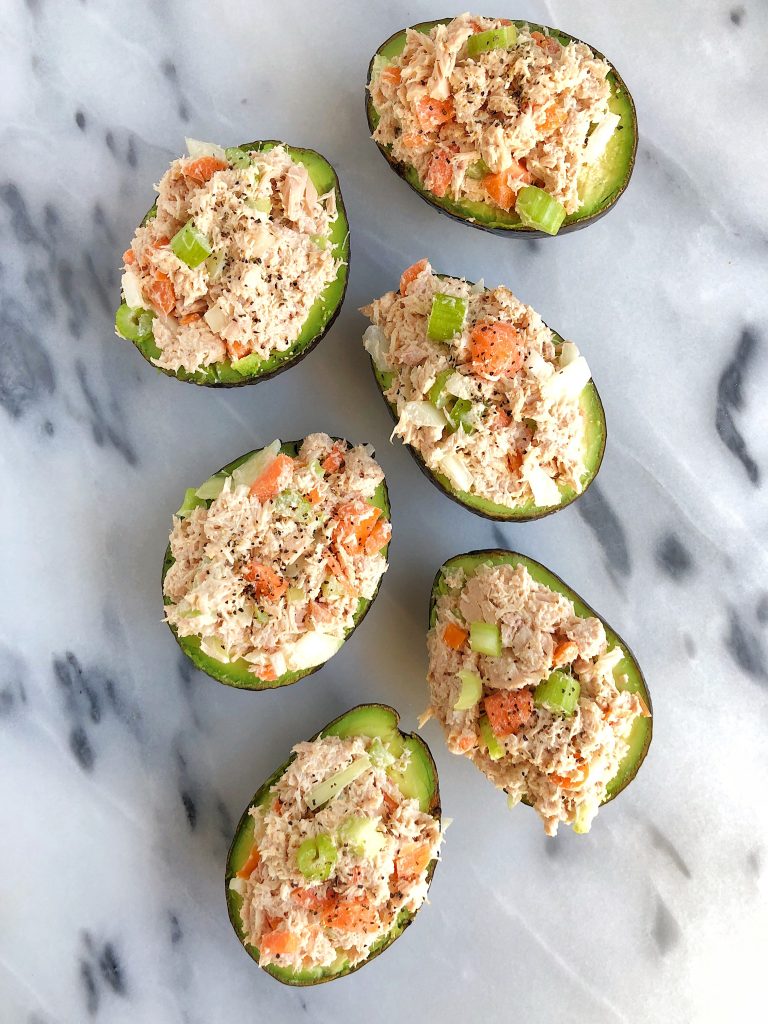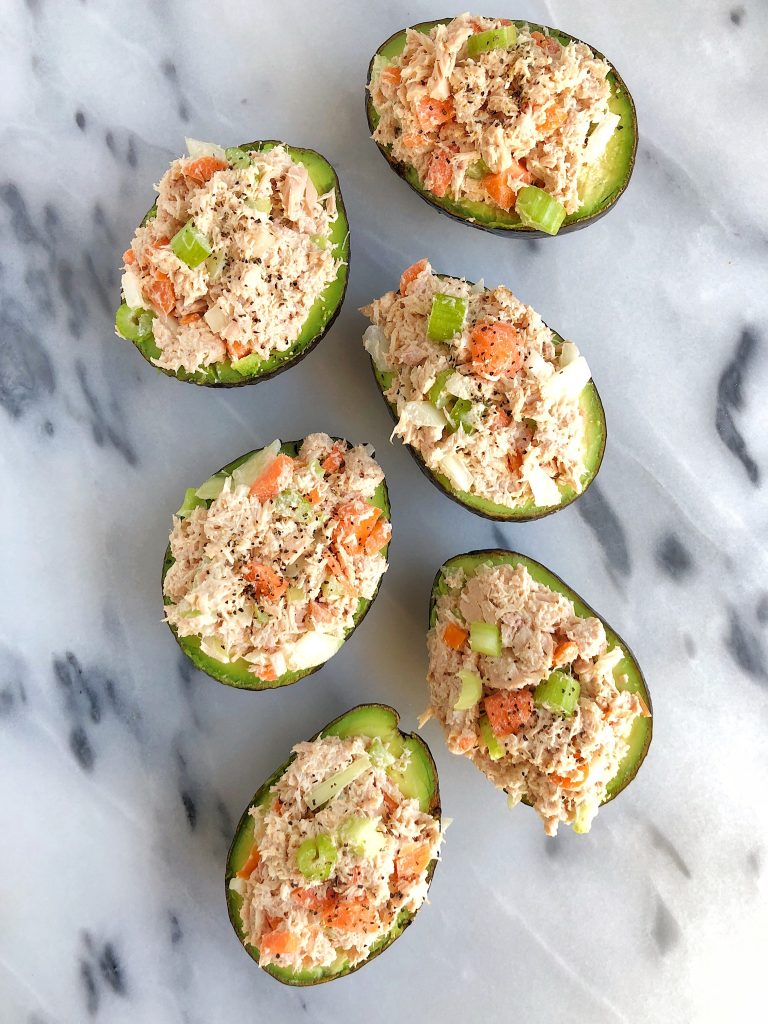 Print
The Best Whole30 Tuna Salad (paleo)
Author:
Yield:

2

-

3

people

1

x
2

cans of Safe Catch Wild Albacore Tuna

2

–

3

tablespoons of mayo (Whole

30

approved – see above for what I use)

4 tablespoons

chopped onion

1/4 cup

chopped carrot

1/4 cup

chopped celery

1/2 teaspoon

black pepper

3

ripe avocados
Instructions
Gently open the can of tuna and let the excess liquid strain out
Add the tuna to a medium bowl or tupperware of choice (I use tupperware when I am prepping this so I only dirty one dish)
Add the mayo and black pepper and mix well with your fork (I usually mash it down with the fork)
Fold in the celery, carrots and onions and mix well
Cut the avocados in half and remove the pit (you can also shallow out the avocado and add some chunks to the tuna salad!)
Add desired amount of tuna to the avocado and enjoy!
*the tuna salad should be stored in the fridge and stays good for 3-4 days
xx, Rach
Thank you Safe Catch for sponsoring this post! It means so much to me to work with brands I love and believe in to support the blog!